Neil Atkinson's post-match review after Liverpool's 4-0 win against Wolves in the Premier League…
THE Champions. In the grace of our love.
I love grace. I run a life off the back of it. People get to have grace, they get to have it in each of us. No quality is greater, more important.
Wolves are good. Get that. Accept that. Wolves are good. Chelsea early last season did them 2-5. No one does Wolves by four.
The Champions do Wolves by four. The Champions are the best team in the country which isn't a novelty act. Despite the injuries, in spite of the injuries, there is the Champions. Then there is everyone else. The real people. The real voices.
Those are real voices you can hear. Actually real Liverpool-supporting fans. It is ridiculous when you hear it. So immuned are we by the canned cheers you almost assume it is fake. But no. That is real. Real breath. Real desire. Real actual people here to support The Reds. Who knew that this was a miracle?
Before 2020 who would have thought that the commonplace, the altogether unremarkable event of Liverpool fans going to Anfield on a cold winter night, would seem like such a magical event? The feelings of those, by grace, lucky enough to be part of this community expressed so clearly: we are grateful. We love the Champions. They are ours and we are theirs and let's be fucking clear – we are grateful.
Since that horrendous feeling of Liverpool having played Atletico Madrid at the beginning of this nightmare, we have held our breath. If you were there or if you watched from afar in joy, tonight, we breathed out. We exhaled.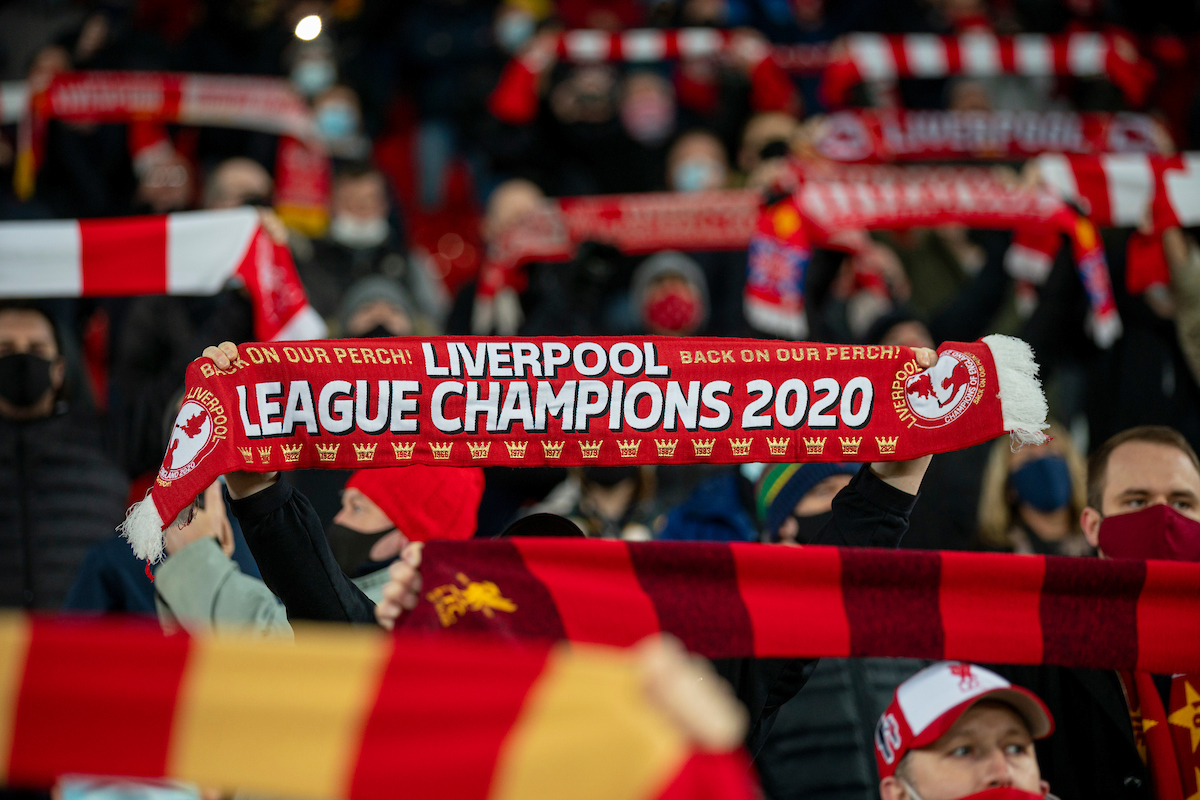 Ours. Our space. Our sweetness. Our gang. Our title. Our heroes. Our grace. Ours.
The players. Who knows for them how much this made a difference? Say if you are – for example – Mohamed Salah and therefore one of the best football players in the world, how much difference to you does it make when on the 24th minute you receive the ball over your left shoulder from the halfway line, and pursue it forward towards the opposition keeper, and curve that ball goalwards?
Does it matter to you that the smattering of fans behind you are sending you forward with every breath? In the echo-chamber of Anfield does that small number of the committed make it matter more? Of course it does, and Salah's gesture makes that clear. They have missed us and we have missed them. We cannot all be there yet. Yet. But every step is one more on the road home.
Grace. Grace is a thing and they have it.
As the manager said. It is so enjoyable. It is so nice. It is gracious.
We did not know how this was going to go but honestly in our hearts we did. If there were a hundred of us in that ground, the hundred would have to express the feelings of hundreds of thousands. Don't we know that? Even in normal days 55,000 carry the feelings, the desire, of the millions who would be there if they could. We always knew we could trust the 2000 to express how we all would feel. They did it. They did it for me and they did it for you.
That said, despite the score, Wolverhampton are not the worst team in the world here. At times Nelson Semedo and Pedro Neto are slicing passes between Liverpool's passing channels, and Wolves have quality and experience in their squad. They start well. As their manager says, they have half chances. But they cannot control the riot that is Liverpool Football Club tonight.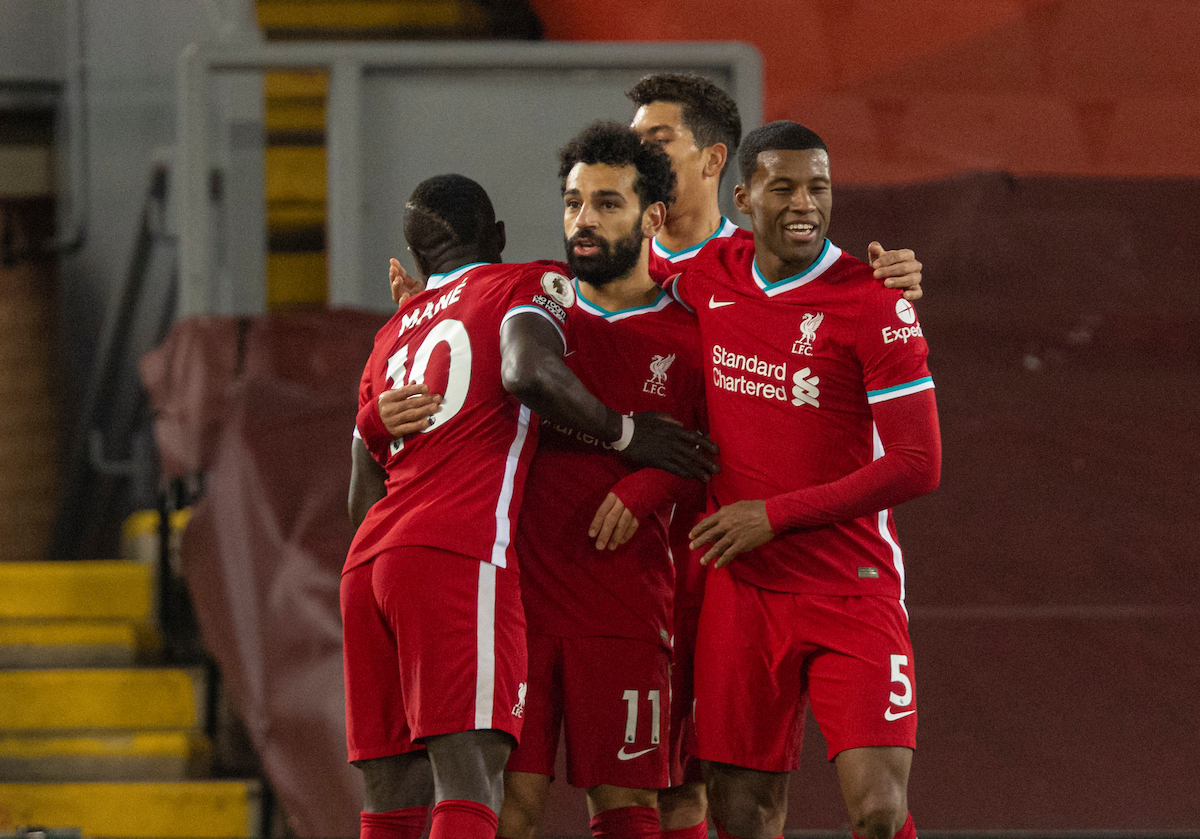 The quiet brilliance of Gini Wijnaldum over the past few league games, these last few years, the whole of our lives, has been there for those willing to look. Tonight he is up in everyone's face and his goal is unarguably brilliant. From distance he beats defence and goalkeeper. He is the fulcrum of our side, the cornerstone. But tonight he is on show as well as just brilliant.
Another. Matip. It's a classic. Salah cross. Matip head. You have seen it in your mind a thousand times. Joel Matip turns the page in the textbook. Salah cross floats in. Matip, determined with his head. Liverpool's third. What a great thing that the crowd (such as it is) goes wild.
In the second half, Liverpool overrun Wolverhampton Wanderers. We overrun them. It is not to say that Wolves are terrible. They aren't. They make the best of it, particularly up front. But it is to say that they don't stand a chance. And more than anything they don't stand a chance with Sadio Mane. The fourth goal he bundles in is reallocated to Semedo as an own goal. By this point it is truly all over.
Liverpool are all over them. From Fabinho and Robertson on the left to Jones and Salah on the left, and at all points in between, Liverpool are all over everything everywhere. Anfield is slowly waking up from enforced hibernation. On a cold night, the temperature cannot cool the passions felt. This team is hot. And no one can deny it. Having a select few fans could have felt weird. It could have felt wrong. But no. It only fires them up all the more.
All the grace. All the love. All the adoration. I wasn't there and I miss you. I saw you just the other day and I miss you. I am just here and you are just there and I miss you. Not for much longer. With a bit of luck.
The seventh best team in the country, the 15th biggest hurdle. We are the other side of that. We are on the march. You, me and them. We exist in a state of grace. I miss you. I won one league title with you. I will win another. With you.
We will celebrate them both together and then, you and me, we'll be alive.
---
"Jordan Henderson makes every other player's life so much easier. People say he might not be this or might not be that but he makes this side loads better when he's in that midfield."

Make sure you're subscribed for the best post-match audio and video 👉 pic.twitter.com/EMYjaBKR71 pic.twitter.com/3sg59meqzF

— The Anfield Wrap (@TheAnfieldWrap) December 6, 2020
Recent Posts: