THE grass isn't always greener on the other side.
A phrase I used in this column last Monday in reference to some former Liverpool players who weren't having the same nice time that the current crop of Reds are, which it could be argued was down to the way they left the club.
This week though, that phrase takes on a different meaning.
Liverpool's dominant performance at home to Newcastle was another display by a group of players who are clearly warming to one another with every passing moment, evidenced by what seems like an ever-increasing telepathy between almost everybody in a red shirt.
This comes weeks after after a blown-up incident between Sadio Mane and Mo Salah, as some pundits and so-called experts called into question the attitude of both players (particularly Salah, it seemed). Whether he needed to or not, it was clear the Egyptian became more aware of his teammates' whereabouts on Saturday.
But while Liverpool's superstar striking duo each found the Newcastle net, it was a certain Brazilian that made all the post-match headlines.
Being classed as underrated is a funny concept. Who decides whether a player is underrated or not?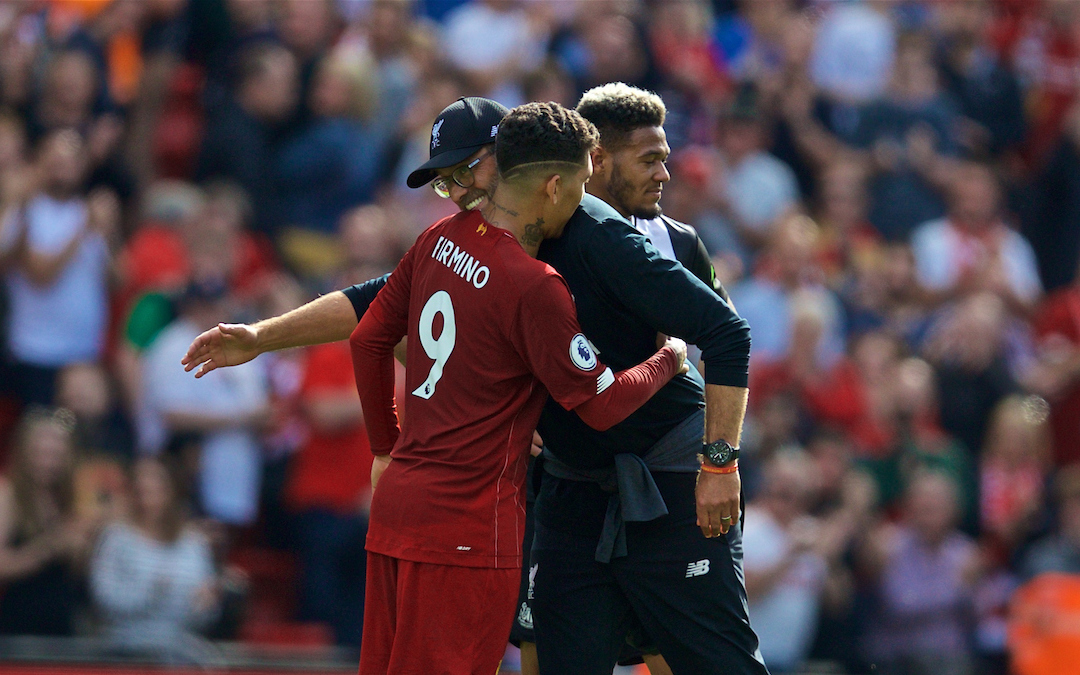 The truth is, most supporters of other football clubs will mostly consume their own team's games for 90 minutes every week and little else. What they see of other teams on a regular basis will be limited to a carefully selected highlights package on Match Of The Day.
Every time an article is published regarding Roberto Firmino the word underrated is never far away. He's loved by Liverpool supporters of course, but some believe that same feeling isn't shared by opposition supporters – strange that, init?
However, with Liverpool v Newcastle being the sole Premier League game of the Saturday lunchtime slot, a larger than usual audience will have got to witness just what The Reds' brilliant Brazilian is all about.
Some opposition supporters may still argue that his goal return doesn't match that of some of the Premier League's top poachers – and more fool them, if so – but the fabled "football purists" will have been drooling over Firmino's form against the Magpies, which served to emphasise just how good he has been since the start of the season.
His performance set off discussions about whether Firmino is Liverpool's most important player, whether he's quietly the best of that famous front three and whether he does get the acclaim he deserves.
All we as supporters should truly concern ourselves with is that he's ours, he's part of the world's best attacking trio and that he's fulfilling his massive potential at Anfield. Everything else is by the by.
Interestingly though, Firmino isn't the only Liverpool player to provoke this type of discussion.
Since the beginning of the season (and perhaps before) Gini Wijnaldum has regularly been one of those names to feature in conversations about importance to the team and being underrated.
In fact, in December of last year Gary Neville went as far as to call Wijnaldum the most underrated player in the Premier League – a statement which arguably neglects the fact he is loved by Liverpool supporters and regularly has his name sung from the stands.
Wijnaldum was thrust back into the conversation when he notched two goals for the Netherlands while away on international duty, playing in a more advanced role which made some question whether he would excel further forward for The Reds.
The Dutchman has been a huge player for Klopp and his versatility has always been one of his biggest assets, having made a number of supporters – myself included – look pretty stupid for questioning where he would fit in after he signed from Newcastle.
He's got a bit of everything: good reading of the game, good defensive attributes on top of a steely physicality and an ability to make things happen going forward. If his goalscoring prowess was in question before he went away with the Netherlands you only need to think back to Barcelona at Anfield last season to question why that was the case.
Again though, all that matters is that he's a Liverpool player and he is loved by his manager, who can get the best out of him in whichever role he chooses to play.
Similarly, Joel Matip has been the subject of much discussion this season. The underrated question rears its head again. Is he actually effective going forward on top of his defensive strengths? Has he been better than Virgil van Dijk for the last nine months or so?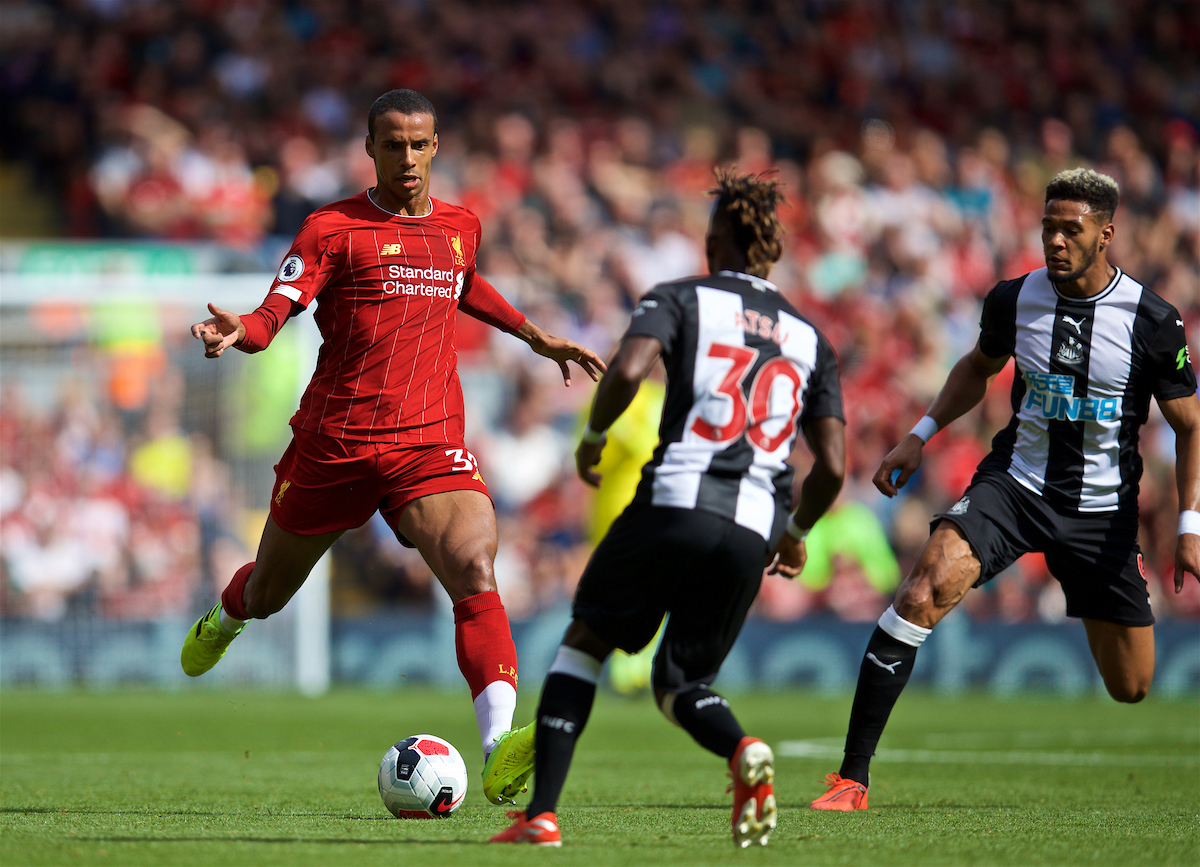 The Cameroonian has clearly come on leaps and bounds since his early days at Anfield, but let's not forget he did actually hit the ground running before some of the confidence in him was seemingly lost.
All players are different but it's clear that as the team have grown in stature, certain individuals have been able to make a marked difference on the pitch. Would you be able to notice a huge improvement in the likes of Alisson, van Dijk and Salah? Arguably not. But for that lad you thought was shit just 12 months ago it might be easier.
We as football supporters are emotional, impulsive and probably a little hypocritical from time to time, and one of our worst habits by a mile is thinking that there is somebody better than what you've already got out there as long as your club are prepared to spend the money – maybe that's actually what being underrated is.
What we can forget, though, is that nobody is the finished product. We as people evolve every single day and that goes for footballers and their supreme sporting abilities too.
Firmino, Wijnaldum and Matip may all get even better in a Liverpool shirt, and most will celebrate it and question why others can't see it if they do. For now though, let's just celebrate the fact that they're ours.
After all, who can truly say there is greener grass on the other side?
"As soon as Firmino came on, you knew we were going to win." 👏

📱 Download our app and watch the 'Post-Match Pint' in full:

IOS 👉 https://t.co/joSoJZ1V6i
Android 👉 https://t.co/5quooduf9B pic.twitter.com/QsT9gIhfac

— The Anfield Wrap (@TheAnfieldWrap) September 15, 2019
Recent Posts:
[rpfc_recent_posts_from_category meta="true"]
Pics: David Rawcliffe-Propaganda Photo
Like The Anfield Wrap on Facebook