Ben Johnson highlights five things we learned from Liverpool's 1-1 draw with Fulham in the Premier League…
1. Joel Matip is not robust…
I mean, this is not something we have learned today. This is a simple statement of fact in the same way that "Joel Matip's ligaments consist of 40 per cent jelly". Honestly, he will be out for fucking months now him, with his big massive long ridiculous lizard legs.
He looked wild from the off, there. Like he might have shit his kecks early on overstretching. As it stands, a massive dose of a Campylobacter-induced shitting yourself as an injury would be tremendous news. Looking forward to the injury update whereby Jürgen advises that Joel did indeed have food poisoning, but is now out for nine months as he ruptured his ACL in a blind panic trying to get his kecks down for a shite.
2. Curtis Jones…
Our best player by a fucking mile. The only one first half winning his bits, doing the horrible stuff. Unlucky with the boss run and shot, would have been a belter. Looked like one of the senior members of the squad, which is sound as some of them had a week off.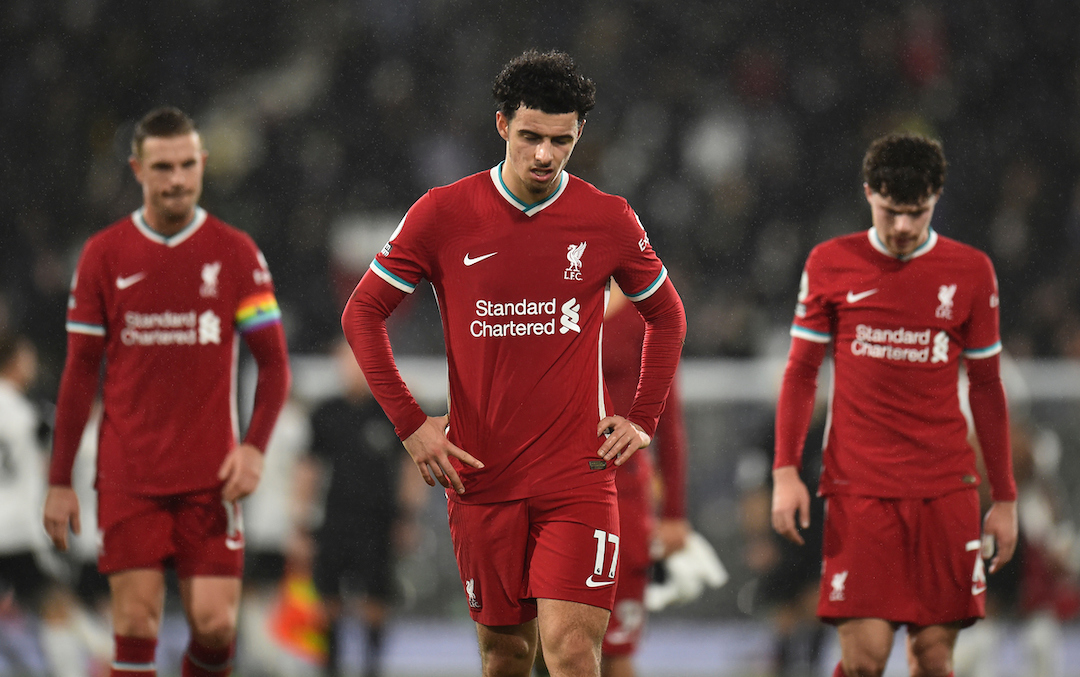 3. Divock…
Come on, and absolutely headed one 40 yards out for a goalkick. Was a tremendous header if he was a centre half but he isn't, he is a forward and decided to flick it on to no one which was sound. He will be at Liverpool forever this fucker. I will be 80 on my death bed, asking my lad how The Reds got on, and he will say they brought Divock, 58, on searching for a goal. Will never leave.
4. Maybe we are being overly harsh…
Judging this side by last year's standards – which in this wild season, with the worst run of luck injury wise in a generation, a game every 20 minutes and no fans to dig us out when we need them – can't be fair or reasonable.
The facts remain this Liverpool team, what's fucking left of them, can go top of the league on Wednesday with a win at home. That takes some doing that. This might not be the prettiest of seasons, it might not be the vintage drop we are used to, but by Christ, if this team can stay in touch till the reinforcements can get back, and then go on the march, this will be the greatest of the lot.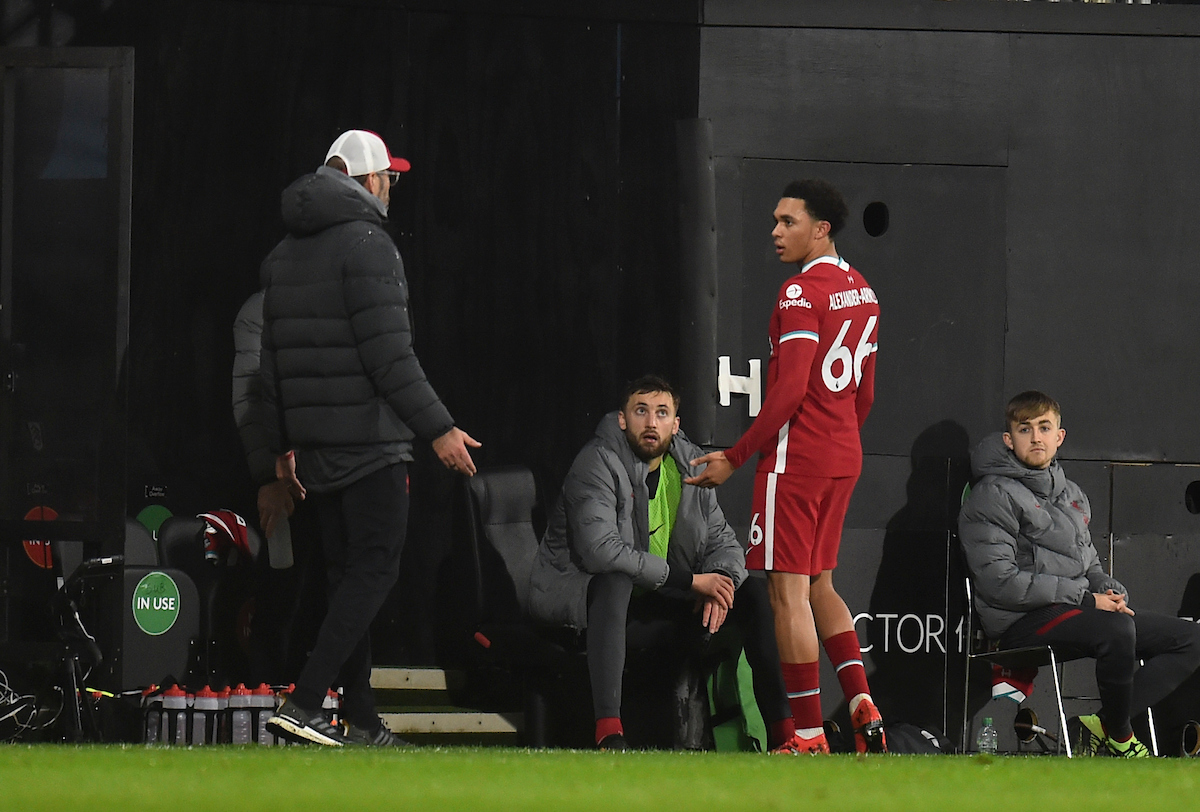 5. Mince pies are shite…
I made mince pies on Friday. I fucking hate mince pies but my bird loves them so I gave them a go. Followed a Paul Hollywood recipe word for word, stage for stage, the big fat wool. My mince pies came out the oven at the exact same moment I got the email from the club that I was 15,000th on the waiting list for Tottenham.
Out come the pies anyway, and the pastry is as thick as a wall. Not just a standard wall, with a cavity and that, but one of them big fucking ridiculous mud ones off grand designs when Spider off Corrie is making an eco home, the lid hadn't stuck to the mud walls, and the filling had jizzed all over the oven. They were fucking shite.
Went to lift the first one out the tin, and the lid come off in my hands. The walls, although enormous, were structurally weak, so I tried to get them out with a spoon, and me hand, molten, mince meaty syrup leaked all over that gaff, doling out third degree burns. Upon extraction, I tried to put them on a plate, but they imploded in on themselves. Crumpled.
Honestly, that 10-minute period on Friday night was the worst 10 minutes of the year. I salvaged four of the cunts. Eight went in the bin. Honestly, 2020 has been pretty bleak, the worst year in history, but I don't know, that 10-minute spell on Friday evening was a fucking low ebb.
There was no way it was getting any worse than that. Enter The Reds, 15 -35 first half, stole it.
Cheers lads.
---
"Hugely frustrating for the Reds. They never got started and got worse from there. Its all about midweek against Spurs now, a huge game."

📱 Subscribe for the best audio and video reaction to a really disappointing draw away at Fulham 👉 https://t.co/oaOWcUzrlr pic.twitter.com/DHoh1vJflT

— The Anfield Wrap (@TheAnfieldWrap) December 13, 2020
Recent Posts: