Curtis Jones has always had the ability, but Leanne Prescott writes that he's added another side to his game to cement his place in Jürgen Klopp's plans…
FROM VAR controversies to a myriad of injuries and positive COVID-19 cases, Liverpool have already had to deal with their fair share of adversity this season.
Where most teams would wither, The Reds have flexed their considerable strength, finding solutions on the field to continue their present momentum at the Premier League summit.
One of those to come into form amidst the chaos is Curtis Jones, the latest academy success story who continues to seize his moment in the spotlight.
Following a first-team debut in 2019, the 19-year-old has emerged as one of the club's most promising youngsters, already equalling his total number of starts from last season.
A local lad, he is everything you want to see in a Liverpool player. Creative, combative and seemingly unfazed by pressure, he has the conviction of a player who knows he has the quality to play for Liverpool, while his unwavering confidence gives him the platform to dazzle and the drive to make his presence felt.
Last season, Jones grabbed the limelight through his attacking work, with a poise to drive forward in possession, taking on the opposition and beating a man, showcasing his considerable technical ability.
His current form won't come as a surprise to his academy coaches, as Jones was a lynchpin in the Under-23s side week in, week out. A screamer in the FA Cup clash against Everton would announce his arrival in the first team setup – a position he hasn't relinquished in the months since.
Indeed, during Liverpool's 5-0 thumping of Atalanta earlier this month, Jones showed what he can bring to this Liverpool team. Having previously been on the cusp of the first team, he is now firmly established as a regular figure in Klopp's plans, and his growing eminence this season has already brought about considerable developments to his game.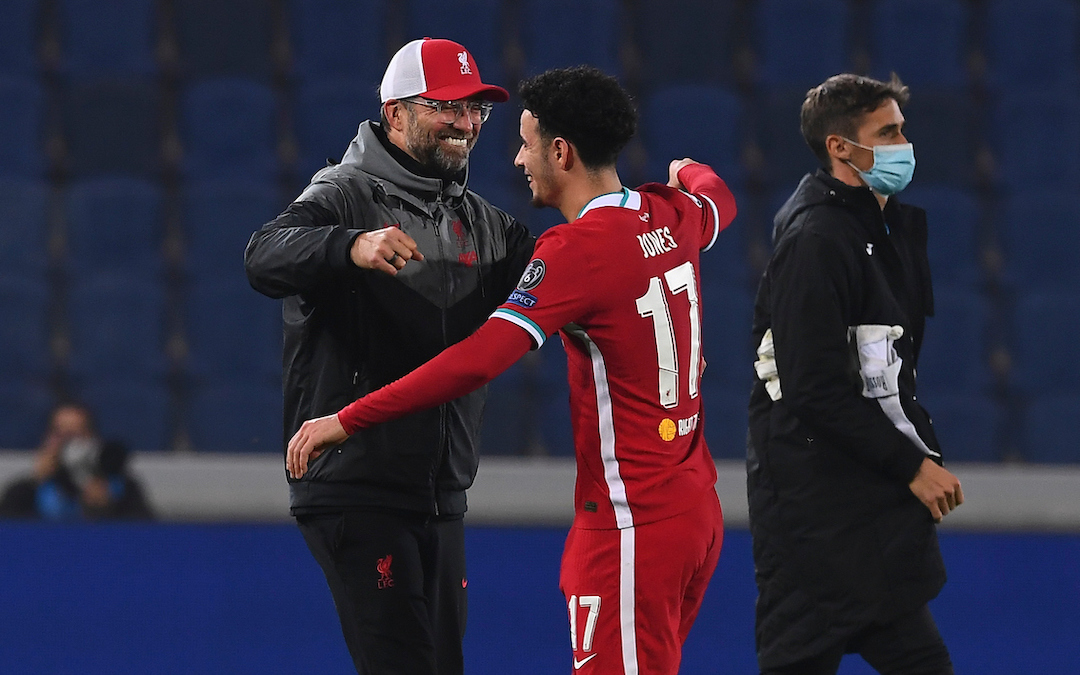 Most importantly, he is now showcasing the uglier side of his game, learning the physical demands of Klopp's philosophy by adding defensive discipline and positional awareness to match his creative drive.
There is now much more maturity to his game, with any lingering questions over Jones's tactical discipline emphatically answered in the rout against Leicester. Making a lung-busting run to stifle a counter attack from Jamie Vardy, his positional awareness and determination to regain possession summed up his performance on the night, and are two key hallmarks of a Klopp player.
The manager's decision in itself, fielding Jones in midfield instead of playing Nat Phillips in defence and the more experienced Fabinho centrally, is testament to the faith he has in the youngster's abilities. His movement was exactly what you want from a central midfielder, playing a crucial role in a brilliant sequence in the buildup to Diogo Jota's goal before sweeping the ball out to Andy Robertson.
It is remarkable how at home the Scouser looks after only his third Premier League start, showcasing immense maturity in possession, completing 92 per cent of his passes while his 86 touches were more than any other player in red.
Not all promising youngsters will make it at a club like Liverpool, but Curtis Jones seemed destined for success. At a time when The Reds have been plagued by injuries, the local lad has proven his worth as a quality option for the Reds.
He already looks like a player who has been performing at this level for years despite his tender age and more than holds his own in this generational side.
Developing an awareness for the ugly side of the game this season, alongside his immense creativity and quality in possession, his future under Klopp looks incredibly bright.
Curtis Jones, the second scouser in our team.
---
"Fair play to Atalanta, you could see how much it meant to them."

"I think there's going to be a couple of those in a season like this, where the schedule is so relentless."

📱 Download The Anfield Wrap app for all our post match reaction 👉https://t.co/AUQZTwhTt9 pic.twitter.com/crmPzmTXZb

— The Anfield Wrap (@TheAnfieldWrap) November 26, 2020
Recent Posts: