Divock Origi is once again being seen as a dilemma at Anfield, but Dan Morgan argues that we've been here before with our Belgian super sub…
WHAT do you do with Divock Origi at Liverpool?
It's fine for the answer to be nothing at all. After all, it's so easy to forget that in 2017-18 he spent the season at Wolfsburg scoring six times in 31 Bundesliga appearances.
At that point in time, there was no hope for his Liverpool future. Fast forward and he's a Champions League-winning hero who has scored arguably the most prominent and hilarious Merseyside derby goal of all time.
In many ways, that's the beauty of him. Scratch around for what his market value and you can literally go from £14m to £44m depending on where you look. Maybe that's why nobody has ever really made a serious attempt at prizing him, as they don't know where to start the bidding?
Sentiment swarms around Origi like a family heirloom. It's the football blindsight we never actually want to acknowledge. It's the reality that lies within every Manchester City fan whenever they reminisce over Shaun Goater, despite their riches of talent over the past decade. It's even the reason someone like Ole Gunnar Solskjaer remains in a job at United.
In many ways, these players are as important as the Gerrards, Drogbas, Henrys and Cantonas of their day for many of the same reasons, being that they eventually come to represent a place in time.
They are bookmarks in our lives providing nostalgia about a halcyon time far less complicated and glory filled. In his own way, Origi tells the story of Jürgen Klopp's Liverpool like unlike any other. He is every facet of 'doubter to believer' you could possibly muster in one person.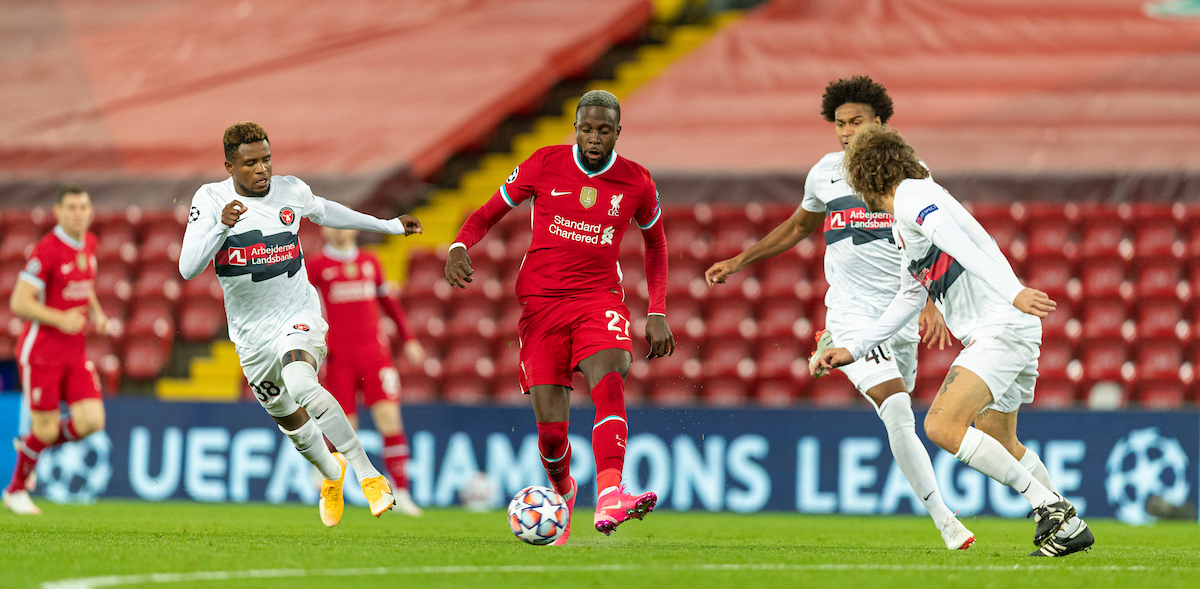 Liverpool under Klopp is a whirlwind. It's the child you cradled or puppy that could fit in the palm of your hand becoming impossibly fully grown overnight. Blink and you've missed it. It is the epitome of it flying by while you're having fun.
We all know this. "The days of our lives," as we say. It's something to cherish fully despite the fact we've been deprived of them for over six months now. We also know that eventually we're going to have it fully stripped away and it will be years of graft and glory all reduced to one fleeting memory.
That's how these things work. It's why savouring every alternative context to this team and its achievement should be fully revelled in. Yet where does that leave us and Divock on a Tuesday night in an empty stadium against a pain in the arse Danish outfit?
The answer is nowhere and everywhere. Nothing is solved from pondering his future after a game already forgotten. The truth is his days could well be numbered in a Liverpool shirt, the truth is we've been saying this for the best part of five years with him.
In an environment where seemingly everything must have an answer, Liverpool still have an outlier – a player who can make you shrug your shoulders in a manner which makes you laugh at yourself at the fact you ever doubted him being front and centre of the biggest of chapter-writing scenes along the way.
This perfect storm is encapsulated in so many ways by Divock Origi. Regardless of his fate, remember that he represents something much bigger, and became a part of our lives in a manner none of us could ever have envisaged.
For now though, just let him be.
---
"Winning the Champions League was amazing, but time for reflection is after your career. Until then I want to keep putting trophies on the board."

Our interview with @JamesMilner on this day last year 🗣

World Club Cup & Premier League since then 🏆🏆 pic.twitter.com/MGbSsuKNXU

— The Anfield Wrap (@TheAnfieldWrap) October 29, 2020