WE have a drill for Burnley away.
It's often felt like a rush to be getting there. It's close, but there's never quite enough time to fulfil all ambitions and expectations. This Wednesday will be a challenge. We've got to scoop my youngest, Rafael (Benitez) Gutmann out of school at 3.35pm and then hit the trail northwards.
"Raffy" will have to get changed out of his school uniform in the car. Into his club-branded clobber — like a crap, nine-year-old Superman. He's had to pull this off a few times and it doesn't please him but he does it for The Reds.
The established Burnley routine involves hitting up a posh pub 20 minutes outside the town. It's called The Fence. This boozer is sedate and faux classy, Tory as fuck, but oh that roaring fire, those comfy country gentry furnishings, and those sweet, sweet pies and selection of cask ales. It fortifies for cold a night in the away end singing lengthy songs about Virgil van Dijk.
With the fixtures coming so thick and fast now I can't tell good form from lame. There's no thinking time, just matches to be won. Performances mean nothing in the face of the need and greed for points.
The memory of the frenzy and mania of that last-gasp derby winner won't fade quickly, but there's little time for luxuriating in it. In a season of must wins, Wednesday's challenge now becomes the most important.
Despite points, clean sheets, and a fair few goals, Liverpool haven't looked quite right yet this season. Everton felt hard done by at the weekend. There was a consensus from all parties that they deserved more. What was lost within a bit of a forced rush to give The Blues credit was that, a couple of defensive lapses aside, a good Liverpool performance had been witnessed.
The vaunted pressing and counter pressing were at the levels of last season. Jürgen Klopp noted this in his post-match press conference but no one was really listening. The time-honoured drama of a derby day, the urge to discuss only the moments, distracted from the game's reality.
Watch back the preludes to the chances for Trent Alexander-Arnold, Sadio Mane and Xherdan Shaqiri in the first half. This was aggressive, incisive Liverpool at their very best. Second half, the breaks that saw Roberto Firmino and Sadio Mane put in to one on ones with the goalie, and Divock Origi's burst down the right flank, reminded that, in the zone, there is no better counter-attacking team anywhere than Liverpool right now.
The seasonal fixture congestion will dictate Klopp's team choices for the trip to Turf Moor. Last campaign he disrespected Burnley by resting many of his main men. He just about got away with it, but the home side were better then.
This Burnley have lost five of their last seven in the Premier League and are sinking like a stone. At home they've won just one in six, losing four. Sean Dyche's lauded outfit of last season are now second from bottom. They are in bona fide crisis mode.
All of this will embolden Klopp to once again take risks. A cut on his foot should suffice as just cause for Mane to be given the night off. Firmino urgently needs to be rested for everyone's sake. His form hasn't been right all season. Andy Robertson has a dead leg and Gini Wijnaldum has played an exhausting amount of football. Expect these four to miss out, or at least be benched.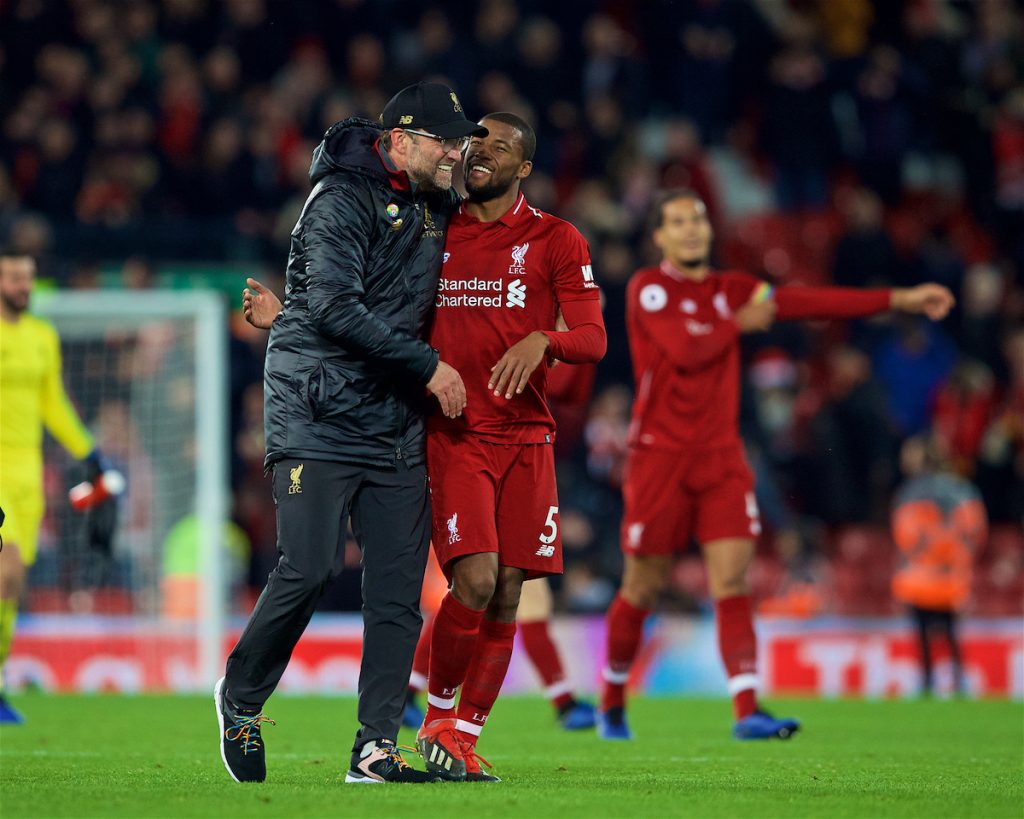 Klopp has the resources to freshen up strongly. Both Daniel Sturridge and derby hero Divock Origi made cases for taking Firmino's shirt, if only for Wednesday night. I'd give Divock the nod. His pace and energy on Sunday were reminders of gifts we'd thought had long deserted him. Post match, Klopp was keen to reassert faith in the player. His time might be now.
In midfield, the captain Henderson returns, probably for Gini. Then there's the need to get the potentially important Naby Keita on the pitch. He'd come in for Fabinho with James Milner due a recall, nominally filling Mane's berth. I think, given the personnel, that Klopp will play a 4-4-2 diamond, as he did at Stoke this time last year when juggling resources.
For Wednesday night I think Henderson will anchor with Milner and Keita advanced and wide of him. Shaqiri might be given the chance to play centrally as the attacking tip of the diamond. Mo Salah and Origi working, effectively, as twin strikers. Whatever team the manager goes with, it will be a stronger side than that which narrowly took down Burnley on New Year's Day 2018.
It must be, it's another must win, as they all will be, for a while longer yet.
Predicted 11: Alisson; Trent, Gomez, van Dijk, Moreno; Henderson, Milner, Keita, Shaqiri; Salah, Origi
Kick off: 7.45pm, Wednesday
Referee: Stuart Attwell
Odds by Redsbet: Burnley 39-4, Draw 9-2, Liverpool 20-67
Recent Posts:
[rpfc_recent_posts_from_category meta="true"]
Pics: David Rawcliffe-Propaganda Photo
Like The Anfield Wrap on Facebook