DIVOCK Origi is my world. Divock Origi is my reason to be. Divock Origi is my first, my last, my everything.
However, Gareth Roberts already wrote a terrific article on him yesterday, so here's something on Virgil van Dijk.
I rather enjoyed Sunday. It was a high-quality game of football between two very good teams. Both wanting to win while being a bit scared of losing, and was ultimately decided by one of the most ludicrous moments we're ever likely to witness.
It cannot have been a good Sunday for Everton. As Jürgen Klopp raced on and off the pitch in an act that seemed to boil the piss of Danny Mills, among others, for some bizarre reason, and Jordan Pickford held his hands up in apology to the away fans, I tried to imagine Toffee fans quoting Alan Partridge when summing up the end to their day.
"'Sunday, Bloody Sunday'. What a great song. It really encapsulates the frustration of a Sunday, doesn't it?"
Not me though. I needed that win. I knew I had a stressful Monday ahead. (Monday, Bloody Monday…) However, I had Origi's header in my back pocket. It kept screaming to come out but I had to remain professional. I may have whistled his song on the train home but people seemed to allow it.
Of course, the karma of yesterday caught up a bit. It wasn't just the stressful day that I knew was coming, but also finding out that Klopp had been charged by The FA for being too happy. On top of that, not only had Mo Salah not won the Ballon d'Or despite being comfortably the best player in the world in the last year, possibly only being challenged by Lionel Messi, but didn't even come close to winning (and oddly, neither did Messi).
Then there was also the FA Cup third round draw. Liverpool drawn away to Wolves. It is what scholars would refer to as a "bollock of a draw", particularly scheduled to happen after a manic Christmas period and a potentially season-defining clash at Manchester City.
I haven't had time to check the records, but I'm pretty sure that the last time Liverpool were drawn against a team outside of the top division in a domestic competition, Roy Evans was still in charge. It was also particularly irksome seeing the rest of the top teams being drawn against teams they couldn't have hand picked better. Manchester United will play Reading, Chelsea host Nottingham Forest, Man City are at home to B&Q, Everton welcome Four Oaks Community Primary School, Tottenham travel to play the remaining Chuckle brother and Arsenal are away to a half-eaten sandwich.
I was almost starting to frown. I almost let my mood change. Then I remembered, and started whistling the Origi song again.
However, it was not actually the memory of Divock's goal of the season contender that turned my mood back around. It was seeing a tweet from Virgil van Dijk that was simply a smiley face reacting to the Fantasy Premier League crediting him with an assist for the derby winner.
Practically speaking, I was jealous. Those who have Virgil in their fantasy team got assist and clean sheet points. Muggins here has got Jan Vertonghen. Virgil didn't mean that as an assist, and yet he gets points for it. Outrageous. Or is it?
Maybe the Fantasy Premier League saw the same thing some of us did before the free kick that led to the eventual goal, sending Anfield into delirium. It was the 96th minute, The Reds were heading for a draw that would have felt like defeat. They had been frustrated, having just hit the bar and it's safe to say most of us had a pout on by that point. Van Dijk, captain for the day, waved his arm and told Trent Alexander-Arnold to let Alisson take the kick, allowing Trent to push up and find a better angle before putting his ball in.
Of course, he then had a flashback to his recent wonder goal for Netherlands against Germany and thought he could volley in a late winner, and he, erm, didn't. However, after turning away in disgust at his attempt, as many of us did, he never would have expected to turn back around to see The Kop bouncing and Origi getting necked by anyone who holds The Reds in their hearts.
It wasn't the only example of Virgil's leadership. Just minutes earlier when Richarlison had been upping his snide rating – which should also gain points in fantasy football – and Joe Gomez had decided to do something about it, van Dijk was across to take over and spare Joe any potential red mist. Virgil just calmly took over and stared down the Brazilian.
It is not just being a top centre back. Winning headers all over the place, blocking shots, making tackles, spraying balls and accidentally assisting goals, but van Dijk's leadership and off the ball work has been immense since he arrived.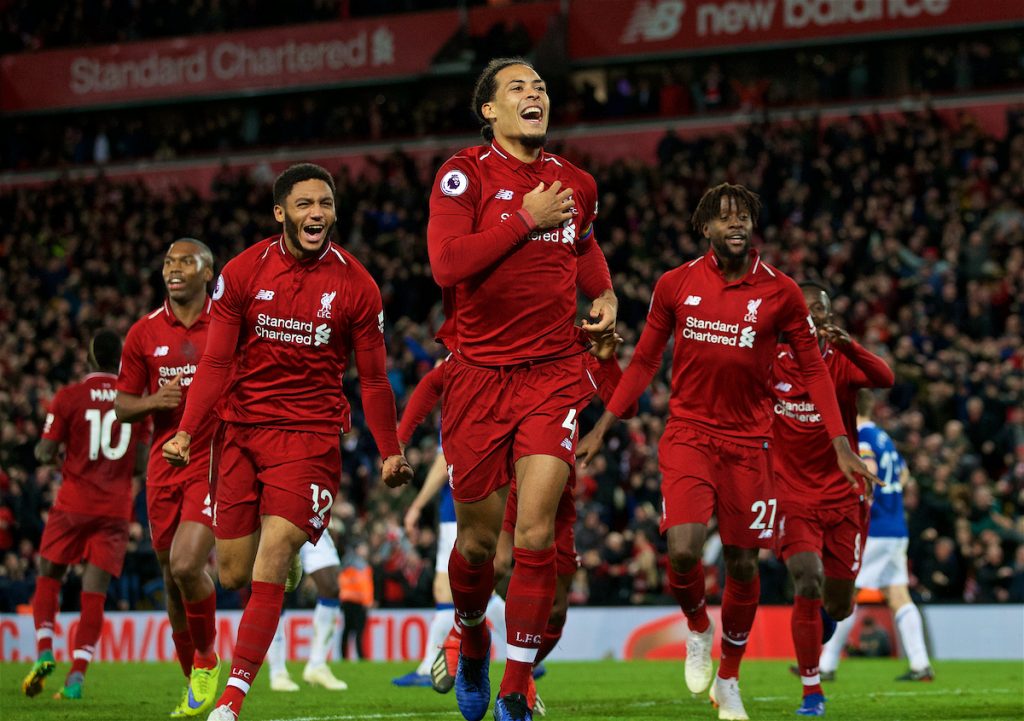 Recently, in the absence of Jordan Henderson and James Milner, the man who was voted as third-choice captain by his teammates has had the armband. It has been the first period where he has actually been the captain for one-off games. However, for all the clamour from some fans for him to be given the main role full time, funnily enough mostly from those with a weird dislike of the current captain, he just doesn't need it. Van Dijk has been like this since the day he walked through the door at Anfield.
Ahead of the home game with Leicester last December, the new £75m signing was there to shake hands with his new teammates as they arrived, letting them know that he was here to not just be a part of things, but to lead. He has done just that, and whether he has a piece of cloth around his arm or not, he will be Virgil van Dijk, and he will lead.
And that was probably Klopp's thinking all along. First of all, I don't think he places anywhere near as much importance on the role of captain as many seem to in England, but in a similar way to how Rafa Benitez did back in the day, Klopp sees the value in having players with captain-like attitudes throughout the team. He has Henderson and Milner, who have plenty of armband experience, van Dijk, and of course the Scotland captain Andy Robertson. Even nearly Red Nabil Fekir would have arrived at Liverpool having been captain of Lyon last summer.
One of my favourite scenes from Sunday – apart from the premature blue pyro that was thrown into Alisson's penalty area by an away fan who peaked too early, just like his dad (thank you, Peter Kay) – was Virgil giving it the big one to The Kop in the post-match celebrations. He then went and had a joke with Klopp and gave a big brother-style hug to Gomez. It was what you want to see from a leader and a key player. A key player who is enjoying himself, and realising what it is to be playing at the top of the game.
None of us know where this season is going to take us, but Virgil van Dijk will be a big part of it wherever it ends. Whether he's dominating at the back or lashing a mishit backheel into the path of Mo Salah for another late winner at Goodison Park in March, he will be there to be what his team needs him to be.
Besides, I've heard a rumour he's shit at coin tosses.
"Marco Silva had the chance to make himself a God…"

He didn't 😂

🗣 Subscribe and listen to our latest 'Review' show, taking an in-depth look at Liverpool 1 Everton 0 👉 https://t.co/lmNtByMZeZ pic.twitter.com/rsNXJYd3A2

— The Anfield Wrap (@TheAnfieldWrap) December 3, 2018
Recent Posts:
[rpfc_recent_posts_from_category meta="true"]
Pics: David Rawcliffe-Propaganda Photo
Like The Anfield Wrap on Facebook