LET'S be honest about it; it's a bastard this international break, isn't it?
Just as football pulled you back in, reminded you why you love it, put its warm arm around you and led you to the pub for a catchup, it's all snatched away again in an instant. And worse, at a time when The Reds are flying, sitting pretty at the top of the Premier League.
In its place, an empty fortnight sits, one we're still knee deep in, a hole where The Reds should be and yet all we have is a win at Leicester that seems like ages ago. International friendlies – and made-up competitions no one seems to have the first idea about, including those in the mainstream media – just don't cut it as any kind of replacement.
For me at least, conversations over the dead weekend just gone mainly concentrated on one aspect of the games taking place – "I hope we don't get any fucking injuries".
Such is that worry that the barber who cut my hair would dare not utter the name of Joe Gomez during the obligatory footie chat.
Me: "The one I'm worried about is…"
Him: "Don't even say it, don't even say it, I know who you mean. Let's hope, mate. Fingers crossed."
Throw in the now done-to-death fact that international football just doesn't light the fire for some people for a variety of reasons – political, social, geographical – plus the consideration that it's so often dull as fuck, and it makes it an odd time for the connoisseur of club football.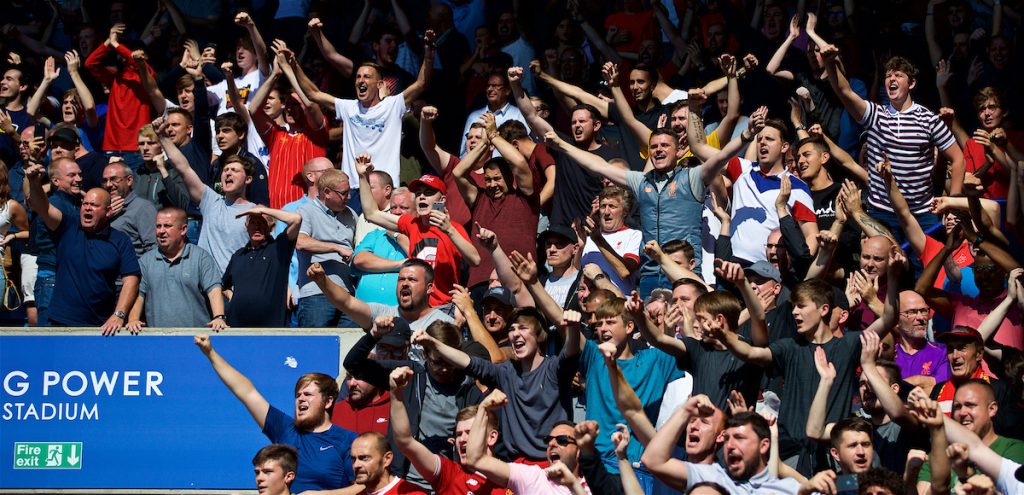 Where do you get your kicks?
It's easy to think "fuck them, fuck that, just get back safe and pull on the red shirt" when it comes to Liverpool players representing their countries, but it's also worth remembering what it means to them – and how, in fact, it could benefit The Reds and the continued quest for silverware when the real stuff returns on Saturday.
Take the aforementioned man whose name we dare not speak. Gomez has only four full international caps for England and, despite his mature performances this season at the heart of the Liverpool defence, is only 21 years old.
He's a London lad, so isn't carrying the indifference of so many Scousers to the Three Lions, and while he's been at Anfield for more than three years now, he has only clocked up 45 appearances for the first team.
The point is, he will have relished lining up against Spain at Wembley, who despite not being the superpower they once were, remain a top 10 team in FIFA's rankings. It was more experience, more pressure and another chance to taste football at the top level, alongside different players, in a different environment. Out of his comfort zone, if you like.
Before the game, he said: "I'm looking forward to getting some minutes in the two games. It's always a positive for me playing with England and I'm still quite new to the squad. It's nice to be involved."
The same applies to Trent Alexander-Arnold. He's Scouse, he's switched on. He's no doubt more than aware why there is indifference to the national side among many with an L postcode.
Yet, like Phil Thompson, like Steven Gerrard, like many more, he is also a professional footballer. A sportsman. A lad who has lived his life in a certain way so far in an effort to reach the very top of the game.
He's 19 years old and he's already played in a Champions League final and been to a World Cup. You've all seen the clip of him hitting the bar in England training – doesn't look like he's hating, does it?
Trent is expected to start for England tonight against Switzerland at Leicester. If he does, it will be only his third senior cap.
On going to the World Cup, he said: "I'm from West Derby in Liverpool, and I don't know anybody else from my area that has played at a World Cup. It just doesn't happen to lads like me."
He's living the dream, and good on him. Playing for England is part of it. And in many other sports is considered the pinnacle.
Will it help him for Liverpool? Some will still remember – and bristle – at the experience of John Barnes for England. But times have thankfully moved on. And again, more experience of big matches on big stages can only help with his development. Ultimately, it will always be Liverpool that benefits from that more than England.
For us meanwhile, where else can we get our kicks during this void of real football?
Well how about Mo Salah and Egypt putting their differences aside for a while to allow the forward to score two and set up two in an Africa Cup of Nations qualifier versus Niger? (We'll gloss over the two missed penalties…)
What about that clip of big Virgil van Dijk's defending against Kylian Mbappe?
Virgil Van Dijk in a 1 on 1 with Kylian Mbappé, fantastic defending💪🏻 pic.twitter.com/XtRHHAJCpY

— Anfield Express (@AnfieldExpress) 9 September 2018
What about Gini Wijnaldum having the metaphorical kecks off Antoine Griezmann before the Frenchman responded by having the actual kecks off the Dutchman?
Or that every one of his passes in that game found a teammate?
What about Bobby Firmino scoring, about Fabinho getting some game time, about Andy Robertson captaining his country and Xherdan Shaqiri showing his class for Switzerland? And on we go. A glance around offers no reason to suggest momentum won't be maintained.
International football may not be for many of us, and that's fine. That's life. But there are still nuggets of interest and excitement in there if you look long and hard enough. And many of those could, and should, be beneficial to what we all want come May: a trophy wrapped up in red ribbons.
Sadly, these games, these breaks, look like they're here to stay. The competition no one understands is still in its infancy. So all we can do is hope for the best when our players disappear far and wide. And it seems the best, when you think about it, is actually a little more than just hoping Gomez doesn't get injured.
Smash it tonight then, Trent. And then do the same against Spurs on Saturday, yeah? And the rest of you boys? Do the same.
"It's a fantastic time to be a Liverpool fan… I can't see any negatives. This really is what you're in it for." 🙌

🗣 Listen to this week's FREE Anfield Wrap podcast in full here 👉 https://t.co/fuxOdwWB6T pic.twitter.com/XmjhbCXUzt

— The Anfield Wrap (@TheAnfieldWrap) 10 September 2018
Recent Posts:
[rpfc_recent_posts_from_category meta="true"]
Pics: David Rawcliffe-Propaganda Photo
Like The Anfield Wrap on Facebook