IT'S been a long time since Liverpool could flaunt a centre-back colossus whose threat of rashness is so diminutive that any error warrants ironic wide eyes from surprised fans.
Yet Virgil van Dijk's shades on, on the beach demeanour is strangely glossed by an accompanying nine-to-five working mentality. Last-ditch is obsolete to the former Saint, but by all means within his capabilities.
Rarely is his purring nonchalance dented, but on the odd occasion it is, there's a frowning compulsion for perfection that you can't help smile at. A moment of adversity at the back no longer creates the same catalytic panic that it may have in previous seasons, and van Dijk has been a major factor in achieving that.
The Dutchman won't shy from letting himself or his teammates know about a mistake, but nor will he let either suffer from it for the rest of the game. Not only is his poise and disruptive physicality proving infectious, but so is the progressive dismay towards unnecessary lapses and the immediate reset that follows.
One moment in van Dijk's man of the match Crystal Palace display saw him slice a front-post clearance. His positioning was expert and there was no harm in finding the stands in the manner he did, yet he didn't approve.
Before Alisson even had time to let him know he could have come out to collect, van Dijk – still with his back to the Brazilian – already had his hands raised in apology. He knew straight away. He knew he was better than a minute mistiming. To even be able to pick out such a trivial feature is refreshing testament to the unnerved authority Liverpool now boast at the back.
Beneath The Reds' strutting commander seems to lie the refusal to shut up that helped propel Jamie Carragher to Anfield greatness.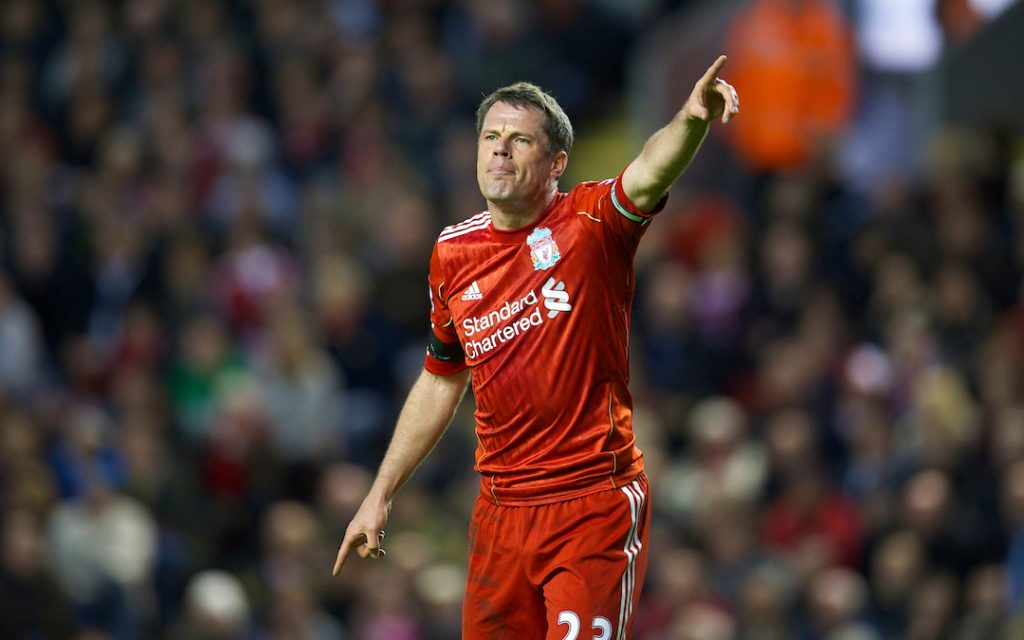 Carra has often spoken about his willingness to become an undying but crucially tone-setting nuisance in the ear of his teammates. Those beside him were colleagues before friends and he didn't care if he was a pain, as long as it garnered results.
Van Dijk feels like a somewhat modernised version of the Liverpool legend in this respect, with a natural tendency to bellow instructions without fear of disharmony. The slight difference is perhaps a greater focus on building friendships on and off the pitch, in consideration of his experience and its value to his young defensive teammates.
There was arguably less of an onus on Carragher to aid the development of those around him than there is on van Dijk.
The opening day win over West Ham staged a less-coveted highlight of his formidable start to the season. It wasn't a towering header or a quarterback-esque pass, but instead a message to Andy Robertson – "stop the fucking cross!" There's something bizarrely calming about Virg getting angry. There's a feeling all will be fine.
For a man that conducts himself with supreme composure and reassurance, such an order becomes impossible to ignore or not fulfil. There's a reinforced sense of security when he momentarily steps aside from his relaxed nature to let his team know he's unhappy about something.
He is giving Liverpool everything the club has longed for in a defensive foundation over the past few seasons.
Opposition teams are now having to base their preparations around both thwarting Liverpool's attacking potency and dodging van Dijk. How long has it been since sides had to account for the game-dictating impact of a Liverpool defender?
Virgil Van Dijk in a 1 on 1 with Kylian Mbappé, fantastic defending💪🏻 pic.twitter.com/XtRHHAJCpY

— Anfield Express (@AnfieldExpress) 9 September 2018
Already there has been a common theme of forwards pinning onto young Joe Gomez, more so in recognition of van Dijk's expertise than of the Englishman's inferiority. In fact, the 21-year-old has prevailed in every individual battle he's encountered across the team's unbeaten start.
A Christian Benteke who prides his game on aerial power took on van Dijk at Selhurst Park – only to be outmuscled and outmanoeuvred towards another uninspiring outing. In fairness to the Belgian, he caught the world's most expensive defender enjoying his best performance in a Liverpool shirt.
Every challenge to come his way this season has been bullishly shrugged aside.
Late headed clearances to initiate Sadio Mane's counter-attack goal against Palace and to fend off two Leicester players from a corner have evidenced his ability to earn Liverpool valuable points.
Even his athleticism to stretch for a back-post header and deny James Tomkins a gaping route to goal laid claim to his importance. A potential scoring opportunity was made to look innocuous.
It was never going to take van Dijk alone to rectify Liverpool's defensive woes and the man himself knew that, so he went ahead and improved those around him along the way. Having helped hoist Dejan Lovren's performance levels to a once unimaginable state last season, he has since imposed his competence on Gomez's game.
Meaningful solo contributions have been weaved between a glaring influence on the defensive organisation and discipline of Jürgen Klopp's men. For all that is said about the difference a top-class goalkeeper can make on the league table, van Dijk makes a strong case for elite defenders deserving a place in the same conversation.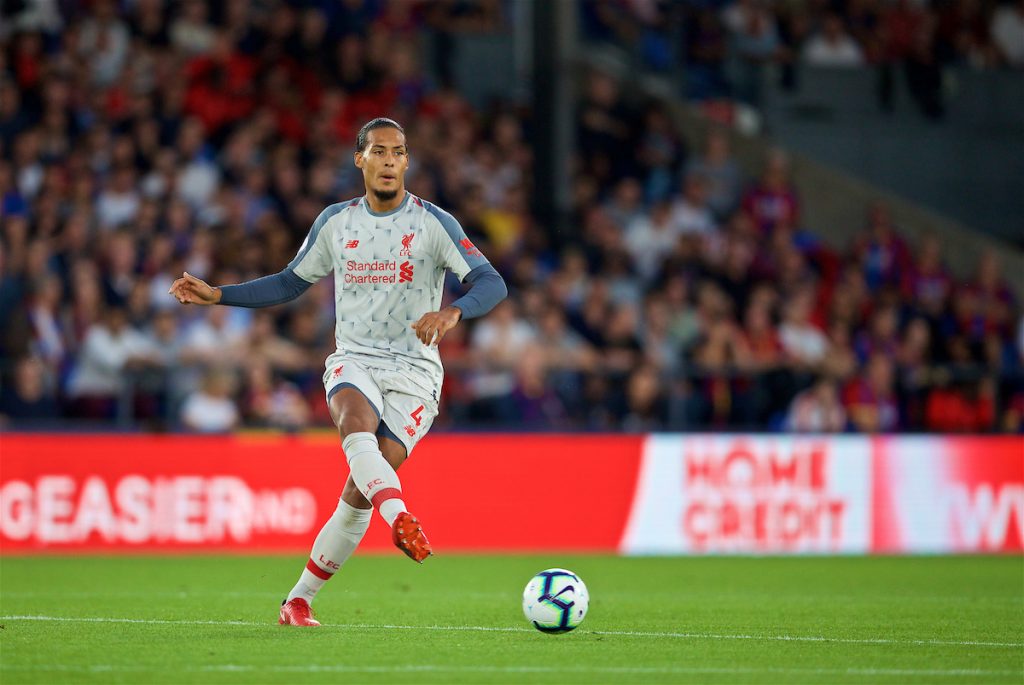 If he isn't soaring to win towering headers, or suffocating the opposition forward in possession, he's caressing cross-field passes with pinpoint accuracy.
To govern the gritty areas of the game with such grace is a sight to behold for Reds.
Memories of October's visit to Wembley still won't have faded for some. Retain the same dominance against Harry Kane and Tottenham next week and van Dijk will give fans good reason to start seriously believing.
Rivals have been waiting to ridicule his price tag. He is yet to threaten signs of giving them that chance.
"The interest in [Rabiot] from Liverpool since Klopp arrived has always been there."🗣

"There's been a lot of positives so far in those contacts."🇫🇷

Subscribe to TAWPlayer to listen to an excellent special with @LaurensJulien on LFC's move for Rabiot 👉https://t.co/q0tg7SFik9 pic.twitter.com/CC62JHqcNU

— The Anfield Wrap (@TheAnfieldWrap) 6 September 2018
Recent Posts:
[rpfc_recent_posts_from_category meta="true"]
Pics: David Rawcliffe-Propaganda Photo
Like The Anfield Wrap on Facebook