IT is an oft-used analogy when a football team is not quite playing up to their usual standard that they are in "first gear", or "have the handbrake on", or even "are driving with one thumb on the wheel and the other thumb up their arse".
That last one may have only been used by a distant uncle who had his driving license revoked shortly thereafter, but it is for some reason popular to compare the tempo teams play at with driving a car.
Have you ever accelerated away at the lights and been distracted by something, only to realise that you're still in first gear and the car is making strange smells? It belts out the sort of high-pitched whine that reminds you of Andy Gray discussing throw ins.
There were no strange smells emanating from Liverpool on Saturday at the King Power Stadium, unless the lads had eaten too much carrot cake at Melwood. It's fair to say though that Liverpool were indeed in first gear, and yet were still able to close out a 2-1 win in a very tricky away clash against an impressive Leicester City.
The danger in assessing the performance of Jürgen Klopp's side in isolation is that you ignore what they were up against. The former Premier League champions will not be a threat to the crown this year, but before Saturday they had largely dominated Manchester United at Old Trafford, are the only team to have beaten Wolves so far, and also won away at Southampton and thumped Fleetwood in the Carabao Cup.
Claude Puel is an oddly underrated manager. People say his style isn't all that exciting, but he has The Foxes playing some excellent football; very organised, fast-paced and with skilful players such as James Maddison, Rachid Ghezzal and Wilfred Ndidi pulling the strings. They dominated large spells because their shape was near flawless. The hosts were well drilled and it must have been a pain in the neck to play against.
However, thanks mainly to a superb performance from Joe Gomez, ably supported by Virgil van Dijk, and a marvellous cameo from the nimble little mini fridge that is Xherdan Shaqiri, The Reds got the job done to head into the international break top of the Premier League table.
Klopp acknowledged when talking to the club's website that his team's ability to overcome these early obstacles while not at their effervescent best can only be a positive, saying "If you are flying constantly, you are not prepared for the difficult moments — you cannot be prepared — so we are.
"We know that and I told the boys immediately after the game in the dressing room that if winning away games in the Premier League would be so easy, then everybody would do it constantly.
"In the moment, we are obviously not stable enough to do it over 90 minutes, but that's what we are working for and that's what we want to do, of course, so it's all fine."
It's difficult to say whether any other team — apart from champions-elect Watford — are really "flying" at the moment. Chelsea have looked a bit laboured and relied on some fortune in their victories, while Manchester City have dropped points, and Tottenham, Manchester United and Arsenal have all been beaten at least once.
The opening day pummelling of West Ham was an ominous sign of what was likely to come from Liverpool, but wins over Crystal Palace, Brighton and now Leicester have been a little more mucky handed, obtaining victory through blood and sweat more than through beauty, though as Klopp alludes to, that is perfectly fine at this stage.
In his first full Premier League season at the Anfield helm, Klopp started by winning two games, drawing one and losing one, and last year he did the same, conceding seven and eight goals respectively in the process. This campaign he's won four and conceded just once. It is Liverpool's best start in 28 years.
It does seem like the team needs regular games to get their mojo going though, and once the Champions League begins they should be able to build up a head of steam. They'll certainly need to do so given the relentless quality they will be facing over the next four-five weeks, with Tottenham, Paris Saint-Germain, Chelsea, Napoli and Manchester City on the horizon.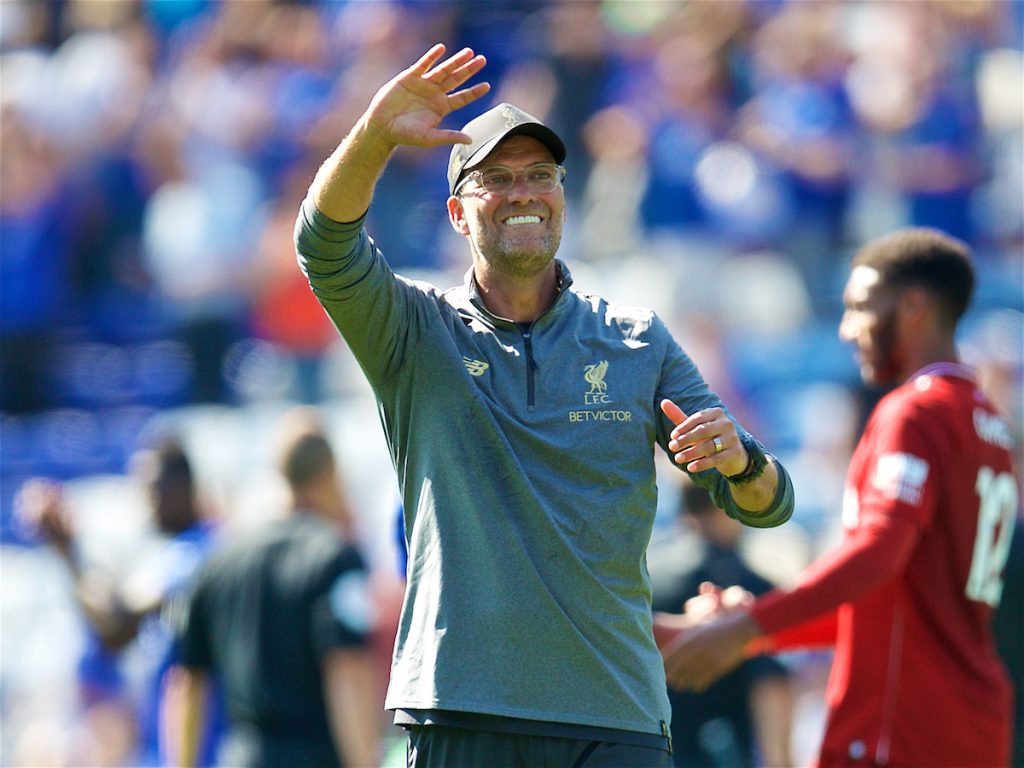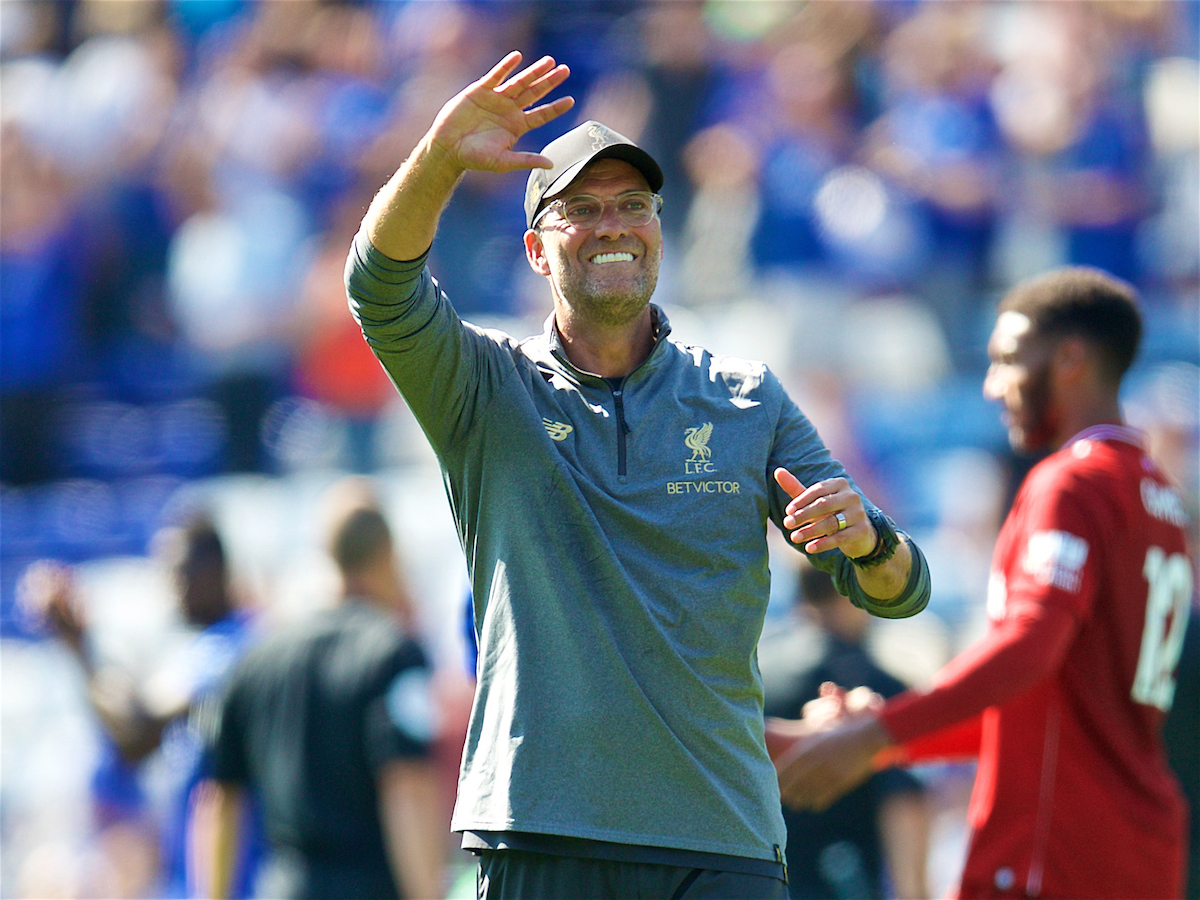 Klopp isn't the only one to recognise that his team is yet to find it's rhythm, though. Mauricio Pochettino made some fascinating comments following his Spurs team's 2-1 defeat at Watford on Sunday. He told Sky Sports: "We were talking a lot in the three previous games, I told you and everyone I wasn't happy [with performances]. Of course when you lose, you must learn and improve. But my disappointment is, when you win and maybe don't deserve to win, why do you not learn? That is what is so disappointing.
"During the week I was trying to explain to the players that we were not great, the perception and reality was totally different."
And that's the crucial point. Learn from mistakes, as a certain Brazilian goalkeeper certainly will, but also learn in victory. Learn from the performance, regardless of outcome. That is the key to improvement. Pochettino felt his Tottenham team had gotten ahead of themselves after their 3-0 victory at Manchester United the previous week. His job, and that of Klopp, is to make sure their players are constantly looking to improve, regardless of winning, losing or drawing.
The signs are that these Reds are learning all the time. The response to Alisson's mistake at Leicester was admirable, and not really akin to Liverpool of recent years. With that resoluteness and intelligence in their arsenal, teams might start to really struggle to figure out how to play against this side.
In the last two days we've had Sadio Mane's player of the month award, Andy Robertson being named the new Scotland captain, Mo Salah nominated for two separate FIFA awards and Gomez being compared to Bobby Moore (albeit by Garth Crooks). The table toppers are being recognised for their performances, so just wait and see how many kudos they get when they really start to turn it on again.
Liverpool will need to step up the gears and find that extra horsepower soon, but if there's one thing you can count on, it's the quality of German engineering.
Vorsprung durch throw ins.
"Every time the ball went anywhere near Alisson after the mistake, the [home] crowd were absolutely on him." 🗣

"He just wasn't bothered at all, he was so calm & collected." 👊

🗣Listen to our free show 👉https://t.co/5sutzzZoPN
✍🏻Subscribe for more 👉https://t.co/q0tg7SFik9 pic.twitter.com/TDNlIDkaAr

— The Anfield Wrap (@TheAnfieldWrap) 3 September 2018
Recent Posts:
[rpfc_recent_posts_from_category meta="true"]
Pics: David Rawcliffe-Propaganda Photo
Like The Anfield Wrap on Facebook