WHAT is a captain?
Is he someone who scores goals no matter where he plays? Is she a player who never shuts up, constantly barking orders at her team mates? Maybe someone who calmly, but quietly, leads by example?
Or can it be any combination of the above and more, depending on your point of view?
As soon as I saw the announcement about Jordan Henderson's new contract I knew it would cause debate. I dived into the replies to the various tweets from journalists giving a summary of the deal, intrigued to see what the split of responses would be.
It was as expected.
https://twitter.com/LFC/status/1036645042813915139
Even accounting for the negative nature of people's general use of that social media platform (in my experience it ranks only behind YouTube for users being horrible to each other and to those to whom they're replying), there were an overwhelming number of people criticising both the contract extension and the fact that Henderson remains Liverpool's captain (and is now likely to for the foreseeable future).
It begs the question: What do Liverpool fans want and expect from a captain?
I've had this conversation numerous times before. If you've listened to me on various podcasts over the past 18 months you might have heard me say when discussing who Liverpool fans want in centre midfield that they're not allowed to pick Graeme Souness or Steven Gerrard, which I've identified as being the ultimate end-game in most people's gripes with anyone playing centre midfield for us.
To clear that up before going any further, you can't have Gerrard or Souness. Get over it.
Even as I write that, though, it would be interesting to know which of those players you think was more of a captain?
For those modern fans bemoaning Jordan because they expect their leaders to be like Gerrard, there's an older generation that wasn't a fan of Gerrard's leadership because they were used to Souness. Some of you might not remember, but there were plenty of occasions when Gerrard's suitability to the captain's role was questioned, not least when he was moping around the pitch in a bad mood. He was often not the vocal captain many desired.
And what about Alan Hansen, Phil Thompson or Sami Hyypia? Which of them is your ideal captain?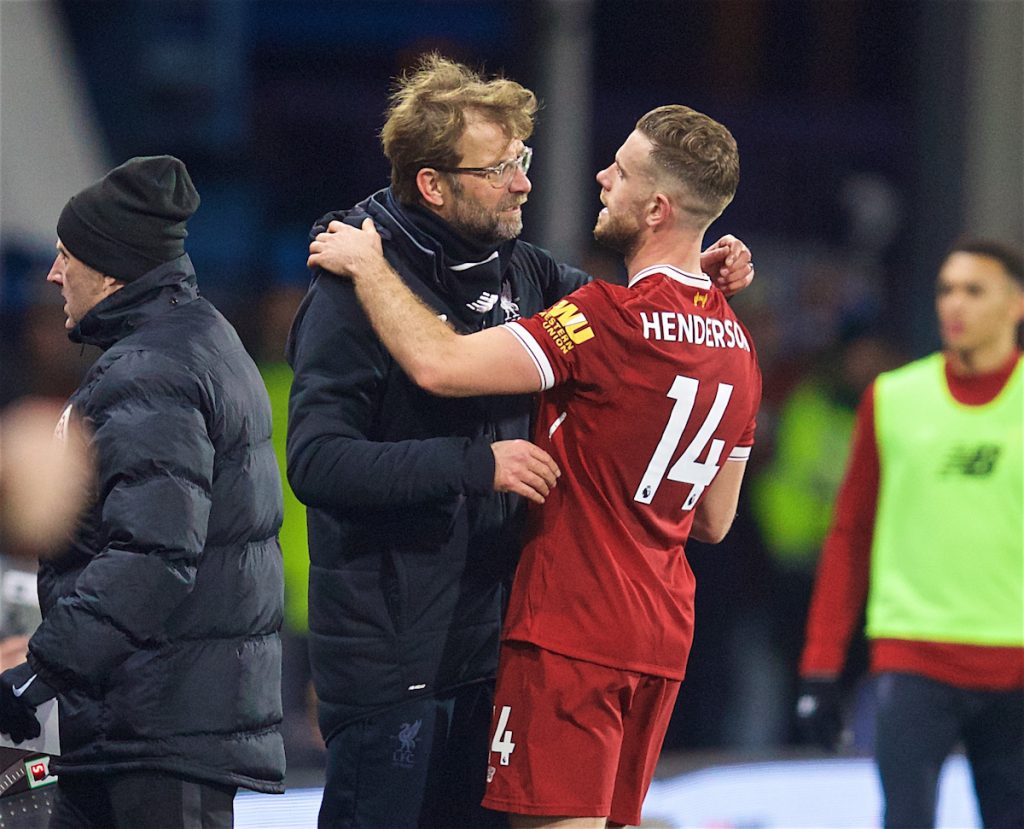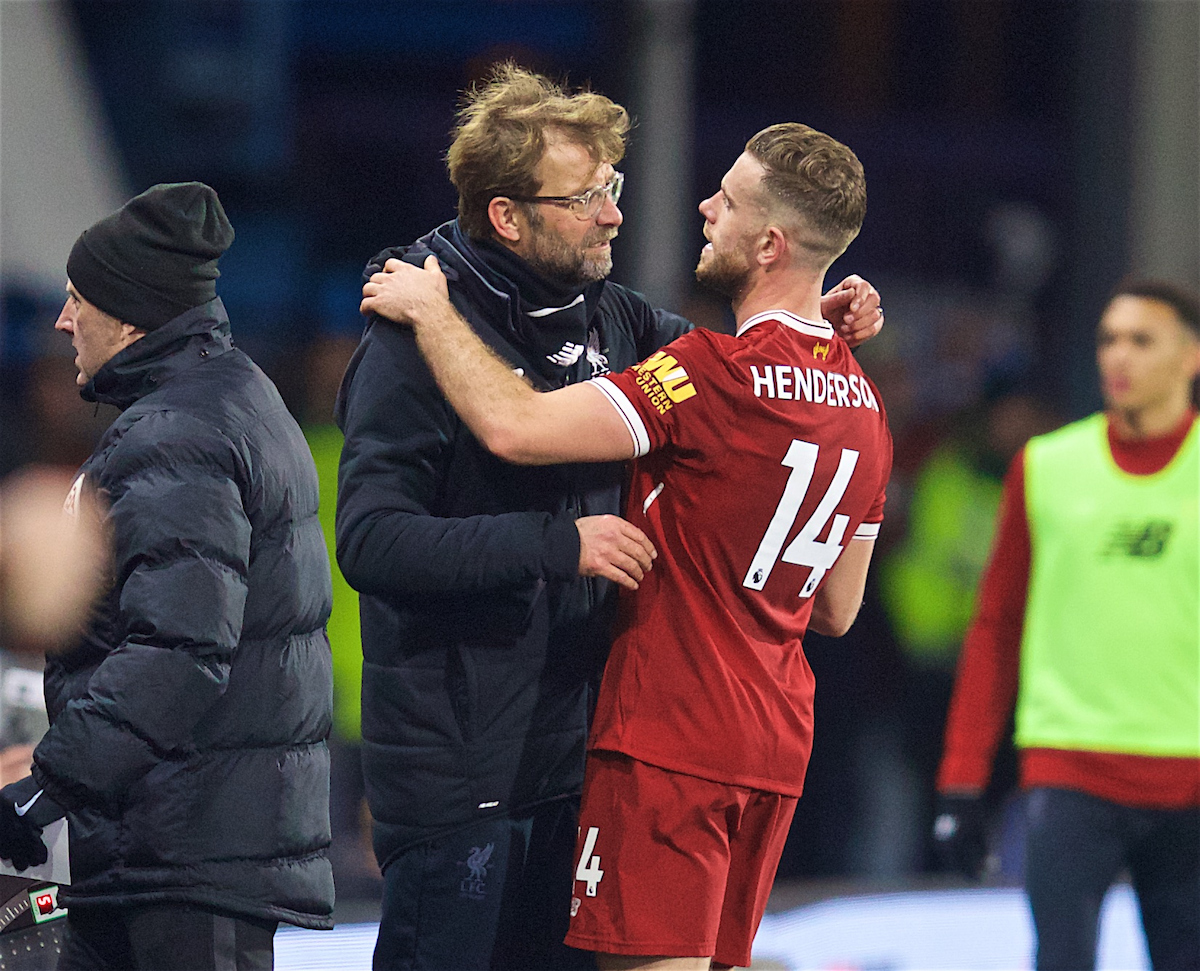 What strikes me most about the Henderson as captain debate is that it only takes place among fans. As far as I'm aware, every manager that Jordan has played for in his junior and professional career has at some point asked him to lead their team. That's everything from youth international football, to lower league youth set ups and now to the senior international and elite club level of the game.
Yet some fans watching from the outside think he's not worthy of such a lofty position mainly, as far as I can see, because he doesn't score enough goals from the number six position (I'm yet to be given an example of someone who does score plenty from that role on the pitch) and because he sometimes gives the ball away.
Yet those same fans laud Jürgen Klopp as some sort of football saviour.
Something surely has to give in that scenario. Either Klopp knows what he's doing and Henderson is better than many think, as a player and as a captain, or Klopp is blind to a severely flawed player, which devalues him as a manager. You can't have it both ways.
You're likely to have seen Klopp's comments on the contract extension, but they're worth repeating here.
The manager told Liverpoolfc.com: "It is fantastic news but should not be a surprise to anyone – he is perfect for us and we for him, I think.
"Jordan embodies entirely what it means to be a Liverpool player in this modern era of football. You can tell through his actions on and off the pitch he treats representing our badge and our shirt as a privilege. He takes nothing for granted and strives to learn and be better for his team at all times.
"He carries a lot on his shoulders that people on the outside won't see, but he embraces that responsibility and that leadership. He is our 'General' and I trust him completely.
"But the best thing is, I think – in fact, I know – he will get even better in these coming years. And this improvement will come from a very high base already.
"Jordan is so important to us and we are very fortunate as a club to have this person commit to us as he has.
"For Jordan and his wonderful young family I am really pleased they now know they are part of our Liverpool family for an even longer time."
Just look at some of the words he chooses to use. "Perfect", "embodies entirely", "we are very fortunate", "I trust him completely".
Those are not the words of a manager in any doubt about his captain.
I saw people saying on Twitter that Klopp is basically stuck with Henderson and can't change a captain he inherited. An argument they no doubt use to justify loving Klopp while hating our number 14. Those people either have short memories or maybe aren't older enough to remember that Gerrard was made captain at the expense of Hyypia, who continued as a key member of the team after losing the captaincy.
The same happened to Phil Thompson when Souness took over the arm band.
Elite level managers have no problem being ruthless for the greater good when it becomes necessary (just ask Mamadou Sakho whether he thinks Klopp falls into that category).
We can be sure that if Klopp wasn't entirely happy with Jordan as his captain and as a key member of his midfield, he would no longer be there. It will, of course, be interesting to see what happens when Fabinho is ready to be assimilated into the team, and how Henderson responds to that challenge.
If Fabinho proves himself as being better than our current number six, there's no doubt in my mind that he will, and should, take Henderson's place in the first team.
But that's far from guaranteed and, as Jürgen said: "…the best thing is, I think – in fact, I know – he will get even better in these coming years. And this improvement will come from a very high base already."
I'd be interested to find out which of the people who can't stand Hendo as our captain and deepest-lying midfielder thought of Lucas Leiva five years ago. Were they part of the crew that hated him, even going as far as booing him during games, only years later to hail him in his new role as a cult hero?
Things change quickly in football, and there's no doubt in my mind Henderson would be thought of more highly by the masses had he gone that one extra step in any of the finals he's played in. Lifting a trophy while wearing the captain's armband is ultimately what it's all about, so it will be interesting to see what happens to his reputation when that time comes.
In my view, Henderson is an excellent captain and a very good footballer with the potential to reach an elite level. He will never be Gerrard, but I also think he has made a big personal sacrifice by agreeing to become a number six when he could easily have been a 10-goal-a–season, dynamic attacking midfielder if his younger years were anything to go by (people seem to forget some of the wonderful goals he's scored in seasons when he was deployed higher up the pitch).
It's worth remembering that not all players are prepared to play in a position alien to them for the greater good.
Of course he makes mistakes, gives the ball away and isn't perfect. Nobody is. The debate, as far as I can see it, stems from the fact that he does enough of everything that you can see whatever you want to see. He's like a walking, talking and breathing magic eye picture.
If you want to only focus on the times he gives the ball away attempting a pass, there's plenty for you to use as confirmation bias that he is shit, and the same applies if you want to focus on the world class 60-yard passes he's capable of.
Most of us see what we want in the world at the end of the day. Choosing to try to see the other side of the argument is the real key, but it's easier said than done, especially if you already feel like you've nailed your colours to the mast on one side of a debate.
I used to experience the same thing in conversations about Lucas before it was cool to love him. When discussing how good he could be with someone who thought he was rubbish, they simply couldn't see it because they were ignoring anything good and focussing on everything bad. Do that with any player and you'll soon realise that they could all have YouTube compilation videos making them look like average Sunday League players. Even the very best look awful at times.
Of course the same can apply to people who love a player and are blind to the mistakes they make and the flaws in their game. If you only focus on one side of the debate, you can never properly engage in a worthwhile conversation about whatever the topic is.
Regardless of ongoing arguments about Henderson's footballing ability though, his main issue as a captain, in Klopp's words, is that much of what he does is done quietly, behind the scenes when nobody is watching.
That's what a real leader is. Someone who makes sacrifices for others without any credit or public adoration. Someone who, in the moments of euphoria after a Champions League semi-final win, has the presence of mind to remember to acknowledge a supporter who has been seriously injured on his way to a match. Someone who does everything he can on and off the pitch to make life easier for those around him.
True leaders can do things in public for the pleasure of the crowd while also doing plenty behind the scenes that goes unnoticed. Whatever your view on Jordan Henderson as a player, his value as a captain is clear to all of those who want to see it.
Recent Posts:
[rpfc_recent_posts_from_category meta="true"]
Pics: David Rawcliffe-Propaganda Photo
Like The Anfield Wrap on Facebook