KYIV, the capital of Ukraine. An almost Orwellian-like civilisation steeped in tradition yet still evidently bearing the scars of past troubles.
The suburban communities that surround the more familiar European city ambience near the Olympic Stadium were amassed in character, yet plummeted in a deep pit of austerity you couldn't help but feel for.
Despite the obvious challenges in navigating around the place, the lack of information on fundamental aspects of such an occasion and a general feeling the actual football supporters were once again left to figure it out for themselves by UEFA, the masses of Liverpool supporters found solace in each other around the city centre last weekend to witness the club's eighth European Cup final against Real Madrid.
This was a solace that was needed more than ever after the final whistle. The football game was one of a dispiriting reality in many ways. Loris Karius has etched his name into Champions League folklore for reasons he could not have imagined in his wildest nightmares leading up to the game and deserves the chance to reflect and repair with the help of his manager and club, whatever his eventual fate.
The cold light of day is now upon Reds everywhere, who watched the game from all corners of the globe. There has been plenty of opinion offered as to what went wrong, not namely the goalkeeper. Some have lamented the lack of a Graeme Souness-type dictator in the Liverpool team to counter the actions of Madrid's bastardly clandestine skipper Sergio Ramos. Others have even questioned a lack of a more conservative approach from Liverpool once Mo Salah was off the pitch.
An almost identical argument was evident in 2013-14, when Liverpool wilted against a Chelsea side while continually trying to play their way, doing it the only way they knew how. In many ways, to send a message in game asking for a different approach, and go against all you've been told is your identity all season, was as impossible then as it is now.
Despite the wishes for things to have ended differently, Liverpool died on their sword. A good start to the game was overthrown by not just a lack of good luck — against a team you arguably need it most against to prevail — but The Reds having sheer bad luck on the night.
That cocktail enabled Madrid to take hold of the contest and dictate it to their desired outcome, and ultimately done for Jürgen Klopp's men. Yet, the fact that the most crucial 90 minutes of the season did not bring the desired ending should not in any way discount the effort and ability displayed in a nine-month season which ultimately enabled European Cup final involvement.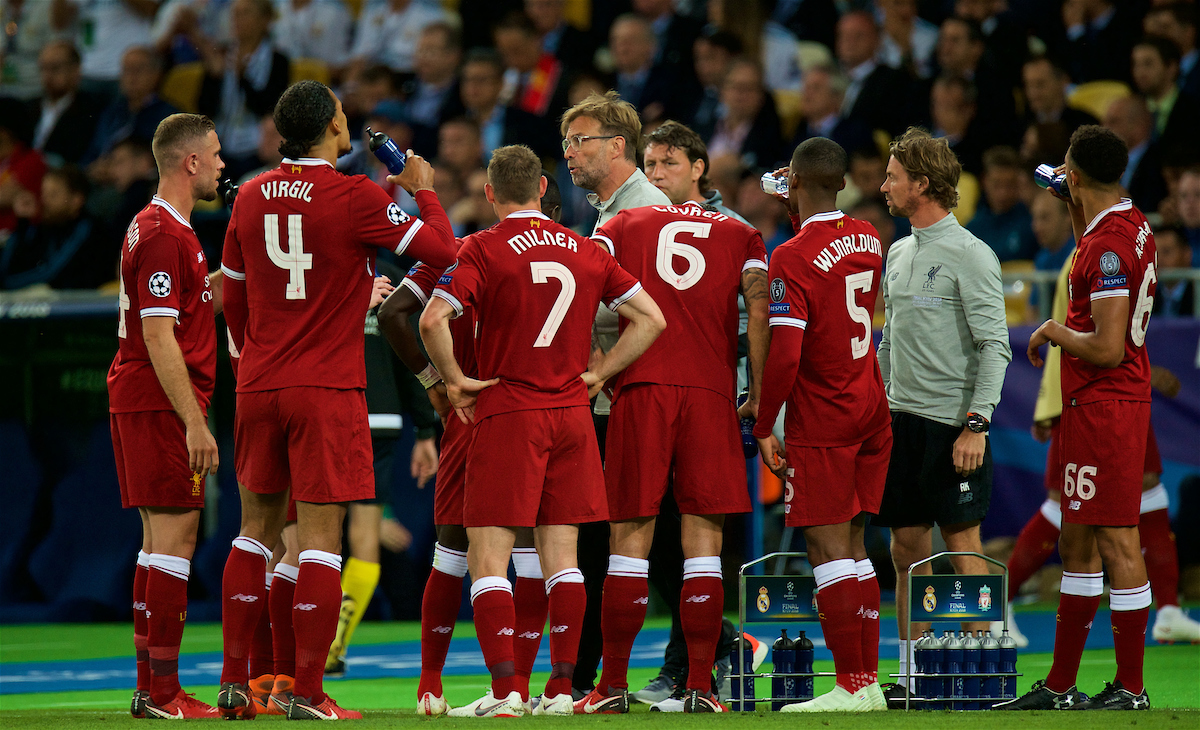 This Liverpool team are defined by progress. Under the stewardship of Klopp, progress has been evident in each term. A second consecutive season of collective and individual moments of sheer breathtaking football has this season led to the club coming within 45 minutes of winning the biggest cup competition in club football. This is in addition to the two consecutive seasons of Champions League qualification now achieved.
To put this into perspective, Liverpool have for two seasons now made Arsenal Football Club none of their business since the turn of the calendar year. Arsenal were not so long back subject to more than the envious glance from our direction due to their repeated European qualification while we seemed to languish in continental mediocrity. For every San Siro the Gunners enjoyed, Liverpool endured a Thursday night at FC Sion.
That envy has turned completely on its head. Liverpool are now the club with an identity and clear path of progression while the North Londoners have found themselves embroiled in the kind of inner turmoil and steady decline that have become very much a consignment to the past on the red half of Merseyside.
There is though, a trophy-shaped hole in this exciting chapter in Liverpool history. Klopp has now had three opportunities to turn a silver medal into a gold and, for whatever reason, it has not come to fruition. The fact remains, the manager will know more than anyone that his team will need to add trophies to the team photograph to give this a sense of true purpose and achievement.
Cup finals are in themselves their own entities, occasions in themselves. If anything, they are built for Klopp teams and the notion the manager has some final hoodoo does not hold up based on results alone. This could just be a matter of luck. Our recent League Cup and Europa League final opponents Manchester City and Sevilla stand up significantly to the much more appeasing Southampton and Ajax, who Manchester United have faced in recent years.
The Reds now need to tick the right time box next to the right place one. To do this, the vehicle needs to keep moving forwards on all fronts. Despite the huge disappointment of Saturday, there has been no Athens-style repeat of murmurs of discontent in the club, no indication there was something sinister lurking in the underbelly of Liverpool's defeat in Kyiv.
Instead, while supporters were still navigating their journey home from the Ukrainian capital on Sunday evening, the club announced that they have secured the services of Monaco midfielder Fabinho in a ruthlessly swift fashion, with the leggy Brazilian posing in Liverpool red just as media outlets throughout the world were still coming to grips with the news.
A lot of positivity emanated from the transfer. A player of undoubted quality which signified a desire, a burning will for Liverpool to keep improving and realise their ambitions the minute the final ball of such an arduous season was kicked.
Yet maybe the clearest signal of progression and reflection came from the player himself. When pressed on his move, Fabinho described Liverpool as a "giant of a team" with "exceptional infrastructure" while also citing the passion present on and off the pitch.
These aren't taglines, this is a much sought after European footballer identifying the direction of the club he has joined and wanting to sample what is happening here. As with the signing of Virgil van Dijk, you no longer feel Liverpool is the move before the move and are now the place to make things happen for highly ambitious players.
This transfer will undoubtedly result in Emre Can leaving the club which is generally fine with everyone concerned. Can's motives have been repeatedly pondered which have led to attitude and arrogance assumptions, yet the player will have his own motives, being guaranteed football in his preferred position every week likely being top of his list.
The hope now is that there are no other unanticipated exits that the manager has to deal with in the summer months. The disappointment of the Philippe Coutinho saga which emerged last preseason set a precedent of unnecessary dressing room, ownership and ambition talk that everyone thought would evade them. This is about everyone pulling together, no backward steps.
Klopp has worked tirelessly to ensure this journey he has taken his players and club on has everyone pulling in the same direction. You feel that he has the same level of contempt for any player wanting away as he does for the people in the Main Stand he occasionally lambasts for not showing the right attitude to the team.
All of this now lies in tantalising wait. Right now, the foundations have been set for Liverpool to continue to build and Saturday will only serve as a minor bump in the road. The realisation of hope wherever in the world you were during the final is something that hopefully left you as much comfort as it did me as I strolled the streets of Kyiv ponderous yet proud, alone with everybody engulfed in process.
Yet now, after it is all done, it is that same blanket of hope we are immersed in, the realisation that those having parties from their insular existences at the sight of Liverpool not winning a game of football signifies just how relevant this club has become again.
The streets of Kyiv felt the vibrancy and life that Liverpool Football Club currently embodies last weekend, they drank it in with every song and they inhaled it with the fog of red that surrounded them.
They will all now spread the word as we continue to do… Liverpool Football Club are back.
"We might get more Fabinho style out of the blue. Everyone's got their Paul Joyce notifications turned on!"

✅Alisson
✅Oblak
✅Pulisic
✅Fekir

✍🏻Subscribe to listen to our transfer shows, immediate new signing reaction specials and more this summer: https://t.co/sAYhSu6Qag pic.twitter.com/kk6J1zLi84

— The Anfield Wrap (@TheAnfieldWrap) 30 May 2018
Recent Posts:
[rpfc_recent_posts_from_category meta="true"]
Pics: David Rawcliffe-Propaganda Photo
Like The Anfield Wrap on Facebook