JÜRGEN Klopp's Liverpool are a big noise.
Like beating drums. A rumble a year ago, intensifying with each passing month. A cacophony in the league, a march in Europe. By April, Reds were pounding. Manchester City were deafened, Roma drowned out.
Tempo is everything in football. Master the rhythm and all follows. The secret to playing at speed is courage. Having jet-heeled lads helps too. Once possession was a Liverpool watchword. Keeping the ball, cherishing it. Caressing, taking care, protecting. That was our heritage.
It's different now. Now we are bolder. Now we take chances. You'll hear people say "it's a kind of cheating" about the way Liverpool play. With all those forwards. With bodies flooding the box. But it isn't cheating, it's gall, it's bravery. The freedom is in being ready to lose the ball. To see that knock as raw opportunity.
When Klopp first arrived and we were overwhelmed by tales of the Gegenpress, let's be honest, none of us really knew what it meant. Sure we grasped the "counter press" as described, but did we really comprehend its fullest purpose?
It's about winning the ball back when your opponent is at his most unbalanced — when adapting to the transition of possession. That much made sense. But this is just half the story. The press is actually a plan B of sorts. The Gegenpress is about the primacy of the plan B and how it liberates the plan A.
"Burnley away last season was MY game. Ragnar Klavan… shit, that was great!" 😂

🗣 Subscribe and listen to our exclusive, 30-minute interview with Jurgen Klopp 👉 https://t.co/lmNtBz4ADz pic.twitter.com/7AXRJuyzm0

— The Anfield Wrap (@TheAnfieldWrap) 26 July 2018
The plan A is to attack. But quickly. Very quickly. To play balls as vertically as possible into feet, to ask for killer first touches. Control, pass, spin, go, bang. That's what a Liverpool goal looks like. It's amazing how many goals this team scores on the counter against teams that set themselves up not to be broken onto.
Luis Suarez would be the ultimate cog in a Klopp machine. Steven Gerrard too. Footballers who need to force it. Klopp demands that angry hunger. It's impatient, breathless football. It makes or breaks players. Above all else, it demands the fearlessness to actually lose the ball.
For manager watchers, the summer draught is compelling. The recruitment is so informative. Many have struggled with why Klopp pitched for Xherdan Shaqiri, but it's obvious. It's because the lad is a control freak. He wants to win games in a hurry. Naby Keita too. Naby does everything in a rush. Naby forces it. The keeper, Alisson Becker. He also won't settle. He'll go short, he'll kick and throw long, just be on the attack. Forever onwards and upwards.
Before the European Cup tie with Man City last term, their Brazilian midfielder Fernandinho described Liverpool as a long-ball team. Once that was slander. In English football folklore it invokes the Wimbledon and Watford sides of the '80s. Stan Cullis's legendary Wolves team of the 1950s even. These were POMO merchants — Position Of Maximum Opportunity. Basically, welly it, bypass midfield, then create chaos with big combative lads in the opposition box. It was anti football. Playing the percentages. The ultimate pragmatism.
But modern Liverpool are the antithesis of this. When it works, a purer exposition of the beautiful game you couldn't hope to see. Liverpool aren't long, they are decisive. This is what Klopp drills — make the correct decisions. And do it quickly. So if Mo Salah is on the move, on the shoulder of a full back too high up the pitch, then hit him, and hit him early. Sounds easy. It isn't. It's really hard, and requires players of exceptional technical quality. Liverpool do not play percentages.
Liverpool want and need to achieve big things this season. The sense of which our time is now is frightening. Of course, mighty obstacles stand in our way, they did last season too, but we can now see a path through the mire. We are not daunted by the journey. On the contrary, the mood in the camp, in the stands, is of pure excitement.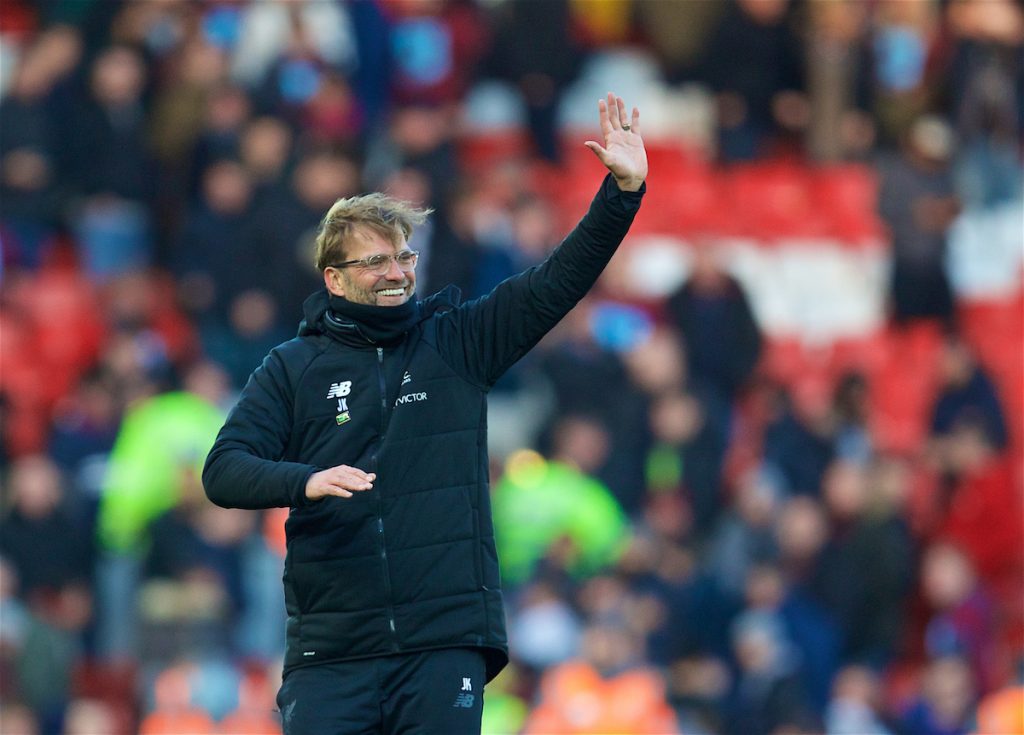 That balloons are there to be burst shouldn't hinder us. This Liverpool must become the fighter that will not know when he's beaten. Let's see The Reds set about their task against West Ham like rabid dogs. They are in our way. They must simply be destroyed.
It's interesting to see Manuel Pellegrini back in town, and at West Ham's helm. He is the ultimate nemesis in Liverpool's post-1990 history. Keep your Alex Fergusons and Jose Mourinhos, this fella whipped the league title from under our noses. Had us off as we were about to scale our Everest. We'd all but left behind his star-studded City team but at the crucial phase he kept them calm and controlled. One City slip on that final hurdle and Liverpool would've been champions. He wouldn't allow it, though. Their heads never went.
The West Ham board and backers are an excitable bunch. They find money down the back of the sofa when it's needed. They impressed with their ambition a year ago, but under Slaven Billic the whole enterprise never got off the ground. What initially appeared solid business looked anything but by Christmas. They did well not to go down.
Reprieved, they've doubled down and come out swinging. Pellegrini has been backed in the market. Again, it's really hard to tell at this stage whether or not they've invested in gold or another job lot of white elephants. Key signing Jack Wilshere has spent his entire career vacillating between these polarities. Andriy Yarmolenko is another notable recruit who has tempted bigger fish than West Ham for years.
But we don't give a shit about West Ham. They can begin their quest on another day. Yes, they will be robust and keen to set an early standard but they can't be allowed to check our reality this early. Our lust for a first day exhibition is probably a vain hope. We should look to be concentrated and ready to take the three points, however they may be served.
I'm beyond excited to see these all-new Reds in action. Anfield in the haze of a sultry August afternoon the perfect stage, as always. Red dogs are straining at their leashes. I cannot fucking wait.
Predicted 11: Alisson; Trent, Gomez, van Dijk, Robertson; Fabinho, Wijnaldum, Keita; Salah, Firmino, Mane
Kick off: 1.30pm, Sunday
Referee: Anthony Taylor
Odds: Liverpool 2-7, Draw 5-1, West Ham 10-1
"Rarely has there been this much excitement going into a new season." 🙌

And there's never been a better time to subscribe to #TAWPlayer…

Home ✅
Away ✅
Europe ✅
Previews ✅
Immediate reaction ✅
Exclusive interviews ✅

🗣 Your season starts here 👉 https://t.co/lmNtByMZeZ pic.twitter.com/aibO33KSps

— The Anfield Wrap (@TheAnfieldWrap) 8 August 2018
Recent Posts:
[rpfc_recent_posts_from_category meta="true"]
Pics: David Rawcliffe-Propaganda Photo
Like The Anfield Wrap on Facebook