"IF you are in the relegation zone, then you are in a relegation battle"
Good old Roy Hodgson, eh? The manager who will always provide a post-2010 barometer for where Liverpool Football Club once very recently stood; sullen and soaked in dark matter with the prospect of any kind of hope, on and off the pitch, a distant dream.
Comparing those times to the current excitement and prosperity around the club under the galvanising stewardship of Jürgen Klopp makes Hodgson's disastrous tenure feel like a lifetime ago.
On the eve of a pre-season friendly against Manchester United in Michigan tomorrow night, few fans will cast a thought to the ex-Liverpool manager who once used the mocking endorsement of "the great Jose Mourinho" as a measured reflection of satisfaction in his job performance.
Instead, they will see a Liverpool squad now brimming with quality, depth and togetherness that has led Mourinho to sound the alarm bells and attempt to heap the pressure on Klopp's men on the eve of the 2018-19 season.
"Maybe this is the season you finally demand that they win. I think you have to be fair now and you have to demand (they win the league).
"You have to say the team, with the investment not just this season, last season, that you made in January, that you make now, because that will probably be the record for the Premier League this season, I can't see anyone else getting close to spending what they have.
"A team that was the finalist in the Champions League, you have to say you are a big candidate, you have to win."
"Manchester United lack a superstar… a player that will stop their fans falling asleep in the ground." 👀

🗣 Subscribe and listen our latest 'Gutter' show, discussing our rivals' business and how it compares to the Reds' 👉 https://t.co/lmNtBz4ADz pic.twitter.com/zbPKYpzR2R

— The Anfield Wrap (@TheAnfieldWrap) 24 July 2018
It is an absolutely glorious outburst. Honestly, I might get it stencilled in some shit, joined-up, handwritten font with love hearts and put it on my kitchen wall. Seriously Reds, anyone who is angry in any form with the perception of Mourinho attempting to derail Liverpool should greet his comments with the warm and welcoming affection they deserve.
Forget the fact that Jose has basically corroborated the notion that all managers will always be hypocrites by virtue of them talk to the watching world all of the time — after all, he did agree with Alex Ferguson that "money does not guarantee success" — or the fact that by the day he increasingly resembles somebody who has found the mere concept of his day-to-day life a truly miserable process, to the point where it is projecting in an entire football club. Even a local newspaper is becoming a football-reporting equivalent of his paranoia and gibberish.
But forget all of that. Because, fundamentally, what he is saying is true. Liverpool Football Club exists to be the best, and to be the best our way. That is a principle that has always made this club loved and hated in equal measure. Regardless of the state of the club, at the start of every season there is expectancy on this club to deliver.
The fact Mourinho now feels the need to come out and state this without prompt, in some kind of attempt to strengthen Manchester United that no longer gives you the impression of a lip-service quote akin to "Liverpool could do something" that we've heard down the years, is something I am absolutely drinking in every word of.
The fact is that what Mourinho hints towards is actually true. Liverpool, despite a scrap to a second successive fourth-placed finish last season, showed that only the addition of slightly more consistency would have ensured the league placings represented them among the top two sides in the country.
That is irrelevant. Both Manchester clubs finished first and second respectively, deservedly so as after 38 games played that is where they stood. Manchester City finished the season with 100 points. On this basis alone nobody has to win anything this year, as we in our right minds know.
Klopp knows this and has acted accordingly to bridge his squad's shortcomings, under the realisation that he cannot do this the way he once has or may have wanted to originally. Klopp knows that adopting a Borussia Dortmund approach to Liverpool and the Premier League simply will not work. His recent interview with The Anfield Wrap in America is a testament to this, as Klopp cited the fact he could no longer afford to have five youth players on the bench.
He realised it when he saw Loris Karius in pre season and realised that his current struggles will clearly be to the detriment of Liverpool's progression towards being the best they can be. This is the level for Liverpool now, quality wherever you look on the pitch which leads to an ability to look in each other's eyes and fully back the process, no excuses, no caveats and no more time to waste on alternative experiments.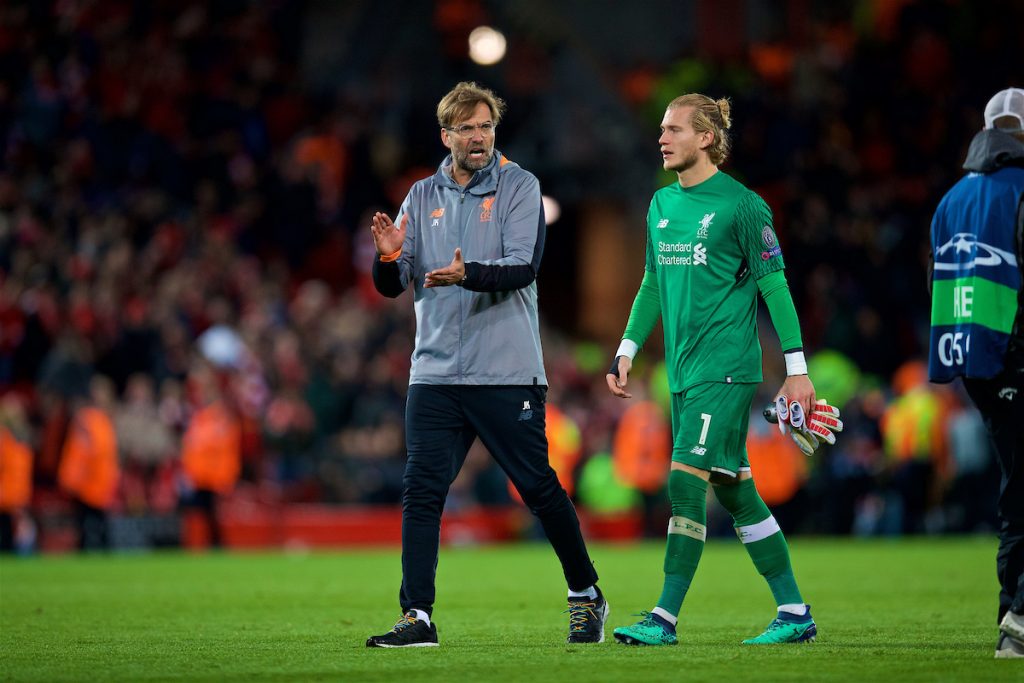 There is also the factor of positive reinforcement from Mourinho's comments and Liverpool's actions this summer. We have seen enough evidence over the past couple of seasons that shows certain teams will effectively write off the opportunity of coming away with points from the top sides before they've kicked a ball.
There are a number of reasons for this, of course. Strategically plotting where you can realistically expect points and prioritising those games, in line with taking points off those around you, being one. Also, it simply comes down to the notion that if enough people say that you are the best and you start acting like the best, others simply fall in line with that method of thinking, too.
Unfortunately for Mourinho, whose proclamations no longer carry the same reaching impact they once did, the only thing he has realistically done is reinforce the feeling that Liverpool are acting like and being spoken about as a big club once again. This is in stark contrast to the brooding and frankly miserable environment he has managed to create around a club the size of Manchester United.
Jose might yearn for the days when he could look down at a Liverpool Football Club that were locked in a tumultuous ownership struggle and had a manager who he could basically ridicule with inferiority, but the reality is he knows Liverpool are now fully befitting of the pressure he has attempted to instil on them.
When Liverpool and Man United lock horns tomorrow nobody adorning the Liver bird will be looking back at what once was, only forward at what can be achieved this coming season.
Despite what Mourinho or anybody else says, the point remains that everybody starts day one on zero points. It is the reason that hope spreads eternal every year on a hazy and anticipation-filled August day.
It is truly what we are all in it for.
"We lost the final, but all the rest was pure joy. Roma – fucking hell! We have to enjoy the the ride." ✊

🇺🇸 Subscribe and listen to our exclusive 30-minute interview with Jurgen Klopp 👉 https://t.co/lmNtBz4ADz pic.twitter.com/6NxoShl9kO

— The Anfield Wrap (@TheAnfieldWrap) 26 July 2018
Recent Posts:
[rpfc_recent_posts_from_category meta="true"]
Pics: David Rawcliffe-Propaganda Photo
Like The Anfield Wrap on Facebook