HIS face is everywhere.
On billboards across the world, on the side of planes, even in Times Square in New York City. Mo Salah is a world-renowned superstar.
Twelve months ago, to many outside of Egypt and Rome, he was still that Chelsea reject who cost too much and would merely be a quick lad with questionable end product. Not strong enough for English football. Not tactically aware enough to make his mark on the Champions League.
By the end of the 2017-18 campaign he was the top scorer in the Premier League, had broken the goals record for a 38-game season and had scored in every round to help guide Liverpool to the Champions League final.
Not only did Salah capture the imagination of football fans everywhere, but also our hearts.
The quiet but confident 26-year-old had been highly rated when Chelsea nicked him from under Liverpool's noses in January 2014, but it was to be a blessing as the young Egyptian was not ready for that level straight out of his time in the Swiss league with FC Basel.
As was the style at the time (and largely still is), Jose Mourinho gave up on him because he wasn't already the finished article, so Salah went to Serie A to grow as a player, and he did just that. An impressive loan at Fiorentina led to AS Roma stepping in and taking him. He became an integral part of a good Giallorossi side.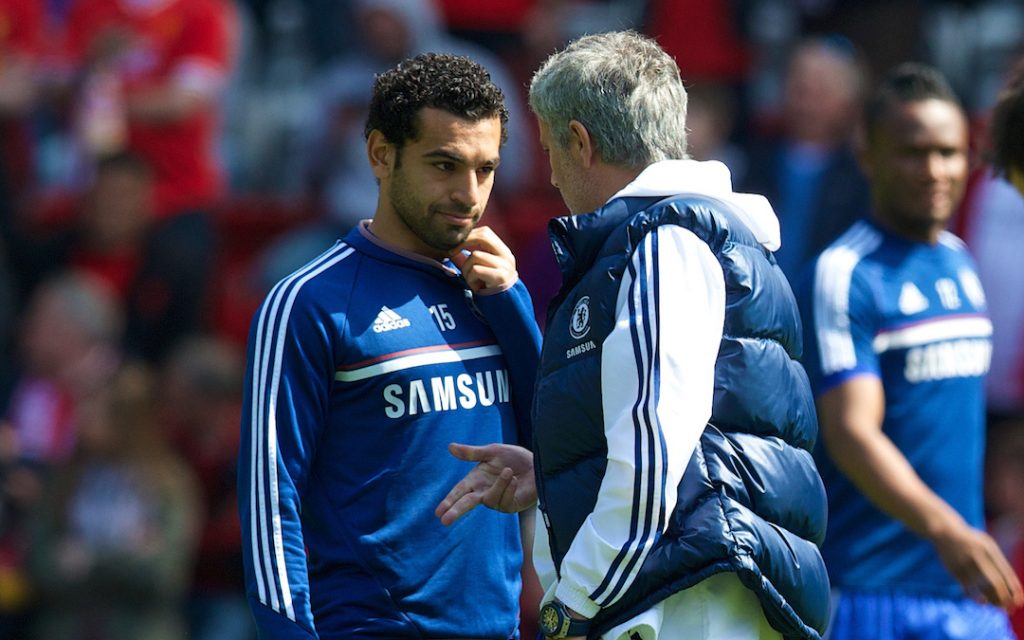 The way he utilised his pace to score goals as well as provide them for Edin Dzeko impressed Liverpool enough to finally bring him to Anfield last summer. The fee of around £34m (rising to £39m) seemed a tad excessive for a player who wasn't yet a superstar. Then Neymar moved to Paris Saint-Germain and Salah had the season he had. Now you'd be lucky if Mike Gordon even picked up the phone to someone offering less than 10 times that amount.
Early speculation was that he would essentially be back up for Sadio Mane and Philippe Coutinho, who would surely still be flanking Roberto Firmino as they had done so successfully the season prior?
As it turned out, no. Salah scored goals in pre season and started the first league game at Watford (albeit Coutinho was missing with a "back injury"). He missed some early chances at Vicarage Road but in the second half, after some minor tactical advice from Jürgen Klopp, he won a penalty, which Firmino scored, and also bagged a debut goal for himself in the eventual 3-3 draw.
From there it was all systems go. His header at Leicester made it six goals in his first nine games. Then followed three games without a goal, which would be one of only two times he'd go so long without bothering the net for The Reds. In fact between his brace in the 7-0 win at Maribor in October 2017 and the opener in the 2-0 home win against Newcastle in March this year, Salah didn't go more than one game without scoring.
That was what made his exploits so incredible. He was scoring goals by the bucketful, but was spreading them out. Whereas his Golden Boot rival Harry Kane seemed to be banging in a hat-trick every few games, Salah only scored one treble all season, which was his four against Watford at Anfield, so he never actually scored three in any game. Other than that it was ones and twos, albeit mostly crucial ones and twos.
At the season's end Salah had bagged an incredible 44 goals in 52 games, and a record-breaking 32 in the Premier League. He had become a world star, adored by all who didn't have reason to want Liverpool to fail. On his return from injury at the World Cup in Russia, every touch of his was cheered, and he has been worshipped just as much on Liverpool's tour of the United States. In just one year, Salah has gone from additional pacy option to genuine Ballon d'Or contender.
The question is though, can he do it all again? Will 2018-19 be the difficult second album? Will he be able to recreate the hits he wowed us with last time out?
"He is ambitious, he is competitive and he's a really nice bloke." 👑

We featured on CNN's Inside the Middle East Special on @MoSalah: Liverpool's Egyptian King. Out May 5, 12.30pm UK time.

🗣 Subscribe to listen to our CNN Special podcast on Salah: https://t.co/eTmRQkhp95 pic.twitter.com/tspr58Ov4i

— The Anfield Wrap (@TheAnfieldWrap) 1 May 2018
When Salah came on and scored just seconds into his first pre-season game in New Jersey against Manchester City, it was the first sign that, yes, he fully intends to.
Despite recovering from the shoulder injury picked up in Kyiv and having a shorter break than usual, Salah looks intent on picking up where he left off, and evidenced it further with a good display against Manchester United in Michigan where he won a penalty, and against Napoli in Dublin where he scored a trademark top corner belter.
You would think that after the impact he made last season, Salah is likely to be more directly targeted by defences in this campaign, though perhaps not quite as viciously and ruthlessly as Sergio Ramos did back in May.
It was notable in the Napoli game that as well as left backs Sebastiano Luperto and Mario Rui marking him tightly, centre back Kalidou Koulibaly paid him a lot more attention than a centre back in a back four normally would. It was a clear instruction from Carlo Ancelotti to double up on Salah, but this of course just meant that space opened up for others to run into.
This could be the key for Klopp this season. If teams make a conscious effort to outnumber Salah, then the very best of luck to everyone else in taking care of Firmino, Mane and Naby Keita, and even Xherdan Shaqiri should the mood strike Klopp to throw an extra attacker on if a goal is needed, or even just for shits and giggles.
That is another factor of this coming season. The signing of Shaqiri should allow Salah more rest as the campaign goes on. It was notable last season how taking him out of the team was not something the manager wanted to do anymore than was necessary, albeit it was used to terrific effect at Stoke. It could ironically be a former Stoke player who can allow him more breaks this season, especially around the busy Christmas and New Year period.
It may mean less game time for him, which means less time to score goals, but if it helps Salah stay fresh in the latter stages of the season it could be key when the deciding games come around. Whether it was fatigue or trying too hard to win the Golden Boot, his form did dip a tad in the last few games last season (though it dipped from "exceptional" to "nearly exceptional").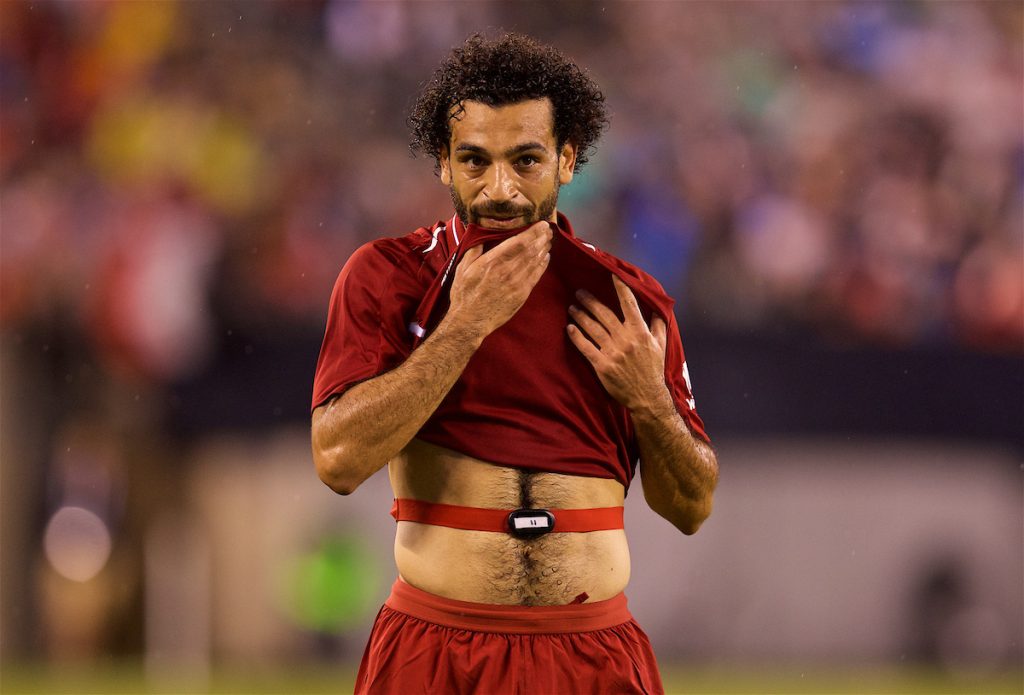 Something that may also encourage him to smash bundles of goals in again will be the fire in him to prove a point after the way last season ended. He's already said he wants to do better with Liverpool in the Champions League, which can only mean winning it, and he'll be just as disappointed at having missed the start of a historic World Cup for his country that he had made happen, as well as Egypt's group stage exit.
Salah will perhaps also feel the need to prove he belongs in conversations alongside Lionel Messi and Cristiano Ronaldo, or even Kane. The Tottenham striker was labelled a one-season wonder after his incredible breakthrough year in 2014-15, and has since become a four-season wonder. Salah took great pride in proving people in England wrong about him, but will know he has to do it again and again to be fully vindicated.
What is reasonable to expect from him though? He scored a ludicrous amount of goals last season, but could he have scored even more? Not only was Salah top scorer in the Premier League, but he also missed more clear-cut chances than anyone else.
What if he scores less though, is that OK? I'd say so. Don't get me wrong, I'd put a considerable amount of money on him getting over 30 again in all competitions, but with the way Salah fits into this Liverpool team, if he gets less than last year, Firmino and Mane may well get more. Perhaps Shaqiri gets far more than we expect now. After all, most of us said we'd be happy with Salah scoring 15 or so last summer.
Try stopping Mo now, though. Even after Coutinho left in January, he made chances and scored goals, and was even more potent if anything following the Brazilian's move to Barcelona. Now he has Keita, Fabinho and even Alisson Becker supplying him.
If Salah has another season like last year then who knows? Maybe The Egyptian King will be lifting a crown or two next May.
🗣 The Anfield Wrap: Salah's New Deal Shows LFC Intent

"Salah is happy at Liverpool… and that makes me happy." 👑

📱 Listen to this week's *free* Anfield Wrap podcast, hosted by @MelissaReddy_, here 👉 https://t.co/Z7Rktzpn7b pic.twitter.com/zqlW9hYEAC

— The Anfield Wrap (@TheAnfieldWrap) 2 July 2018
Recent Posts:
[rpfc_recent_posts_from_category meta="true"]
Pics: David Rawcliffe-Propaganda Photo
Like The Anfield Wrap on Facebook