YOU play out scenarios in your head. You don't want to but you can't help it. What if this happens? What if that happens? How will you feel? How will you react?
One thing this Liverpool team does better than anybody, though, is surprise you by coming up with a scenario neither you, nor anybody else, could have possibly thought of.
I couldn't make it to Kyiv, so the next best thing was heading to Anfield. A six-hour plus drive through Bank Holiday traffic was nothing compared to the troubles experienced by those attempting to make it to Ukraine.
It was like a matchday in L4. There had only been 30,000 tickets sold for the screening, but way more than that were around the ground, soaking up the atmosphere, getting in the party mood and warming up their Allez, Allez, Allez muscles.
Inside the ground, things didn't get off to the best of starts. The queuing for beer in the lower Kenny Dalglish stand was basically just a ball of people in no particular order, and before you could reach the front another rendition of something would start, bouncing followed and before you knew it another 30 people were in front of you. A bottle of shaken up Carlsberg for four quid wouldn't have been particularly worth it anyway.
It's weird watching the game on a TV while being in the ground. It might be that you can hear the commentary or that you spend the whole time looking in one direction. You'll Never Walk Alone was played beforehand but was having to be sung over the loud adverts on the tellies. "You'll Neeeever Walk Aloooone… Two for one on meerkat movies!"
Once the game started, though, everyone was transfixed. An awed hush after the initial roar as 30,000 of us realised Liverpool were perhaps just 90 minutes away from immortality.
Things started pretty well. Real Madrid knocked it about but Liverpool's pressing game was working, stealing the ball and attacking on multiple occasions. Zinedine Zidane's team were annoyingly excellent at blocking shots, or perhaps The Reds were just hypnotized by the bright white kit and unable to boot the ball at anything else. I was convinced when the ball fell to Trent Alexander-Arnold that it would be the 19-year-old's moment. His solid strike was well held by Keylor Navas, but Liverpool were the ones on top.
Then the sliding doors moment. Sergio Ramos ensured that Mohamed Salah would forever have a chip on his shoulder about this game after trying to put a chip in his shoulder. I've seen the incident over and over again and it never doesn't look deliberate. That the Spaniard then also physically assaults Loris Karius later on is further proof if it were needed that he went into the final with a gameplan. A despicable gameplan.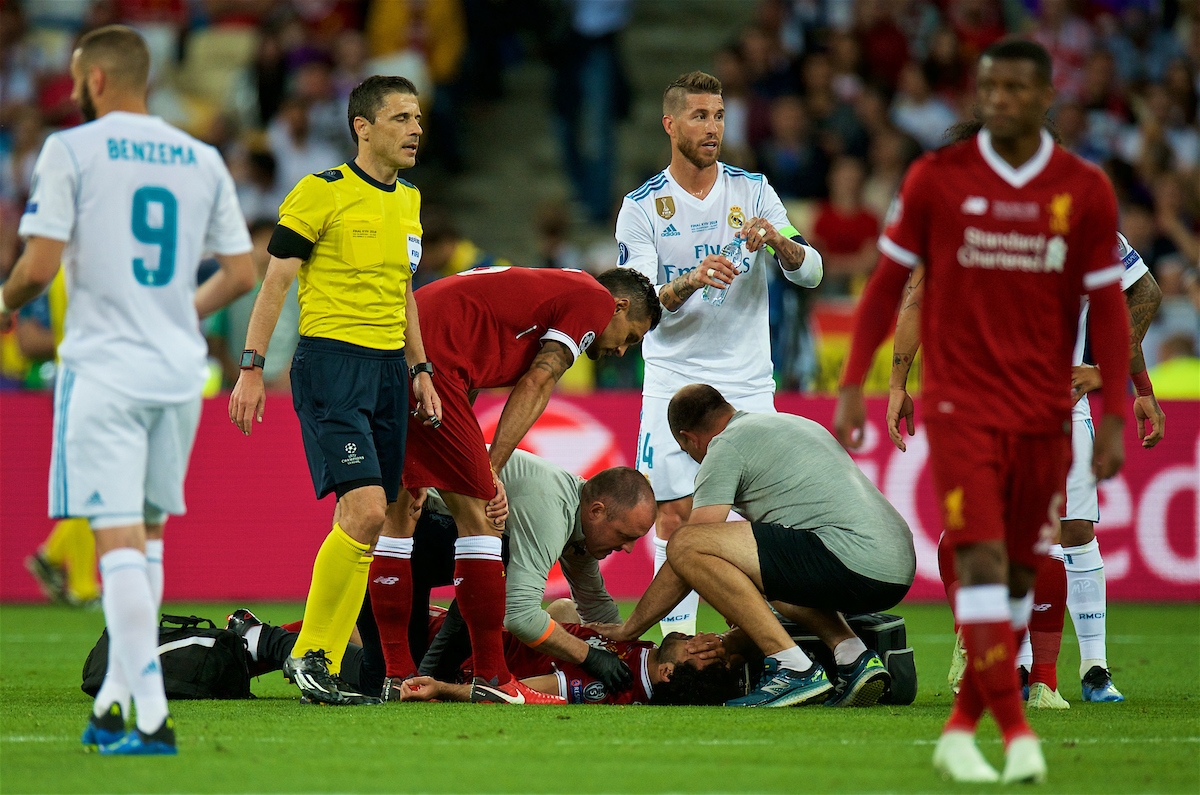 I've seen some trying to defend Ramos, mostly from people who wanted Liverpool to lose, but if it's not down to deliberate naivety then it just shows a distinct lack of knowledge of Ramos and the kinds of things he has done throughout his career. Just ask Lionel Messi what kind of "competitor" he is.
Ramos is a born winner. Whatever it takes to get the job done. That's fine and is an admirable trait in most who hold it. However, "whatever it takes" usually means at worst diving, getting in the ref's ear and a sneaky pull of a shirt here or there. I didn't even mind his dive to get Mane booked that much, but when it extends to deliberately trying to seriously injure your fellow pros, frankly you don't belong in the game. One day he might just do it to the wrong player.
With the game finely balanced heading into the second half, I was a little concerned. Of all the scenarios I'd played out, the only realistic way I could see Liverpool winning was if they had the lead by half time. Jürgen Klopp's men are notoriously good at blowing teams away in the first half (particularly in Europe) while Real are usually slow starters who grow into a game. It made what happened in the 51st minute all the more painful.
What was going through Karius's head (after Ramos had tried to put his elbow through it) I'm not sure. He wants to roll it out rather than kick it so his team can keep possession and work their way up the pitch. Karim Benzema is right in front of him, but blocking the throw to Karius's right. Andy Robertson was completely free to receive the ball to his left, but he decides to go right, with disastrous consequences. Damage done, but no time to dwell on it.
Four minutes later, Sadio Mane scores. Anfield erupts. I can honestly say I have never celebrated a goal that much in my life. Not even winning goals. With Salah's injury and Benzema's freak goal, it felt like an evening that was unravelling, but Mane's equaliser went against all that. My throat still hasn't recovered from the release of joy in that moment. All around me beer was being launched, pyro was being lit, and fans were going bananas.
Despite what happened next, that moment can never be erased. A moment that encapsulated why we do the mad things we do to follow football. Why it means so much to us. So we can experience unbridled joy that isn't really available anywhere else. If it was a drug then we all would have tested positive for it several times over.
However, as with most drugs (so I'm told), there is an inevitable comedown. As Gareth Bale came onto the field you could sort of sense it. Another reason why I was fearful of Liverpool not being ahead by that point was the chasm of difference in quality between the two benches. When someone like Bale is your first sub, anything less than winning the European Cup is frankly a massive failure.
That goal though. Woof. It was like being stabbed through the heart, but by a really beautiful sword. You're in absolute agony, but can't help but take a moment to admire the remarkable craftsmanship of the blade, the jewels in the handle and the swift elegance with which the blow was delivered. After the initial dropped jaws had been closed again, there was a smattering of applause from some at Anfield.
There is no getting away from how unlucky it all is from a Liverpool perspective though. If Zidane makes that sub a few minutes later, if Marcelo's cross doesn't take a slight deflection, and if Bale's ridiculous hair affects his centre of gravity just a little bit more, that goal doesn't happen. Liverpool had to respond again.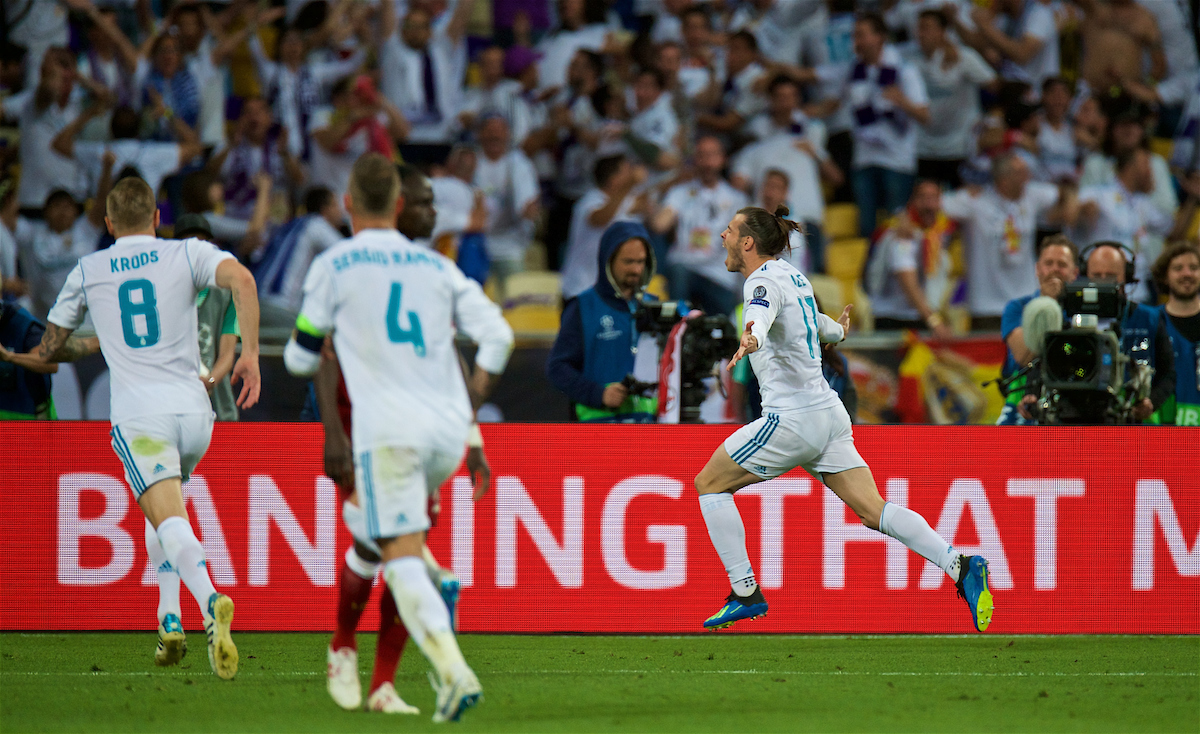 As the second half progressed, a difference in class became slightly more apparent. Even with the lead, it was Real who were passing the ball about and controlling the tempo. Liverpool's pressing had forced quite a few mistakes from Los Blancos early on, but by now the Spanish side were managing the game better.
It's not something they actually get all that much credit for, given it is a trait more synonymous with their great rivals Barcelona, but Real's passing both in terms of accuracy and pace can be quite phenomenal. It was always likely but the midfield duo of Luka Modric and Toni Kroos were comfortably moving the ball around their counterparts.
By the time Bale unleashed a powerful shot that went straight through Karius to make it 3-1, I wasn't sure it made all that much difference. Liverpool hadn't looked like equalising again up to that point. Real's game management had been excellent, as it usually is. The German goalkeeper's second glaring error did extinguish any hopes of a fightback, though.
I would tend to agree with the general consensus on Karius since Saturday. His errors played a large part in costing Liverpool the game, but he didn't do it on purpose, so it doesn't make any sense for people to be angry with him. If you think you feel bad about what happened, imagine how it must be for him.
Short of putting in a world-class performance to single-handedly win a European Cup for Liverpool in future, that night will haunt him forever. He's still a young man, by all accounts a lovely bloke, and showed after the game how sorry he was and more to the point, had the guts to face up to it in the immediate aftermath.
That said, his position as a Liverpool player is sadly probably now untenable. I like Karius, and think he's a good goalkeeper with the potential to be an excellent one. However, there will never be any getting away from this. As long as he's a Liverpool player, he will be reminded of Kyiv. Every goal he concedes will get people talking about it again. The buildup to every big game will be met with "what if he does it again?" He could keep 30 clean sheets in a row, but then let a soft one in in the 31st game and all the doubts will return.
He actually made some very good saves in the game as well, but they will be forgotten by history. Also, it must be said that while Karius hasn't made errors that bad before, the second mistake had sort of been coming. He showed the same bizarrely soft wrists against Roma in the first leg from an Alexander Kolarov shot, but was lucky that night that it deflected onto the crossbar. His teammates have admirably rallied round him since Saturday, but there will surely be a lack of trust going forward, and that is never healthy.
If he does end up leaving this summer, there won't be any other player at any other club who I will want to see succeed more (as long as he doesn't move to a rival, of course), but I also really don't want to see the shadow of Kyiv hanging over this team next season any more than it already will.
I do want to mention those players who excelled on the night, some of which deserved to be on the winning side.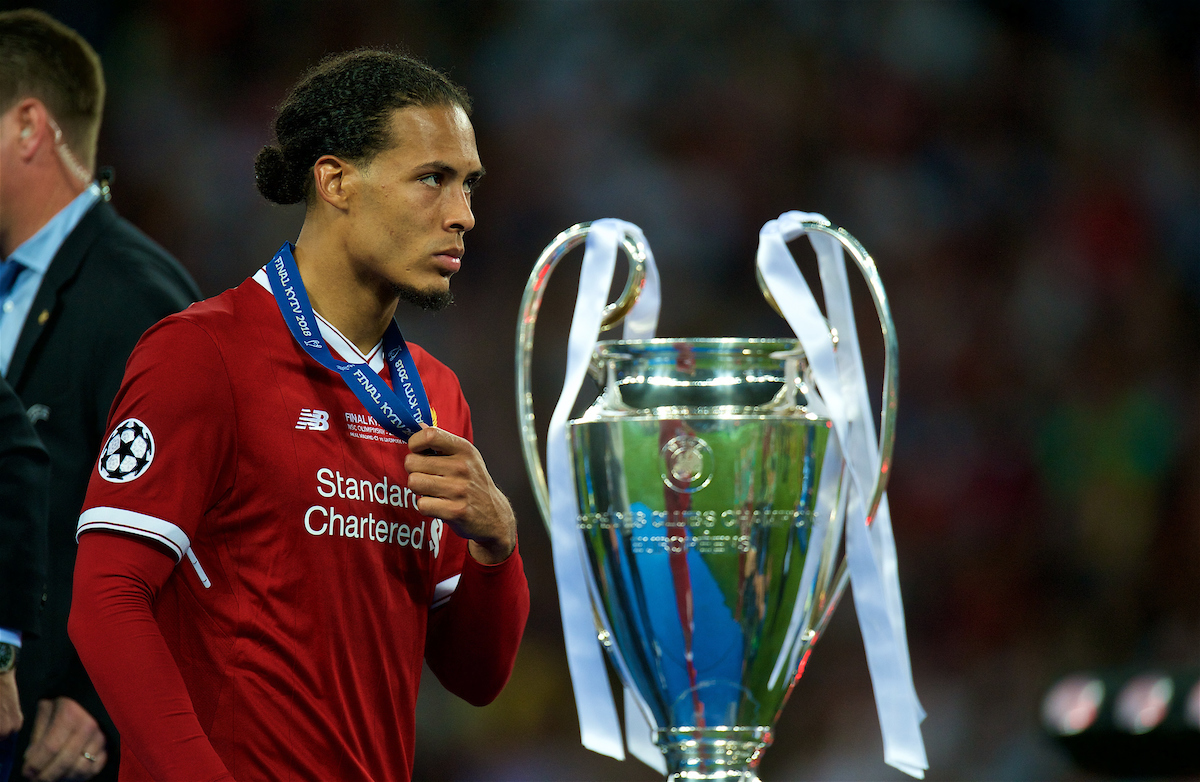 Every single one of the back four. Alexander-Arnold was more than a match for any of the other full backs on the field. The supposed "weak link" was again anything but, and caused Marcelo as many problems as the world-class Brazilian did for him. He and Dejan Lovren also managed to keep the great Cristiano Ronaldo as quiet as a dormouse. Lovren was epic. Winning tackles, headers and even setting up Liverpool's equaliser. His tackle on Bale near the end summed up his evening. Virgil van Dijk was his usual cool self, intercepting a couple of crosses that stopped certain goals, and also largely dominating in the air.
Robertson was arguably the team's best player. Getting forward, dribbling past people and making the tackle of the season to stop Ronaldo. A man who has gone from being unemployed, to playing for Queen's Park, getting relegated with Hull City and being a fairly unpopular signing last summer, to being outstanding in a Champions League final. Let it be a lesson to us all this summer. If The Reds are being linked to someone and we think "Why? He's shit", we're probably wrong.
The midfield didn't quite click. Jordan Henderson struggled to see much of the ball other than in very deep areas, James Milner looked like it was a game too much for his legs, and Gini Wijnaldum, while he put in a good shift and saw lots of the ball, rarely did enough with it. There were numerous occasions where he picked it up with space and could have carried it forward, in a way that Alex Oxlade-Chamberlain or Naby Keita would have surely done, but Gini took a few too many touches and by the time he'd decided what to do with it, Real were back in shape.
Adam Lallana did some nice bits but essentially looked a few games short of match sharpness, understandably, but Mane rose to the challenge. He gets his goal, is unfortunate not to get another with a left-foot strike that whacks the post, and was a general nuisance all night for Madrid.
Roberto Firmino had a mixed game. His pressing was excellent, as it usually is. He won possession time and again, but unfortunately didn't seem to have decided what he was going to do with the ball and often ended up giving it straight back to the opposition. There were also numerous times where Liverpool had the ball in crossing positions, but Firmino was nowhere to be found in the penalty area.
It was perhaps telling of the next big step the club has to take that, other than the forced sub of Lallana for Salah, the only other change Klopp made was to bring on a man who hasn't played in two months and is about to leave for another team. Other subs such as Alberto Moreno, Nathaniel Clyne and Dominic Solanke weren't trusted to come on and change things, so heading into next season the manager needs to be armed with players he does trust. A full squad who can ensure that quality doesn't dip dramatically whenever a change is required.
When the final whistle went, after watching the medals be presented and applauding the efforts of the men in red, we headed into town. I wasn't sure I was in the mood, but also knew I couldn't go back and stew on it. Taxis were nowhere to be seen so we hopped on a bus. It was packed with disappointed Reds, but was soon rocking with defiant singing. Lord knows what it would have been like if we'd actually won.
Into town and into the first bar. It was initially quite quiet, but more and more red-shirted folk came in, and before you knew it practically the entire place was belting out "We've conquered all of Europe, we're never gonna stop…"
Back out into the streets and "… from Paris down the Turkey, we've won the fucking lot…"
Jamie Webster and a few young backing singers perform in the centre of Kyiv in the build up to the Champions League final 🔥🔴💥#lfc #kiev #ChampionsLeagueFinal #Kyiv pic.twitter.com/9RGYLNOUdF

— The Anfield Wrap (@TheAnfieldWrap) 26 May 2018
Into the next bar and before I could even get a drink "… Bob Paisley and Bill Shankly, the fields of Anfield Road…"
Stumbling drunkenly down a random street hours later, not entirely sure where I am, I decide to get back on track by following the noise "… we are loyal supporters, and we come from Liverpool…"
Ah, now I know where I am. "Allez, allez, allez…"
Losing a final hurts. Losing a Champions League final really hurts. However, experiencing it with like-minded folk who were equally defiant in not letting it wash over all the good that the campaign has brought — all of the joy, the experiences and the uniting of the fan base — is what it's all about. Even in agonising defeat, there are no fans quite like Liverpool fans (no jokes about us having plenty of experience, please).
The players will hurt too. However, like some of them used the pain of losing to Sevilla in Basel two years ago, they can use this experience to push them on further. It will give them that extra impetus not to feel this pain again. The squad will get stronger, the current players will get better, and soon they will remember that the reason we're all so upset about Kyiv is because it meant we're only the second best team in Europe. "Only".
It will be a long summer, thankfully with a World Cup to distract us, but come August when the new season kicks off, Liverpool will get back to exciting us, bringing us joy and hopefully, righting some wrongs.
To Jürgen, Jordan, Loris and every single one of the boys who has played a part in this campaign. Thank you. Thank you for giving us the moments. Thank you for giving us a more enjoyable season than almost every other team in Europe.
Up the everything to be proud of Reds.
— The Anfield Wrap (@TheAnfieldWrap) 26 May 2018
Recent Posts:
[rpfc_recent_posts_from_category meta="true"]
Pics: David Rawcliffe-Propaganda Photo
Like The Anfield Wrap on Facebook