A FEW things have happened during the past week that I wouldn't have expected when I woke up on Saturday morning.
Up towards the top of the list of unexpected events, though, was our much-maligned Croatian centre back quoting Robert Kiyosaki on his Instagram account.
For those who haven't seen it, Dejan Lovren's complete post was:
"We could do better that's for sure, wasn't our best performance and everyone is disappointed. Failure should be our teacher, not our undertaker. Failure is delay, not defeat. It is a temporary detour, not a dead end. We go again Reds!
"Winners are not afraid of losing. But losers are. Failure is part of the process of success. People who avoid failure also avoid success."
The last part of the quote is attributed to Mr Kiyosaki.
For those who haven't heard of Kiyosaki, his Wikipedia entry describes him as "an American businessman and author…[and]…the founder of the Rich Dad Company, a private financial education company that provides personal finance and business education to people through books and videos." Bobby K, as his friends call him, is also reportedly worth around $80million.
As I said, not someone I'd expect Dejan to quote, although I suppose he is an entrepreneur with his own snazzy clothing line as well as an international defender, so maybe I shouldn't be too surprised.
My shock aside, I thought the message being shared by Lovren was interesting, given the points I made on this week's Review show on TAW Player following the Manchester United defeat on Saturday. (If you haven't listened yet, you really should before we're all poached by Sky to take over Monday Night Football.)
It always intrigues me to watch the reaction to any game, whether we win, lose or draw, and it intrigues me especially to witness whatever the message of the day being pushed by social media outcry is.
Despite the general consensus, I thought that Lovren and our bright, young right back, Trent Alexander-Arnold, had pretty good games, both of which were punctuated, to different degrees, by mistakes that grabbed the attention of the masses and, accordingly, the headlines.
Those headlines inevitably raise the question again, in slightly different contexts for each of those players, as to what we expect from our footballers and what are we prepared to accept for the greater good.
In Trent's case, there can be no doubt that he has developed this season from undeniable raw talent to a somewhat reliable full back, to the extent that prior to the Man United game the vast majority of supporters were quite happy to see him continue in the position despite the return to fitness of our other, more defensively sound, young option in Joe Gomez.
Regardless of doubts around Gomez's rhythm and match readiness, Trent's recent performances in some testing conditions, not least away at FC Porto where he was clearly targeted from kick off, meant that he was deserving of his place at Old Trafford and the faith shown in him by his management team and the fans. His progress since his league debut at the same venue last season has been rapid and eye catching.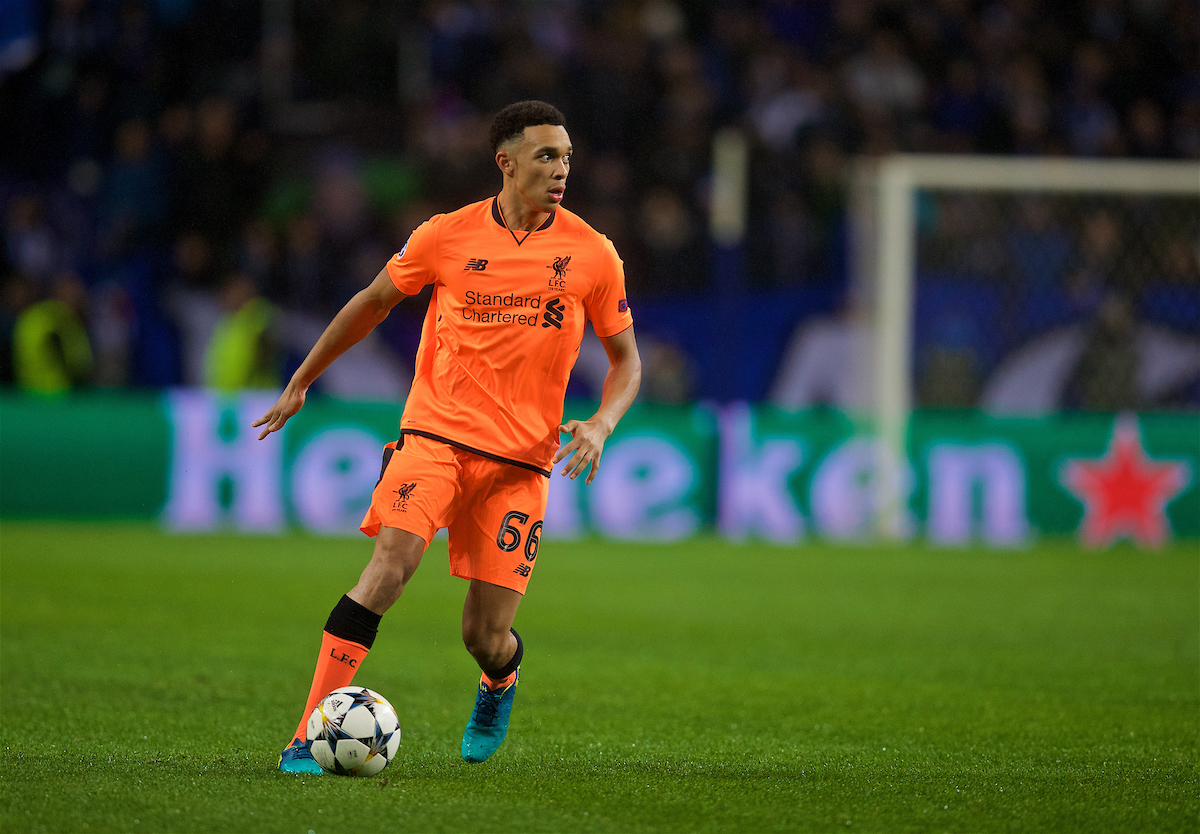 In the immediate aftermath of the disappointing defeat, there were some noises being made of a desire to see our senior right back, Nathaniel Clyne, brought back into the side to show the young lads how it's done.
While I don't doubt that having Clyne match fit and available at some point soon is a huge boost to the squad, any calls for Trent to be relegated back to bench duty raises questions about just what we as fans are prepared to endure for the greater good of squad and player development.
Sean Rogers of TAW Player Review fame has made similar points in the past when discussing Emre Can and the inevitability of having to watch a player like that develop in front of our eyes if the coaching and scouting teams are to continue with their desire to scout, buy and grow young players.
Ultimately, if we want to see lads like Trent and Gomez make it as Liverpool players, we have no choice but to accept that moments like those endured by the West Derby whizz kid are going to come along every now and then, often when they are least expected.
So, are we prepared to put up with that, or would we rather sacrifice player development for immediate results?
There's an argument that, if fit, players as experienced as Clyne should always start in big away games against the likes of Man United, but then at what point does a player like Trent get the opportunity to play in a game of that magnitude in order to learn from the experience?
The question is greater for any youngster in a more defensive position than it is for anyone given an opportunity further forward on the pitch because of the more damaging consequences of a mistake being made in defensive positions. Losing your man 40 yards from your own goal at Old Trafford with no one covering behind you is far more likely to lead to negative headlines than switching off for five seconds 40 yards from the opposition's goal.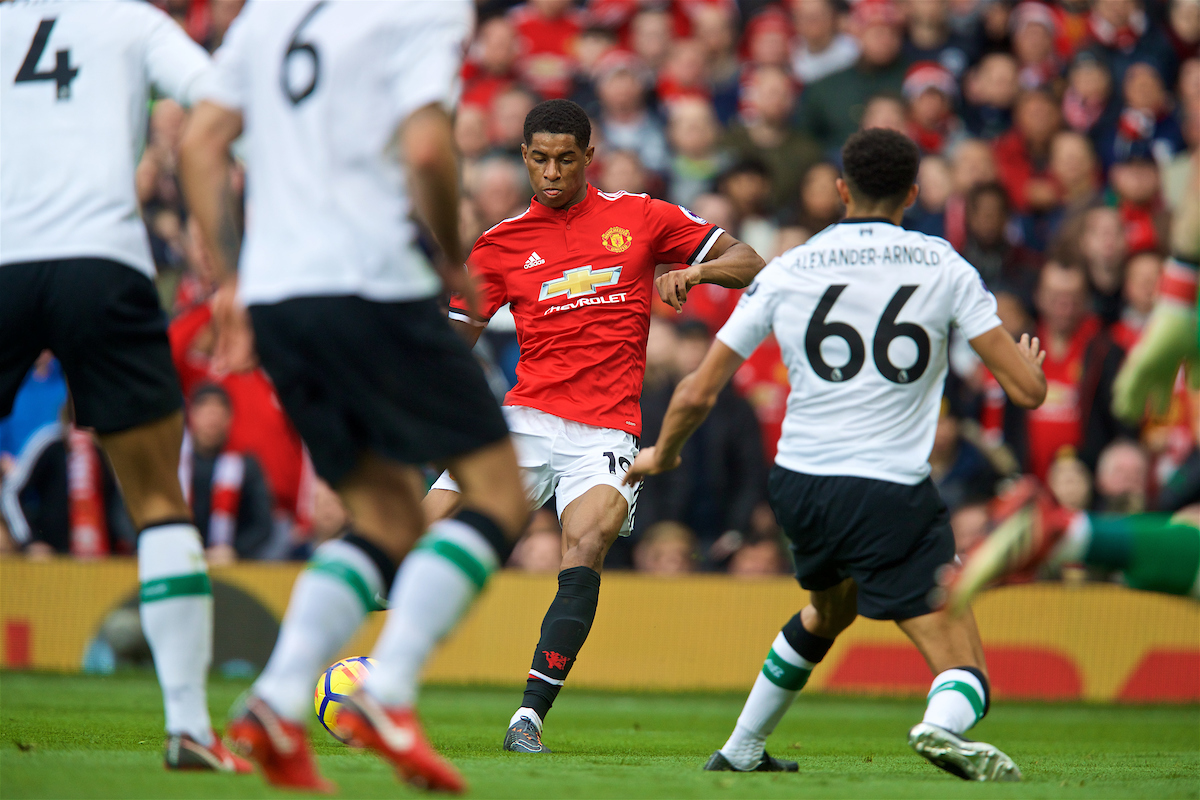 And, while that debate rages concerning our young players, the knives were drawn and sharpened with great vigour for Lovren having the audacity to lose an aerial challenge to a 6ft 3in centre forward just inside his own half, leading to yet another opposition goal.
Typical Lovren, eh? Somehow failing to win every single ball that's ever in his vicinity.
In watching the game again on Sunday, I'm happy to say that I thought that Lovren played well. He was fairly dominant in everything he did, winning several headers in the same area of the pitch as the one he lost to Romelu Lukaku for the first goal, and winning the header for the second goal, albeit only being able to head it down to his side rather than clearing it with any gusto.
But are those two incidents really worthy of him being lamented and his recent upturn in form being consigned to the scrap heap?
My view is a resounding "no", despite his later double lunge on Marouane Fellaini which was, obviously, ridiculous in its own right.
Compare his failure to win a header near the halfway line with Virgil van Dijk having a lovely little stroll around the edge of his own box while Juan Mata skipped to the penalty spot completely unmarked to skew an overhead kick just wide of the goal, and Dejan's misdemeanour all of a sudden looks hardly worthy of mention, aside from the fact that his led to a goal and van Dijk's mistake didn't. The result of each incident was purely down to luck on each player's part though.
Do we really expect any of our centre backs to win every single header they ever challenge for against commanding centre forwards, or to never make a mistake? If so, I think we'll be disappointed most weeks for the rest of our football-supporting lives. No centre back in history has ever won every challenge, the greatest ones just happened to be surrounded by other great players who mopped up behind them on the rare occasions on which they did miss one, or did switch off for a split second.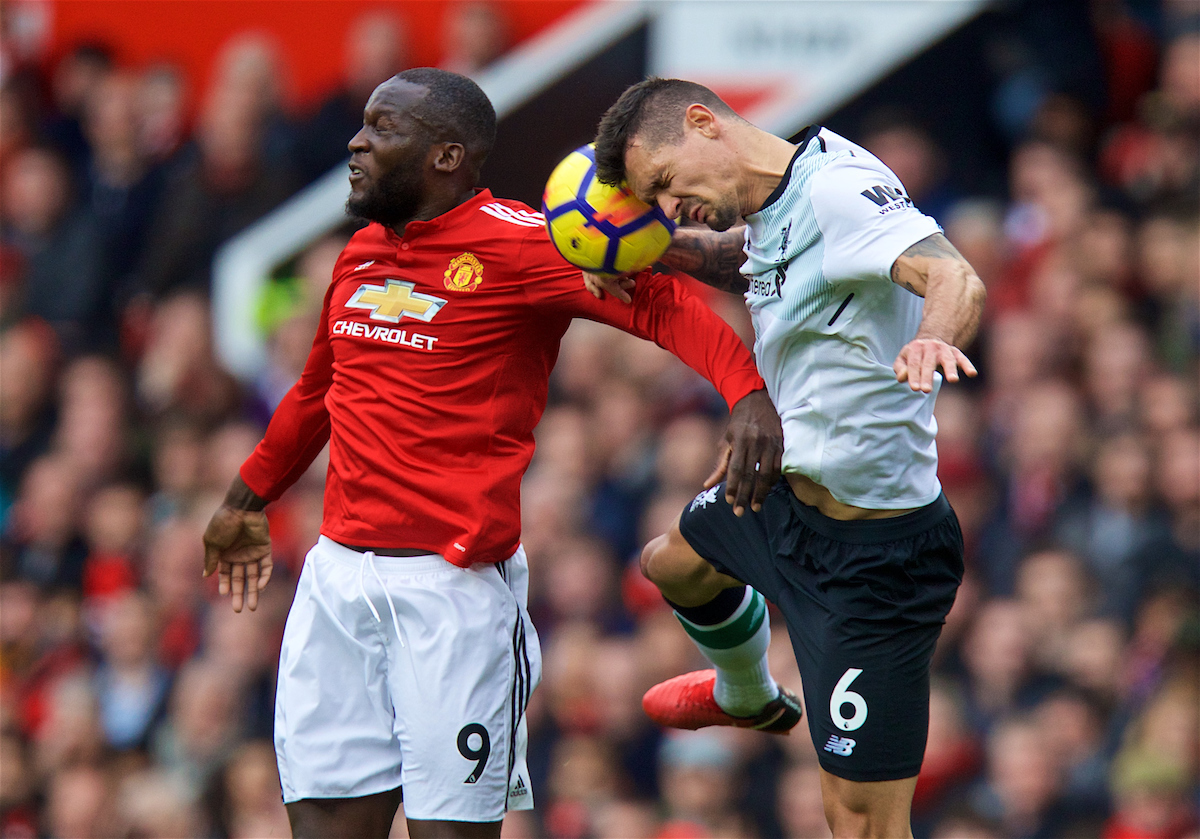 The issues arise, as they did earlier in the season, when an initial "mistake" (although I use the term hesitantly, given that I'm not sure we can class losing an aerial challenge to Lukaku as a mistake) is followed immediately by further mistakes by teammates who could have ensured that the failure to win a header is nothing more than a statistic at the end of the game.
For what it's worth, I agree with Bob Kiyosaki and "the brains behind the clothing line Russell Brown", that failure is part of the process of success.
In the grander scheme of things, the mistakes made by Trent at Old Trafford will propel his development at an even faster rate than the pace at which it is already travelling. The sooner we all accept that minor errors like losing a header near to the halfway line are just something that will always happen in football, and have to be accounted for by teammates of those putting themselves on the line by making the challenge, the better.
If we want to back Jürgen Klopp and his style of management, which I have no doubt the vast majority of supporters do, in my view, we simply have to accept that sometimes mistakes will be made and things will go against us but, in the long run, those mistakes — those failures — will lead to success.
To end with another Bobby K quote, the size of your success is measured by the strength of your desire; the size of your dream; and how you handle disappointment along the way.
We've always been pretty good at having big dreams and strong desires, and we're now seemingly getting better at handling disappointment along the way.
Sticking by our players in their tough moments, for the greater good, could be what leads us ultimately to the Holy Grail we all so desperately long for.
#TAWPlayer
The Big Question: How Important Is Youth Development?@robbohuyton @johngibbonsblog @MelissaReddy_ https://t.co/XzV3EJJIUh

— The Anfield Wrap (@TheAnfieldWrap) 14 March 2018
Recent Posts:
[rpfc_recent_posts_from_category meta="true"]
Pics: David Rawcliffe-Propaganda Photo
Like The Anfield Wrap on Facebook