"Rafa, Rafa…
"Rafa, Rafa…
"Rafa Benitez…
"Xabi Alonso, Garcia and Nunez."
Fucking Antonio Nunez. Remember him? The makeweight in the deal that took Michael Owen to Madrid. He scored a goal for Liverpool Football Club and started a handful of games. Great lad, I'm sure, if you really get to know him, but there's little chance you'll find any demand for him to be telling jokes and pressing flesh on the legends circuit any time soon.
And yet before he'd kicked a ball in anger for Liverpool, we had a song for him. Likewise, his then manager Rafa and teammates Alonso and Luis Garcia. These latter three were to go on and establish themselves in Liverpool FC folklore, but at the time The Kop started rocking itself to that La Bamba-inspired chorus, none of these men had achieved anything for the club.
Daniel Sturridge, Raheem Sterling and now even to some extent Roberto Firmino have put in decent shifts for our cause without earning the tribute of song in their honour (and we can't count the odd awkward name-check chant). It's a strange phenomenon; who gets a song and who doesn't.
Jürgen Klopp had his name sung from the off. That "Jürg-en Klopp, na na na nana," effort a mainstay for much of the 2015-16 season before the manager effectively called time on it himself. "Let me earn my name being sung," he pleaded — and was largely heeded.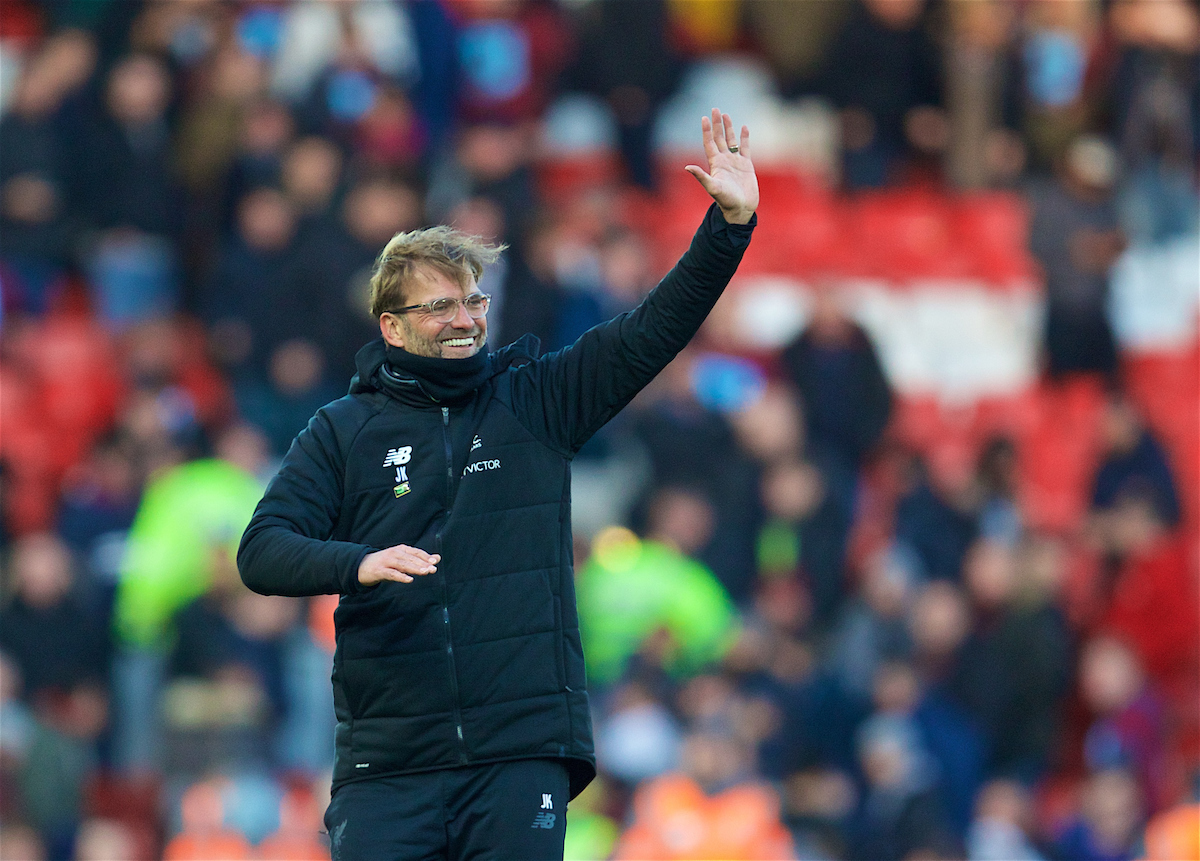 It's funny but I sense that our affections for managers and players become very intertwined, and ultimately intrinsically linked, with our songbook culture. Benitez gained a cult hero status at Liverpool from the inception of his tenure. Truth be told, we didn't do very well in his debut season of 2004-5. But by the end of it, we found ourselves scratching our heads and crying rivers of joy at the same time, upon realising that we had actually finished up as European champions. It was an act of God, an act of Steven Gerrard, an act of Rafa.
The Kop loved singing that La Bamba tune. It bonded them to the manager. Winning things, the biggest thing, consummated the union. As time went by and Rafa rode the rollercoaster ride that is the Liverpool manager's job, he saw his stock rise, fall, rise and fall with the wider Liverpool FC community. The love with a core of the crowd never waned though. They had celebrated him from the get go with that joyous uplifting ode. It made them/us happy. We associated that glowing positivity with a man. The man.
Klopp's arrival in October 2015 was greeted with a unanimity of joy by the Liverpool FC folks. We celebrated his coming as we would tomorrow the signing of a Neymar or a Lionel Messi. This wasn't just our new manager, this guy was a genuine star of the world game. We didn't need to forensically dissect his CV, to look for clues as to how he might come to influence the club. Everyone knew everything about Klopp. He was simply a big signing. Our biggest signing.
Jürgen could have waited for any job in world football. Had he swerved the Liverpool job, he would have been interviewed for the top post at Barcelona, Real Madrid, Manchester United and Bayern Munich by now. All of these clubs would still have him in a heartbeat.
What no one really stepped back from, in the glow of Klopp's appointment, was what precise expectation we could realistically have of the man. Of course, we dreamed of him transferring his title wins in Germany with Dortmund into Premier League triumphs with The Reds.
The reality is, though, that our league is too big for one man. There is now so much money at the top of the tree and the wealth belongs not just to one or two behemoths as in Spain, but to six. To paraphrase Gerard Houllier, no one can now "program" success, only "plan" for it.
Klopp is doing very well. He took the club to two cup finals in his first season, back into the Champions League in his second, and has positioned us in his third campaign to push for the Premier and Champions League's higher placings.
And yet the mood music is that the honeymoon is over. There is a sense that some of the fanbase have become too objective on our star man rather swiftly. The "pressure" is now on to "deliver trophies".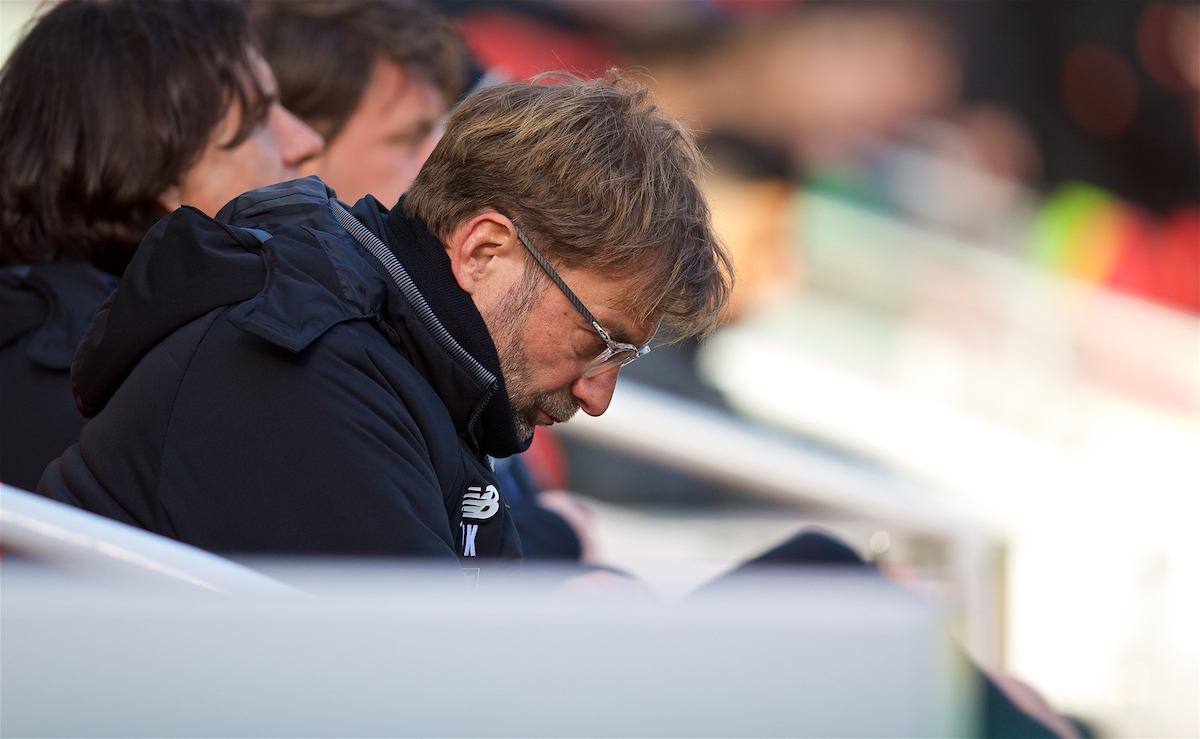 Klopp is a contradiction. At once, larger than life, charismatic, commanding of attention and yet equally self effacing, and at all turns, keen to push all due praise towards his players. If there is a growing fan love affair around the club at the moment it is with Klopp's exciting team, rather than its leader.
The manager is happier that way, but I wonder aloud if we need to push his concerns aside and reintroduce him into our hearts rather just our heads. This Sunday, we will welcome back a Liverpool hero in the guise of the current Newcastle manager. I can see us breaking out that La Bamba-inspired chorus to welcome Benitez "home". Good. We never forget our past, where we've come from. I hope the happy muscle memory that is induced by those old refrains serves to remind us that we are equally better off if we can find ways to celebrate the present too.
Our current reality is a happy place. For now. Newcastle, in half-decent form, and stewarded by our boy Rafa, are not opponents we can take for granted. Their season is far from over and they can't afford the luxury of treating a visit to Anfield as a free hit. Benitez is of that old school 1970s Italian era-influenced coaches that always respect the sanctity of the point.
For these pragmatists — and I'd include Houllier and now Jose Mourinho among their number — a team starts every game with a precious point, and the first objective must always be to protect that gift. In short, at Anfield this Saturday, Rafa will park the bus like a muthafucka.
Klopp and his side brimming with confidence will take that. They will have trained all week for "attack against defence". Practice made perfect in time for West Ham's visit last weekend. Mo Salah and his merry cohorts are a very hungry and greedy bunch at the moment. They only score goals in hatfuls. Myself and Klopp will take one off Virgil van Dijk's majestic arse in injury time.
Let's raise a cheer for our homecoming Rafa then. But save the best for today's man. A song for Kloppo is a song for Kloppo's Reds.
Predicted 11: Karius; Alexander-Arnold, Matip, van Dijk, Robertson; Henderson, Milner, Oxlade-Chamberlain; Salah, Firmino, Mane.
Kick off: Saturday, 5.30pm
Referee: Graham Scott
Odds: Liverpool 2-9, Draw 13-2, Newcastle 14-1
"Liverpool FC right now are a match for anyone." 🎥

With one foot in the quarter finals of the Champions League and a fight for second place to look forward to, there is no better time to subscribe to TAW Player… 👊

Subscribe now for just £5 Per Month: https://t.co/LEQrmm7L4w pic.twitter.com/BZ03yqMeVb

— The Anfield Wrap (@TheAnfieldWrap) 1 March 2018
Recent Posts:
[rpfc_recent_posts_from_category meta="true"]
Pics: David Rawcliffe-Propaganda Photo
Like The Anfield Wrap on Facebook