THEY'RE too soft. They crumble too easily. There are too many nice lads who don't know what it really takes to win.
All accusations levelled at various Liverpool teams over recent years and, often, justifiably so.
But, for the first time in a long time, something seems to have shifted.
I mentioned earlier in the season that we all tend to focus on what we can see, without paying attention to what is absent.
I was talking at the time about the sudden lack of people asking Pep Guardiola whether he has a plan B. A question with which he was bombarded last season and which has been noticeable by its absence as his Manchester City team has sprinted to the edge of a league title. Suddenly, everyone now believes that his plan A is pretty good after all.
In the same way that Pep's lack of back-up plan stopped being questioned, all of a sudden around Anfield the question marks about us throwing away leads and conceding soft goals from corners seems to have disappeared, at least for now.
The crumbling from positions of strength appears to have been replaced by a game intelligence and resilience that has been missing for so long.
Slowly but surely, this Liverpool side looks more comfortable in its own skin.
It's easy to attribute a huge part of that shift in dynamic to our gigantic, handsome and suave Dutch centre back, purring around the pitch like The Milk Tray Man, cool as you like, getting everyone around him to chill the fuck out.
But at the other end of the pitch, we shouldn't underestimate the benefit of having a lad who's scored more goals in seven months than Everton "legend" Duncan Ferguson did in six years, being quite content to miss chances and keep coming back for more.
The sight of a superstar not letting his confidence dip just because of a pesky missed chance must be enough to reassure some of the mere mortals around him that they don't need to be perfect to achieve their collective dreams.
Mistakes happen, and they don't signal the end of the world.
Out of nowhere, a conceded corner seems to be met with a collective shrug of the shoulders and a pat on a defender's arse by our reborn Instagram goalie, letting everyone know that we're more likely to score from an opposition corner than they are.
It's as though our opponents are thinking the same thing, with their first reaction to winning a corner being to organise their defence to try to deal with our flying break should we win the first header.
What we've started to see is a virtuous circle in action. A crowd that once became anxious and aggressive if we hadn't scored after half an hour of a home game now waits patiently for the inevitable goal, and the sight of big Virgil van Dijk having an aerial duel win rate of 120 per cent has settled everyone's nerves at the other end of the pitch as well.
Aside from the star men, the supporting cast have also joined the party in recent weeks, raising a question about who actually is in the first-choice team.
James Milner has come back from the brink as a genuine midfield option (as far as many supporters were concerned anyway), reminding everyone in the pre-Porto press conference that he's only 32 and not happy to be put out to the knacker's yard just yet.
Dejan Lovren, Andrew Robertson and Loris Karius all have the look of players believing in themselves when before, perhaps, that belief was absent. Jordan Henderson has regained his stride to continue to compound those who label him, bemusingly, as a waste of space.
It's also been interesting to watch the old teammates of Alex Oxlade-Chamberlain be slaughtered endlessly for their lacklustre displays while Chamberlain begins to believe in himself in his new all red kit and, as a result, begins to blossom into the player Arsene Wenger knew was inside but couldn't bring out.
The new midfield man said himself last week: "There is more in me. I know I have to keep pushing on.
"I can take so much from someone like Mo Salah. Just look at him this season. It has been relentless and when someone can go from — obviously he is a great player — but to be competing with Harry Kane and Sergio Aguero for top goalscorer is something you have to learn from.
"People probably wouldn't have expected that from him at the start of the season. To put himself in that position is down to the mentality he has to work hard and get the best out of himself.
"Every season there is always an example of people like that. You can take inspiration and I have got to keep pushing myself."
The idea of taking inspiration from teammates while pushing each other on seems to be central to how Klopp and his team elicit levels from players that others can't find.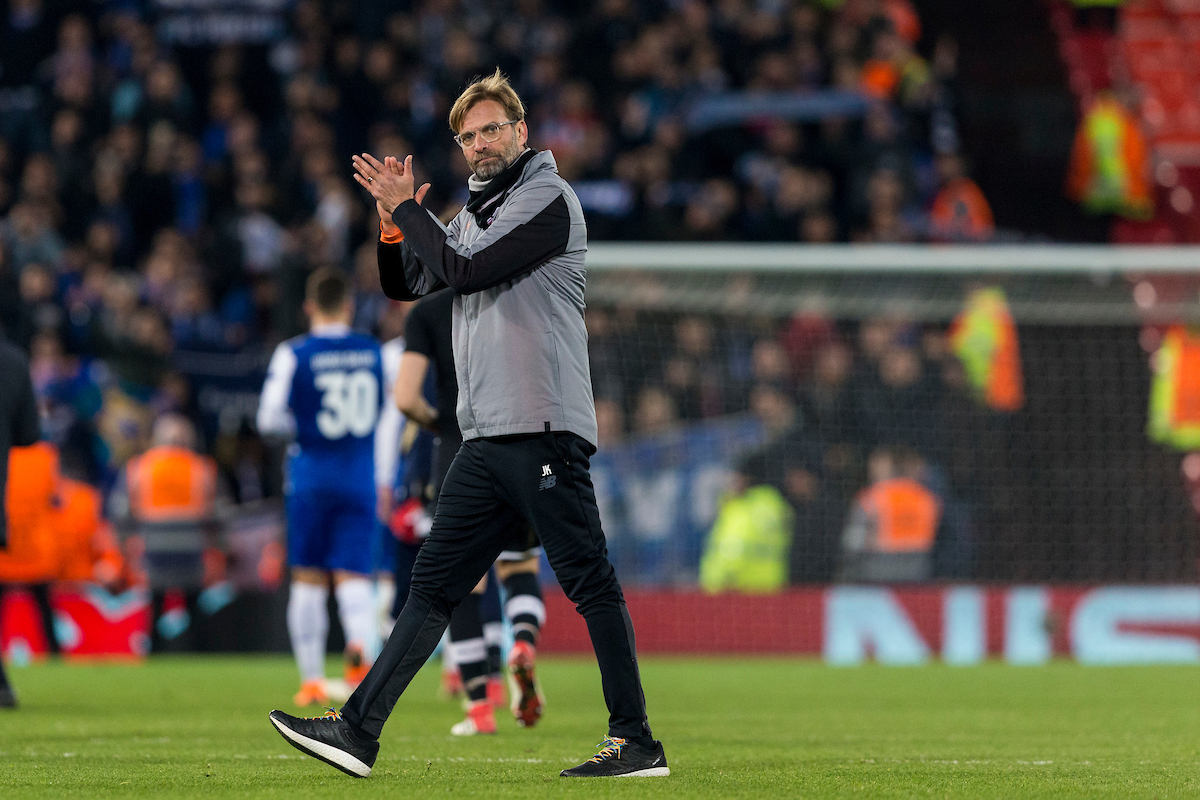 The ability to be resilient in the face of adversity comes from a unity and a belief in a project that isn't found easily, even among the biggest and richest clubs in the world.
The look in the eyes of the players, the laughter and the repeated message that we haven't won anything yet is a wondrous combination.
They're starting to believe in a way that we haven't seen for a long time, which allows us to believe as well.
Our job is to embrace it as much as we can and enjoy every moment. I mentioned on Wednesday's Talking Reds that the only disappointment about the second leg against Porto was that if you asked a neutral to analyse the two sets of supporters at the final whistle and assess which had won 5-0 on aggregate and proceeded to the last eight of the Champions League, most would have said the lads from Portugal who were bouncing, singing and enjoying themselves.
While the circumstances of that game were unusual to say the least, it's important that we don't suddenly take for granted how good this team can be and what is possible with the remainder of this season.
With just over two months of football left to play, the dream is still very much alive.
The stage is set for us to demolish Jose Mourinho's dour Manchester United side in their own backyard on Saturday on our way to a glorious and exhilarating trip to Kiev in May.
Up the sexy, suave, reliable and resilient Reds.
"Some fans may say Liverpool are good going forward but they're suspect at the back." 📽

"But hang on a sec, we were never as bad as anyone said we were but he's now gone and signed a six foot five inch fucking gladiator to play at the back."

Subscribe: https://t.co/oFCRQeLGZi pic.twitter.com/gPCJmSv8it

— The Anfield Wrap (@TheAnfieldWrap) 7 March 2018
Recent Posts:
[rpfc_recent_posts_from_category meta="true"]
Pics: David Rawcliffe-Propaganda Photo
Like The Anfield Wrap on Facebook