LIVERPOOL don't get many routine wins.
When The Reds triumph 1-0, 2-0 or 2-1, it feels like a rare occasion. That is in no way a criticism because this Liverpool team are perfectly capable of routine wins, it's just that their idea of a routine win appears to be to score at least four goals.
Saturday's 4-1 victory over West Ham was the 11th time Liverpool have scored four or more in a game this season (and perhaps more remarkably, the 20th time they've scored three or more). What made it all the more impressive was that The Hammers didn't even seem to play that badly. They were just up against a confident home team who knew what they needed to do to get the game won.
Understandably, a lot of the kudos went to the front three, each bagging a goal and generally being tremendous in their play, their goals and their celebrations. Sadio Mane has definitely spent the entire Marbella trip practising his roundhouse kicks (and needs to keep practising from the looks of things). Most fans of kung fu have a poster of Bruce Lee on their bedroom walls. Sadio has one of Bobby Firmino.
Other notably strong performances came from Andy Robertson, Trent Alexander-Arnold and Alex Oxlade-Chamberlain, but there was one player in particular who stood out among the star names and the confident youngsters.
I watched the whole match back on Sky Sports' Game of the Day and couldn't help but notice that James Milner put in a performance that quite frankly could only be described through interpretive lovemaking.
The 32-year-old was everything at Anfield on Saturday. He imposed himself on the opposition, made their lives infinitely harder and turned anything that could go against his team into a positive.
Happy 32nd Birthday James Milner 🎈

Here he is controlling the football with his actual face pic.twitter.com/45Pg9SODb7

— The Anfield Wrap (@TheAnfieldWrap) 4 January 2018
West Ham clearly realised this and so, instead of doing what was expected and trying to kick Mane, Firmino and Mo Salah out of the game, they decided to take chunks out of Milner instead. Time and again he'd get left on the floor after a big challenge, but time and again he'd get up and go right back to dominating the game. It was like watching a Rocky film, except when he shouted "Adrian!" at the end he was greeted by a miffed West Ham goalkeeper who probably didn't declare his love for him.
It wasn't just his defensive work that stood out. Some of his passes were nothing short of sensational. One in particular in the second half produced a genuinely loud "wow" from me when he received the ball just in front of the centre circle and pinged a perfect low, hard and accurate ball in to Oxlade-Chamberlain, who used the quality of the pass to carry on into the penalty area and pull it back for Salah, who was ultimately denied by Adrian. It was the sort of ball that would have made a Xabi Alonso highlight reel if he had been the one to produce it.
The panel on The Anfield Wrap's post-match show made some excellent points on Millie's showing, with Neil Atkinson confessing to a sin that I think we all share. No matter how good Milner is, no matter how important he can seem to the team, you can't help but forget about him when you're putting your ideal team together.
Thankfully, Jürgen Klopp doesn't forget about him, and games like Saturday are why.
Contributor Ian Salmon shared Milner's remarkable numbers from the 90 minutes. I forget what they were exactly (subscribe to TAW Player for only £5 a month to find out for yourself!) but the one that stuck in the memory was nine tackles. It was only the sixth time this season a player has made so many in a Premier League game (thanks @BassTunedToRed), made all the more impressive seeing as West Ham only had the ball for 32 per cent of the match.
It would of course be churlish to suggest that there isn't reason for people not thinking Milner should be on the team sheet every week. There are games where it doesn't click for him, or when he starts to look like a player who has played an awful lot of football since making his debut for Leeds as a 16-year-old. He can sometimes look off the pace, his passing can be a bit off, or he can simply not be on the same wavelength as some of the nippy lads around him.
However, when he is performing as he can, he is a very useful player to have in the team. It may seem like a bit of a lazy comparison, but I can't help but feel he is essentially replacing the role that Lucas Leiva played in the squad in recent years. The Brazilian was never the most gifted technically, and wasn't perhaps consistent enough in his later seasons to play week in, week out, but in games where you needed that reliability he was there giving it his all and silencing those who said his time at the top level was up.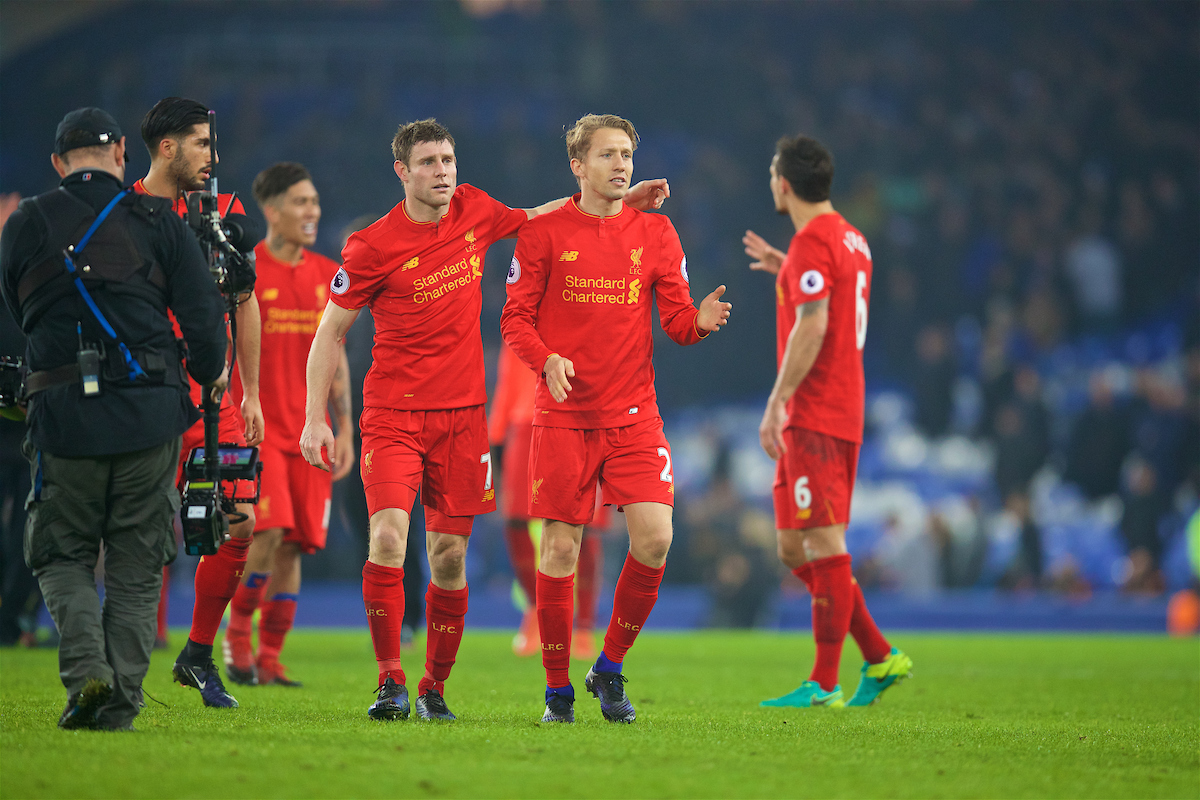 Milner of course plays a different position to Lucas, who incidentally is enjoying something of a renaissance in Serie A with Lazio this season (and if you're reading this Lucas, if you could have a word with Sergej Milinkovic-Savic about how brilliant Liverpool is, that'd be smashing) but there is that same air of reliability about him. You know where you stand with him. You'll get everything he has, even if it sometimes might not be enough, you'll get all of James Milner.
It showed everything about the man that last year he pretty much sacrificed an entire year of his final few seasons in top-flight football to play left back, a position he openly admits he doesn't like playing in, just because his manager asked him to and because it was for the good of the team. Most players get arsey about playing out of position for a game or two, even midfielders who don't like playing a slightly different role in midfield, but Milner played well out of position for a whole season, and not only that, was brilliant at it.
He may not be fashionable, he may not be the first name on the team sheet, and in many cases he's not even the 11th, but as long as he's capable of performances like Saturday's, Milner has a place in this Liverpool squad. Like Lucas before him, I get the impression that he'll be around for a lot longer than most anticipate.
By all means, remind me of this article when he's being sold to Celtic in the summer.
Some may claim that he's "boring", but if you ask me, Millie is anything but vanilli.
(No, YOUR sign-off line is laboured.)
The Reds were boss yesterday, weren't they?

🗣 You can listen to our immediate post-match reaction show here 👉 https://t.co/GeLzNP4Th2 pic.twitter.com/6BFkSlvs8d

— The Anfield Wrap (@TheAnfieldWrap) 25 February 2018
Recent Posts:
[rpfc_recent_posts_from_category meta="true"]
Pics: David Rawcliffe-Propaganda Photo
Like The Anfield Wrap on Facebook