LAST week in this very column, I said that the goalkeeper debate had become "tiresome", and I stand by that. However, Liverpool didn't play over the weekend so what else is there to talk about?
I was coaxed back into the conversation by Jürgen Klopp, who said last week in response to his decision to reinstate the much-maligned Loris Karius as his number one: "It's a very difficult job to be a goalkeeper or a centre half at Liverpool because nobody forgives you one mistake, obviously.
"Since I'm in it feels like 'wow', if our goalkeeper makes a mistake it's a disaster and if any other goalkeeper makes a mistake then it's 'he's still a fantastic goalkeeper and we should buy him'.
"My favourite solution, always, is that we do it with our boys.
"They deliver, they improve. The problem they have is that everyone is watching them and saying 'still not good enough!'
"I will only mention one name. Everyone talks about him with us and that is [Jack] Butland. I only saw the game [against Manchester United]. Fantastic goalkeeper but was he perfect? No. He wasn't in that game. But everyone says 'still better than our boys!'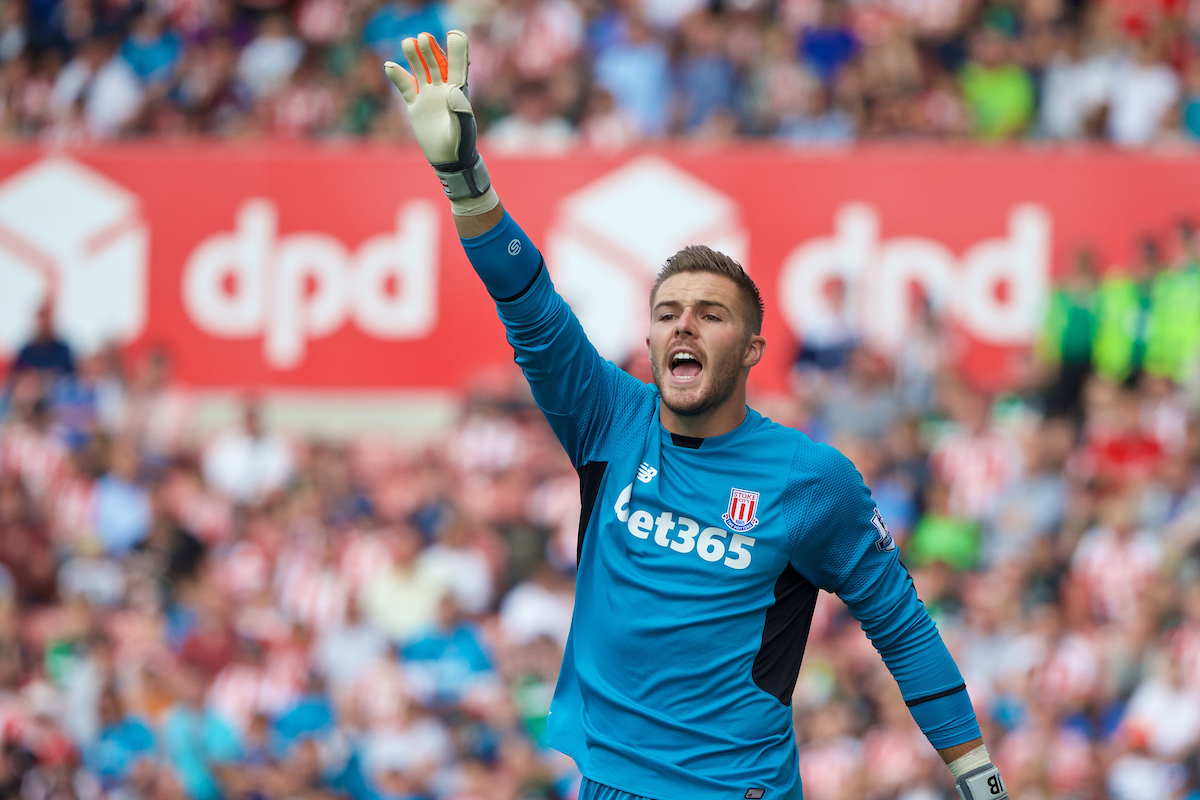 "It makes no real sense if he comes in and makes a mistake in his first game. Everyone then says we need another and another one and another one. We have to cool down."
They were interesting comments to make. For those, and there are many, who say that anyone would be better than what Liverpool have now, there are plenty of other goalkeepers struggling at the moment, but who perhaps aren't as under the microscope as both Karius and Simon Mignolet.
Take the Leroy Sane goal for Manchester City last week. Karius should absolutely do better with his now infamous 'low hands', but you can't help but feel that if another 'keeper had conceded that goal, nowhere near as much criticism would have come their way.
It's not made any easier for the current crop when Liverpool are linked to high-quality players such as Alisson Becker and Jan Oblak, while playing in the same division as possibly the best goalkeeper in the world in David De Gea.
I, like many apparently, watched Alisson with intrigue last night as Roma drew 1-1 with Inter in the San Siro, and the Brazilian number one looked great. However, it has to be remembered that so did Karius in certain games while at Mainz. I recall in particular seeing a performance of his against Borussia Dortmund and thinking 'Wow, this guy would be absolutely ideal.'
It wasn't just the 'hipster shout' of the time either. Twice a year, German football magazine Kicker ask stars of the Bundesliga for their opinions on the season, and for the end-of-season poll for 2015-16, 13.6 per cent of the 235 players asked voted Karius as the best goalkeeper in the league. He was second only to Bayern Munich's Manuel Neuer, who received 23.8 per cent of the vote.
It's fair to say we were all quite excited when the alleged second best 'keeper in Germany joined Liverpool for what seemed to be a bargain price of £4.7million, taking advantage of a release clause in his contract. However, it's also fair to say that 18 months later, most are, shall we say, underwhelmed by his somewhat sporadic performances to date.
There is a growing feeling that Klopp's decision to make Karius his number one again is a risk, and that sticking with Mignolet would be the "safer" option given the promising position The Reds find themselves in and the possibilities for major things to still be achieved this season. People are picking sides, as proven by a recent Anfield Wrap poll that almost had the two neck and neck. The fanbase are breaking into Team Karius and Team Mignolet, while admittedly there is a feeling that more or less everyone is on Team "Neither of these lads are really good enough".
Final results 👀

Up the indecisive Reds pic.twitter.com/Sd14vAwtnQ

— The Anfield Wrap (@TheAnfieldWrap) 17 January 2018
I wanted to delve a little deeper into the debate though, and see just how the two compare. These are the respective records of both Karius and Mignolet since the summer of 2016 (taken before Monday's game at Swansea).
The German has so far played 27 times for Liverpool. He has conceded 27 goals, there have been 190 shots at his goal, with 72 of those hitting the target. The 'keeper who allegedly doesn't save anything has in fact made 45 saves. However, 27 getting past him means that on average it takes just 2.67 shots on target for the opposition to score, which doesn't feel like a stat worthy of a goalkeeper for a big team with trophy-winning ambitions.
Mignolet has played 52 games in the same time, conceding 58. There have been 438 shots at his goal, with 158 of those being on target. He averages more goals against per game, but also has a slightly better save per goal ratio, albeit still not an impressive one (2.72).
One thing about Karius playing has been how often it feels like he never has all that much to do. Games such as the 4-0 win against Arsenal earlier this season when he didn't have a save to make have felt like a regular occurrence. You could put that down to the defence happening to play well that day, the opposition playing poorly, or maybe it is a tangible benefit of having a goalkeeper with his attributes. Either way I was curious to see if it was indeed the case that Liverpool face less shots with Karius in goal than Mignolet.
On average in the last two seasons, Liverpool have conceded seven shots per game when Karius has been playing, compared to 8.4 when Mignolet was between the sticks. Karius has faced 2.67 shots on target per game, while Mignolet has had to deal with just over 3. The difference is actually less than I thought it was, but as Karius averages less goals conceded per game than Mignolet, it also suggests that he's maybe not any worse at the basics of 'keeping the ball out of the net than the Belgian.
What isn't helping the current bad feeling around the Karius selection is his recent form. He's only made one save in his last three appearances, and conceded five goals. That has to significantly improve and quickly.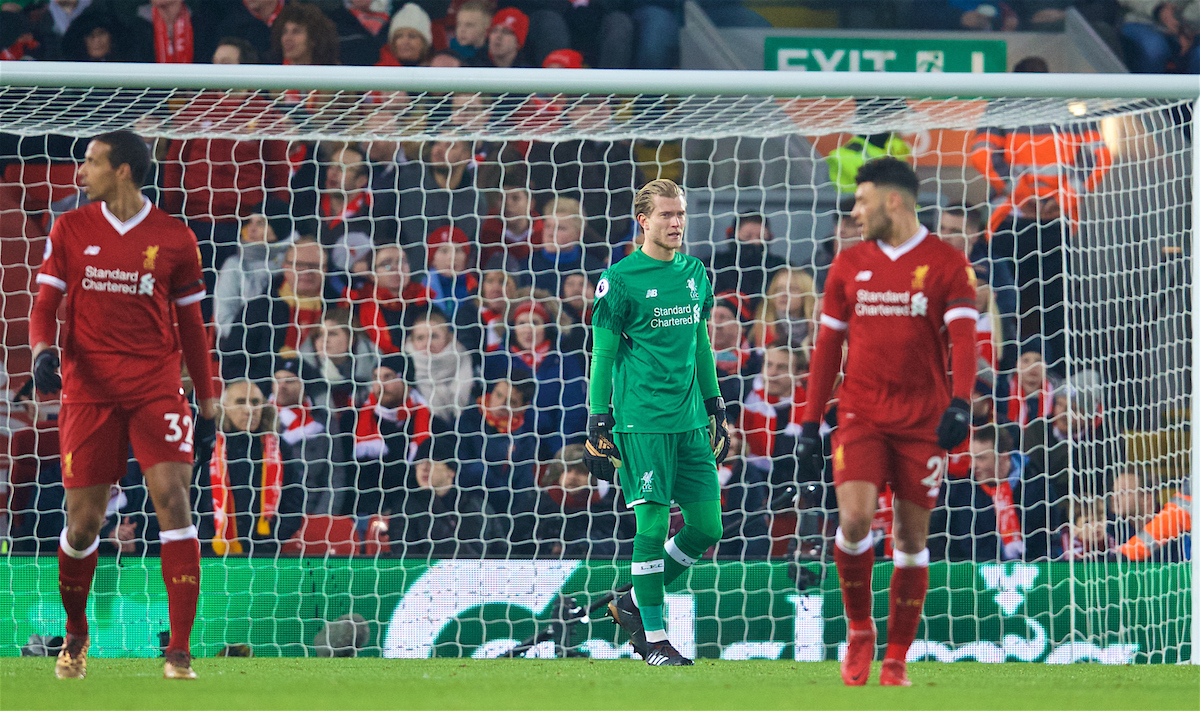 People often forget that he actually made a decent start as a Liverpool goalkeeper. After coming back from a broken hand picked up in pre-season, he made his debut at Derby County in a 3-0 League Cup victory, and went on to play nearly every game between then and mid December. In his first nine games, he conceded just six goals from 23 shots on target. Then came the disaster at Bournemouth. Since then he has struggled for form and confidence, but it was the only other time he had been given a significant run in the side.
So just why was Karius rated so highly in the Bundesliga? In his final season in Germany, he made 85 saves in 34 games, and averaged 2.07 saves per goal. The year before that he had made 94 saves in 33 games, at 2.35 saves per goal. In the same two seasons in England, Mignolet averaged 1.27 and 1.67 saves per goal.
However, when you look at both of their save rates this season, they pale in teeny tiny comparison to the likes of Alisson (3.67), Oblak (5.89) and De Gea (4.38). Mignolet is making just 1.21 saves per goal this campaign, while Karius is at 1.67 in the Champions League, but only 0.5 in his four Premier League games. (Statistics from Squawka.)
Obviously it's not this simple as perhaps the way Atletico Madrid set up means Oblak faces more shots from long range or difficult angles for the attacker that are easier to save, but if the Slovenian was able to maintain the same save ratio and had played in every game for Liverpool this season, The Reds would have conceded just 16 goals, rather than the 38 they have.
One plus for Karius in recent games has been his distribution. It might come as a shock given how much tension there is in Anfield whenever he has the ball at his feet, and his reputation for taking far too long to "get rid!", but it was clear to see in both Mohamed Salah's first goal against Leicester and Alex Oxlade-Chamberlain's against Manchester City that it was the quick ball out from Karius that allowed Liverpool to catch their opponent on the hop. It's a small thing, but quite possibly an attribute Karius possesses that Mignolet doesn't that tips the scale his way in the manager's eyes.
It will also be interesting to see what kind of relationship Karius has with Virgil van Dijk. In the Everton win, the Dutchman could be seen guiding the German stopper through the game, telling him when to come for the ball and sweep up. If van Dijk was doing the same to Mignolet, a previously established senior in the team, it might not go down as well. If the former Celtic and Southampton defender is going to be a vocal organiser of the backline, then it makes sense that he can include his goalkeeper in that.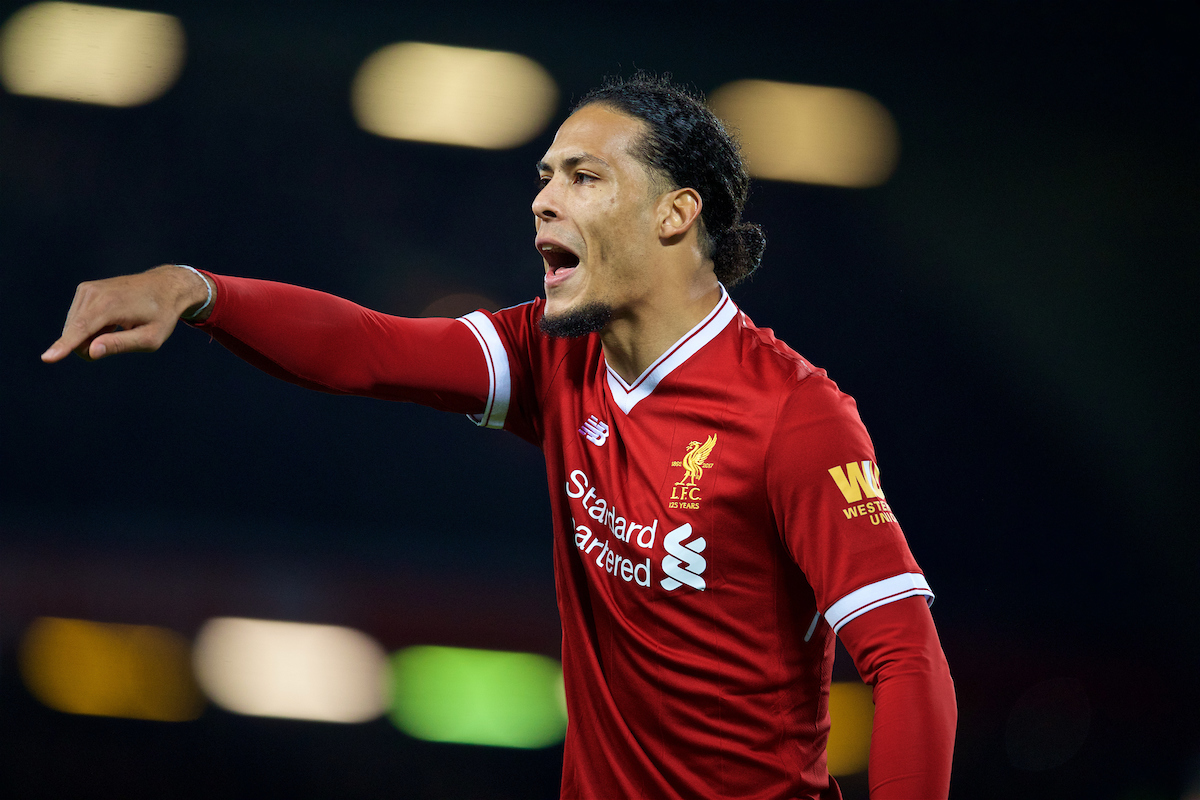 Uncertainty between 'keeper and defence has been the source of many goals conceded by Liverpool in recent years, and relationship building between van Dijk and Karius could prove to be beneficial, even if the latter has to take a few verbal pelters from the giant centre back.
To be an elite team you need an elite goalkeeper, and if an opportunity to bring one in this summer is there then it would be negligent of the club not to try everything they can to do it.
For now though we have Karius, and while he's been far from perfect so far, if in this run of games he can increase his confidence and try to at least get back to his Mainz levels, he can be very useful between now and the end of the season.
If the manager is backing him, maybe it's time we did as well.
If you're reading this after the Swansea game and Karius has dropped one into his own net or lashed a goalkick out for a corner again, then ignore the above and let's torch the place.
"I've always said that I'd like to see Karius given even more of a run, simply because that way we will know if we need one goalkeeper or we need two." 🎥

"I'm glad that Karius seems to be getting the nod." 👊

Subscribe now to listen in full: https://t.co/eTmRQkhp95 pic.twitter.com/MaaDBgz6kT

— The Anfield Wrap (@TheAnfieldWrap) 19 January 2018
Recent Posts:
[rpfc_recent_posts_from_category meta="true"]
Pics: David Rawcliffe-Propaganda Photo
Like The Anfield Wrap on Facebook