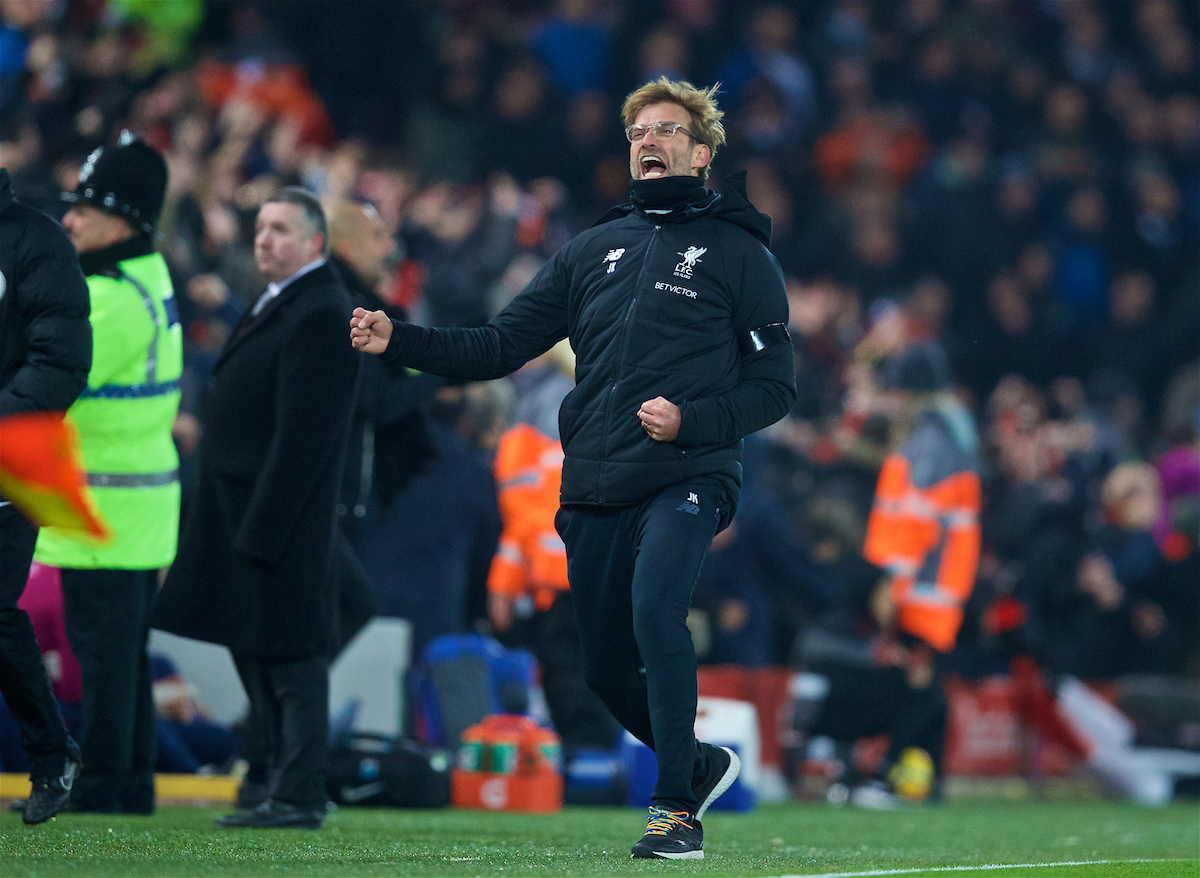 I LOVE it when a plan comes together.
I love it slightly less that many of you will be too young know where that line comes from, but I'll take the negative with the positives at this point.
Jürgen Klopp's "Plan A" came together in spectacular fashion against Manchester City on Sunday afternoon, and his team has received all of the plaudits it's deserved from all corners of the country since. Hopefully the rest of the world was also watching and the performance has added further to the list of world-class players who will only accept a move to the Mighty Reds and have informed their agents of that fact in no uncertain terms.
We often talk on the TAW Player Review show about the best way to analyse footballers and football matches being a combination of trusting what you see with your own eyes and looking at the statistics relevant to any given situation. Sunday was one of those days when the two went hand in hand.
It was clear inside the ground that the Liverpool press was as aggressive as we've seen this season. Klopp described it as being from another planet. We had more interceptions and tackles than Man City, covered more ground as a team than Man City and ran significantly more than we had all season in our own right.
It is though, of course, easier to run and press when the other team actually wants the ball. Despite everything else, the blue side of Manchester still ended that game with 64.3 per cent possession compared to our 35.7 per cent. It surprised me that we had so little until I watched the match again in the cold light of day and appreciated more how many periods there were in the game when Man City did what Man City do and moved the ball around the pitch, prodding and probing for openings.
And that's where even more impressive statistics are to be found.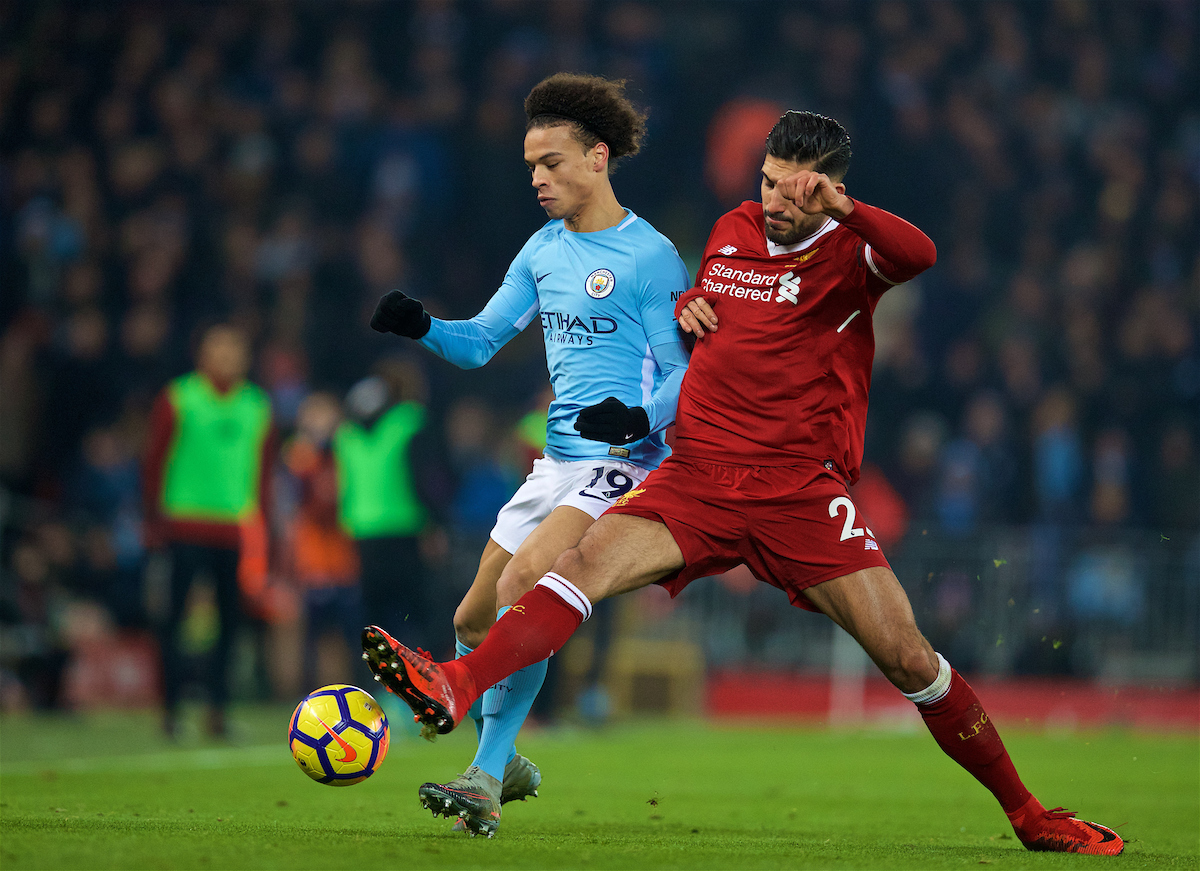 Opta showed that Sergio Aguero touched the ball in our penalty area only four times all game, which is his second lowest of the season, and didn't have a single shot on target.
Despite the plaudits he's received post match, Kevin de Bruyne also dipped below his usual high standards with the ball at his feet. He completed 26 of his 37 passes in our half, which was his second-lowest completion rate in any league game this season, and gave the ball away more than in any other Premier League match, which supports what we saw with our eyes that the lads in red shirts were doing a tremendous job of stealing possession, blocking passing lanes and generally upsetting Man City's rhythm.
We could look all over the pitch for heroes in red, but I think it's especially worthwhile giving some credit to Emre Can, a player who remains something of an enigma but who traditionally delivers in games like this. Sunday was no exception.
Our handsome German number 23 gave his all in protecting the lads behind him, making more tackles and interceptions combined than any other player on the pitch, even though he departed proceedings through illness in the 79th minute.
The old adage that the best form of defence is attack was personified by our terrifying trio up front, with Man City misplacing 33 passes in their own half, which was 50 per cent more than in any game on their travels this season.
In fairness to John Stones, Nicolas Otamendi et al, though, I'd give the ball away more too if I constantly had those three and Alex Oxlade-Chamberlain bearing down on me.
I think we can all agree that, save for a few negatives that can be added to the list of how this team and squad can still improve even further, it was generally speaking one of the best performances we've seen under Klopp's guidance, especially bearing in mind the imperious quality of the opponent.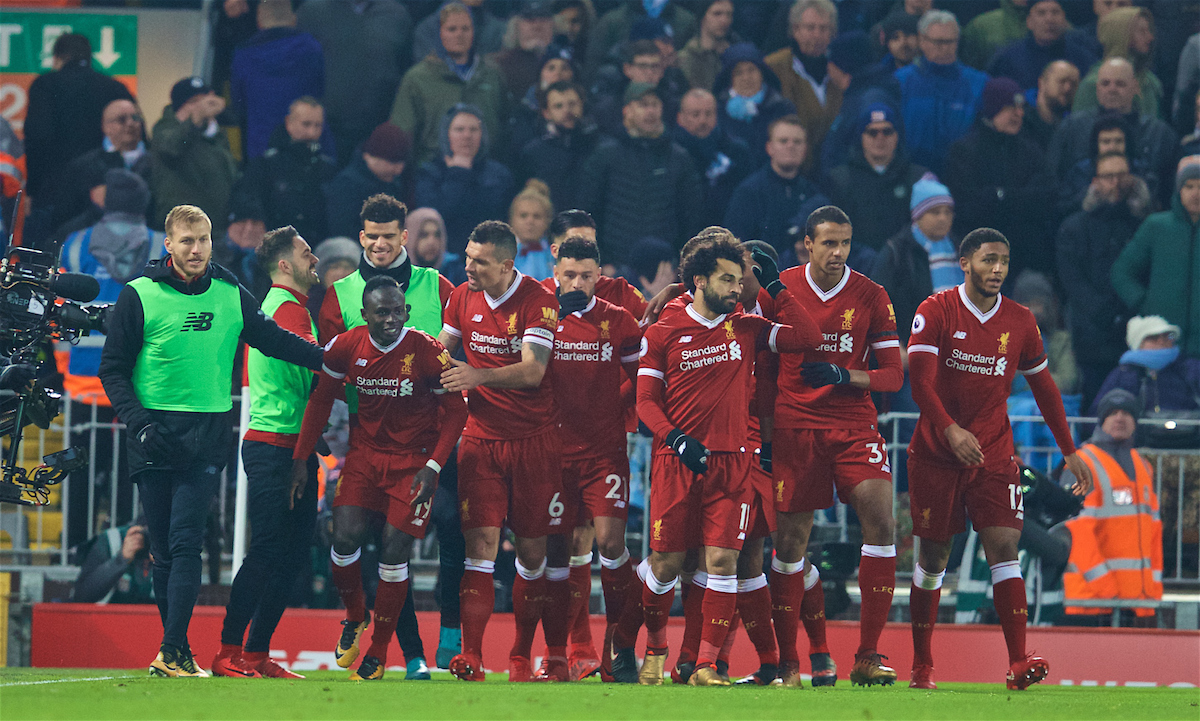 So, where does that leave us?
It's easy for us to leave Sunday's game and wonder why we don't press and run like that in every game, but the reality is that if the other team doesn't want the ball it's simply impossible for us to press in the same way as we can against Man City.
I've been amazed this season by how many teams have come to Anfield and opted to repeatedly kick the ball into touch rather than trying to play. They might well have scouted how awful we are at taking throw ins and decided it's the best way to attack us, but it's still dismal to watch and is why it's inevitable that we will see different versions of this Liverpool side depending on who we are facing.
Last year, when quite a few fans were complaining about how we only play as aggressively as we did at the weekend against the best sides, I remember pointing out quietly that there is literally a competition in which only good sides are allowed to play.
The difference between the much-lauded Premier League and the Champions League, is that it's much more difficult for Paris Saint-Germain or Barcelona to come to our place and play for yards than it is for Farhad Moshiri's Billionaire Blue Army to sit deep and ask their little goalie with unfortunately short arms to aim goalkicks at the corner flag.
By their very nature, the vast majority of teams at this stage of the competition are used to winning games. FC Porto's lads are unbeaten in 12 matches in all competitions, and have only lost two all season. While they might cast an eye at our result and performance against Manchester City, they will back themselves to beat us and progress to the quarter final, having also watched games in which we've imploded in spectacular fashion.
And this is where the excitement will and, in my eyes, absolutely should, start to build among Liverpool supporters around the world.
For many years, even before Klopp's arrival, we've been at our very best when facing the greatest teams on the planet, and this incarnation of Liverpool is no different. We already have some muscle memory in the squad of a trip to an ultimately unsuccessful Europa League final, and have the pleasure and pain of the memories of that journey to call on over the next few weeks and, hopefully, months.
We shouldn't underestimate for a second just how good this Manchester City team is. I've never seen 11 players come to our ground and back themselves to make the pitch as big as Man City's players did. What Guardiola does with his teams is truly remarkable, and we shouldn't let anyone forget that when reviewing that game. Too often over the years when we've overcome a challenge like Man City's it has been dismissed as an off day for the opposition over which we had very little influence. Make no mistake, this Man City side takes some knocking off its stride, and we very nearly knocked it off the gladiatorial podium altogether.
Regardless of what anyone else thinks, we know that this side is now starting to do something special. The work Klopp, his team (including, dare I say it, the recruitment lads) and the players are doing is slowly but surely coming together, and I can't imagine that any of the big sides in Europe truly wants to face us any time soon.
It's thrilling to be back in the position of wanting to dispatch Porto so that we can get Barcelona, Real Madrid or PSG in the next round.
We have no reason to fear any of them.
[wonderplugin_audio id="58″]
Recent Posts:
[rpfc_recent_posts_from_category meta="true"]
Pics: David Rawcliffe-Propaganda Photo
Like The Anfield Wrap on Facebook