I've got a conundrum for you which, if you can solve, wins you a dream job that pays around £5million per year with bonuses, plus a legacy as one of the most important men or women in the history of association football.
It goes like this:
How can you combine having a manager of a football team whose entire philosophy rests on treating footballers as special individual humans and building team spirit in order to bridge a financial gap between his club and its rivals, with forcing a player who wants to leave the club to stay against his will, with convincing another footballer to leave his current club (while under contract) in favour of yours despite another, richer club, also being interested, and finally combining it all with avoiding a highly-rated player from leaving on a free transfer at the end of his contract having been unable to convince him to sign a new contract and not selling him earlier.
If you've followed the above you might have noticed it's a challenge akin to squaring the circle.
If I've already lost you, let me expand.
I've heard a whole host of opinions surrounding Philippe Coutinho being allowed to leave Liverpool FC for his "dream" club in sunny Spain while under contract, not least a fantastic TAW Player Gutter Show involving a debate between the inimitable Mike Nevin and Neil Atkinson of these shores.
https://twitter.com/TheAnfieldWrap/status/948927647404511235
I've also heard that my own views on players leaving the club caused some debate last week, although I have to admit I often don't review every internet-based comment on my articles so I'm largely reliant on other people telling me about them.
As an aside, it still amazes me how upset some people get about things someone says on the internet (me in this instance, but often some other lady or gent). If that's you, you really need to have a little word with yourself for the start of the new year. I promise there are better ways to spend your time than getting upset about something I think about football.
To clarify my opinion on the whole sorry saga before going any further, though, if I was in charge of Liverpool this month I would have told Coutinho to unpack his little box of magic tricks and to get used to pulling rabbits out of hats at Anfield and at grounds around England for another few months before revisiting any potential sale in the summer after the World Cup when his value is likely to have increased again.
I would have told his team mates that he signed a contract last January and it's unreasonable for him to disrupt their season, which they've worked so hard to build, just because he's scared that his dream move might disappear in the space of a few short months, which is unlikely to happen in any event.
If he refused to play or claimed an injury which the medical team couldn't corroborate, I would fine him and force him to train on his own. I would send out a clear message that this sort of behaviour simply will not be tolerated at Liverpool Football Club.
But, and this is extremely important, I'm not Jürgen Klopp and I wouldn't run a dressing room in exactly the same way he does, so my treating a player in that way wouldn't cause all hell to break loose, as it would be expected from my previous behaviour.
I would accept that players have always (despite what some people might label as being a modern-day football problem) wanted their own way and, ultimately, get what they want sooner or later. I would accept that a player like Coutinho is likely to be desperate at some point to play for Barcelona or Real Madrid, so I wouldn't build a dressing room on a philosophy that means I have to let them go when they want to for fear of disrupting the team spirit I'd so carefully created.
I would build a squad that understood that everything we do works both ways, and that if anyone crossed the line there would be consequences that would make others not want to cross the same line in the future, and, again importantly, I'd accept the natural consequence of that process being that I might not be able to pull off signings like the Virgil van Dijk one.
Because this is one of the arcs of the circle that can't be squared.
For anyone apoplectic about Coutinho being allowed to leave, on the opposite side of the debate sits the world's most expensive defender who arguably has only signed for us above Pep Guardiola and his unbelievably exciting Manchester City team (with buckets full of money) because of our manager's philosophy and his treatment of players as special individual humans.
How many other managers in Klopp's shoes do you think would resist the temptation of signing another centre back when he couldn't get his first choice in August, instead being prepared to sit tight, take months of flak but, ultimately, demonstrate to his main target just how special he considers him to be?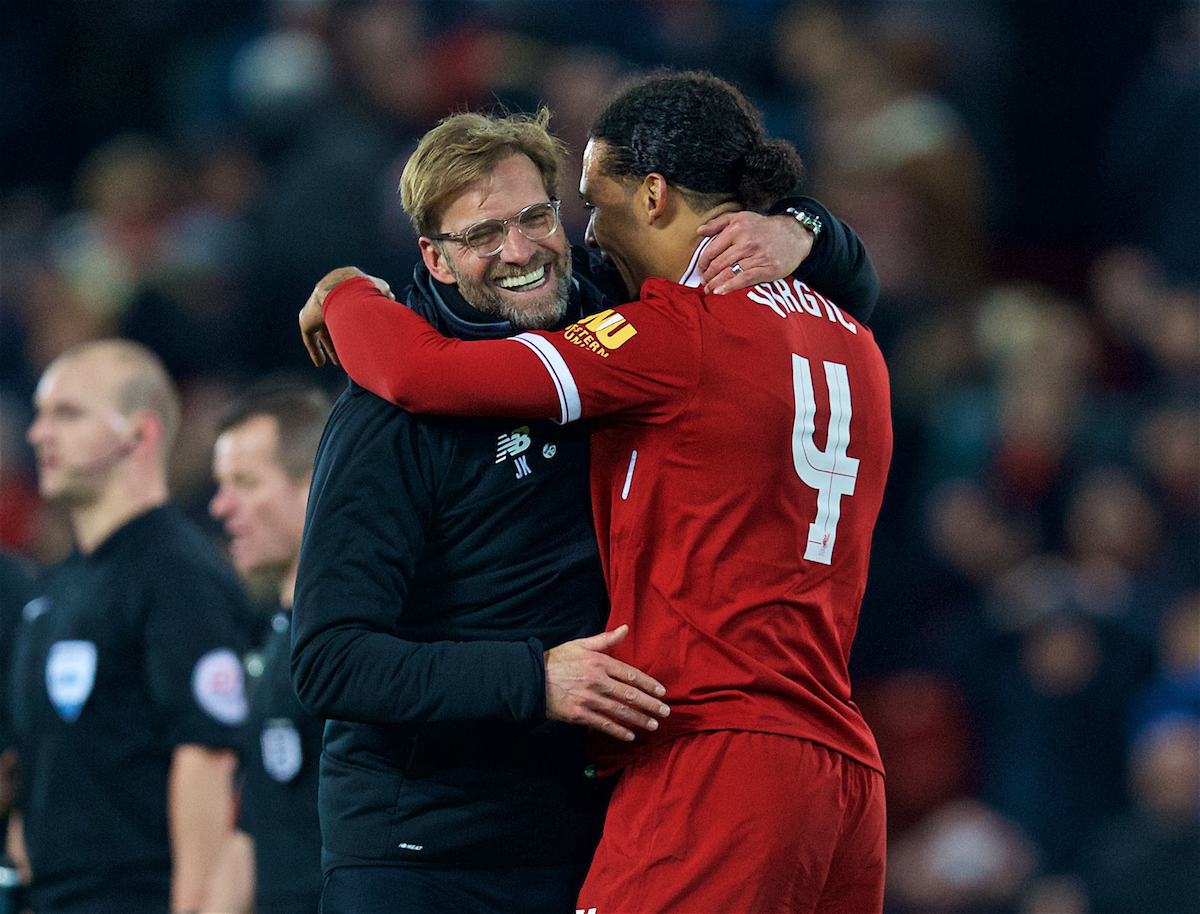 Not many is the answer. Especially when taking into account the unique pressures that go with being the manager of Liverpool.
That philosophy in the end must, in my view, be the main thing that convinced van Dijk to still sign for us in spite of the possibility of signing for Manchester City, winning the league in five months and having a realistic chance of winning the Champions League over the next few seasons.
I simply don't buy the argument that he was guaranteed more first-team appearances at Liverpool which is why he picked us over City. If you think van Dijk doesn't have enough self-confidence to consider himself able to shift Nicolas Otamendi from a first team, then you haven't been observing the same man I have.
So, my point is that we can complain about the club and the manager deciding to let one of our best players leave mid-season, but we can't in good conscience simultaneously laud the masterstroke signing of the Dutch Milk Tray man.
Around the next arc of the circle that can't be squared is the further dynamic of the argument that we should just force the likes of Coutinho to stay while they are under contract, while failing to acknowledge the current impasse with Emre Can, which inevitably happens when a player simply allows their contract to run down and puts themselves in the box seat for picking and choosing what happens next, with very little the club or manager can do about it.
If you are simultaneously arguing that Coutinho should have been forced to stay indefinitely while lamenting the possible imminent departure of Can on a free transfer, I'm not sure how you can justify the juxtaposition between the two events.
The one thing no club can, and has ever been able to do, is force a player to sign a new contract against his will. Players running contracts down and refusing to agree new terms has happened to us over the years, Steve McManaman (below) was the first, and it has happened to most, if not all, of our rivals.
That simple fact means that you can force a player to see out their contract, but you must then accept, inevitably, that more players will leave for free and can't, therefore, be annoyed with the Can situation.
Are you already itching to tell me somewhere on the internet that the club should find a way of fixing all of these things simultaneously so that we, the world-famous Liverpool Football Club, should be able to have the best of everything?
If so, going back to what I said at the start, you should save your comment and instead write to John Henry and let him know how it can be done. You'll definitely win the dream job I promised at the start (I know because I'm mates with John and often write what he asks me to on here…).
Unfortunately, as far as I can see it, we simply can't have all of those things at once. As Mick Jagger said, you can't always get what you want.
We can force players to see out their contracts against their will but, if that's what we really want, we can't also want Jurgen as our manager because that's just not how he does business.
If that's how you want your manager to act then you need to accept, as difficult as it may be with how it makes you feel about yourself, that you'd be better served hoping for a manager in the mould of Jose Mourinho to take over.
I remember vividly Rafa Benitez being slaughtered by many fans for treating his players like cogs in a machine rather than special human beings. He would have forced Coutinho to stay in a heartbeat.
Unfortunately, that attitude is what led Xabi Alonso to be happy to leave when Real Madrid came calling, which Rafa continues to be castigated for to this day.
We're witnessing at Arsenal now the impact of forcing players to stay who clearly want to leave. One of our closest rivals is likely to be faced with — within a few months — two of its stellar players walking out of the door without receiving a penny in return.
It's almost like there's no magic solution, isn't it?
If your immediate response to any of the above points is that it's not your job to come up with the answers, then my view is you shouldn't enter the debate in the first place.
It's not acceptable in my eyes to argue vehemently that something is being done badly by another party without having any reasonable or logical suggestions for how it could be done better. To say "it's not my job" is just a cop-out that serves no purpose and just leads to the equivalent of mindless screaming into a pillow. Don't get me wrong, screaming into a pillow can be therapeutic I'm sure, but you shouldn't expect anyone to listen as you do it.
If you say that you want Klopp as the manager of Liverpool (which most still seem to do, understandably), I can't see how you can argue against his decision to allow Coutinho to leave. Only he and his team know the negative impact forcing Phil to stay would have had on the fine nuances of what they've been building for the past three years, so only he and his team can make the call based on all of the information at their disposal.
As we've often mentioned on the TAW Player Review Show, unfortunately none of us get to see the alternate universe in which the other decision was taken, so we never get to see what the fallout would have been.
Would Coutinho being made to stay have unsettled his best mate Bobby Firmino? Would it have put other highly-rated young players off joining us in case their dream move was blocked at some unknown future point?
We'll never know for sure.
What we do know is that the manager's approach has in the last few months persuaded both Van Dijk and Naby Keita to join us when there were apparently huge overtures from Manchester City and Barcelona — clubs currently much stronger and more likely to win major honours than we are, which is no mean feat and not something which Liverpool managers in recent history have managed to achieve.
On that basis, in a year's time I back the manager to have created a stronger team and squad than we had before Coutinho was allowed to leave.
Does that mean I'm happy that we're weaker now and will remain weaker for the season regardless of whether we bring in another player in January?
No, it doesn't.
https://audioboom.com/posts/6580158-free-podcast-coutinho-conundrum-casts-shadow-over-derby-cup-showdown
I would prefer to live in a world in which we could have forced Coutinho to stay and the manager could have been confident that it wouldn't undo some of the work he has so carefully been carrying out with his squad, but he clearly doesn't think that was possible and I'm happy to trust his judgment, especially after the van Dijk and Keita deals. I think he's earned that level of trust.
My only suggestion as to how we could have tried to mitigate the situation was to tell Coutinho and Barcelona that he could leave in January subject to us having secured a replacement. I think the squad would have accepted that without too many issues and we could then have either been in a situation in which Keita came in early or someone new was signed, or Phil stayed with the whole club accepting that he was likely to miss the entirety of January with 'injury' and, probably, the last month of the season while he made sure he was fit for the World Cup.
I am prepared to acknowledge, however, that it's easy for me to sit here and make that suggestion, and it's much more difficult to carry it out in practice. I can't imagine that it wasn't considered by the club to act in that manner. If it wasn't, of course, questions should be asked. The problem is, we are unlikely to ever know.
I know there's a strange argument that seems to have developed on the internet whereby supporters who choose to support the decisions made by the club are labelled as patsies by supporters who choose to question everything done by the club, who are, in return, labelled as angry-heads, with both sides saying they just want what's best for the club. I think that's a strange argument akin to people arguing about Brexit or gun laws in America by saying they just want what's best for their grandkids.
Whenever I hear an argument being used by any side in a debate that can equally be used verbatim by the other side of the same debate, I immediately think it's rendered useless.
The same applies here.
We all want the same thing, which is Liverpool Football Club winning trophies, and many of us have different opinions on the best way that target can be achieved. How good a supporter you are is not determined by how much you choose to trust or challenge decisions that are made by the club, its owners or its manager.
My personal view is that in our pursuit of world domination we should always be looking to upgrade, whether that's owners, managers, CEOs, goalkeepers or crazy centre forwards. If we can get better than what we already have we should do it. An endless, relentless pursuit of excellence.
But, if we can't in reality upgrade on what we already have, we should support those we do have as vociferously as possible. By all means we should challenge decisions and ask sensible questions, but we should make sure that we're prepared to enter into reasonable and logical debates before entering the arena. Otherwise we just become that lunatic screaming into a pillow.
My view is that we should discuss and debate everything to our heart's content, but that we have a duty to consider our own arguments carefully before entering into a conversation with compassion and open ears, willing to listen to what others have to say provided, of course, that they are entering into the conversation with the same level of care and compassion.
It's only by doing so that we can understand fully what all sides think, following which we can reassess our own positions and beliefs if they didn't previously take into account something of importance.
Having said all that, if you have read and considered all of the above and taken some time to digest it, and you do think that you have the solution to the conundrum posed (after having considered carefully whether it does in practice solve the problems faced at each step), you should definitely get in touch with FSG and share your ideas.
You might land that dream job and get us all to where we want to be much sooner.
Recent Posts:
[rpfc_recent_posts_from_category meta="true"]
Pics: David Rawcliffe-Propaganda Photo
Like The Anfield Wrap on Facebook