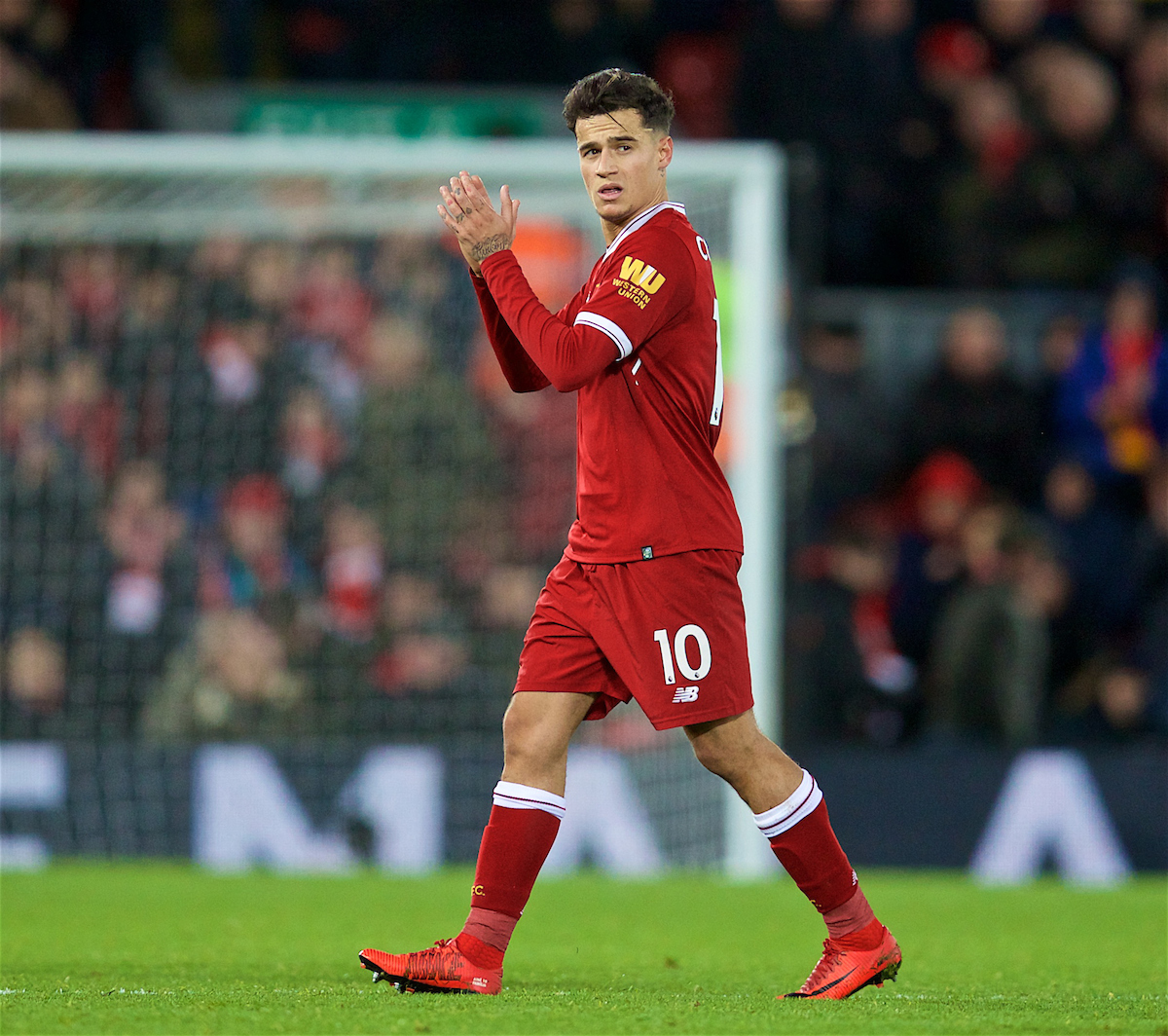 IN 2018 so far Liverpool have broken the world record for signing a defender, Ragnar Klavan has scored a goal, The Reds won a Merseyside derby with a late winner from said record signing, the FA have opened an investigation into an incident from that game, and the club have sold one of their star players, making him the second most expensive footballer of all time.
It's only the bloody eighth of the month!
Any Liverpool fans hoping to take part in "Dry January" are being tested more than anyone to maintain their sobriety given the various goings on involving the club since last Monday. I have a recommendation for all of you. Jib it and instead do "Gin-uary", in which every time Jürgen Klopp's side make the news, take a swig of gin (or whatever alcohol is close to hand). If you really must feel better about your drinking then go dry in February. It's almost half a week shorter anyway.
Now that Philippe Coutinho's £142million move to Barcelona is confirmed, we can all finally move on from this unpleasant soap opera. There have already been plenty of excellent articles, not least on this very website, about the whys and wherefores of the move for both player and club, so I won't bother going down that avenue as well. Needless to say I'm not happy about it, but we move on.
The other top six Premier League teams will be rubbing their hands with glee at seeing Liverpool lose such a key player halfway through the season, and somewhat justifiably so. However, it's up to Klopp and the players who still want to represent Liverpool to show that they are far from a one-man band.
Indeed, it has been generally accepted that this Reds side was at the very least a four-piece. The short-lived "Fab Four" moniker was on t-shirts, banners and in newspaper headlines faster than you could say "laboured nickname" once it became apparent that Coutinho, Mohamed Salah, Sadio Mane and Roberto Firmino were all shit hot at football together. It was a tag that Klopp clearly wasn't comfortable with though, and on some level there may even be relief from him that it's been nipped in the bud this early. "Fab Three" sounds rubbish.
He will be fully aware though of how much his squad will be weakened with the loss of the little magician. There were valid arguments made on the latest free TAW podcast that the style of player Coutinho is does not entirely go with what Klopp traditionally looks for in a player, but that his sheer quality and, in recent years at least, numbers mean that you find a way to incorporate him. If you were to offer Klopp a player of Coutinho's ability he'd absolutely have him, but offer him a similar style player with less ability and you fancy he'd turn his nose up so fast his glasses would fly off.
Mane and Salah were Klopp buys though. Very deliberate and considered options brought in to execute his plan of attack. Firmino was already at Anfield, but as Klopp has acknowledged, it was a happy coincidence for him as his attributes perfectly compliment what the German manager wants to achieve on the field. Coutinho never felt quite as "square peg in a square hole" though. It was a rounder hole, but by God it was a beautiful peg, so you just made it work. Now that he has the chance to hand pick a replacement, perhaps Klopp will look for a top-class version of something a little more him.
However, there are concerns about the reports coming out that Klopp might wait until the summer to make his move in the transfer market to replace the Brazilian. Those are perfectly valid concerns, and would no doubt leave Liverpool heading into the second half of the season weaker than they were in the first. However, I'd also take those reports with two great handfuls of salt.
The world knows that Liverpool have oodles of cash burning a hole in their pocket, despite the amount spent on Virgil van Dijk. As soon as names like Thomas Lemar and Riyad Mahrez came up, you can guarantee Monaco and Leicester looked at Klopp like a cartoon bag of money with blonde hair, glasses, a tooth-filled grin and a Euros sign on it. By making it known that he can take or leave a replacement in January, Klopp perhaps starts to erode the inevitable premium that would come for any buyer who is making it known they are absolutely desperate to get someone, anyone, in now and only now.
So what options are there?
Personally I'm in agreement with Neil Atkinson, who said on this week's pod that the immediate replacement needs to be someone who can predominantly play a part in the front three. Mane, Salah and Firmino are just lovely, but there's not much below that at the moment. With The Reds still in three competitions, it would be ambitious to think they can play in all of them and no injuries or suspensions will occur. Alex Oxlade-Chamberlain and Adam Lallana can play in the wide roles, but it's not where you get the best out of them, while Dominic Solanke may be a terrific striker in two-three years, but isn't there yet, and it looks like Danny Ings and/or Daniel Sturridge will be elsewhere by February.
The ideal option, in my opinion, would be to try for Lemar now as he's clearly a main target and can play in both positions that Coutinho has left behind, though it looks like Monaco are going to play hardball again, and while the player may want an Anfield move, he doesn't seem the type to go to, shall we say, Coutinho lengths to force a move now.
I'm not a big fan of the idea of bringing Naby Keita in early to be honest. Sure it'd be nice to do so, but the club would surely have to pay a huge premium to do that considering the only reason he's leaving RB Leipzig at all is because of a release clause that doesn't come into effect until the summer. Liverpool would end up paying potentially 10s of millions of pounds to bring in a player who will be here in six months anyway and who can't play in the Champions League.
If Lemar isn't possible now, then I would go a bit left field and look for someone who can play, err, on the left of the field. Another former flame seems available now in the shape of Alex Teixeira. There's obvious immediate concerns that he's spent the last two years in China playing with lads who would struggle to get a game at Tranmere Rovers. However, he is a player Liverpool and Klopp have been very interested in before, and who usually plays wide but shows enough of a natural goalscoring instinct that he could also be used in Firmino's role, but is also coming from a situation where he'd probably reasonably accept being the fourth option to fill three spots.
He's quick, a tricky dribbler and has an eye for goal, scoring 39 times in 37 games across two seasons in the Ukrainian Premier League between 2014 and 2016 before heading to China. His record for Jiangsu Suning hasn't been as impressive (still not bad though), but then being surrounded by significantly lesser players must have an effect. Andrea Pirlo looked relatively ineffective in the MLS simply because only one or two of his New York City FC teammates were anywhere near the same level.
Teixeira would also be available to play in the Champions League, and of course there's the Brazilian aspect, meaning Bobby Firmino might not have to set one less place at the table for his dinner parties.
He desperately wanted to come to Liverpool in 2016 before his former club Shakhtar Donetsk slapped an unreasonable price tag on him that Klopp refused to meet. It was strange that he then went to the Chinese league, but the impression at the time was it was either China or stay in Ukraine, which he clearly didn't want to do.
He has apparently been transfer listed by Jiangsu Suning manager Fabio Capello (you would have to assume for financial reasons given he's comfortably the club's best player), and so could well be gettable for significantly less than the £38m he went for in 2016, and certainly the £50m+ that his former club Shakhtar Donetsk reportedly asked Liverpool for back then.
There's elements of risk to it, as there is any deal, but with the market the way it is now a £20-30m player can not quite work out and you can still at least make your money back. It also feels like one of those that could pay off big style if it does work. The same scouts that felt Salah, Mane, van Dijk and Keita were all worthy of going after also put forward this guy two years ago, so there is clearly a lot in the player that they like and they think Klopp will like. It seems to me like a risk worth taking if the initial option of Lemar is a no go for now. But then maybe I'm just a romantic who is more concerned that Firmino will be dancing on his own next time he scores in front of The Kop.
That's just an idea though. If Klopp wants to get a new goalkeeper and Lemar instead then I'll be doing some form of inappropriate and elaborate happy dance.
The absolute last-choice scenario for Klopp has to be sticking with what he's got. Well, second to last behind making a Mario Balotelli-esque signing.
That said, it's not like this is a terrible team without Coutinho. As mentioned frequently elsewhere, Liverpool have won 10 of the 12 games they've played without him this season, and the two games they didn't win were the draw at Watford, where conceding rather than scoring was the issue, and the hammering at Manchester City, which you'd have to be pretty sure would have occurred with or without the £142m man.
With Lallana back from injury and Oxlade-Chamberlain hitting good form, the midfield looks like it will be strong enough for the time being. It will be strengthened heavily in the summer with the arrival of Keita (assuming that move isn't brought forward), and likely at least one other once Emre Can leaves, but Can, Gini Wijnaldum, Lallana and Oxlade-Chamberlain, with Jordan Henderson to come back too is sufficient in terms of numbers and quality without needing to go and spend ludicrous sums persuading someone to part with a star player halfway through the season (as Barcelona have just done, for example).
That said, Ivan Rakitic sounds pretty pissed off with Coutinho's signing. Perhaps get Dejan Lovren to have a word and see if Barca's goodwill from this deal can stretch to making a belated swap.
The magician is dead (well, he's left anyway). Long live the Reds who still want to wear the shirt.
Now pass me that gin.
"There were incentives for Barcelona to get a lower fee in the summer if they were willing to shelve their interest for a few months…"

"The debate is whether Liverpool should have dug in regardless."@_pauljoyce on today's show: https://t.co/CkGRoY9m3k pic.twitter.com/UdPNGYoqBF

— The Anfield Wrap (@TheAnfieldWrap) 7 January 2018
Recent Posts:
[rpfc_recent_posts_from_category meta="true"]
Pics: David Rawcliffe-Propaganda Photo
Like The Anfield Wrap on Facebook