A COUPLE of weeks ago, Liverpool fans were still basking in the euphoria gained from a helter-skelter comeback win against Arsenal, writes SEAN ATKINSON. It showcased the best and worst of Jürgen Klopp's furious pressing game.
Fast forward to week two of the new season and fans were in disarray after watching the same team somehow thwarted by newly promoted Burnley, without ever looking like changing their fortunes.
It was a game crying out for a player to take the reins and force change. When thinking back to players that would suit Klopp's game to a tee, aside from the blindingly obvious, Dirk Kuyt springs to mind.
He is still remembered favourably due to his frenetic work rate and never-say-die attitude, and quite possibly his knack of scoring big goals in big games. Affairs that seemed to be heading one way changed upon his introduction, with a famous example being the Carling Cup final against Cardiff.
Sandwiched in between the games against Arsenal and Burnley was the 10-year anniversary of the day that Kuyt signed for Liverpool. He was kind enough to talk to The Anfield Wrap about his time at Liverpool and what the future might hold for both himself and the Reds.
---
TAW: It's been 10 years since you signed for Liverpool — what do you remember about the day you signed and the first few weeks of your time at the club?
DK: I remember it like it was yesterday. It was the August 18. It was a rainy day when I arrived in Liverpool, but it was a warm welcome. From the first minute the people were there to help me. That made me and my family feel comfortable and it was a good start of a great period.
TAW: You outlasted a number of managers and players in your time here, what do you think was key to your success at Liverpool?
DK: The interest Rafa Benitez showed in me was really important in choosing Liverpool. He let me know that he really wanted me to play for the Reds and as a manager he gave me a lot of confidence. Unfortunately, we did not win any trophies [together], but to play the final of the Champions League in 2007 and to, unfortunately, finish as a runner-up in the Premier League were highlights with Benitez as the manager. For me he was one of the most influential managers during my time there.
TAW: What players did you enjoy playing with the most, and why?
DK: Of course it was a privilege to play with Steven Gerrard. He was a typical Liverpool player and also a great captain. Maybe the best player I have ever played with. He had everything. Besides them, it was enjoyable to play with Fernando Torres and Luis Suarez. Above all, I had a great time with all the teammates I played with at Liverpool. We collected great memories together.
TAW: You also enjoyed a special relationship with the fans, how important was that to you?
DK: My connection with the fans was amazing. Not only with me but with the whole team. They were always behind us, no matter what. They never give up supporting. My first minutes of my debut against West Ham were already unforgettable when I received massive applause from the stands. It meant a lot for me and gave me a big boost. It was the start of a great journey.
TAW: Are there things that you miss about playing for Liverpool?
Of course, playing at Anfield. Especially the Champions League nights. Those ones I'll never forget. I am proud that I had the opportunity to play for Liverpool for six years. One of the biggest clubs in the world.
TAW: Could you see yourself returning to Liverpool in any role in the future?
DK: It would be great to stay connected to the club. I'm still in contact with a few players and some of the staff. Unfortunately, I still have limited time to visit the matches. I was there last year when Liverpool played the semi-final of the Europa League. It was a great atmosphere as always. We can't see what happens in the future but Liverpool will always be in my heart, for sure.
TAW: What are you best memories from your time here overall?
DK: For me, I enjoyed every single minute of it. From the first until the last. The Champions League nights at Anfield, as I mentioned before. But it's difficult to pick one moment in particular. I really enjoyed playing for Liverpool and it was on honour to play for the Kop.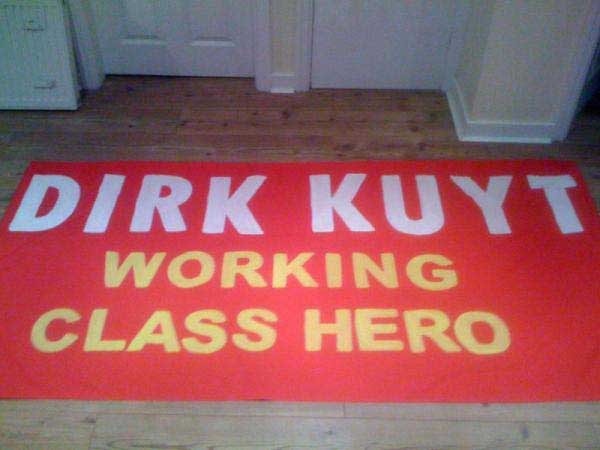 Read: Why Dirk Kuyt Deserved More Charity From Liverpool Fans
TAW: Liverpool began their season this month, how do you think they will do this year?
DK: It will be very interesting for Jürgen Klopp as it is his first season from the start. They had a great start with a win over Arsenal. Unfortunately, it didn't go so well in the second game. But we've just started so there are many, many things to play for. So I'm positive and hopeful and I wish them all the best.
TAW: Finally, are there any similarities between playing for Liverpool and Feyenoord?
DK: In my opinion they are more or less the same. Both clubs have great, passionate fans who are always behind the team. Both cities are harbour cities with clubs with a great history and potential. I feel privileged to play, and have played, for both clubs.
---
It's clear to see that Liverpool has certainly not strayed far from Kuyt's mind. At the same time, he remains a busy man. He captained Feyenoord to a third-place finish in last season's Eredivise, while scoring 19 goals in the process. His side currently sit at the top of the table having won four out of four, including a 4-1 win over Excelsior at the weekend when Kuyt, now 36, scored two (see above).
Liverpool's Working Class Hero may be gone, for now, but he definitely won't be forgotten.
Read: Clockwork Orange – A Tribute To Dirk Kuyt
Dirk Kuyt At Liverpool — Factfile
Dirk Kuyt signed for Liverpool from Feyenoord for £9million in 2006 and was dubbed 'the 20-20 man' by Martin Jol after scoring 24 goals and assisting a further 20 in a season with the Dutch side.
Kuyt played in 285 games for Liverpool, scoring 71 goals, with season totals including hauls of 14 in 2006-7, 15 in 2008-9 and 15 in 2010-11.
His only honour in red was the League Cup in 2012.
Rafa Benitez once said of Kuyt: "Also, you can see Dirk Kuyt running around like Forrest Gump non-stop for 120 minutes if necessary, that shows passion and commitment."
Read: Life After Liverpool: Conor Coady
For podcasts on every Liverpool game this season, transfer gossip, the lowdown on new signings and more, subscribe to TAW Player for just £5 per month. Minimum sign-up is just one month. If it's not for you, all you've shelled out is a fiver! More information here.
Our latest FREE show is here, just press play: