by Neil Scott
FOOTBALL, these days.  Be honest, it's rubbish.
It's all holding and diving and waving invisible cards, unfathomable kick-off times, extortionate ticket prices and painstakingly choreographed goal celebrations.
It's 'anthem jackets,' obscene salaries and Day-Glo slippers that would, in saner days, have been the equivalent of Tippexing a crudely fashioned bulls-eye on the wearer's back.  It's endless superfluous stats, inverted pyramids, false nines and armchair experts.  Tiresome geezer-centric 'banter,' 'Who Are Ya?,' and a thousand apathetic camera flashes accompanying each corner or throw-in.
And what about the players?  Vacuous, cosseted, money-obsessed, oversized-headphone wearing egotists to a man, mewling and puking at any perceived injustice, with little real concept that their privileged position has been attained not through works of civic decency or philanthropic inspiration but because they possess a frankly irrelevant gift for kicking a ball without falling over.
Whither the hero of yesteryear, the barrel-chested yeoman with the never-say-die mindset, travelling to matches by bus, cleaning his own boots with spit and dubbin, happy to enjoy a pint or two with the supporters and fully aware that, every Saturday afternoon, he was the living embodiment of 50,000 childhood fantasies?
He's gone. Never to return.
Or is he?
Because if you look closely you might just see a comforting echo of a bygone age. I'm not talking about Brave Scott Parker's timely efforts to popularise 40's austerity spiv-chic via the medium of a back-swept fringe, an heroically rigid upper lip and a thriving line in knock-off nylons.  Nor am I referring to Harry Redknapp's laudable attempts to bring back 16th century literacy standards.
No.  It is our own titian throwback of whom I speak.  The man with the work ethic of a Victorian loom operator, the stamina of a Kenyan distance runner and the commitment of an evangelical missionary on steroids.
Step forward, Dirk Kuyt.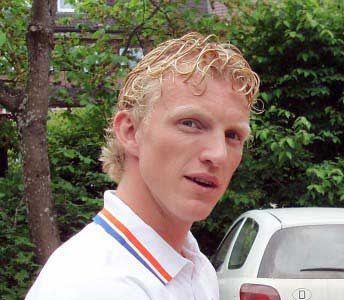 If anyone encapsulates what a Liverpool player should be, it's Kuyt.  He's got the attitude, he's got the application and he's got the will to win. Of course, we all love to see a jinking winger slalom his way through a crowded defence, a centre half with the composure and technique of a surgeon and a penalty box predator whose very presence can cause blind panic in the goalmouth.  But without the likes of Kuyt to provide the anchor, his endeavour serving to fashion the conditions in which his more flamboyant colleagues can flourish, then you have a team without a heart.  You have the Liverpool of Roy Evans and 1996.
It's odd to think that when Kuyt arrived from Feyenoord in 2006, he was heralded as some kind of goalscoring messiah.  His three seasons at the Dutch club had yielded an eye-catching 83 goals in just 122 games.  The anticipation was only heightened by his Anfield debut, a swashbuckling substitute appearance against West Ham in which his all-action style and willingness to shoot on sight, no matter the distance or angle, seemed to presage the birth of a new cult hero.
Although he never quite turned out to be the next Ian Rush, Kuyt developed a priceless habit for scoring vital goals in important matches.  Throw him into a Cup Final, a high profile European tie, a derby or a game against one of the other self-styled big clubs and chances are he'll be the one to pop up with a game-changing strike.  Even this season, in which his effectiveness has been curtailed and his regular starting place has come under threat, there have been crucial late interventions against Manchester United in the FA Cup and Cardiff in the Carling Cup Final.
In fact, the Cardiff game epitomised his worth to the club.  Entering the fray in extra time, he injected a level of energy into the Liverpool performance that had been previously absent.  He followed up his goal, an opportunistic, instinctive strike, with a goal-line clearance that, had our recurring vulnerability to a well-delivered set-piece not immediately resurfaced, would surely have resulted in him emulating Steven Gerrard by having a Cup Final named in his honour.
Unfortunately 'The Kuyt Final' was scuppered by Cardiff's last minute equaliser, but his contribution to Liverpool's eventual triumph, underlined by his composure in the penalty lottery while chaos and insanity raged around him, should not be overlooked.
However, there's every likelihood it will be. In accordance with the burgeoning trend for scapegoating our own players, Kuyt has occasionally been the target for vehement criticism from some of the less observant members of Liverpool's fan-base.  They lament his failure to accelerate past opponents like John Barnes in full flight, or to pirouette nimbly out of tight spaces like a modern-day McManaman.  In short, they are lambasting him for not being a different player, whilst ignoring the qualities that he brings, qualities that are often every bit as valuable as those he is presumed to lack.
So, though it may be true to say that he might not be as technically gifted as some of his illustrious countrymen and has the change of pace of Neil Ruddock in chain-mail underpants, unless you also acknowledge that he offers a prodigious workrate, positional intelligence and the embodiment of the team ethos then your outlook is unfairly skewed.
Kuyt's importance is only emphasised by his adaptability, his capacity for operating in a range of roles and systems.  We have seen him effectively fill a number of positions, from lone front-man to nominal right winger to supporting attacker to compact midfielder, depending on the formation and tactics employed.  Stick him in a pair of gloves and a gaudy shirt and I imagine he could give Pepe Reina a run for his money.
A final point.  In this age of rampant self-interest and superficiality, where football functions as just another branch of celebrity culture, there is a responsibility on those in the public gaze to aspire to certain behavioural standards.  Notoriously, and very publicly in many cases, footballers have often shown themselves to be incapable of reaching these standards.  It may not be of great concern to many, but to me it matters what kind of person pulls on the shirt.
Dirk Kuyt passes the test with flying colours.  Both on and off the pitch he conducts himself with a degree of humility, selflessness and professionalism that acts as a shining example to any aspiring young talent. In many ways he is the modern-day epitome of that sometimes overused cliché – 'a real Shankly player.'
Furthermore his extracurricular commitments, which include the donation of part of his salary to support his own Foundation's charitable initiatives, only serve as a contrast to the inane boorishness of many of his contemporaries.  They have also seen him elevated to a level of sainthood in my wife's eyes previously reserved only for Johnny Depp and David Tennant.  But that's another story.
Tireless competitor.  Exemplary role model.  All round good-egg.
Put your hands up for Dirk Kuyt – he loves this city.
> First published in Well Red Magazine. Follow Neil on Twitter.