I've never been one for friendlies, charity matches or testimonials, writes NEIL DOCKING. 
Sure, like every fan yearning to see his team play in the barren summer months, I've convinced myself a meaningless pre-season fixture will help me get my fix. But five minutes in you realise just how meaningless they are — little more than glorified training sessions, designed to get players fit and, with a bit of luck, somehow put Philipp Degen in the shop window.
Ultimately, it's the lack of competition. I love watching Liverpool play, but most of all I love watching Liverpool win. Remove that burning desire for victory and I'm just not that bothered. It probably says something about my character. As for celebrity games that always seem to involve Robbie Williams and the cast of Hollyoaks, the less said about them the better (much as I enjoy seeing a boy band member limp around and vomit on the sidelines after a crunching tackle!).
All of which makes the apparent excitement over Liverpool's All-Star Charity Match this weekend a bit bewildering — even if it is raising funds for worthy causes like Alder Hey Hospital and Claire House children's hospice. Admittedly this one is a little different, and I've found it hard not to be at least intrigued by the who's who of modern Red greats taking part. Jonjo Shelvey, take a bow!
Aside from the King of the Golf Course there are the heroes of Istanbul — Gerrard, Carragher, Garcia and Alonso — and the men whose penalty heroics helped clinch the FA Cup in 2006: Reina and Riise. Then we have those who left too soon or in controversial circumstances, from Arbeloa and Bellamy to Torres and Suarez — the best player I've seen at Anfield.
The prospect of watching Fernando and Luis form a mouthwatering strike partnership and answer the question of what could have been probably helped ticket sales. The game sold out in just three hours, so it's clear a lot of people think it will be a lot of fun.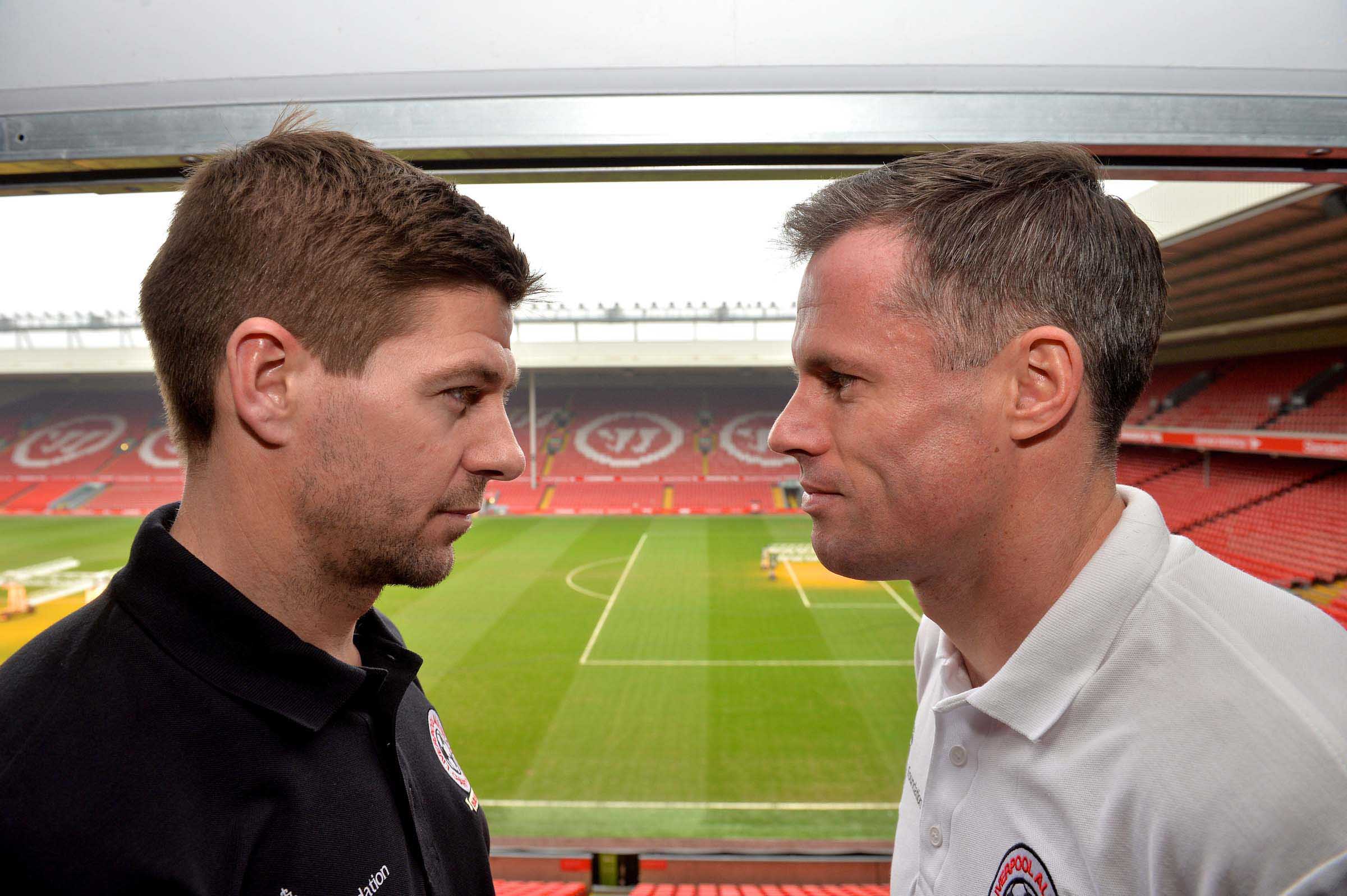 However, it was a comment from Carra about those taking part who "never got the chance to say goodbye" which made me think about the man I would love to see in a Red shirt one more time — if only it was for a competitive fixture. I understand that as soon as I say the name Dirk Kuyt, at least half of you will be shaking your head. I can't think of another Liverpool player who divided opinion quite like the industrious Dutchman — no matter how many crucial goals he scored in big games or how hard he fought for the team, he was never able to win some fans over.
I always felt this was partly due to him being seen as synonymous with Rafael Benitez and the Spaniard's failings when things went wrong — in much the same way Joe Allen is lambasted by Brendan Rodgers' detractors — fuelled by the notion that managers pick these players because they are personal favourites, rather than someone they think can be relied upon to do to a certain job and do it very well.
I loved Kuyt as a player, from his very first appearance at Anfield. In my younger days, when I was far more easily antagonised, I spent countless hours on internet forums defending the honour of the much-maligned Dirk. It got to the point where I was viewed as an irrational and blinkered flag-bearer for our number 18, who seemingly could see no wrong where he was concerned.
I'd like to think I recognised his flaws, but was baffled by the level of hatred and bile he attracted, when greater respect was due. He clearly wasn't a top-class player, but in my eyes, he was obviously a very good one — a selfless, team-focused dynamo who helped those around him perform to the best of their abilities.
I'm sure a lot of the disappointment centred on the fact that he failed to fulfil the promise of his goal-scoring record in his homeland which saw him pitched as a 20/20 player (20 goals-20assists), or his all-action debut off the bench against West Ham in August 2006, during a cameo when he briefly resembled a relentless, pre-injury Alan Shearer.
It soon became apparent he wasn't cut out to be a lone striker in the Premier League, mainly due to his lack of real pace and inconsistent touch, overstated though it may have been. In that first season he scored some great goals and was a key figure in Europe, slamming in the winning penalty against Chelsea in the Champions League semi-final shootout. But perhaps he would have flourished more often as part of a traditional two-man forward partnership, which Benitez seldom favoured.
Referring to my earlier point about Rafa's shortcomings, his selection ahead of the in-form Peter Crouch in the European Cup final in Athens in 2007 was baffling — despite his late goal — and seen as a key mistake in the demoralising defeat by AC Milan. If only he had been selected in a wide role instead of his countryman Bolo Zenden, a position which soon became his best for Liverpool, albeit on the opposite flank.
Dirk also had a very disappointing 2007-08 league season, coinciding with the devastating loss of his father to cancer. The fisherman attended his son's games whenever possible and Kuyt admitted that his death hit him hard. Despite another prolific European campaign, he notched just three league goals, and his future at Anfield appeared uncertain, until he earned a new role in the team.
His reinvention as a tireless winger with the licence to drift inside, using his strength and energy to outmuscle and harass fullbacks, his aerial ability to win countless headers and his intelligent movement to make telling late runs into the box, was a masterstroke by Benitez.
In the 2008-09 season, Dirk's link up play with Gerrard and Arbeloa down the Reds' right hand side worked wonders, and it was clear Torres was delighted at the support Kuyt provided him, both when bringing him into play and distracting defenders.
Scoring 15 times and creating 12 goals, he was an integral part of a campaign where Liverpool came so close to the title, but ultimately missed out to a great United side.  It could be said this was mainly due to the failure of the rest of the supporting cast, primarily the likes of Robbie Keane, Albert Riera and Ryan Babel, to match Dirk's contribution when Torres and Gerrard were absent. Yet Dirk remained the subject of much criticism — something that did not diminish in the bleak days at the end of Rafa's reign and during the doomed Hodgson experiment.
Of course he had his bad games, when his touch would desert him completely and he would toil fruitlessly. Nevertheless, I often got the impression that a flashy but inconsistent winger would not have been given such a rough ride — as if the crucial flaw for some fans was that his game wasn't aesthetically pleasing enough.
One thing that could nearly always be counted upon however was his ability to rise to the occasion. It was often on famous floodlit nights that Dirk was at his best, his predatory instincts key to victories over Inter Milan and Arsenal. Likewise the Suarez-assisted hat-trick or FA Cup winner against United will live long in the memory. But for me, what elevated him to another level entirely, was his love of the derby.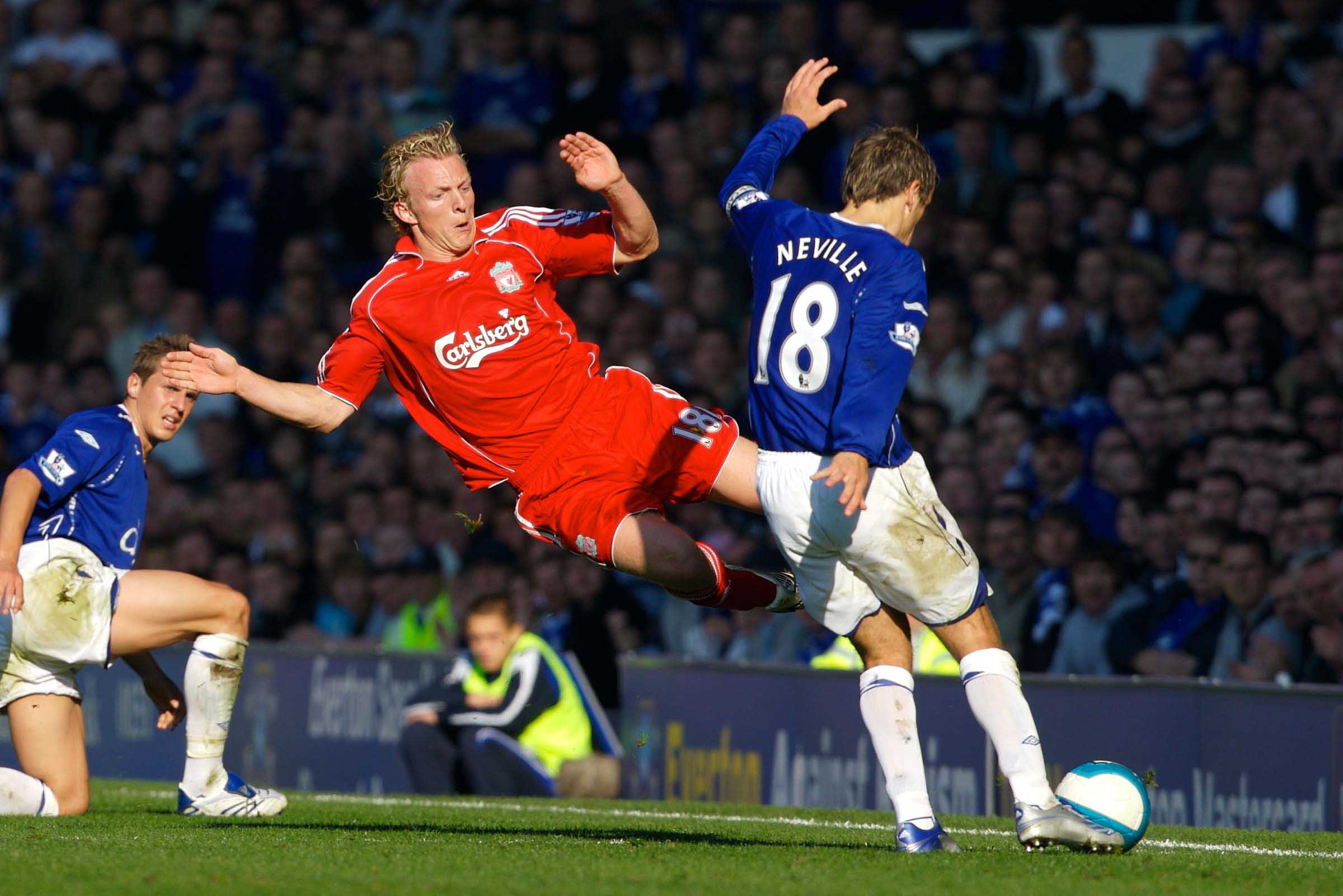 Whether it was coolly slotting home crucial penalties while facing the white hot heat of an enraged Goodison Park, scything Phil Neville in half with an outlandish lunge or scrapping for a decisive header at the Anny Road End in the bitterest of battles when we were down to 10 men, Kuyt became a talisman on derby day.
A former sparring-partner of mine, who was never convinced by Dirk's qualities, once sarcastically referred to him as 'The Scourge of the Mongrels'. The irony was it couldn't have been a more fitting epithet. The Blues came to hate the very sight of him.
Sadly, the reason why Dirk didn't get to say goodbye in the manner he may have liked had a lot to do with the way he was underused by Kenny Dalglish in his final season and the underlying issue of his substantial contract and wages.
Some question whether he would have suited our play under Brendan and it's difficult to see how he could have played an effective part in our rapid counter attacks last season.
However, in Rodgers' opening term I'm sure he would have loved to have called upon Kuyt's qualities — and crucially his experience — when the young squad suffered greatly from his, Craig Bellamy and Maxi Rodriguez's absence. Dirk was vital to Holland when they reached the World Cup final in 2010, scoring and creating four goals, and for the record Andrés Iniesta only scored Spain's winner after he was bizarrely hooked in extra time! This was a man with so much to offer as was seen four years later when Louis van Gaal deployed him at fullback.
There is no doubt he could be a vital cog in a fluid attacking system. Of all the errors made by Kenny, the decision to tear apart the setup that saw Dirk, Maxi and Raul Meireles buzz around Luis Suarez and demolish United, Birmingham, Newcastle and Fulham, was for me the most inexplicable.
Dirk and Luis immediately struck up a great understanding and during that 2010-11 run-in in Kuyt notched 10 goals and five assists. Kuyt found the net in five successive games and looked to have recaptured his best form as the season ended.
Yet the following year he was cast aside to accommodate a lumbering Andy Carroll, Jordan Henderson (played out of position on the right wing) and a spineless Stewart Downing — in many ways the 'anti-Kuyt'.
With the exception of Luis and Craig Bellamy, it appeared some players being picked ahead of Dirk were selected because of their price tag, not their true worth to the team.
It was frustrating to see such a versatile player sidelined and seemingly heading for the exit door. With the Carling Cup final approaching in early 2012, it dawned on me that now was the time to show some appreciation for a loyal player who surely deserved to depart with some silverware.
I'd had a go at making a banner once before. It was in support of an under-fire Benitez and was unfurled during a defiant 2-0 victory over Spurs, when who else but Kuyt scored a gnarly brace. At the time I thought its simple message of 'Supporting our managers since 1892' was appropriate, yet I learned afterwards that it was roundly mocked by Richard Keys in the Sky Sports studio. Perhaps rightly so — he obviously had a crystal ball and knew it would remain in my attic during the dark days of Hodgson!
Uncowed by this hirsute berk's scathing criticism, I enlisted the help of a mate and we came up with another straightforward effort: 'Dirk Kuyt – Working Class Hero'. A John Lennon-influenced tribute to his endless endeavour and humble beginnings in the fishing town of Katwijk aan Zee, it took quite a bit of time to make, but if Dirk had taught me one thing, it's that you don't get anywhere without a bit of elbow grease.
Was it worth the effort? Well, it only won us the League Cup…
I like to think Dirk caught a glimpse of my dad and I holding the banner aloft as he furiously ran up and down the touch line at Wembley, like a caged animal chomping at the bit while the Reds toiled against Cardiff City, and resolved to do its epithet justice.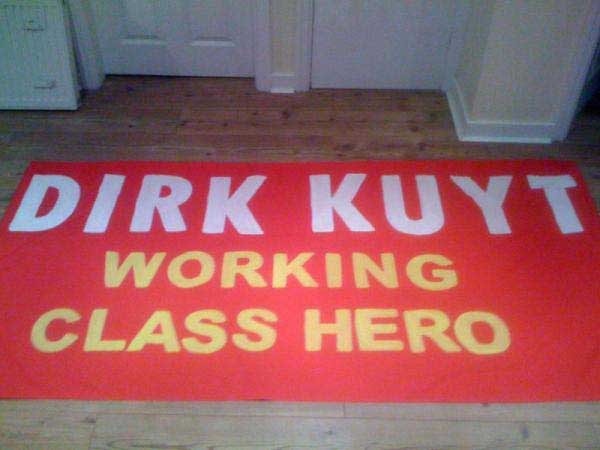 While that's obviously fanciful nonsense, there is no doubt Dirk took to the field like a man possessed when he was finally introduced as a late substitute. There are games when you can see a team heading for an embarrassing defeat and one player visibly decides 'no, not today'. And that day at Wembley, Dirk wasn't having it.
A player who, if there was any justice, would have left Anfield with a bag full of medals ensured that he was definitely leaving with at least one. In a rocket-fuelled cameo that in many ways took us back to the promise of his debut he charged into tackles, harried and pressed, drove the team forward and left the Cardiff players' heads spinning.
When the moment came it couldn't have been more fitting, as he scored the most Dirk Kuyt of all Dirk Kuyt goals. Scuffing a wild, mishit shot straight into a defender, it somehow rebounded back to him, before he unleashed a seemingly impossible shot from the edge of the box and fell over in one gloriously inexplicable motion. The ball was lashed forward and found the corner of the net and Dirk — having scored through sheer bloody minded will and determination — set off on a wild celebration.
Despite his subsequent heroics clearing the ball off the line from a corner, Cardiff found an equaliser and it appeared there would be no happy ending. Yet when the game went to penalties, after Gerrard showed an uncharacteristic lack of composure and Charlie Adam aimed for the moon and hit a star, it was Dirk who stepped up to the plate when all appeared lost. The defiant Dutchman nailed his pressure penalty, snarled and punched the air, before turning to his team mates and cajoling them to do the same. 'No, not today.'
It's fair to say that Neil Atkinson's tongue-in-cheek tagline for the game on the following episode of TAW — "The Dirk Kuyt final" — was stretching it a bit. But while I jumped around like a madman with my dad and random lads hugged us and pointed to our banner, as if we had somehow played some part in the victory, that's pretty much how it felt. You make a flag for your favourite football player and then he wins you a cup final. If only life was always that simple!
During a drunken train journey home I received a flurry of texts from friends who had watched the game. It turned out our banner was highlighted on TV and this time earned a more favourable reaction from the Sky Sports pundits, with a ringing endorsement from ex-Red Jamie Redknapp. Up yours, Richard Keys!
Since I started writing this sprawling memoir, I've had a glance at Twitter. Sadly it looks like Dirk will now miss out on playing in the game through injury, but will still be a part of the match day coverage on TV.
I haven't got a ticket for the game on Sunday. It's not really my thing. But if I was going, I'd be tempted to dust down that banner and take it to Anfield. If only to say thanks one last time to a player who was far from perfect, but never gave less than everything he had to Liverpool FC.
Cheers Dirk.