JÜRGEN Klopp previously stated that he was loathe to let anyone move to another side on a provisional basis, but the sheer numbers within the Liverpool squad and the individual needs of the many youngsters mean that it's necessary for those that won't feature regularly to gain first-team experience, writes PAUL WILKES.
Liverpool's loanees have already started to do just that, and have appeared for their temporary clubs. Adam Bogdan, Danny Ward, Ryan Fulton and Ryan Kent are among those that have made their debut for their respective loan teams.
Liaison officers from Liverpool will maintain frequent contact with these players, while some will speak often with the manager. However, for each player the opportunity is very different — while some return to Anfield to forge successful careers, others will be forced to move away in order to realise their dreams of making a living out of football.
That was the case with Conor Coady, who after making his competitive debut for his boyhood club Liverpool, soon found himself on loan at Sheffield United. A successful spell there caught the eye of Huddersfield Town, and a permanent deal worth around £500,000 to Liverpool saw Coady transferred to The Terriers.
Another year on, after another successful season. Coady was on his way to Wolves, this time in a deal worth £2million.
"I came back last summer and the club told me that they were in talks with Wolves," admits Conor Coady to The Anfield Wrap. "It was down to the two clubs in general and they said, 'we have sorted something out and you are going to have to get yourself down there' so I did. I'm really happy I'm here now."
Having spent two seasons in the starting 11 at Sheffield United and Huddersfield Town, the defender-turned-midfielder followed that up with more regular football at Molineux — a far cry from making up the squad numbers at Liverpool.
He certainly has no regrets about joining Wolverhampton Wanderers, and not just because the new ownership at the club now promises an exciting period in Wolves's history.
Coady, 23, was born on Merseyside and it was obviously difficult leaving the club behind that he supported as a boy.
"I grew up at Liverpool and it was something I loved, but the last two years have been the best ever," Coady confesses.
"I have loved every single minute of them and hopefully I have been doing quite well to continue playing. But I'm a massive Red and I always go back to watch the games when I can.
"I'm part of a big footballing family and they are all big Reds. They have all supported me from a young age and they all come to every single game now, and now I'm at Wolves they support Wolves. They will always come to every game of mine for the rest of my career."
His family played an instrumental role in not only his formation as a person, but also in him becoming a rounded footballer. Coady's father in particular hasn't missed a game since he joined Liverpool's youth set up 11 years ago.
"My dad always told me that communication is a big part of football — it can help you a lot to get players to help you and then you can help others," Coady says.
"I try to do that in different positions. It's just something I was brought up with and it comes across quite well when I'm playing."
Rewinding to the Anfield days, a game at the Sir Jack Haywood training ground when Liverpool's Under-18s played Wolves and Coady marshalled the defence for the away side comes to mind. The talented winger Toni Silva was constantly berated by Coady throughout the match.
"Toni!" laughs Coady as he reminisces on the enigmatic Portuguese wide man. "You need players to help you bed into the club. I felt like I could do that when I was at Liverpool and I enjoyed doing that, it's something that is a part of my game.
"Toni Silva needed me shouting at him a few times, he was so frustrating, but that was because he was a top player. Sometimes players need that and I enjoy doing that."
He had the perfect teachers at Melwood, not just because they were able to relate to his organisational ethos, but as they also had the ability to adapt to different positions.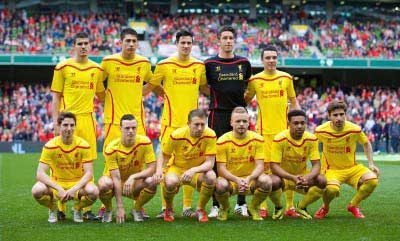 "It was always Steven Gerrard and Jamie Carragher. You talk about good communication, I just looked at them and tried to get something out of their game to bring to mine. I felt like it helped me."
Coady made only two appearances for the Liverpool first-team — starting in the defeat away to Anzhi Makhachkala in November 2012 and coming on as a late substitute away at Fulham in May 2013.
But he reveals that former manager Brendan Rodgers didn't overcomplicate his specific tactics when he made his first competitive start in the Europa League group stage in the Locomotiv Stadium.
"We all knew how Brendan wanted to play, he was a complete football guy," adds Coady.
"He loved keeping the ball, passing and pressing. He loved the tactical side of the game, but I think he knew with it being my debut that I might be a bit nervous going into the game, which I was.
"I'm a boyhood Liverpool fan and I still am a massive Red. He just sat me down and said, 'Go and enjoy yourself, no-one can ever take it away from you. You will have played for Liverpool, just go and play your game'."
Coady fulfilled one dream that night in playing for Liverpool's first team. Now, every day, he fulfils another — making a sustainable career out of professional football.
For podcasts on every Liverpool game this season, transfer gossip, players and seasons past and present and more, subscribe to TAW Player for just £5 per month. Minimum sign-up is just one month. If it's not for you, all you've shelled out is a fiver! More information here.
Our latest free show post-Arsenal is here – just press play!