THE return to Merseyside this week of former skipper Steven Gerrard, at first sparking speculation that a Reds reunion of some sort was on the cards, brought some thoughts to mind of the short and long-term issue of the Liverpool captaincy.
The idea that Gerrard would soon reappear at Anfield during his MLS sabbatical was swiftly, and correctly, dismissed by Jürgen Klopp, who is trying to fashion a club in his own image. But the iconic status Steven still holds for many Liverpool fans is a reminder of the none too distant days when the Reds had an obvious on- field figurehead.
Gerrard's complex psychological make-up, despite his obvious ability to lead by example through his deeds on the pitch, had supporters split over his natural aptitude for leadership. At his best, his superhuman efforts dragged or inspired team-mates to another level of performance. On his off days, concerns over the state his own game saw him more detached and left others to rouse the troops.
However, in his later years, through added maturity and growing security, he became a more natural and consistent leader, embodied by a somewhat paternal role during the 2013-14 season.
The trademark stern, fixed stare in the tunnel left no-one in any doubt as to who was in charge as the Reds went closest to bringing him that elusive final career decoration. Last season is best forgotten, for Gerrard and the man, now departed, who was charged with recognising and addressing his rapidly declining powers.
Such is the presence of Jurgen Klopp, even after less than a month in charge that not a great deal of discussion has centred on who skippers his team on the pitch. Leadership and charisma pours from every smile and sentence, so that where once Gerrard had a legitimate but arguably unhealthy supremacy that ultimately compromised Brendan Rodgers, Klopp is already the man at the head of affairs.
Bigger than the club, no, but undoubtedly grander in stature than anyone in the Anfield corridors — including, and this comes as a blessed relief, all the suits and statisticians put together.
On the field, the club captain Jordan Henderson's long-term foot injury has ruled him out of Klopp's early equations and James Milner has deputised in his absence. Kolo Toure has also donned the armband briefly in the cup games but it would have been better stretched over his suspect hamstrings.
Kolo's had his last hurrah but looking further forward, Klopp's choice of long-term skipper might be critical.
On the face of it Henderson could return when fully fit to embrace the role as intended under Rodgers. With his boundless energy and running intent, Jordan could easily be the role model and personification of the manager's desired high-tempo requirements.
However, it is worth noting that he wasn't a Klopp appointment to the position and one wonders whether this dependable, solid footballer has the necessary persona to be his preferred representative on the pitch.
When Gerrard left he offered some nice platitudes without sounding fully convinced Henderson was a big enough man to fill his shoes. It remains to be seen whether Klopp views Henderson as too conservative a human being when his managerial style and demeanour is at the very least unconventional.
While Henderson has been recovering from a broken foot, the experienced but battle-weary James Milner has deputised and, though he clearly lacks star appeal, he is never afraid to put in a shift.
https://www.youtube.com/watch?v=G357IyVHKsA
While Klopp finds his feet and finds out more about his players and main characters, vice-captain Milner was unlikely to be usurped but it won't have gone unnoticed by the German that Milner lay prone in despair on the turf in the wake of Southampton's recent late equaliser at Anfield.
Klopp then commented after the game: "We had nine or ten minutes to play, there was another chance, but there was no belief any more in the eyes. Nobody was able to push, say something positive at that moment."
Not exactly a ringing endorsement for Milner.
At Chelsea last Saturday, Milner was shifted to a wider position and was cajoled by the manager throughout the first half from the sidelines. It looked and felt more like a necessary personal tutorial than a manager maintaining close ties with his captain, with Milner's reactions not entirely positive.
After Milner's apparent withdrawal through injury during last night's win over FC Rubin, Sunday's game against Crystal Palace may offer some early clues as to who Klopp sees as his most prominent characters.
Some would argue the importance of captaincy in football is overstated; that the armband is a mere token and responsibility stops with the toss of a coin.
It's true that compared with cricket, the skipper is hardly responsible for tactics and strategy but even this is changing in a game when more frequent breaks in play and managers' constant presence in the technical area lends itself to a steady stream of instruction channelled through players most receptive to information.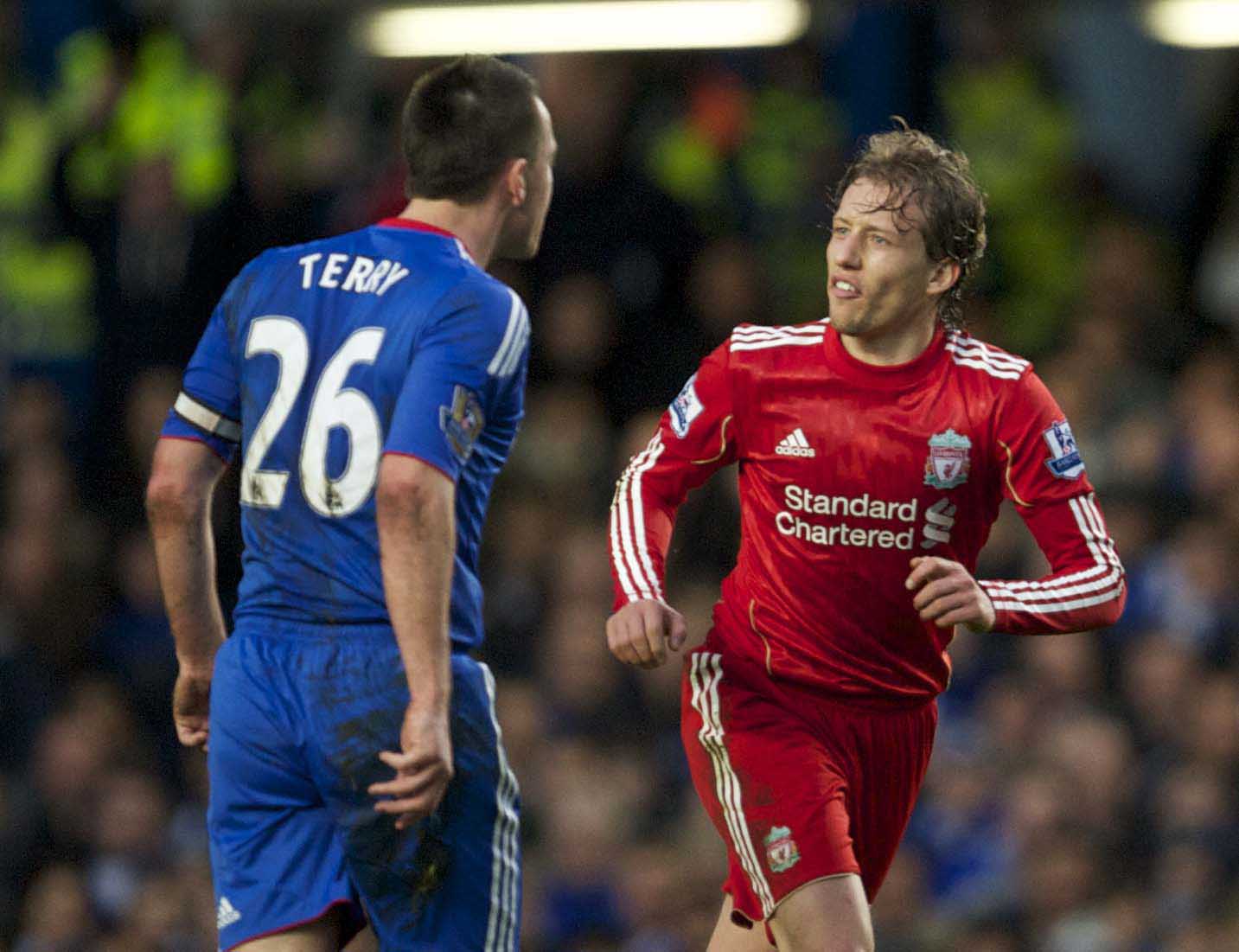 On this front, Klopp has clearly developed an early rapport with Lucas Leiva. He made a beeline for him on the final whistle after his first game at Spurs and always has a cheery debrief with Lucas before they've even left the field.
As the fulcrum of Klopp's midfield — not always the case under Rodgers — the most senior Anfield player looks more like his de-facto captain and if the decision on club skipper were being made anew Lucas would rival Henderson for the privilege.
What counts against him here is the toll and frequency of injury but it is he who has played every game under Klopp while Henderson sits on the treatment table.
Interestingly, Klopp has rebuffed plenty of questions on injured players and much prefers to talk about those available. While it's hardly a Shankly-esque refusal to even acknowledge or speak to lame members of the squad, it clearly does players no harm to be fit while the manager makes his initial assessments.
Aside from improved work rate and defensive organisation, the increasingly obvious pressing and counter-pressing, and the considered, calm but determined response to Chelsea's opener last week, the clearest improvement recently is in team spirit. Doubters have very quickly become the believers Klopp asked for from the outset.
The togetherness in the dressing room is there for all to see, to accompany the regular quotes from several players, Albert Moreno, Mamadou Sakho and Jordon Ibe to name but three, lauding the influence of the new manager.
A man who stands out as a real character in this regard is Sakho, who appears a huge presence on and off the field; a leader if not yet of the team then certainly of a much improved defensive unit.
I try to shy away from the vogue use of the phrase "on the front foot" when describing football matters but if one player's style can be described as such then Sakho is your man. The French colossus is always looking to get in ahead of his man, to stick out a leg, to intercept and look to set Liverpool quickly on their way in attack with an incisive pass.
Sakho's proactive, dominant style suddenly allows Martin Skrtel to drop, buy some time and appear less prone to those occasional hurried judgements. Is Sakho captaincy material? Let's wait and see, but for the moment he looks integral in terms of team set up, style and leadership.
If Henderson does retain the captaincy, which on his return seems most likely, then he'll have time to prove himself in the role. In the meantime, there is no harm in Klopp in identifying and promoting leaders all over the pitch.
After just four league games, though admittedly a win at Chelsea gives everything a healthier glow, the emergence of some key individuals on the pitch within a functioning team unit is an organic by-product of stronger leadership from the top; from a manager sure of himself, sure of his position.
The captaincy conundrum is yet to be solved long-term. There are several candidates already at the Anfield, as mentioned above but there's a chance Klopp's future skipper might still be playing with another club; targeted in January or next summer.
Does Klopp feel he has the type of character and inspirational leader already at his disposal, or does he feel that the right man to lead on the field and project the same personality as he himself does off it can be sourced from his future targets?
Either way, it's an important decision and not one he will take lightly. Whoever takes the armband long-term has some big shoes to fill, not just in the shape of Gerrard but the names of yesteryear who led team and club with such distinction — names synonymous with eras defined by lifting trophies.
Step forward the next Ron Yeats, Tommy Smith, Emlyn Hughes, Phil Thompson or Graeme Souness to lead the Klopp revolution.
* We've been shortlisted for Podcast of the Year by the Football Supporters' Federation. Please vote for us here! Don't let Alan Davies win!*
[rpfc_recent_posts_from_category meta="true"]
Pics: David Rawcliffe-Propaganda-Photo
Like The Anfield Wrap on Facebook