QUESTION marks. To the left, to the right. Underneath Jordan Henderson's bed, in the front seat of his car. From the age of eight, the punctuation point has followed the midfielder around, naggingly querying his every skill and effort. It has almost placed itself alongside his athleticism and industry as part of the package.
Can he…? Will he…? Should he…?
The latest examination that will now shadow the midfielder is whether he is cut out to be captain of Liverpool Football Club.
Let's leave that there, and take a little trip back to December 2013. Just as Christmas was approaching, Henderson's dad Brian received a dreaded diagnosis — there was carcinoma (cancer that begins in the skin or in tissues lining or covering body organs) of the middle part of his throat and a tumour on his tongue. He struggled with how and when to break this to his son, only revealing details after the festive period.
He delivered the news with a request: "I said to Jordan that the best thing he could do for me when he got back to playing was try to get Man of the Match in every game." The midfielder managed to do that in four of the next five fixtures he featured in, despite his emotional state.
"People didn't realise the pressure he was under," explained Brian. "I was so proud of him."
Back to today. There is a strong feeling that he who dons the Liverpool FC armband shouldn't be front and centre in Nivea ads. Now, I don't know about you, but I'm definitely willing to place more stock behind Henderson's steely response to a shattering scenario, than his part in a commercial, which wasn't actually his choice.
Ever heard of Osgood-Schlatters? It's a growing pains condition requiring regular treatment and, at 16, it hit Henderson head on. He did not have the physique to deal with how he immediately shot up and his body seemed to be slowly falling apart — bad knees, fragile muscles — leaving Sunderland unsure on whether to stick or twist with him. In truth, from half that age he'd been in a battle to advance at the Academy of Light.
"Smaller and skinnier" than the other young hopefuls, as its manager Ged McNamee recalled in 2011, Henderson always had to dig deeper, to show more. Not that it's ever been issue. "Anybody who knows Jordan will tell you that he's just an absolutely smashing lad, and anyone who's seen him play will tell you he's got bags of natural ability and a strong work ethic," said McNamee. "He will always keep going and will always give you 100 per cent."
There are those who will choose to focus on a campaign to get him on the cover of FIFA 16 — again, something he was contractually requested to be involved in — over his persistence and commitment to realising his aspirations despite multiple deterrents. I'm happily not in that crowd. I fall at the feet of those who give more, instead of giving up. I'm having that any every day of the week.
Joey Barton can have a go all he wants, Alex Ferguson too, but Jordan doesn't flinch.
Rewind again — this time to August 2012. Henderson was reduced to swap material as Liverpool sweated to pull in Clint Dempsey from Fulham. No, absolutely no. The policeman's son was not about to jail his ambitions before giving himself every chance to succeed. "It wasn't a nice thing to hear. I didn't want to go anywhere," he told the Guardian. "I wasn't playing regularly and they gave me the option if I wanted to go. I told them: 'No, I don't want to, I want to keep fighting for my place.' I came to Liverpool wanting to stay here for the rest of my career. I certainly didn't want to leave after a year."
We've heard the words 'stay and fight for my place' so often, that it is just viewed as an empty, automatic response to a standard, expected question. Not in Henderson's case. He spent every spare minute at Melwood working with the performance analysts to identify areas of his game that needed improving (he also quizzed a Liverpool Echo journalist about what fans perceived as being weaknesses in his game) and worked on them during extra training sessions.
Like most, Brendan Rodgers was unconvinced at first with the 25-year-old, but was bowled over by his insistence on improving. "He's a sponge who never tires of soaking up information and different experiences," said the manager. "He wants to learn. He wants to get better and be complete."
Even when he become an obvious name in the starting XI, Henderson continued to push himself beyond requirement, so much so that along with Luis Suarez, he had to be instructed to slow down.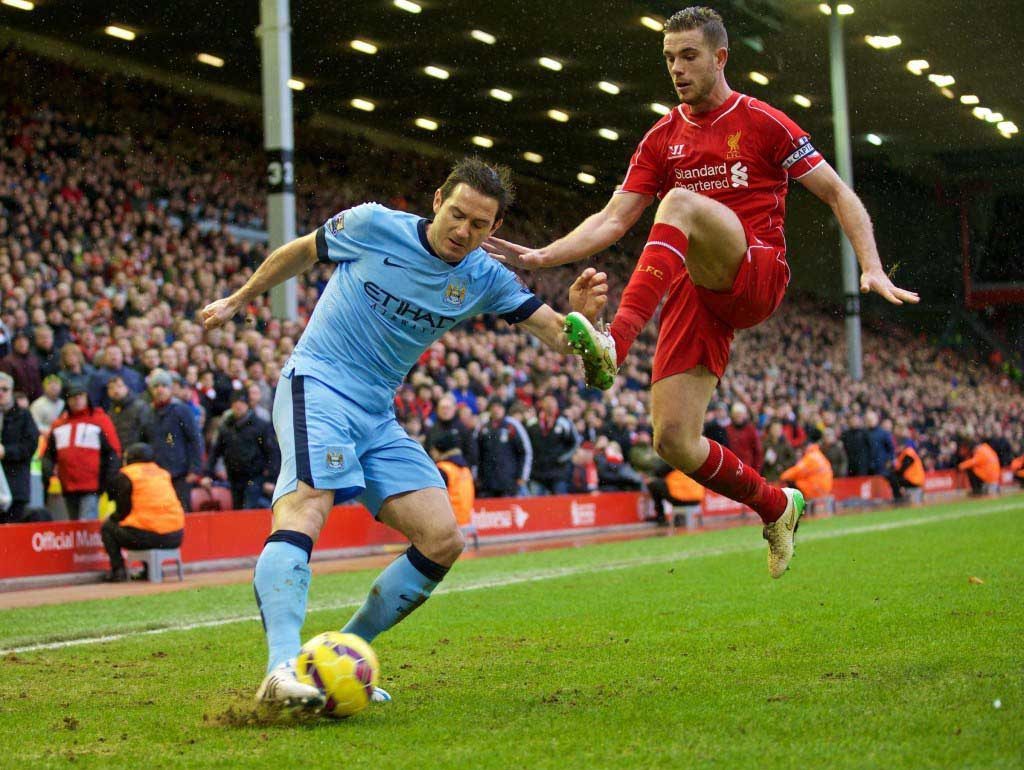 Head of Performance Glen Driscoll explained: "What Henderson and Suarez have in common is we believe they are two players who need protecting from themselves. They would take the option of not recovering if we gave it to them and work every day between games. You have to admire their work ethic and desire."
It's not just his own progress that drives Henderson. He will unselfishly operate in any position the team needs him to, without whining away about his preference. He understands something too many never will — what the club needs will always outweigh what he wants.
When the England international was suspended for three of the final four games of the 2013-14 season as Liverpool tussled with Manchester City for the Premier League title, he assumed all media and appearance responsibilities so his teammates could concentrate on nothing else but the outstanding fixtures. He was not prompted to do so, and neither did he want anyone knowing about his act.
There is perhaps one notable blemish against the man from Wearside — the penalty debacle with Mario Balotelli in the 1-0 home victory against Besiktas. On the board in the dressing room, Henderson was down for spot-kick duty, but the Italian was informed upon joining the club that if he was on the pitch when Steven Gerrard wasn't, he'd be tasked with those matters. Balo was subbed on with 63 minutes on the clock, and then with just five left, the referee pointed to the spot. We all remember what happened.
Henderson wanted it, felt he was in charge of it. Balotelli wanted it, felt he was in charge of it. Now, some feel that Mario disrespected Jordan and in part — sure, but he was following the instruction he'd been given. Do we 'minus points' from Henderson for failing to show more authority over someone who even Jose Mourinho struggled to straighten?
Then, the immediate aftermath is often ignored — the way Hendo navigated the post-match interview was as flawless as Beyonce. "I think Jordan has handled the situation very well," said Gerrard, sat in the ITV studios at the time. "Jordan walked away at the right moment and handled his interview very well."
On several occasions, Stevie has endorsed Henderson as his choice to hand over the armband to. "I certainly believe Jordan has everything you need to be a great captain," he told the Echo. "He's a fantastic professional who tries to lead by example in every training session and in every game. He has really grown as a player and is improving all the time with experience.
"I've got great respect for Jordan Henderson and I know everyone else at the club feels the same. He's a true professional and a very strong character. Every day he's in the gym doing extra work. He doesn't drink and he looks after himself. He has made a lot of sacrifices to play well for this club."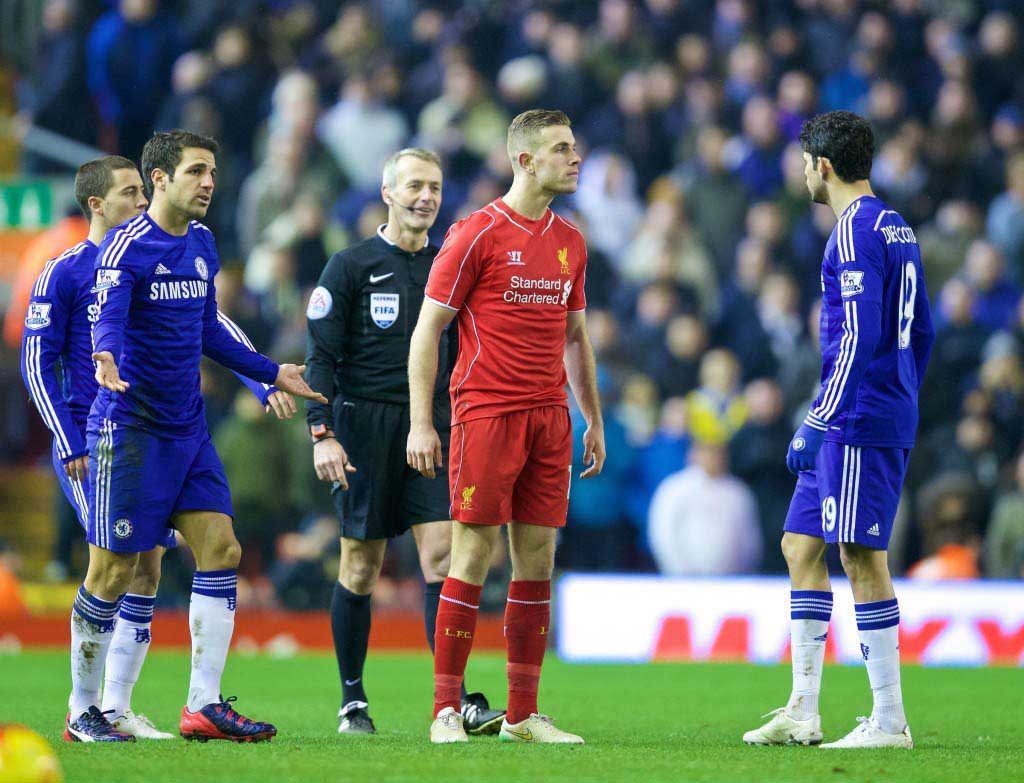 Within the walls of Melwood, Henderson is both a popular and applauded figure. You could search as deep and direct as his stare down with Diego Costa, but you'd be unsuccessful in finding disapproval from anyone at the club about "an ultimate professional, a real unselfish player, who sacrifices himself for the sake of the team."
There will be those who just genuinely don't see it, or get it, or believe in it — and that's okay.
But there are some who don't see him as captain because he's not Stevie G. Many can't get past their early reservations of him and would still rather be right about their misgivings, than wrong about him.
A group called for the rock-of-roll of Emre Can to be skipper after he'd started less than 10 games for the club. Plenty fancy Mamadou Sakho, who is an excellent character and leader, but has missed 43 matches for Liverpool in two seasons. There were shouts for James Milner to get the nod before he had even officially become an employee of the club. The article in the Guardian a few days ago, which suggested Raheem Sterling should lead the side, looks more and more like the Britney Spears shaved hair episode of 2007 — WHERE'S YOUR HEAD AT?!
The questions will never go away. I know that. You know that. And most especially, he knows that. The captain's been providing answers since the age of eight though, and I don't think that's about to stop.
The captain. My captain. Your captain. Liverpool's captain.
Jordan Henderson will only ever be Jordan Henderson. The sooner you stop picking on what he's not and appreciate what he is, the quicker you'll see that the skipper's sound.
Dead sound.
Want to win a Liverpool shirt signed by the new Liverpool captain? EA Sports have given us a signed Jordan Henderson LFC shirt to give away to celebrate being made Liverpool captain and the race to appear on the UK version of FIFA 16. 
We will be giving the shirt away at random to a TAW subscriber on The Anfield Wrap podcast on Monday, July 13. For a chance to win you need to be signed up by midnight on Sunday.
You can sign up to TAW Player here
[rpfc_recent_posts_from_category meta="true"]
Pics: David Rawcliffe-Propaganda Photo
Like The Anfield Wrap on Facebook
Subscribe to TAW Player: https://www.theanfieldwrap.com/player/subscri