STATISTICS in football is becoming one of the hottest topics around, especially around Liverpool ways in recent times. What do they all mean? How much can you read into them? Which ones tell us something important and which ones don't?
On a basic level, they appeal to the trainspotter in us. The part that likes to compare pass-completion ratios and marvel, or otherwise, at a player's goal-to-shots ratio. Sometimes they re-enforce what you already thought in black and white. Sometimes they focus your attention on something you might have missed.
Sometimes they just allow you to buzz off someone's brilliance in another way. Like this which came out yesterday on Lucas Leiva from EA Sports.
These remarkable numbers show that Lucas Leiva has won more tackles than any other player in the league, despite playing two games less than his closest competitors. Per 90 minutes he's won 50 per cent more tackles than every other player apart from N'Golo Kante. Fifty per cent! If you went out for a paper this morning, it's highly likely Lucas Leiva tackled you on the way. Lucas Leiva wins the ball, hallelujah.
Is this new? Maybe a Jürgen Klopp infuence? No, it isn't. Lucas has been tackling everything that moved for ages now. Just have a look at this stat from the summer.
833 – Since he joined Liverpool in July 2007, Lucas Leiva has made more tackles than any other player in the Premier League (833). Steel.

— OptaJoe (@OptaJoe) June 29, 2015
Remember when we signed that little Brazilian kid with long golden hair? He went on to make more tackles than everyone else in the league.
I wouldn't have bet he would still be in the Premier League after those first couple of games, never mind winning the ball more than Steven Gerrard and John Terry. But there he is. Lucas Leiva, the man who's surprised us all.
He's had quite the Liverpool career Lucas, written off more times than any Liverpool player I can think of, he's bounced back every time. From the times there were howls and boos at Anfield when he was preferred to a bigger name player under Rafa Benitez. From the time he was, allegedly, on a list of players Christian Purslow gave to Roy Hodgson that, in his infinite wisdom and lengthy years of football experience, he felt the new manager should sell.
From the times Roy Hodgson preferred to play Christian Poulsen, a man whose legs didn't work, and left Lucas on the bench. When Kenny Dalglish picked him every week as a caretaker manager, but then bought a load of midfielders as soon as he had the job.
Even under Brendan Rodgers you never felt Lucas's place in the squad, never mind the team, was completely secure. Earlier this season, he was left out of the match-day squad all together for the opening game against Stoke City, and rumoured to be available for a transfer. Lucas saw them all off. Lucas proved them all wrong. Lucas kept winning the ball for Liverpool.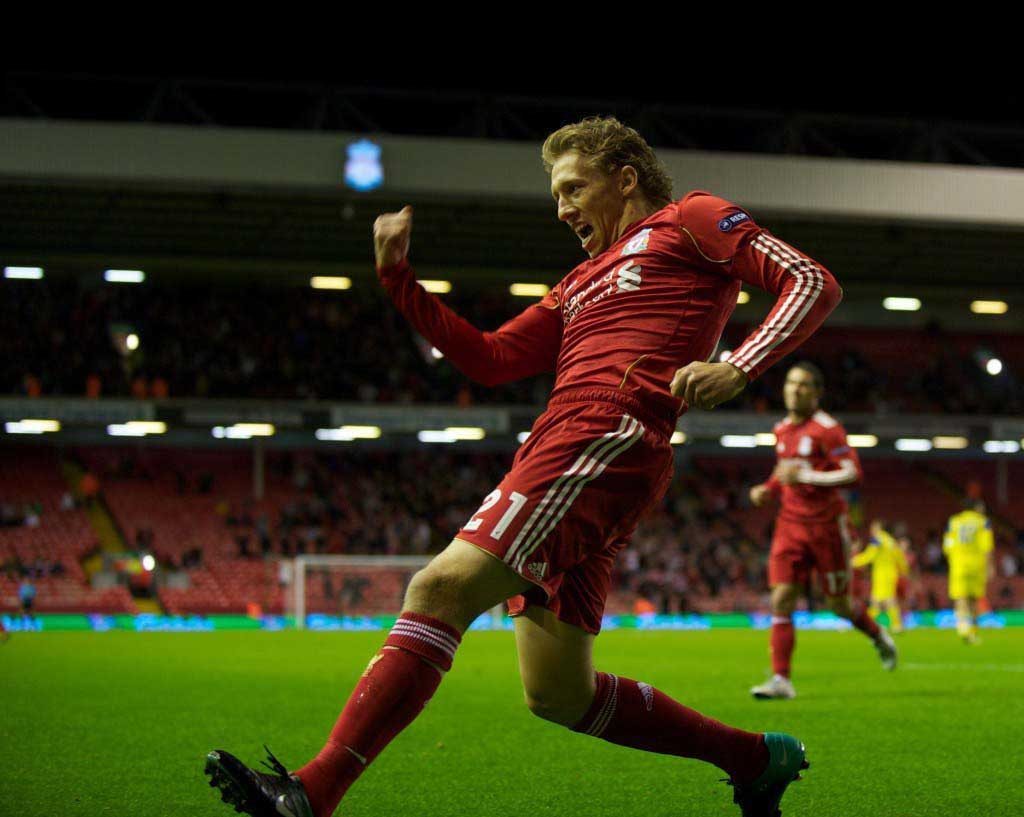 He still isn't universally loved at Anfield. You still see comments about dangerous free kicks he gives away, like a player who tackles that much won't give away free kicks occasionally.
You still get comments about his passing, like keeping the ball is a sin. Or about when we've had a truly good team, that he hasn't even been able to get into it, like having more than 11 good players is a problem. Lucas just keeps tackling people.
The numbers might have been a surprise to those of us who saw his debut but it shouldn't be a surprise any longer. His occasional rough treatment at the club hasn't diminished his love of it.
When Lucas is on the pitch he wants to win more than anyone else on there. As much as any Scouser you plucked from the crowd and gave a red shirt to. Just watch him when he celebrates a goal. Witness the fist pump after a vital late block.
This allows him to summon the energy from somewhere to carry on. To get one more tackle out of those creaky legs that have been through wars and operations. He's a warrior in the most unlikely form. A warrior for Liverpool. He might never get the plaudits he deserves. But those that matter, know.
Lucas Leiva, yeah.
[rpfc_recent_posts_from_category meta="true"]
Pics: David Rawcliffe-Propaganda-Photo
Like The Anfield Wrap on Facebook