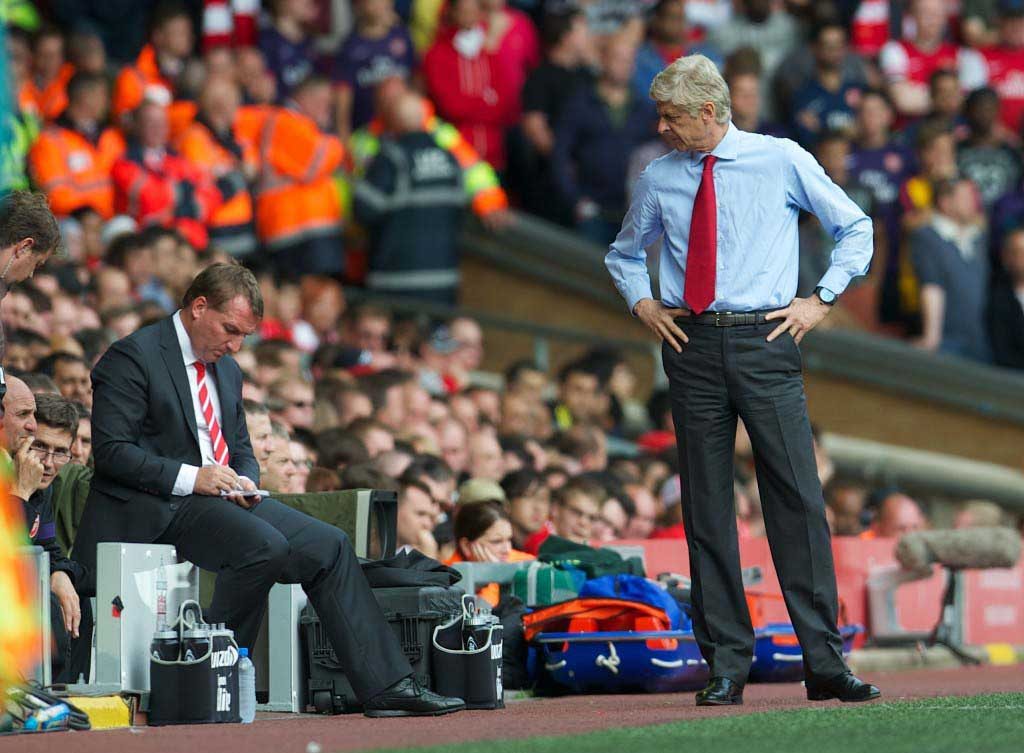 ONCE upon a time, the Australian-born theorist, academic and journalist Germaine Greer confessed that, forced to name names, she would deffo shag Arsene Wenger.
The truth remains that many of his own brethren wouldn't do Arsene. They round on him at the turn of every stumble or stagger by the Arsenal. They cut him no slack. Arsene: leader and creator of The Invincibles. The greatest football manager that the capital city has ever witnessed. Arsene. The blows that fail to break his back only make him stronger. Oh, Arsene. They don't deserve you.
Yeah, I love the bones of him. I wish he had managed Liverpool FC. I'd have forgiven him everything.
It will never be though. Having to make do with watching Liverpool get a fairly regular run around on Arsene's patch is a very very poor next best. The annual Emirates outing is mainly about the bijoux Islington gastro boozers before the fray. The games themselves are rarely a treat for us Reds. Since the Gunners made the switch to The Emirates, we've won just once there in 12 games — a 2-0 Premier League win under Kenny in 2011.
Still, hope springs eternal. This time we go there two wins to the good. The Arsenal are playing like they are still trying to shake off the last vestiges of their summer recess torpor. A win on Arsene's manor isn't beyond us. Two weeks ago, Arsenal were still on the beach when the Hammers rolled up and give them a learnin'. We could do that, too, couldn't we?
The Arsenal are expected to pull up a few trees this season. They've finally added a world-class keeper in Petr Cech. The rest are as you were, but the incumbent crew hinted at being a pretty well-gelled bunch over the latter stretch of the last campaign. Alexis Sanchez was the game changer in every sense. A generation of Liverpool and Arsenal fans may come to look back upon the weeks during which Alexis deliberated and cogitated over the competing lures of the Thames and the Mersey as the defining phase in setting their respective clubs on a course for a decade of disappointment or glory.
The challenge for today's Liverpool standard-bearers is to begin the process of rewriting this history. The chronicle that tells of Wenger's determination that Sanchez would play for the Arsenal and not the Liverpool FC. The signing that ensured post-Luis Suarez Liverpool would flounder in a sea of attacking impotency  while perennial nearly men Arsenal would be reborn and recharged, led at last by a truly worthy heir to the Thierry Henry hero mantel.
Arsenal believe now — truly believe — that are ready to at last leave the shaky ship Liverpool FC in their wake. Their conviction is that an attack spearheaded by Theo Walcott, Mesut Ozil and the mighty Sanchez, and given a bunk up by a midfield of maestros such as Aaron Ramsey, Francis Coquelin and Jack Wilshere, and now finally watched over by a true world-class goal protector in the shape of big Cech, is ready to blaze a streak of retro Arsene magic across the Premier League blue yonder.
Liverpool can stop this happening. Liverpool can take the baton from 'andsome Arsene and his mob. Brendan Rodgers knows that it is now or never.  He's in that last-chance saloon alongside his Liverpool team and they can either let themselves dither and drown in Arsenal's slipstream, or stand up taller and summon up the spirits of that Liverpool history, and that sense of Liverpool destiny and entitlement, and begin to write a new chapter. One that's good to read. One that's about winners and winning. Not about nearly men and cult heroes, and false dawns and broken dreams.
Off to the Emirates then for a Monday night ding dong in the dark, when the Mersey reds will look to reprise that win when Robbie Fowler did that mad thing when he dived to get a pen, but then recanted, missed the subsequent kick, and watched relieved and gleeful as Jason McAteer bagged the rebound and secured a very very rare evening win for Liverpool over Arsenal on their own pitch. That was years ago. This is now.
Today's incarnations of Fowler, McManaman, McAteer and co — we hope — will be the free scoring Christian Benteke and new boy side-kicks Roberto Firmino and James Milner. Rookie captain Jordan Henderson is a major doubt, so it looks like Emre Can should start.
Rodgers will have been up nights, pacing, and stressing over which way to go for this contest. He knows that during his tenure Arsenal have been the team — at certain moments — who perhaps more than any other major rival have exposed him tactically. His inclination to load with attacking players and to take the fight to Wenger could fail as spectacularly as his 3-4-3 formation did at the Emirates last April when a 4-1 drubbing and a red card for Can made it a day to forget.
The meme of the first two games of the season so far has been that Rodgers is a born-again pragmatist. He is now a man truly living for the moment and will do anything to ensure that those are all winning moments. This new Brendan, if he is a real deal rather than a passing media whimsy, will therefore load his midfield, and will look to narrow the pitch, and frustrate Arsenal's attempts to cover every inch of those wide open Emirates spaces.
With the 'victory or death' model, Rodgers goes to the Emirates with a 4-4-2 diamond that effortlessly morphs into a 4-5-1 suffocation machine. The defence he picks will the one he has selected for the past two games and who to a man have fulfilled their briefs admirably. Nathaniel Clyne, Joe Gomez, Martin Skrtel and Dejan Lovren will hope that they are protected sufficiently by the four selected to shield them so that they might not be rendered the flat-footed asses that a Liverpool defence were during that nightmarish defeat last time at the Arsenal.
Expect Milner, Can and Henderson (or even Lucas) to bring muscle first, flourish later, to the Liverpool midfield, and for these three to ask a more conservative mode of Philippe Coutinho to drop in and assist in a battle royale for the territory in the middle third of the field. Up top we could see Rodgers pitch for a front two. Benteke plus Firmino or Danny Ings perhaps? Either way, Benteke will still at times have to plow that lone furrow again, and wave his strike partner back into the midfield melee.
Arsenal will expect to have it their own way. They usually do at home. The Liverpool challenge will be to shock them with controlled aggression as they did last in January 2013 in drawing 2-2 in North London. Then, Rodgers' young Liverpool team scared the crap out of  Arsenal by deservedly taking a two-goal lead. It was perhaps the best ever Liverpool performance at the Emirates (yes, better even than the 2-0 victory of 2011). It was the kind of all hands to the pumps, ego-free display that has characterised the best moments of the Rodgers era.
https://www.youtube.com/watch?v=TbCvTSj8p_U
Two wins on the spin is a nice way to start a season. Three wins, with one of them being at Arsene's gaff, is a great way to start a season. It would evoke memories of that fateful autumn of 2013 when Brendan's lads opened the season with three straight Daniel Sturridge-inspired victories. It augured well. Better than we even dared to dream. It could yet again.
Last match v Arsenal: April 4, 2015: Arsenal 4 Liverpool 1 (Premier League).
Odds: Arsenal 3-4, Draw 3-1, Liverpool 21-5.
Injured: Allen (hamstring), Sturridge (hip), Flanagan (knee).
Live on Sky Sports 1. Kick off: 8pm.
LISTEN: The Anfield Wrap's CityTalk show previewing Monday's game
[rpfc_recent_posts_from_category meta="true"]
Pics: David Rawcliffe-Propaganda Photo
Like The Anfield Wrap on Facebook