"I felt I had to change it because we have to find solutions throughout the squad to be better. I said to Simon that it's for an indefinite period."
                                                                                                                                                                         – Brendan Rodgers, December 14, 2014
---
SAT in the pub before a match, or in the ground during it, or back at the pub after the final whistle, we — the supporters — often forget that they — the players — are a lot like us. Human beings, each and every one of them, who for all the money they earn and adulation they receive, bleed when they're cut and bruise when they're wounded. On the inside as well as out.
We struggle at work, and so do they. The difference is that we can go home and forget about it, look for our comfort in the bottom of a pint glass or in the arms of a loved one without being constantly reminded that we're shit, no good or a waste of space.
Imagine walking in to your office when your confidence is low and everything you do goes askew. Even simple things, like putting your sarnies in the staff fridge, don't come off. They fall out and land cheese first on the floor. And while all this is happening, you've got loads of fellas shouting abuse at you, telling you to do one, to fuck right off.
Imagine being Simon Mignolet.
Four months ago this was his life. A day-by-day, week-by-week, match-by-match torture in which his suitability to do his job was being questioned to an aggressive degree. We all saw and heard the abuse, at Anfield and away from home, and how it drained a man of his sense of self-worth. You may have been guilty of it yourself, I certainly was, exclaiming my frustrations as yet another goal kick barely reached the halfway line and another opportunity to command the penalty area was not taken.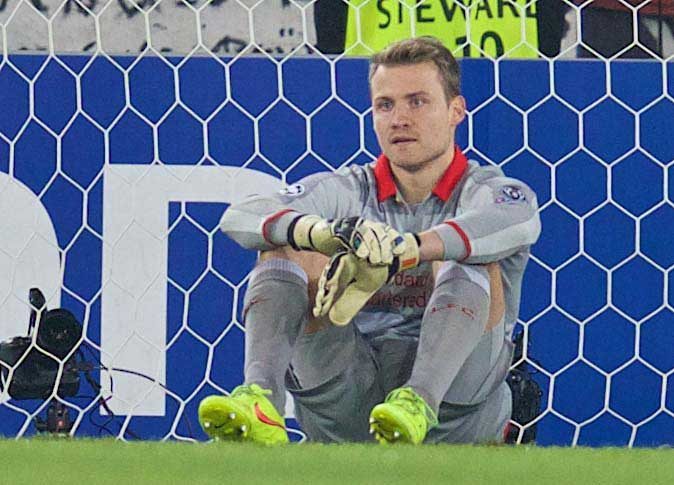 "Come off your line, for fuck sake!" I shouted. We shouted. At him.
It could not go on and so, in mid-December, the manager acted. Mignolet was dropped from the team for an indefinite period. And that should have been that. The end of another Liverpool career.
Goalkeepers don't come back from such humiliations. There are exceptions, like Joe Hart at Manchester City last season and Iker Casillas on at least one occasion at Real Madrid, but on the whole once you're done as a keeper, especially at a top club, you're done for good.
And often with good reason. Keepers are meant to be commanding figures bursting with self-confidence, which they need to be in order to carry out arguably the barmiest jobs in sport, one where a single mistake cancels out 100 great moments because it can be the direct difference between success and failure. You need thick skin to put up with that level of scrutiny and pressure and once that skin begins to cracks, well… you're done.
Mignolet was not the most commanding and self-assured of figures even when he was playing well, so when the confidence drained, perhaps seen most starkly in the 3-1 defeat at Crystal Palace in late November, he must have feared the worst. Perhaps being dropped ahead of the trip to Old Trafford came as a relief. No more abuse and in the summer he could quietly walk away from Liverpool, knowing that he tried his best and, as is often the case in life, his best wasn't quite good enough.
https://www.youtube.com/watch?v=t0tyHjGJaIQ
But since that chilly winter's day something remarkable has happened. Mignolet has returned, and not just returned; improved. The dead man is not just walking again, he's running. Hard and fast.
You may not have noticed, and in a sense that's the point. No longer is the fella between the sticks a major issue and the target of howls of frustrations from the stands. Instead, and almost completely since he got his place back in the team during the Boxing Day win at Burnley, Mignolet has been a model of consistency and, as stated, improvement.
Since December 26, Mignolet has made 2.33 saves per goal and punched the ball clear 80 per cent of the time in the Premier League, compared to 1.59 saves per goal and a 'punch-clear' rate of 47 per cent prior to that date. In 30 games during the 2014-15 season he has also kept 12 clean sheets — compared to 10 during the entirety of the last campaign — with nine of those coming since his return to the side. That run also coincided with Liverpool putting together six consecutive away clean sheets, a feat last achieved during Bill Shankly's time at the club.
Of course Mignolet cannot take sole credit for those achievements, but it's obvious that he is a man reborn; still excellent at shot-stopping but now also far more decisive at set-pieces and far more commanding of his area. He's even saving penalties from Wayne Rooney.
So here's a shout: Simon Mignolet is Liverpool's player of the season.
Now look, I'm not mental – obviously Philippe Coutinho has been the club's best footballer this year. Of course he has; the guy's amazing, a magician, a pleasure to watch and our brightest hope for the future. But Coutinho's rise to prominence — which rightly includes a nomination for the PFA Player of the Year award — has to a large extent been predictable, part of a steady, upward trajectory that the 22-year-old has been on ever since he arrived at Anfield in January 2013. Given his talent and opportunities to shine, he's about where he should be.
Mignolet, on the other hand, has pulled off the mother of recoveries.
In more ways than one, the Burnley match was the turning point. Not only did it see Mignolet's reintroduction to the team as a 16th-minute substitute for Brad Jones — and the less said about his time as Liverpool's No.1 the better — but also saw him reach a necessary nadir, a level so low that the only possible way was up.
That corner.
Jesus, that corner.
As Mignolet let a back pass, under no pressure and with ample time, run out of play you knew he was suffering from football's equivalent of the yips. He was mentally broken, a man who was back but in no way, shape or form ready to return. But as the Belgian said in an interview two months ago, that moment was crucial:
"It was Boxing Day, my family were over here and my missus and everyone were having dinner when she said: 'Simon, are you sometimes over-thinking stuff?' The next day I went into training and as we were analysing the game the coaching staff gave me the same words. That was the trigger in my mind that we had to say, 'Look, we have to sort this out'."
And this goes back to the human fragility of all footballers. They do things that we do, like over-think and not realise until their wife points it out to them. Their turmoil and path out of it is the same as ours — complex and occasionally accidental. The difference is they have a bigger house and much more scrutiny, and as much as we would like to think otherwise, the former can never fully make up for the latter.
So salute Simon. He may not be perfect and still short of what is required to be Liverpool's long-term No.1, but the manner in which he has salvaged his career at the club is worthy of enormous admiration. Even, perhaps, an award.
Imagine being Simon Mignolet.
Imagine being that strong a person.
Read: Friday column: Forget Liverpool's 'issues' and roar on the Reds at Wembley
Read: Getting a semi on – four memorable last four matches
[rpfc_recent_posts_from_category meta="true"]
Pics: David Rawcliffe-Propaganda-Photo/PA Images
Like The Anfield Wrap on Facebook