IT'S two years since Philippe Coutinho arrived at Anfield from Inter Milan for £8.5million — the second part of a hugely successful double transfer coup, writes CRAIG RIMMER.
It's a deal that offers significant ammunition for those who refute the notion of a lack of value in the winter window. Because Coutinho is a player who — in my opinion — still doesn't receive the kind of attention from outside of the club that his talents surely merit. He is probably the most technically-gifted player in the squad and, in terms of control and mastery over the football, he is up there with the very best I have seen in a red shirt. He's a player, when at his best, that you would willingly pay the ticket price to admire.
It is easy to forget that Coutinho is still only 22. Sure, he has amassed far more minutes than most players of a similar age, but he is only just reaching a point in his career where most of the world's best make the transition from prospect to genuine, consistent top-level performer.
I'm referring to players who make telling contributions — goals, assists, match-winning performances on a consistent basis. Despite his vast skill and technical ability, a fledgling Coutinho has not always consistently been that man for Liverpool — at least not yet.
Given his age, it's probably no coincidence that it is only now that the Brazilian is beginning to show signs that he can exert the kind of influence, and produce the kind of regular contribution, which separates the best from the rest. He is undoubtedly in the richest vein of form of his Liverpool career and is capable of developing into a player even more indispensable to Brendan Rodgers than he arguably already is.
Coutinho developed through the Vasco da Gama youth setup in his native Rio de Janeiro and, as one of the hottest prospects in Brazilian football at the time, Inter Milan saw him worthy enough to pay €4million for his services in 2008 despite the player being just 16 years of age. A young Coutinho was loaned back to Vasco da Gama until his 18th birthday and, shortly before joining Inter, he starred in the 2009 South American U-17 Championships — a tournament which Brazil won.
Coutinho's reputation was such that upon arrival in Milan, Inter chairman, Massimo Moratti saw it fit to welcome the talented young Brazilian playmaker as "the future of Inter". Despite his tender age, Coutinho instantly became a feature of the Inter Milan first team under new coach Rafa Benitez.
However, Coutinho's progress — unsurprisingly for a player of his age and experience — stalled and, with Benitez gone and a succession of managers replacing him on the Inter managerial conveyor belt, Coutinho fell out of favour. Having played regularly in 2010-11, he found little playing time the following season and was eventually sent on loan to Espanyol.
Coutinho, afforded regular playing time, rediscovered his form during his six months at Barcelona's second club  — a move that proved a precursor to an eventual permanent move away from San Siro. His impact was illustrated by the fact that Mauricio Pochettino — his coach at Espanyol — pursued his signature during his time at Southampton and prior to his eventual signing for Liverpool.
In January 2012, with Inter's finances in an apparently precarious state and the club consequently looking to sell off its assets, the 20-year-old Coutinho was allowed to join Liverpool for the relatively modest fee of £8.5m (a pretty reasonable price for "future the of Inter Milan"!).
Coutinho instantly excelled in the second half of Rodgers' debut season, perhaps benefiting from playing in a team under little pressure and expectation, and shorn of Luis Suarez for the final games of the season. He quickly developed an instinctual understanding with Daniel Sturridge.
Those eye-of-a-needle through-balls became a signature of Rodgers rapidly developing side, and that relationship with Sturridge was especially prominent in away wins against Newcastle (0-6) and Fulham (1-3). The Brazilian rounded off an impressive introduction to the red shirt with a goal against Swansea at Anfield and a consolation away to Southampton.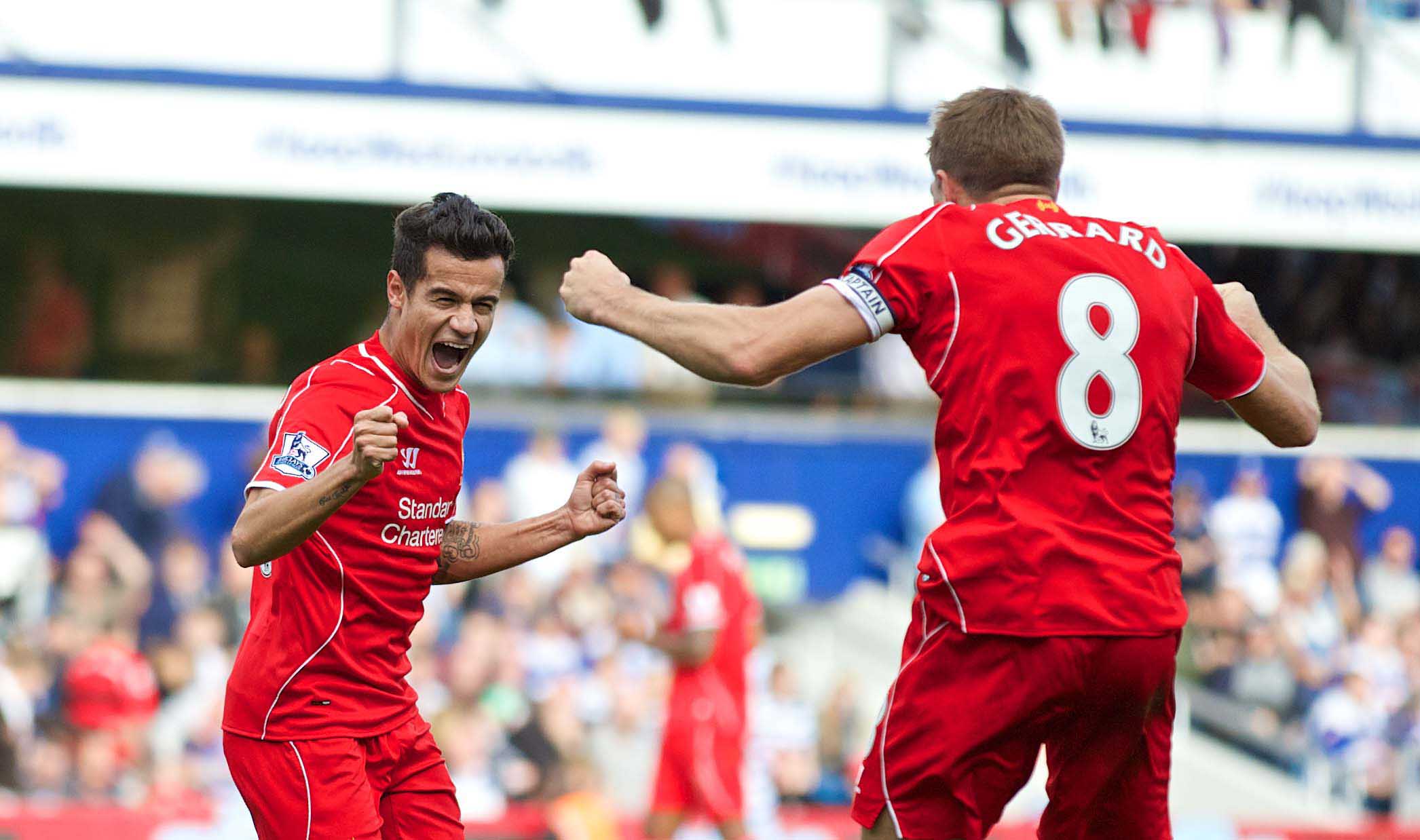 But despite a hugely promising first six months on Merseyside, Coutinho's progress was arguably less linear than most — including myself — had expected going into last season. There were times when Coutinho's talents were evident — he was excellent at home and away against City, among others — but it was the trio of Suarez, Sturridge and Sterling who carried Liverpool's surge toward the top of the league, with Coutinho — unable to produce the consistent brilliance that those three typified — often confined to the role of more peripheral contributor.
Coutinho has been able to develop the defensive side of his game under Rodgers — a product of playing in a deeper, midfield role in the second half of last season. His aggression in the tackle and persistent pressing in key games, such as the home win over Manchester City, were welcome, if unexpected, enhancements to his game, to the extent that whoscored.com currently ranks tackling as one of Coutinho's key strengths.
But in Rodgers' new 3-4-3 formation, Coutinho has reverted to a more advanced, attacking position, behind the central striker, affording him the freedom to exploit the flexible and fluid nature of the front three alongside Steven Gerrard or Adam Lallana.
It's in this new system that Coutinho has produced his best form in a Liverpool shirt to date. He has become the fulcrum of everything good Liverpool do with the ball, has been central to the return of a more dynamic, attacking brand of football and, in the process, has become one of the first names on the team sheet.
But, if Liverpool's talented Brazilian is to take the next step in his development into a potential world-class performer, it is the end product which still requires attention. Coutinho has been a regular creator of goals since arrival at Anfield. He produced five assists in his first six months and added a further seven over the entirety of last season, according to whoscored.com. He made just two assists during that first half of this season, but that can be partially explained away by the lack of a regular, experienced focal point at the crest of Liverpool's attack, and we can expect those numbers to improve by the presence of a fit and firing Daniel Sturridge.
However, in terms of goals, Coutinho scored seven in his first one-and-a-half seasons at the club and has added just two more so far this season. Acceptable figures for a midfielder, perhaps, but short of what is normally demanded of a forward operating in a front three.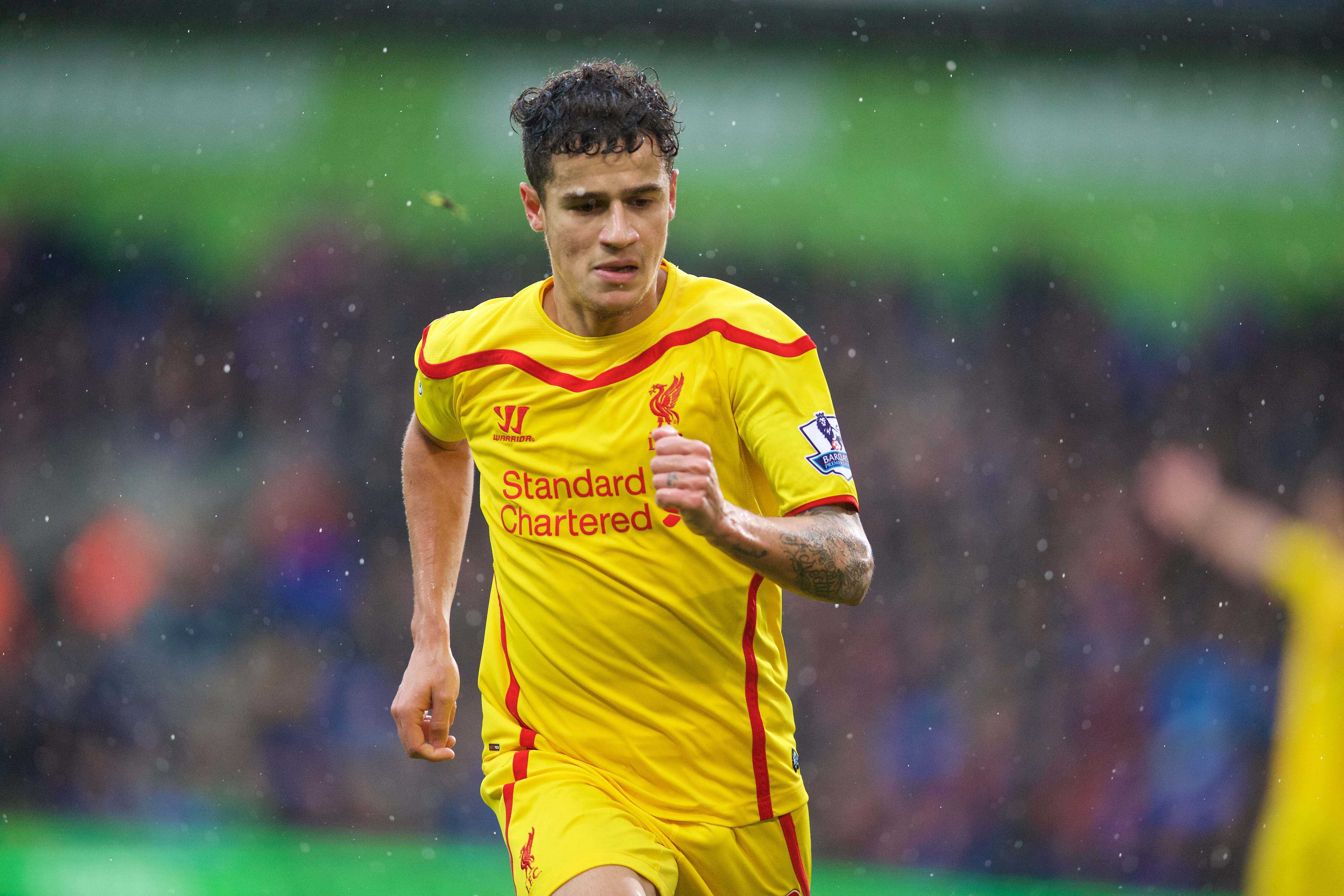 His 2.5 shots per game (whoscored.com) is amongst the highest in the Liverpool squad this season — bettered only by Mario Balotelli (0 league goals, two in all comps) and matched by Raheem Sterling (four league goals, seven in all comps), evidence that Coutinho is able to conjure chances for himself as regularly as he does for others. But the finishing is too often erratic and the end product inconsistent.
If he were to add an extra 10 goals a season to the five or six he already guarantees, Liverpool would have a player with genuine world-class credentials, who could be comfortably valued in the £40m-plus bracket.
He isn't alone in that regard — a need to add more goals to his game that is. You could make a reasoned argument for everybody — barring Sturridge, Gerrard and possibly Sterling — to improve their goals return. There are too few in the current squad who can be relied upon to make double figures over a season. Coutinho is one who should.
Under the tutelage of Brendan Rodgers — and his already proven ability to develop young players at an exponential rate — Coutinho is in the perfect environment to develop into that genuine world-class talent and score the weight of goals that Liverpool need from him.
There should also be no shortage of motivation considering Coutinho's eagerness to earn a regular place in the Brazil national squad, having missed out on a home World Cup in 2014.
I for one hope to be watching Coutinho in a red shirt for many years to come, and if he can fulfil his full potential, Liverpool's future may well be in safe hands.
[rpfc_recent_posts_from_category meta="true"]