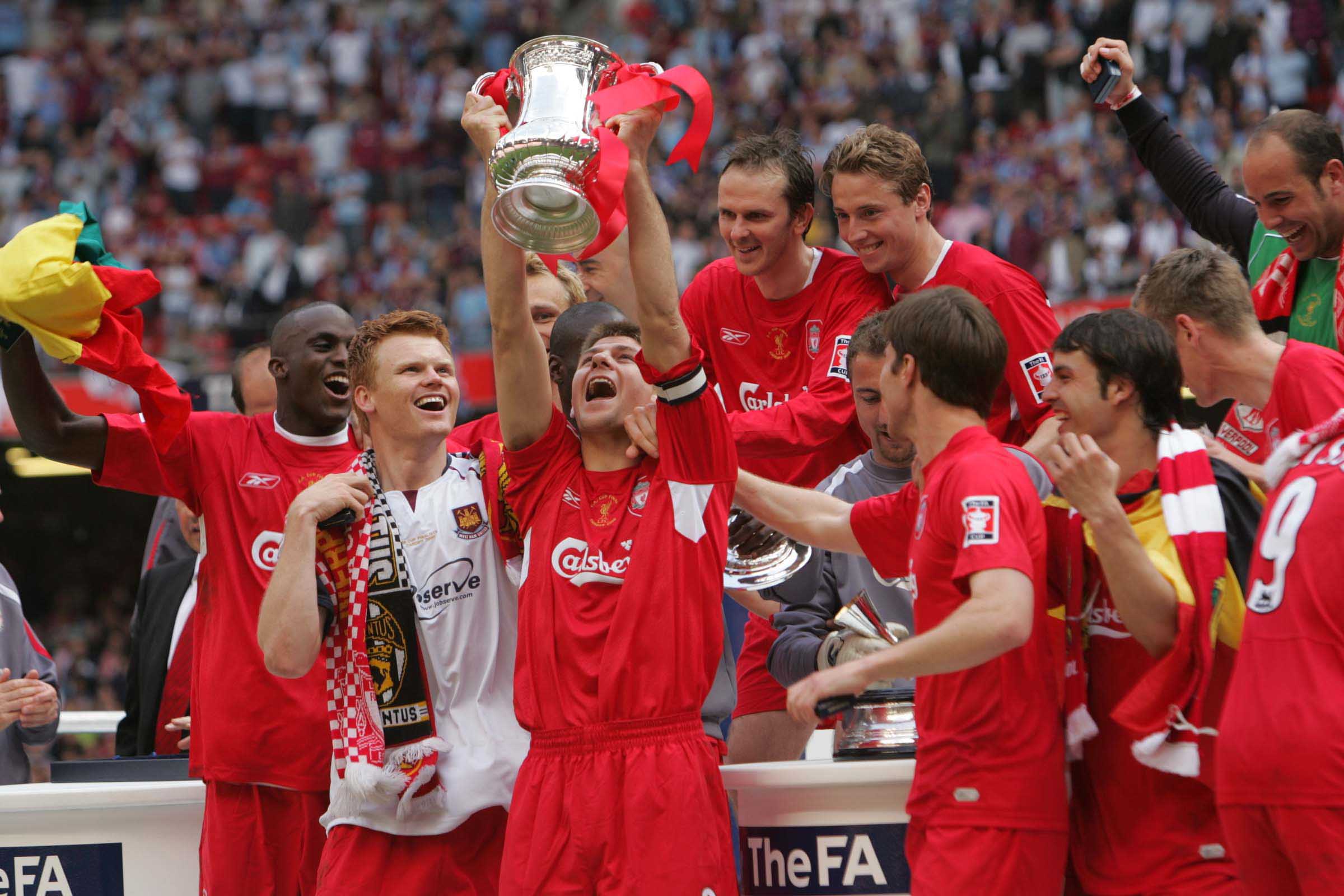 THOUSANDS of Reds will head south on Sunday to watch Liverpool take on Aston Villa in the FA Cup semi final. We asked four Anfield Wrap contributors to write about a memorable past last-four clash in the competition.
MIKE NEVIN: LIVERPOOL v ARSENAL 1980
I DOUBT my contributions to these pages will feature too much poetry in future but, in the verse of Alfred Lord Tennyson: "'Tis better to have loved and lost than never to have loved at all." Throughout the late 1970s and early 1980s that's where I stood with FA Cup semi-finals. I loved them, but we always lost them.
After my spectacular, fortuitous Liverpool debut at Wembley 1974 for the FA Cup final win over Newcastle, the cup got its own back for my glory-hunting ways with defeat in the 1977 final (Manchester United), and the semis of 1979 (United again), 1980 (Arsenal) and 1985 (yes, the Mancs again).
I'm going to focus on the epic tussle — and a semi-final that goes to three replays can only ever be described as such — with Arsenal in 1980; the first I attended in the flesh at the age of 12. The cup was massive then. It rivalled winning a European Cup.
Reflecting the FA Cup's status, the notion of a penalty lottery to decide a prize of such magnitude — a visit to the Twin Towers on English football's grandest day — was unthinkable.
If the tie was drawn, you would play again, and again, and again to decide the victors. Worried about tired legs for the title run-in? Resting players to keep them fresh for a crucial European away? Don't be daft; the cup took priority. It was a slog to the death.
The first tie was at Hillsborough and ended in a tight, tense goalless stalemate. All I can recall are the highlights on ITV's Big Match the following day and Liverpool in white and black, while Arsenal wore their traditional red and white.
The replay, four days later at Villa Park saw the teams swap colours with Liverpool in red and Arsenal in yellow as David Fairclough's 51st-minute opener was cancelled out by Alan Sunderland on 62. Extra time failed to bring a conclusion and another replay was scheduled for Villa Park in 12 days' time on a Monday night.
As if to confirm the stalemate, although Liverpool were on the way to a 12th League title, another 1-1 draw in the League at Anfield was played out before the second cup replay.
This is where I come in. A couple of sixth formers at school were looking for a lift to Birmingham for the third game. I told them my dad would drive them if they could spare us a couple of tickets. I was a resourceful lad at the age of 12. They came up with the goods and early on that Monday afternoon we were all on the M6 heading for the Midlands. This was my first experience of the service station shenanigans — very often hilarious, sometimes borderline vulgar — that were a feature of 1980s road trips with the Reds.
At Villa Park, with the teams back in the strips worn in the first game at Hillsborough, the vast, terraced Holte End was halved down the middle with our side to the right of the goal as you faced out. The game started in fading daylight, and before we could even catch our breath, Arsenal, through Sunderland again, took a first-minute lead. A dagger to the heart.
For 80 minutes or so, the Liverpool pressure and the urgings of our crowd were relentless. Not in this era, the carping, whining and anxious moaning that you get when you're losing. It was just sheer unadulterated backing for the team in search of a precious equaliser.
Hope still in your heart but the clock now ticking down. On 85, my dad drops a bombshell. I'm small, our end is a swaying mob, and he thinks it better if we get off.
In six years of going to games, I've never seen Liverpool lose but now here it is — my first defeat served on a plate as we trudge, fighting through the crowd, toward the exit at the back of the Holte End. Down the neverending steps we go, and out onto Witton Lane heading back to the car.
We can still hear the crowd from the road outside; there are still a few seconds to go but in my head I've given this one up. Then it happens…the loudest roar you'll ever imagine from the Holte End. It's either the final whistle, or a second for Arsenal. Or…
Or…A KENNY DALGLISH EQUALISER WITH THE LAST KICK OF THE GAME.
What the fuck are we doing outside this ground? My dad springs into retrospective action and we jog back towards the exit, which is now guarded by police and alsatians. We, along with 100 or so Liverpool fans who've also left early, aren't getting back in. At least that's what the police think.
There's a bit of a dash, the police and their dogs part like the Red Sea and back in we go; back up those steps and back into a bouncing Holte End. It's in tumult. "We're on the march with Paisley's army" booming out, the concrete shuddering beneath us. Adrenalin, madness, mayhem; when football was football.
In extra-time Liverpool press for a winner. Ray Kennedy goes so close. Pat Jennings, a goalkeeping great in the Arsenal nets, holds firm time and again to deny us. My dad and I sway up and down that brilliant Scouse-infested terrace for another half-hour. I'm separated from him a couple of times but I'm not bothered. I'll find my way home from Villa, or indeed anywhere, with this lot. In the end, there's no need — we find each other again and it ends 1-1 again after another 120 minutes.
I'll never forget that game. Whenever we reach a semi-final, I always think back to that night at Villa. So, that was Monday. We'll see you Thursday, say the FA, we'll see you at Coventry — Highfield Road for a fourth encounter in 19 days.
Dad and I went again with the same lads. Back up the M6, another skive off school, another magical swaying terrace; only this time a conclusion.
A Ray Kennedy slip lets in Arsenal on the Liverpool left, and a Brian Talbot header past Clemence sends Arsenal to Wembley.
Tears fell later that night, and the next day.
I'm still not over it.
Good luck on Sunday, Liverpool.
JOHN GIBBONS: LIVERPOOL v CHELSEA 2006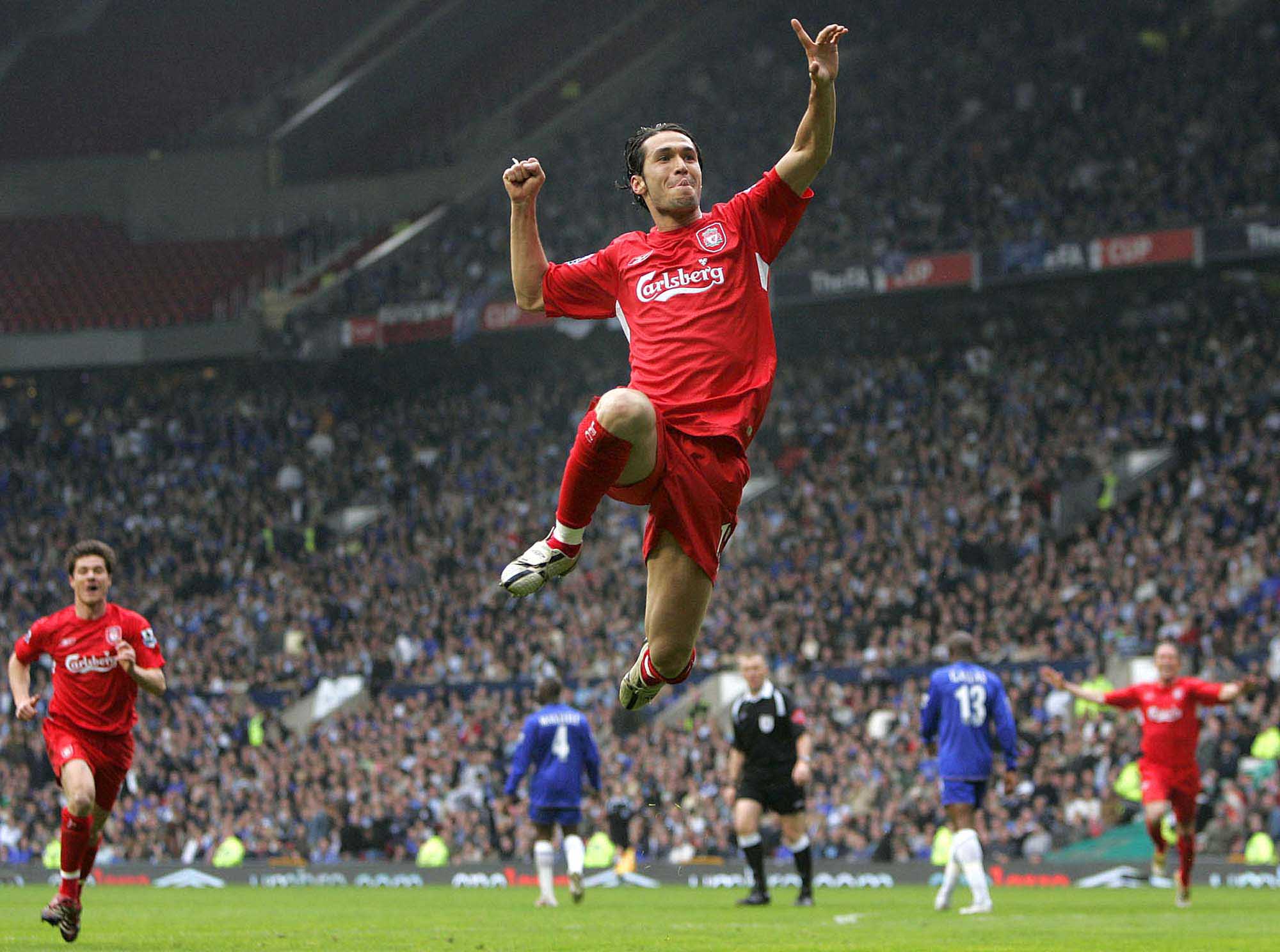 IT was a fun day this. I had a 33-1 winner in the Scottish National and then Liverpool beat Chelsea to get to the FA Cup final. It was fun taking over Old Trafford, too. Normally as an away fan it's buses in and out, police escorts and very much outnumbered.
That day it was park where you like and the slightly surreal experience of drinking and singing Liverpool songs outside United pubs. Sam Platts was so rammed with Liverpool lads that warm cans were passing hands in the car park for £5 each. Rather that than the unwinnable battle to the bar.
Because Chelsea have basically been good since Abramovich, it's worth noting that they were particularly good at that stage. About to become back-to-back champions, on this occasion eight points ahead of Manchester United in second, they had beaten Liverpool home and away in the league that season, including a 4-1 mauling at Anfield.
A miserly defence, superstars in attack and a midfield of Makelele, Essien and Lampard which, in terms of balance and power, was about as perfect as it gets.
FA Cup semi final – Liverpool vs Chelsea – 2006 from Kashinoda on Vimeo.
But Liverpool were in good nick too. We'd won seven in a row since a standard defeat at Arsenal, including scoring seven the round before at Birmingham City. Besides, they'd been better than us in the league approaching a semi-final the previous year too, and how did that work out for them?
My memory of the game itself was getting battered for a while and then scoring. That may be an exaggeration based on my nerves, but that's how it felt.
I'm still not sure how Drogba misses that one on one but at the time I couldn't get too happy about it when a goal was starting to look inevitable. It was, John Arne Riise curled (curled!) in a free kick and we were one-nil up. Match report here says it was a contested free kick. Soz abar us.
After that there was pressure but I don't remember a raft of chances. Liverpool were pretty good at soaking up pressure and defending leads by that stage.
Garcia even skies a decent chance of our own. We'd let him off later though. They were starting to look nervy. Mistakes creeping in, tension leading to bad decision making. Two defenders go for the ball, and Garcia shows he always preferred the more difficult ones anyway.
After that Chelsea look done; out of energy and ideas. Liverpool could have added to their lead. But then Riise does something mental for the cross, a warning for 2008, and Chelsea are back in it. After that it was as could be predicted.
Our player's energy seemingly leaving their body and transferring directly to Chelsea's. Crosses. Oh so many crosses. Crosses and prayers. Joe Cole balloons one over the bar when he had all the time in the world and then we're through.
Back to Liverpool. Less than an hour, even with the traffic. One of those nights were the bar staff take it in turns to tell you to pack it in, before giving up. Soz abar us. Just like the team, that's going to win the FA Cup (again!), we shall not be moved.
GARETH ROBERTS: LIVERPOOL V EVERTON 2012
I DIDN'T get the chance to go in 1986 or 1989, instead settling for the telly and its hours upon hours of build up; a build-up that included kids playing in the street, players getting measured for suits and, crucially, tracking the players' coach en route from their hotel to Wembley, complete with on-the-road live interviews. That was *way* more exciting than it sounds, especially when you're 10 years old.
After we'd won that 1986 final I legged it into the street, which was decked out in blue and red, team pictures and tin foil cup replicas in the windows, and I was soon recreating Rushie's goal on the Alt field with some mates, a Coke can placed in the corner of the goal to aim for in place of the camera our No.9 had blitzed when he'd buried the ball past Bobby Mimms.
In 89 it's the commentary on Stuart McCall's extra-time volley that is forever sewn in my synapses: "The perfect volley with the right foot, Trevor," said Motty with unintended melody.
I was worried. I needn't have been. Thankfully Rushie broke Everton hearts yet again with a stooping header from Barnes's cross. Look at it, it seemed like he was aiming for the cameras again.
So to 2012. Not a final. But a semi. At Wembley. Against Everton. As final-like as a semi can get.
As much as I hate the fact last four games are played where only the final should be held, defying logistics, sense and romance in one fell swoop, this had potential. It felt big. It mattered. Not least for Kenny Dalglish, who was taking some flak for the league performances.
We got a lift down. Off a blue. Merseyside united and all that (shove your half and half scarves up your arse).
He seemed quietly confident. And when we were lining up with Brad Jones in goal why wouldn't you?
We went our separate ways from our blue chauffeur on arrival in the Big Smoke and soon encountered loads more blues.
They were loudly confident.
That was before a ball was kicked. Imagine what they were like when Jelavic scored after Carragher and Agger had left the ball to each other only for Carra to unwittingly tee up the Everton man.
He knocked over a camera with that finish, Jelavic. I thought that was that. Somewhere back home, a 10-year-old in an Everton kit was getting ready to leg it outside and recreate that finish on the field.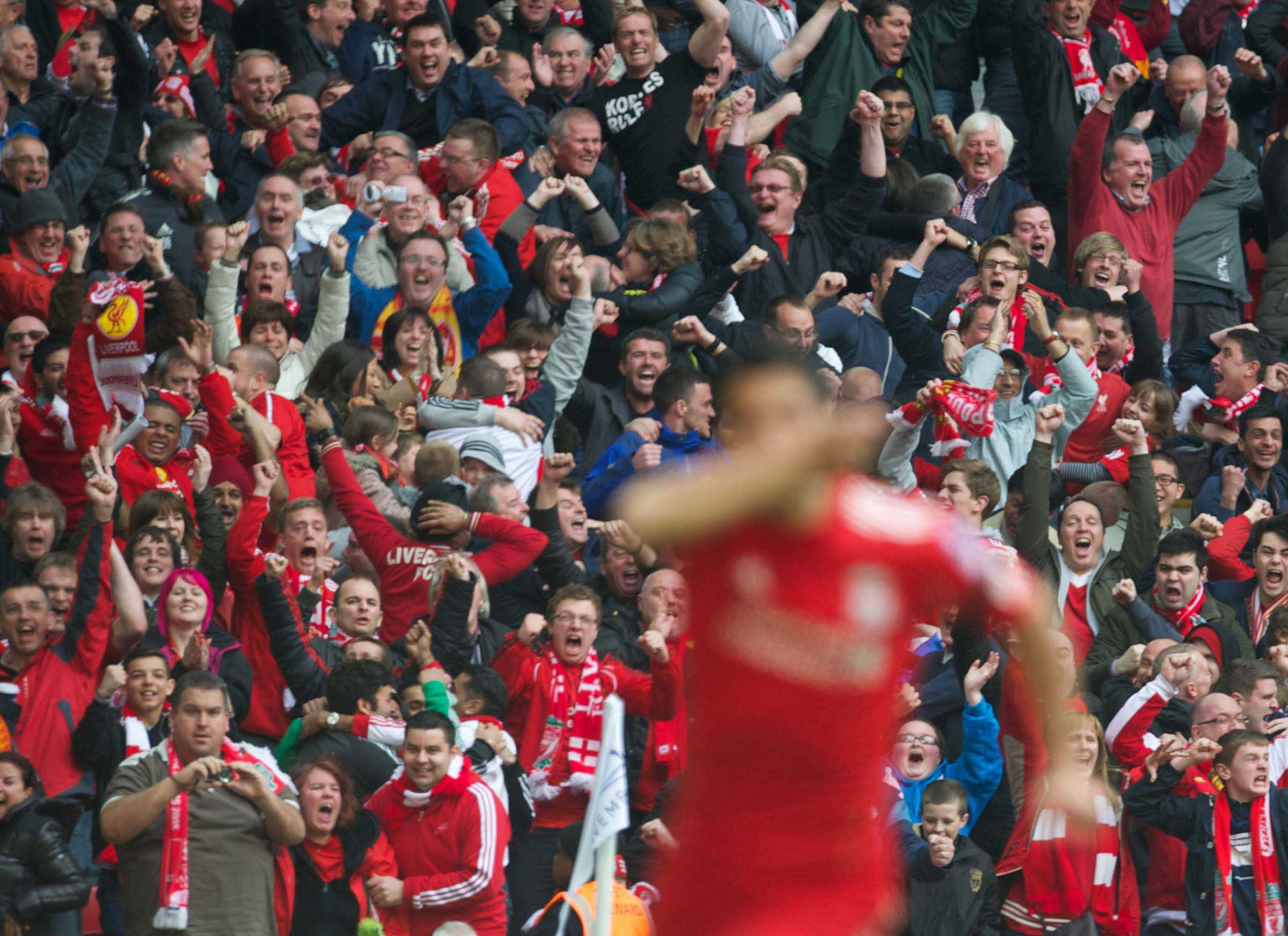 This was a derby and a big game though. And Moyes had form for neither. An awful record against Liverpool, and a reputation for bottling it when it came to the big occasion.
Perhaps then no great surprise when he nullified his own team with his tactics once Everton had gone ahead before Distin's mad back pass let Suarez in. He was never going to miss.
Carroll — who had missed an absolute sitter in the first half — finished the job with a couple of minutes to go, scoring with a header that as the years go by will help to gloss over the times he struggled in red. If it's the abiding memory of the big Geordie, it's not a bad one.
Marouane Fellaini, meanwhile, is probably still looking for the ball in the air. It's in the net, mate.
No re-enactment this time, I'm too old.  And I couldn't tell you what the commentary was. I don't think many bother with dressing up their streets in red and blue any more, either (which is a shame). But watch Andy Carroll's goal again. See it?
It knocked the camera over… ("Mimms deflated, Liverpool delighted").
NEIL ATKINSON: LIVERPOOL v CHELSEA 1965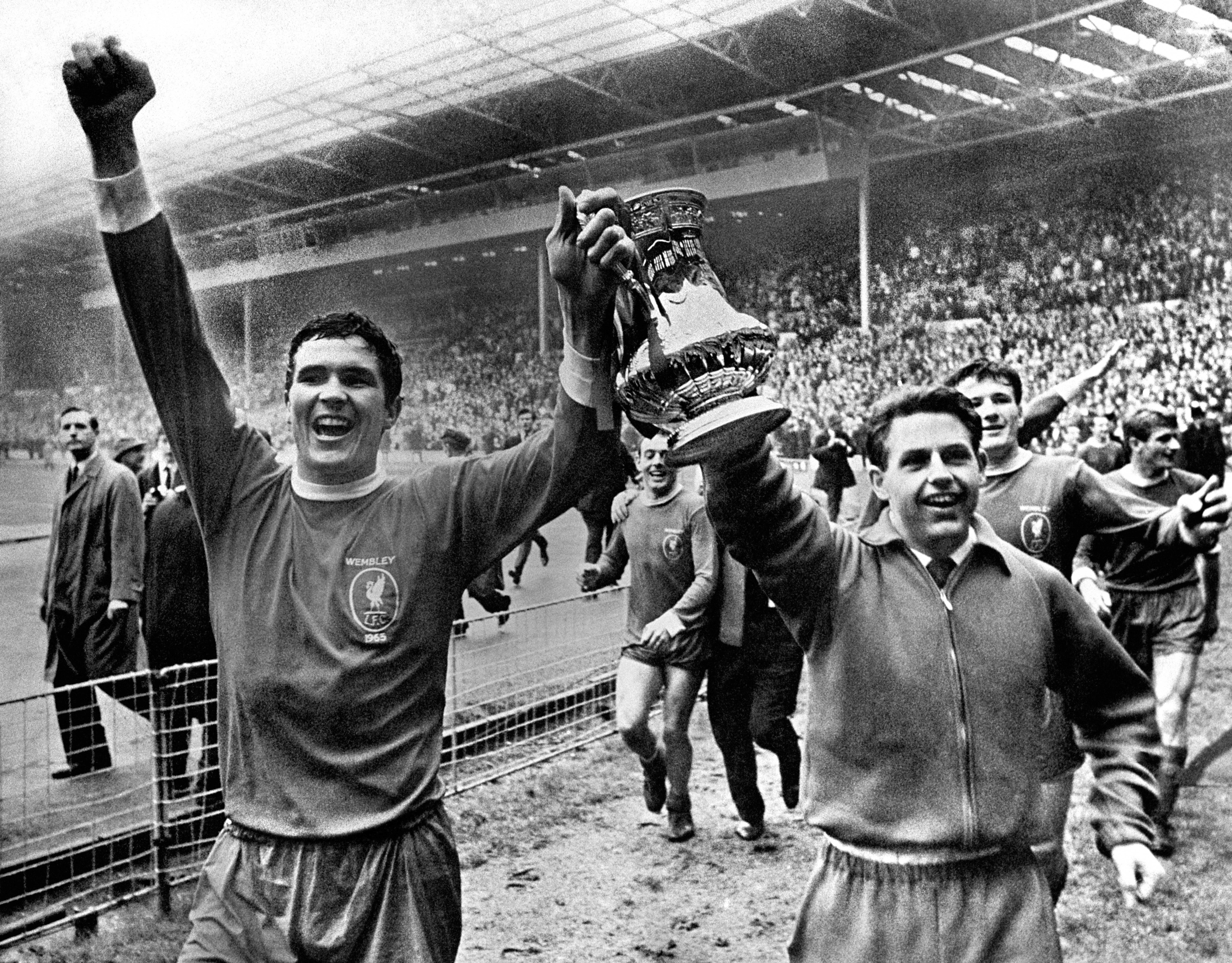 ONE of my favourite opening questions on the show has been "what game do you wish you could have attended?" When specifying a Liverpool game I cited Liverpool 5 Arsenal 0, April 18, 1964. Shankly's first title won in fine style. Imagine that day. What a day to have been alive.
Robbo asked about a semi final and I thought straight away about all the semi finals I hadn't been to and which one I'd most like to have gone to. There were really only two contenders. The one I decided against was Liverpool 2 Southampton 0, April 5, 1986. The one I plumped for was Liverpool 2 Chelsea 0, March 27, 1965.
The context: Liverpool had never won an FA Cup. When Liverpool beat Arsenal 5-0 the season before they won their sixth title. The context of this is that in 1965, Everton had won six league titles, Sunderland had won six, Aston Villa had won six (though none since 1910), Manchester United were in the process of winning their sixth and no one had more than Arsenal with seven. Where the title was concerned Liverpool FC was an elder statesman, they were the big boys.
In the FA Cup reckoning Liverpool were nowhere — let alone win the thing they had only managed to get to two finals. Everton had made five finals and won it twice. It needed sorting out. But Chelsea their opponents in the semi-final were top of the league. London's shiny new glory boys with all their flash football while The Reds were in the process of a long season, sitting eighth in the table when they'd won the league the year before. They were still in Europe — the Wednesday before they faced Chelsea Liverpool had to face Cologne.
They came back from Rotterdam, Shankly's Liverpool, battered and bruised. Four goals shared with Cologne (the game was a replay) and then the toss of a coin. That isn't a metaphor for penalties. They tossed a coin and won. Ron Yeats. Tails. If you were wondering.
They landed and went to Birmingham to play the side that were top of the league with all the fuss about them and they despatched them 2-0. There's more detail in these brilliant pieces by Mark Platt and Scott Murray which do more justice to the game, its build up and its description than I could. They are football journalists, I'm merely a football supporter.
But it is as a football supporter I feel this game so keenly. Feel it. We've never won the FA Cup. Never won at Wembley. A proper task, something that needed to be done, something that had to be got out of the way, and in Shankly a messianic manager to lead the way, a manager who had dragged Liverpool back looking like one of England's elite.
We descended on Villa Park.
Picture it, picture the descent upon Villa Park with this job to do, these lads to watch, those Reds to adore. Going in droves because there is unfinished business and Rotterdam was one thing but this, this is a matter of civic pride. You've seen them swashbuckle their way to the title the year before while limping this year, but there's this city-wide albatross that needs slaying. This absence from the trophy cabinet, this need to take the silverware in the nation's showpiece game, to announce that we are Liverpool.
Dig it, dig the end — 67,000-odd in Villa Park. Half the ground in Liverpool red, facing down Chelsea blue, watching their side sit in and let the ball do the work, watching their side break in numbers and watching their side, through Peter Thompson take the lead deep in the second half. 67,000-odd making all the noise in the world until there is only Liverpool noise, only the red half of the stadium singing and hollering as Stevenson converts his spot kick. The Liverpool end in ferment, justifiable, mind-boggling ferment as the final whistle goes, thousands hitting the pitch in their excitement, being on the march.
Imagine it, imagine walking out of Villa Park, after those two goals, after that pitch invasion. But something else, something more. Those Reds, that manager, on their way to Wembley, on their way to doing what every side before them had failed to do, walking out of Villa Park to that marching beat. We're going to Wemberley.
What it has in common with that Southampton game, with all great cup victories is the rattling beat, the idea that we go from game to game, we march. A proper cup run is a march. You feel a march, you feel it as it comes through your feet as the run builds.
And so to Sunday. Do we feel a march? Is a march upon us? The scent was in my nostrils at Bolton. A dreadful first half turned into an enormous adventure second, an end descending into chaos. Blackburn the same by most accounts.
Is it 1965? No. This Aston Villa side isn't top of the league. Showpiece games are every week and of course you can only win something for the first time once. Transport me back in time? Take me to Villa Park? Of course yes. But then again no. As much as you can only beat what is in front of you, you can only enjoy what's in front of you. Let the nostalgia sit. Let the sepia images fade. Take heart from it but know that the joy of supporting this football team is that you get to bear witness to and be part of history again and again.
This Sunday, claim it. Drain it. Drink the joy of it dry. As so many times before, let it be again — it's simple. Natural. As natural as walking to a beat.
Up the Reds.
[rpfc_recent_posts_from_category meta="true"]
Pics: David Rawcliffe-Propaganda-Photo/PA Images
Like The Anfield Wrap on Facebook