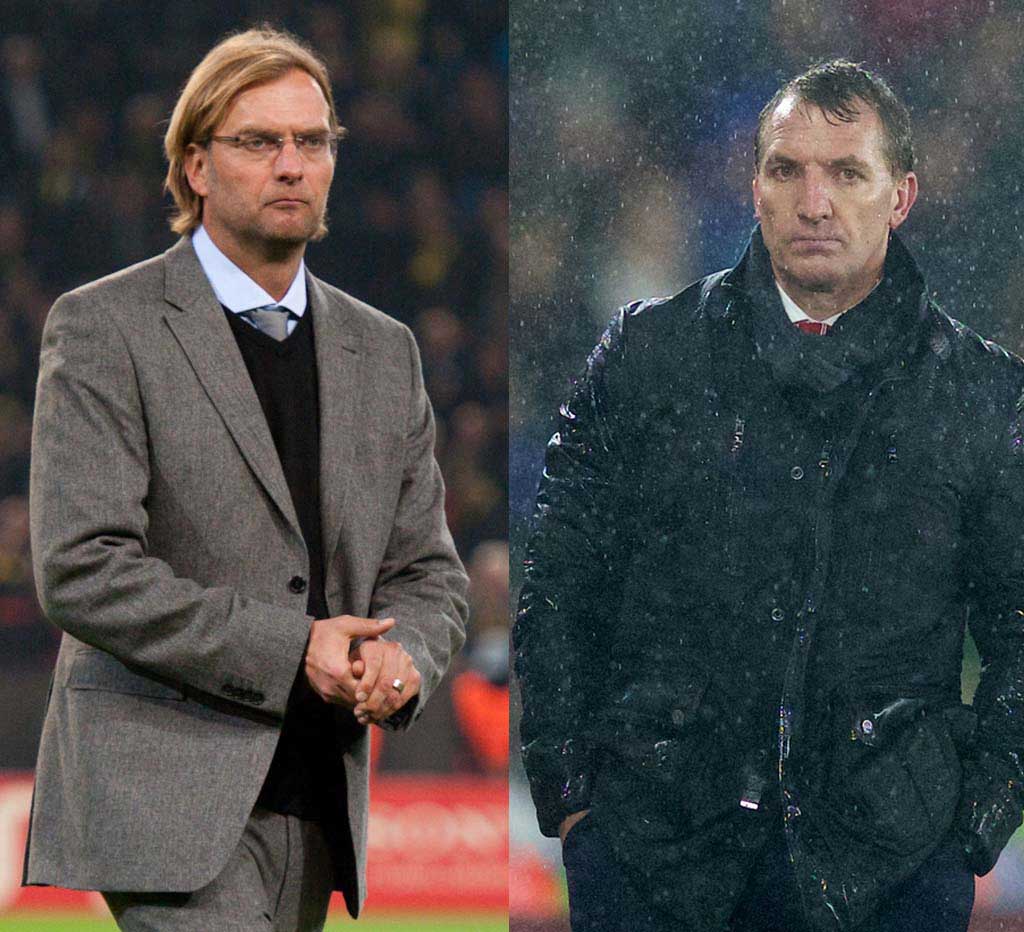 YOU have to be sure. It's no small thing taking away the Liverpool job, so you have to be sure. I feel like Henry Fonda in Twelve Angry Men, writes PAUL LITTLE. It has to be beyond reasonable doubt for me – or at least that's how I always feel when it comes to removing a Liverpool manager.
Bar Roy Hodgson, I've backed every Liverpool manager to get it right, to turn things round. Even Graeme Souness — I thought he'd sort it. Right up until the very end I have this belief. And then I feel regret as the trigger is pulled. And then I feel excited about the new man — apart from Roy Hodgson (I've read Kundera, too, you know, and thought it to be rather tedious, naval-gazing shit) and then the cycle begins again.
Given the timing — after a horrible FA Cup semi final defeat to Aston Villa and on the back of an already underwhelming season — it was hardly surprising that as soon as Jurgen Klopp announced his intention to leave Borussia Dortmund that he would immediately be linked with Brendan Rodgers' position at Liverpool.
But you have to be sure. Maybe you are sure — that Brendan has done as much as Brendan can do or that, regardless, Jurgen will do more. You may be sure, but I am not. But then, if it was down to me, I'd be right behind the incumbent because he is the manager and I believe he will get it right.
What gets me is how sure some people can be. Sure that Rodgers has been found out, certain that Klopp is a step up. I've read the pieces, but like Fonda, for me there is still room for doubt — doubt that after three years of doing a more than decent job, Rodgers has no more to offer. And doubt that the German could really *really* make a difference. Doubt because the Bundesliga is not the Premier League. Because beating the odds for a club like Dortmund is not the same as beating the odds for a club like Liverpool. Doubt because Germany has one super club, while England has three and Arsenal, knocking on the door. And doubt, because while I have no intention of writing a hatchet piece on Jurgen Klopp, it seems clear that, like all human beings, he is fallible.
Fallible — but nevertheless, talented and charismatic and in demand.
If FSG are interested in Klopp, a man they sounded out for the Anfield hot seat three years ago, they certainly won't be alone. According to many accounts, Real Madrid, PSG and Manchester City will be in the market for new managers this summer. So even if FSG are interested, like the top name players we have bid for in recent seasons, Klopp may make similar calculations and give Anfield the swerve.
On the surface, however, the Kop job looks like one that would suit what we think we know of Klopp's sensibilities; a storied club, not without money and with a young and talented squad, looking to recapture former glories in the face of financially powerful rivals.
But even were he to be interested, would Klopp actually do a better job than Rodgers? Would he take us to the next level? Maybe, FSG will think. Never, thinks Brendan, who says he is the best man for the job.
I say maybe and only maybe because there is cause for doubt.
Klopp's role in Borussia Dortmund's revitalisation is well documented — but it's also fair to say that he had plenty of help along the way. The club's hugely successful policy of scouting for talent in the relatively unexplored leagues of Eastern Europe and its strong youth development initiatives predated Klopp. And progress to his first title win was at least partially smoothed by a brief Bayern Munich transition period that saw them finish a lowly third in 2010-11.
Context is important. I'm not trying to diminish Klopp. Just offer a little balance. After all, if he did take the Liverpool job, he'd get the same backing I give to all Liverpool managers (except Roy). I'd have the same belief I always have — right up until the end.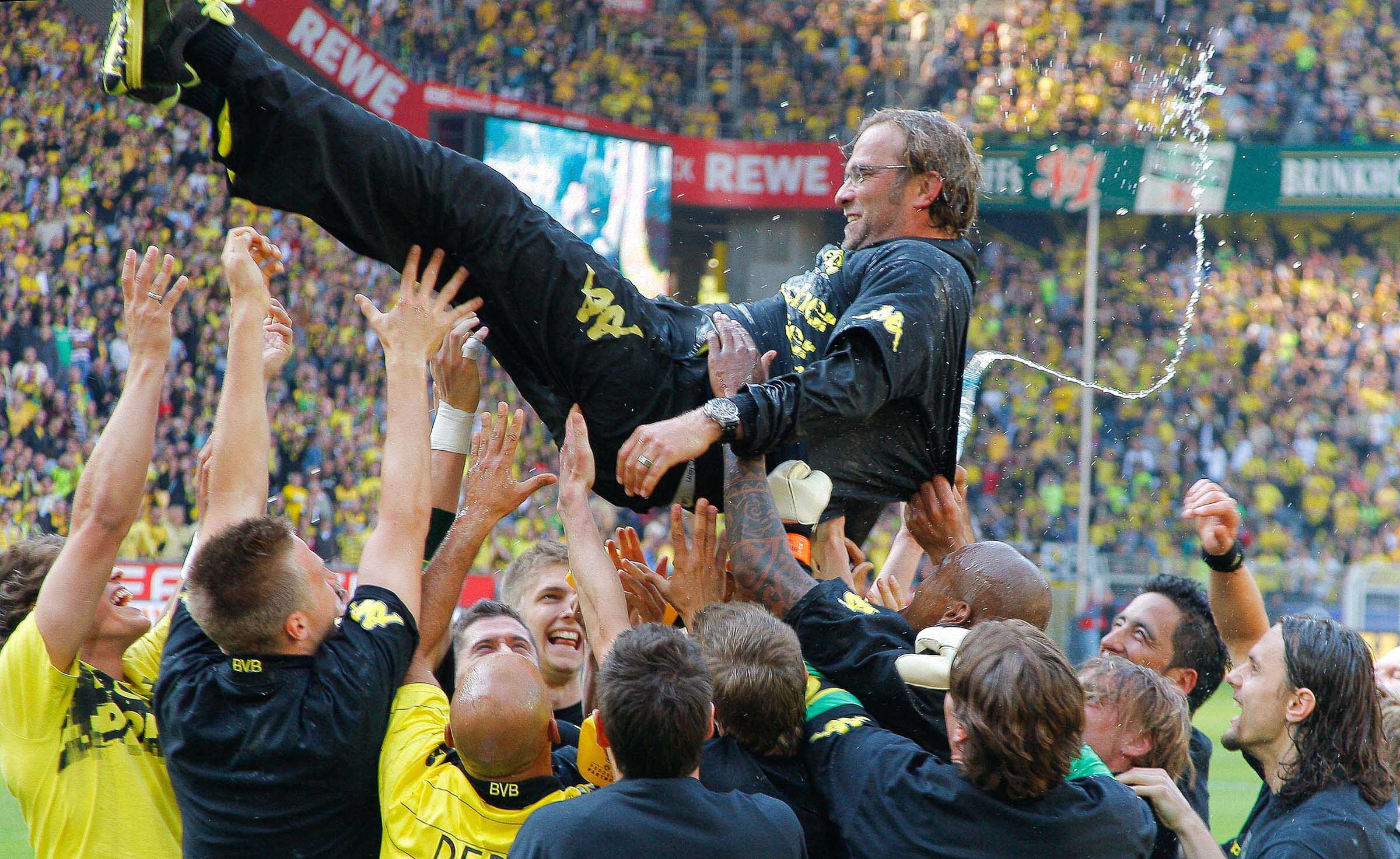 So while it's true to say that Klopp benefited from the environment and the structure that BVB offered, he nevertheless capitalised brilliantly on his position and good fortune.
But I still have doubt — because Brendan is the manager and Klopp is not. Because Brendan has entertained and inspired me with his football and ideas in the last three seasons, so is worthy of my defence. And part of my defence is to question his potential successor.
Rodgers has been hammered this season. There's no room for doubt for some — he's a fraud, a bottler. No room to argue that he's really just a talented novice. Short shrift to those who suggest that fifth place in a difficult season behind three financial monsters and Arsenal isn't actually all that bad. No room for any argument that any manager can make mistakes and even just have a bad season.
And yet…well, isn't Jurgen Klopp having a bad season…a worse season than Rodgers?
Eighth place in the Bundesliga for Borussia Dortmund represents serious underperformance. From runners up last season to eighth — not fifth — eighth. Eighth despite spending more (€68 million) than any other German club in the last two transfer windows. Eighth in the Bundesliga behind the likes of Borussia Monchengladbach who spent €2.3 million, Augsburg who spent €12.4 million and Hoffenheim who shelled out a paltry €13.3 million. Eighth despite spending €60 million more than fourth-placed Schalke and almost twice the outlay of Bayern Munich's closest challengers this season, Wolfsburg.
Ok, transfer spend isn't the most reliable of indicators of how a club will fare. But cause for reasonable doubt all the same. Doubt about what Klopp has been doing this last year.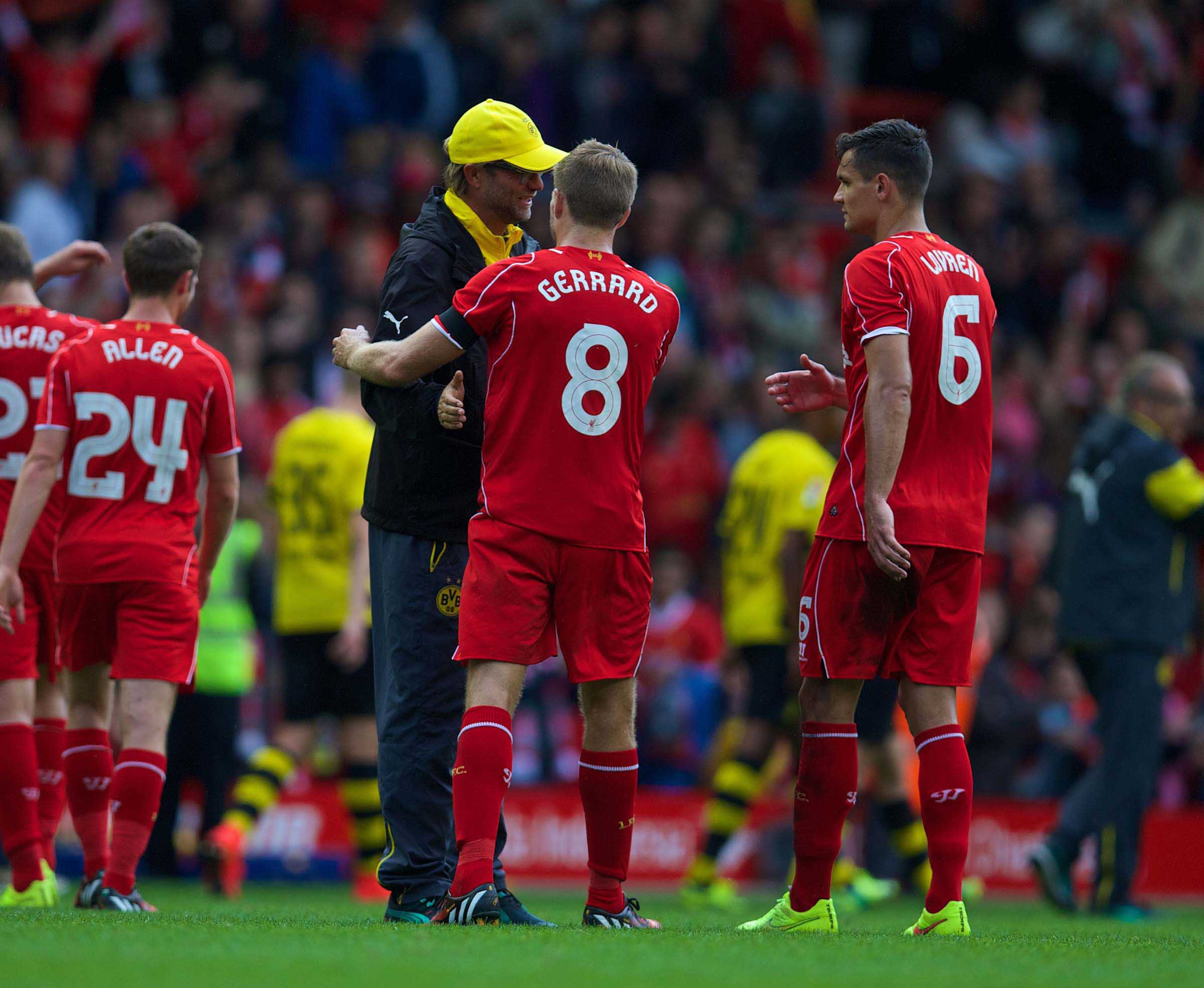 But forget transfer spend, and look at revenues and player wages, which correlate more strongly with a club's league fortunes. But on that basis, Dortmund and Klopp are faring little better of late. BVB are the world's 11th richest club (just behind Liverpool). Critically, they are Germany's second richest club, boasting the Bundesliga's third biggest wage bill as of 2013-14. But Klopp has them eighth — after a season spent largely in the lower half of the table, even bottom at one stage. Eighth in a two-horse race.
Some have tried to pass off Dortmund's lacklustre performances as being the result of the natural staleness that can set in at a club where a coach has worked with many of the same players over a prolonged period. They say it as if this is a reasonable excuse. As if a manager fabled for his charisma, his innovation, his motivational qualities could be excused for losing the buy in of his players. They say it as if a manager who has lost his power over his players gives you absolutely no grounds for concern. They cut him slack, slack they will not cut Brendan Rodgers. But Klopp's fortunes this season leave me with cause for doubt.
Reasonable doubt.
Maybe you still have none. And that is fine. I've just laid out the grounds for mine. But ultimately, even if John and Tom share my doubts or they share your certainty, mere football results may not be their only calculation. Maybe, as they weigh up any approach, they will run the numbers on whether Jurgen's box office appeal will be greater than Brendan's. That regardless of whether Klopp can actually take Liverpool further, just watching him try will keep the fans engaged and the stadium full. That letting him try will attract the kinds of players that missing out on the Champions League would normally see go elsewhere. That a three-year Klopp project would bring more TV and commercial interest than a continuance of Brendan's voyage.
Perhaps box office is what Brendan should be most worried about. That being the best man for the job isn't just about football results.
But it's all just conjecture, for now, of course. And my doubting and your certainty won't add up to more than a hill of beans in this crazy old football world. After all, Klopp may simply recognise that taking on one super club every season is one thing, but tackling four with a club that is considerably less-well resourced is quite another. And he may well think that having spent years building a club and fighting against the financial odds in Germany, that in his next position, he'd like — even deserve — the freedom that a super club's budget might afford him.
READ: KLOPP FOR THE KOP – WHY WOULDN'T YOU?
READ: BRENDAN RODGERS AND JURGEN KLOPP: THE GOOD, THE BAD AND THE UGLY
[rpfc_recent_posts_from_category meta="true"]
Pics: David Rawcliffe-Propaganda-Photo
Like The Anfield Wrap on Facebook