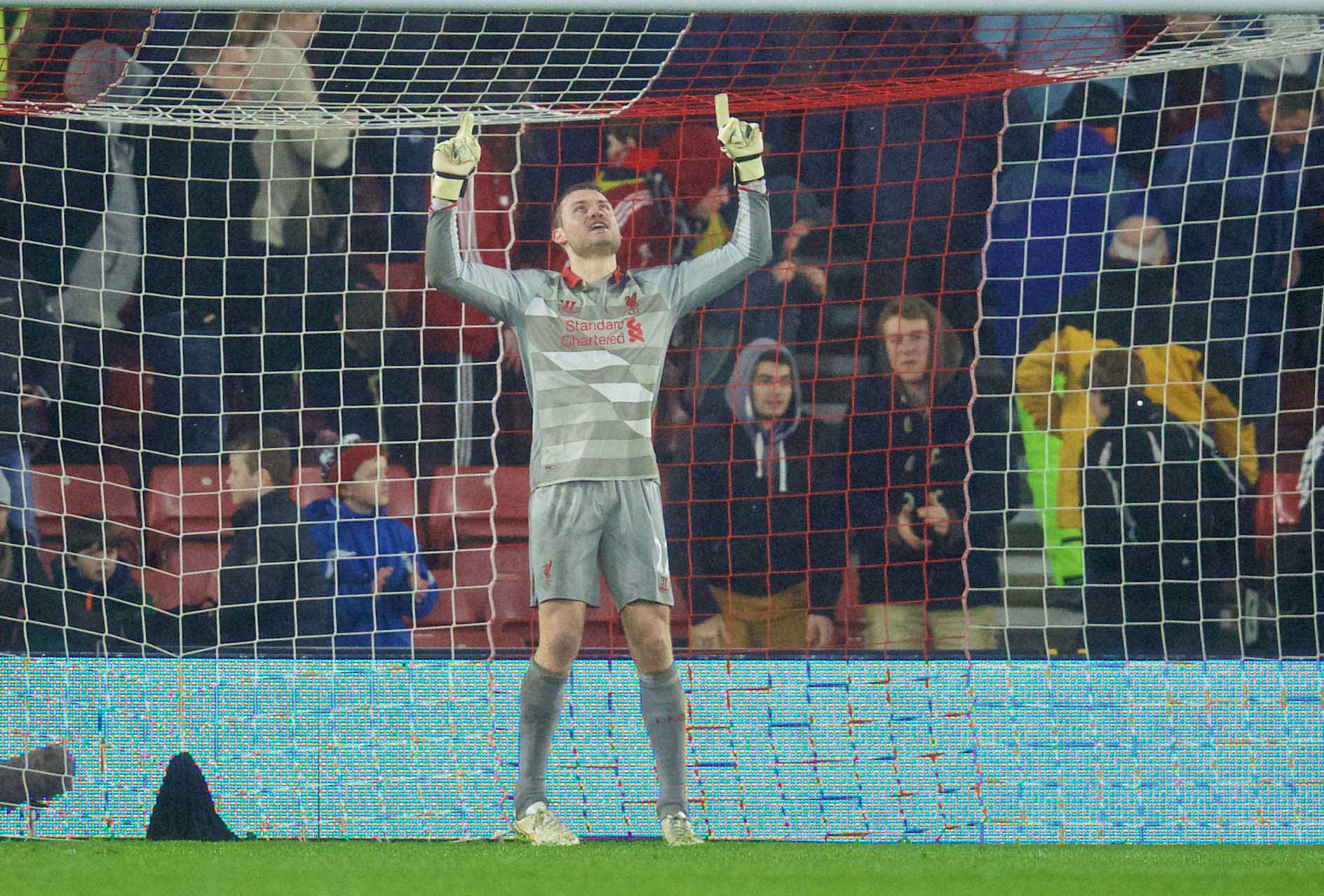 LIVERPOOL doesn't have a footballer in the goal at the moment. But Liverpool needs a footballer in the goal. Sure, at the moment, without a footballer in the goal, Liverpool are doing OK. But the fact they don't have a footballer in the goal is taking its cosmic toll. When judgement day comes, we'll pay a heavy price. Other sides less worthy than ours will find themselves propelled above us in the footballing pantheon, and we'll kick ourselves at the chance we missed to do something really special. Unless, that is, we get the right keeper.
"No Pasaran"
Remember the first season under Rodgers? There was no compromise. Liverpool played half a season with a sense of vertigo sweeping through the stands, as the new manager set about imposing his preferred 'death by football' style on his newly-inherited squad. We'd have 11 outfield players versus 10, just the way he'd punched above his weight at Swansea, with Michel Vorm in the goal, team mates squaring balls to him in his six-yard box as opposing sides tried to press, and Vorm dinking the ball over the advancing marker, or slide ruling through to a midfield replete with players comfortable turning into play. Ashley Williams, Steven Caulker, Leon Britton, Vorm — a comfy little diamond that could circulate a ball until the cows came home, no matter, it seemed, which team they faced, or how much pressure they applied. Each player was limited in some respect, but the blend worked well. Surely with better players, Liverpool would reap the benefits of the same approach before too long. It'd just take time a little time to bed in. (Two and a half seasons, as it turns out.)
The way our keeper, back four and defensive midfielder played through the first half of Rodgers' first season at the club had older fans in purple faced heart palpitations. Liverpool took the field at home against Man City and refreshingly went toe-to-toe, bossing the game, and leading until the closing stages, when Martin Skrtel (ironically the only one of the starting defenders left from that time) played an ill-advised blind ball back to Pepe Reina with Carlos Tevez lurking in his blind spot. The Reds, despite dominating the champions, saw three points turn into one, due in no small part to a manager demanding football from players not accustomed to providing it. "No Pasaran", read the Pepe Reina waver on The Kop. "They shall not pass". Maybe not, but under this manager it seemed that each and every one of our players, including the goalkeeper, had better bloody learn to, and pronto.
It wasn't for the faint-hearted. The high point for me was watching a friend lose the run of himself as Stewart Downing, with three pressing players advancing, squared a bullet of a ball from roughly the corner flag to Reina, who dealt with it admirably, the ball emerging on the other side of the tidal wave with the Reds finding themselves free on the counter. In many ways, Reina was the perfect keeper for a Rodgers side, such was his footballing nous. Many of us geeks pencilled him in as an upgrade on Vorm as we sought to predict how the Swansea system would translate to Liverpool. The problem wasn't that Pepe couldn't play football — it was more that his team mates couldn't. Not yet, at least. That and Pepe's growing and inexplicable inability to stop a ball with his hands.
Compromise Number 1: Sit Deep and Counter
Slowly it dawned on Rodgers that, after half a season, and following long spells without a functional striker (sound familiar?), he was going to have to improvise — to compromise. Playing fancy football and drawing teams out and onto you from your own third brought with it demands that maybe our squad didn't have the footballing capacity to cope with. Not yet, at least. And so, the manager compromised.
We signed Coutinho and Sturridge, played Carragher, and found a working balance, sitting deeper, striking at the heart of opposing teams with our new found weapons, hitting on the break with searing pace, and seeing often devastating results. The pressure to play football from the back was lifted, and the side saw results improve, not because the approach was intrinsically better; but because it better fitted the players, their nerves, and their level of adaptation to Rodgers' methods — their level of footballing capacity. We carried players less able to function on the ball, and relied heavily on compensating players more able to play into pressure to keep us ticking.
But each passing session and each passing week saw the squad's level of adaptation rise. The team was developing a footballing capacity it had lacked for a very long time. Interesting things happen in those circumstances. All it takes is a catalyst to spark things off — all it takes is a big enough jolt of collective belief.
Compromise Number 2: Be Obdurate
Rodgers' first close season brought Reina's departure, and the team started afresh, founding his second season on a new-found defensive obduracy. The new keeper, Simon Mignolet, stood behind the collossal shield provided by his centre halves, set us on the path to our unexpected near miss in the League with a clutch penalty save against Stoke, and three consecutive clean sheets. We started the season without Suarez, with all eyes on the new signing Iago Aspas, hoping he might compensate in some way. We looked light on quality in depth up front, and so Rodgers compromised again, this time going with an almost smash and grab approach in relative terms, ceding possession to the opposing side and controlling games without the ball, or when needed, putting bodies on the line. The new keeper fared well, making big saves in behind the big blocks. But the compromise was fragile.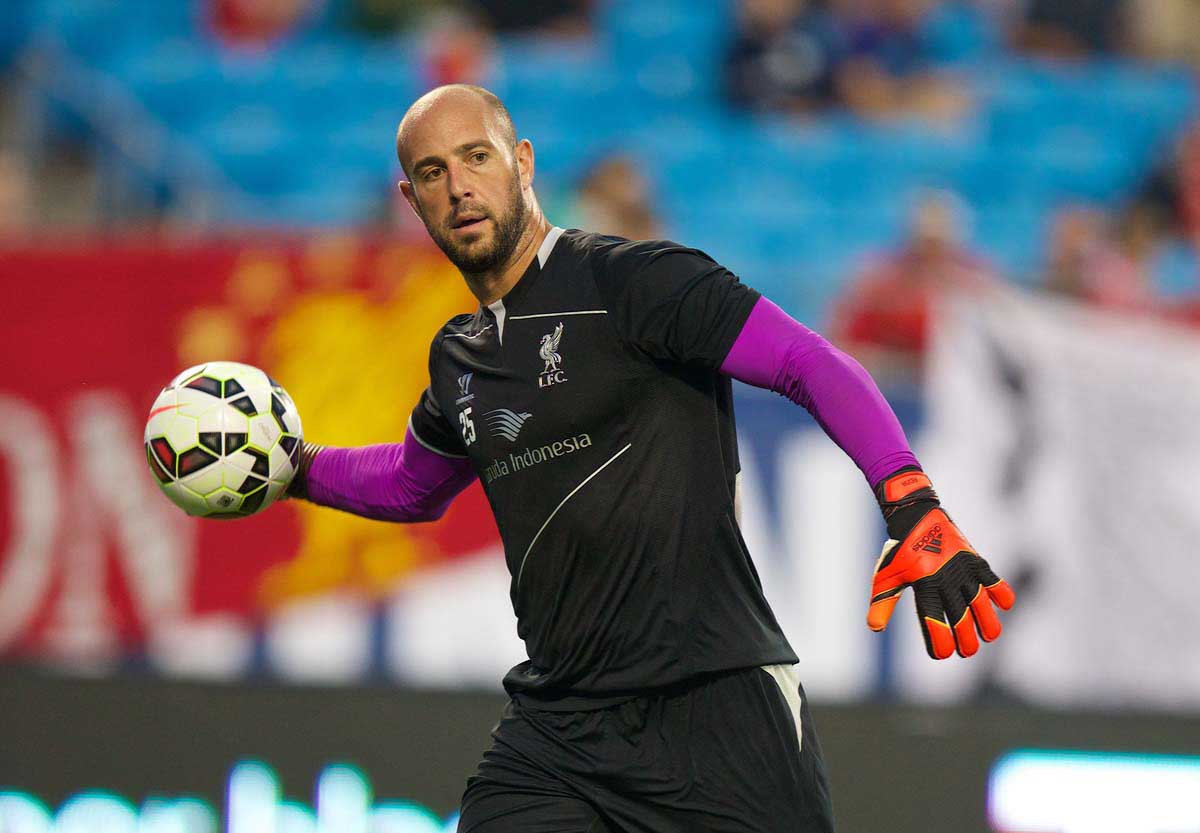 You see, a Brendan Rodgers team is a Brendan Rodgers team. We've seen the scientific papers, after all. He trains his side in small-sided games. Games in which players develop intensity, and a capacity for pressure football, and for pace and incision in transition. They learn good habits on the ball. They don't spend time as 11s working on coordinated team shape drills. They learn to build their footballing capacity, both as individuals, and as a group. So naturally the footballing capacity continued to build, and without the distraction of European Competition, the jolt — the catalyst we talked about above — came not when Suarez returned from his ban, but when Gerrard and Sturridge were ruled out for Spurs in November.
Jesus. None of us realised what that side was capable of up until that point, but boy did we all wake up — the team themselves included. They didn't just beat Spurs. They obliterated Spurs. All of that potential suddenly revealed itself, and the team seemed on the brink of something special. But in among it all were hints of problems to come in the goalkeeping department. People will forget, of course, but that game brought with it a few near misses, with responsibility falling squarely at Mignolet's feet. Soldado could have had a penalty when the game was still in the balance, which might have seen Mignolet sent off, all down to Mignolet's lack of assurance with the ball at his feet. In contrast, playing for the side that conceded five on the night (when it could have been nine or 10), Lloris was a plausible contender for man of the match. Lloris was exactly the kind of keeper we needed (and Kenny Dalglish wanted), but didn't have.
A Brendan Rodgers team, you see, coached week in and week out like a Brendan Rodgers team, will tend to play more and more like a Brendan Rodgers team. It will start to believe in its own ability. That means it will, at times, rely on its goalkeeper's ability with his feet. The goalkeeper will have to sweep, and the goalkeeper, more than he might have to for other sides, will be expected to pick out a man in a red shirt — a higher bar to clear than the 'clear your lines' mark imposed by other managers.
Remember the high jump at school? Set the bar low enough and you're flying. But a bar set an inch or so above your comfort zone? Put in a worldie and maybe you'd clear it, but part of your mind becomes noisy, convincing you that you'll break your back if you try it, no matter how implausible that might be. So it was with Mignolet. Clear your lines? Grand. He could do that without thinking. He might even pick out his winger on the instep. But tell him you expect him to pick out that winger with even a striker as cumbersome as Soldado on top of him? He wasn't that keeper. He never would be. And so the team continued, as a rule, to sit deeper and hit on the break. The possession stats betrayed the ongoing compromise, but nobody cared. It was working, so why bother to change it?
A Compromise Forgotten
For the remainder of his second season, after Spurs away, Rodgers saw his young team develop a level of belief not seen at the club for a very long time. Week on week, session after session, adaptation after adaptation, the team grew in footballing capacity, and as Spring came, new shoots began to appear. The team found new ways to amaze us all with every passing game.
We went to Old Trafford and bossed the home side in every single aspect of the game — it was beautiful. But still Mignolet was Mignolet and as such his confidence was only as resilient as the compromise struck to accommodate him in the side. The slightly deeper line, the ceding of possession in favour of a more direct game. But oddly, as the 10 other players grew together, they started to believe they could impose themselves home and away on whoever they played. They were almost right. They almost tore our collective hearts from our chests away at Carrow Road, mind, but they did it. They found new ways to do it. But the heart problems — quite often they centred around the goalkeeper, and on those immediately around him.
You see, this young side that had steadily developed the belief that it could dominate sides home and away, and impose its will on football matches no matter what the circumstances, was naturally less and less inclined to provide a comfort blanket for their goalkeeper when in the throes of ecstatic interplay. Imposing their game, the goalkeeper suddenly had to fend for himself, and slowly it led to a crisis of confidence in his heart and his mind. It was maybe natural — better goalkeepers than Mignolet had fallen foul of this phenomenon in the past.
Take Vítor Baía for example. He had been Bobby Robson's keeper — his trusted custodian. The Barca goalkeeping coach at the time, Frans Hoek, said: "At that moment Vítor was, in my opinion, one of the best goalkeepers in the world and he functioned well within Robson's 1:4:4:2 system." But when Louis Van Gaal took the reins, he implemented a different system. Hoek described the impact on the goalkeeper, saying: "Baía changed from a big, strong, confident goalkeeper to the exact opposite. Afterwards I realised he was placed in a concept in which he did not feel the least bit confident. He now had a lot of space in front of him in which he played a role and was forced to become part of the build up. These were not his strongest assets."
How did Van Gaal fix the problem? He bought another keeper — Ruud Hesp — who could play that way. As Hoek said: "This turned out to be a great choice."
Mignolet's existential crisis, of course, steadily heightened into the Autumn of 2014 with Rodgers eventually dropping him in favour of Brad Jones. And that's about all I have to say about that.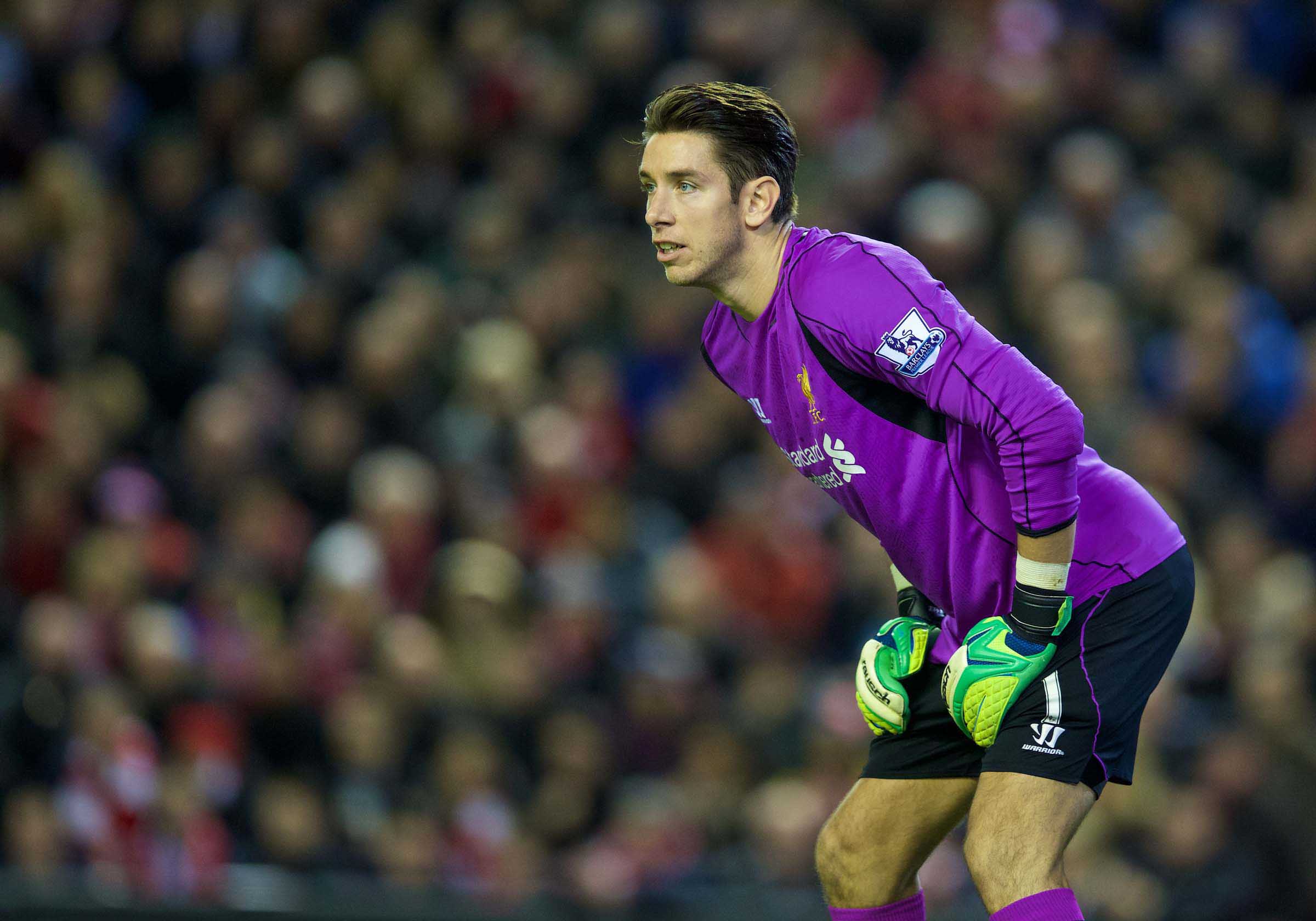 Compromise Number 3: Three at the Back
Rodgers, with a squad full of players who could play a bit, two keepers on the brink of a nervous breakdown, and… you guessed it… a dearth of viable striking options, happily arrived at a compromise that fixed…well, just about everything. He slotted in Emre Can at the back alongside Skrtel and Sakho, added a liberal sprinkling of quality in the midfield and wing back positions, and used Sterling to stretch things up front — oddly, the qualities he told us he needed from his strikers during his first season (he needed mobility and pace, he said — qualities suddenly in short supply with Sturridge consigned to the bench and Suarez offski to Barca). It worked! And it's continuing to work for the most part.
But here's the thing: Rodgers continues to develop his squad, and his squad's footballing capacity continues to rise. Gerrard, blink and you'd have missed it, has been injured for several games, with Sturridge a bit part player. Suarez is long gone. Yet this team had played Chelsea off the park twice (somehow contriving not to get to the League Cup final), and unceremoniously pumped the Champions. It was working well, people said. But it remained — and still remains — a compromise. And a compromise largely put in place to compensate for an ill-fitting goalkeeper — to make him feel comfortable. We sit deeper. We deny space between the keeper and the defensive line. We do what we can to make him feel comfortable, and for the most part, sides set up in front of us. We don't really draw them onto us — not yet at least.
The side looks fluid, but the whole thing has reached a stage where, to find that extra edge — that little extra upside that will make all the difference when it matters — we need to address the opportunity cost. We now boast players throughout the side who can play football — who demand the ball, and who are comfortable in units in playing their way through pressure — who actually relish doing that.
Watch the team when a free kick is conceded by the opposing side. They're itching to take it quickly and hurt teams. How many times do we see defensive players emerge with the ball at their feet through the lines of the opposing side (most notably through Emre Can)? How many times have you seen Allen, Lallana, Henderson, Sterling and Coutinho turn on a ball with a marker touch tight and open up a world of space in behind? Add to that the pace and incision from wide positions in the form of Ibe, Moreno, and Markovic. As a collective, how many times have we seen this team press the opposition, in a way reminiscent of last season, when all of our truly 'big' names were still available? We're ripe for a game that imposes itself properly, and without compromise. These players shouldn't have to carry weak links or compromise their set up to accommodate them. Not any more. The time is ripe to make the next big leap.
No More Compromises
When his Barcelona Dream Team was on the rise in the early 90s, legend has it that Johan Cruyff was dead set on fielding an extra midfielder in their goal. Why was that? Well, they were on the brink of something special in terms of the side's footballing capacity, and Cruyff felt that by adding one more footballer building their play from the back, well… they'd surely find out.
His coaches talked him out of it, and it's a shame. Imagine a side with 11 playmakers, decision makers, and footballing brains on the pitch — just imagine it. The standard keeper fields a ball, calms things down, takes his seconds, and lets his team mates get themselves into position up field, while the opposing side get themselves set — get themselves organised. The footballing keeper in a footballing side eschews all that.
He knows that his centre mid can receive a ball threaded to him at pace with his back to goal and turn his man, carry the ball into the space behind, breaking opposing lines and disrupting their organisation before they really know what's happening. In recent weeks, we've seen Coutinho and Sterling make mincemeat of the two best sides in the country that way, receiving balls from defenders and midfielders on the half turn.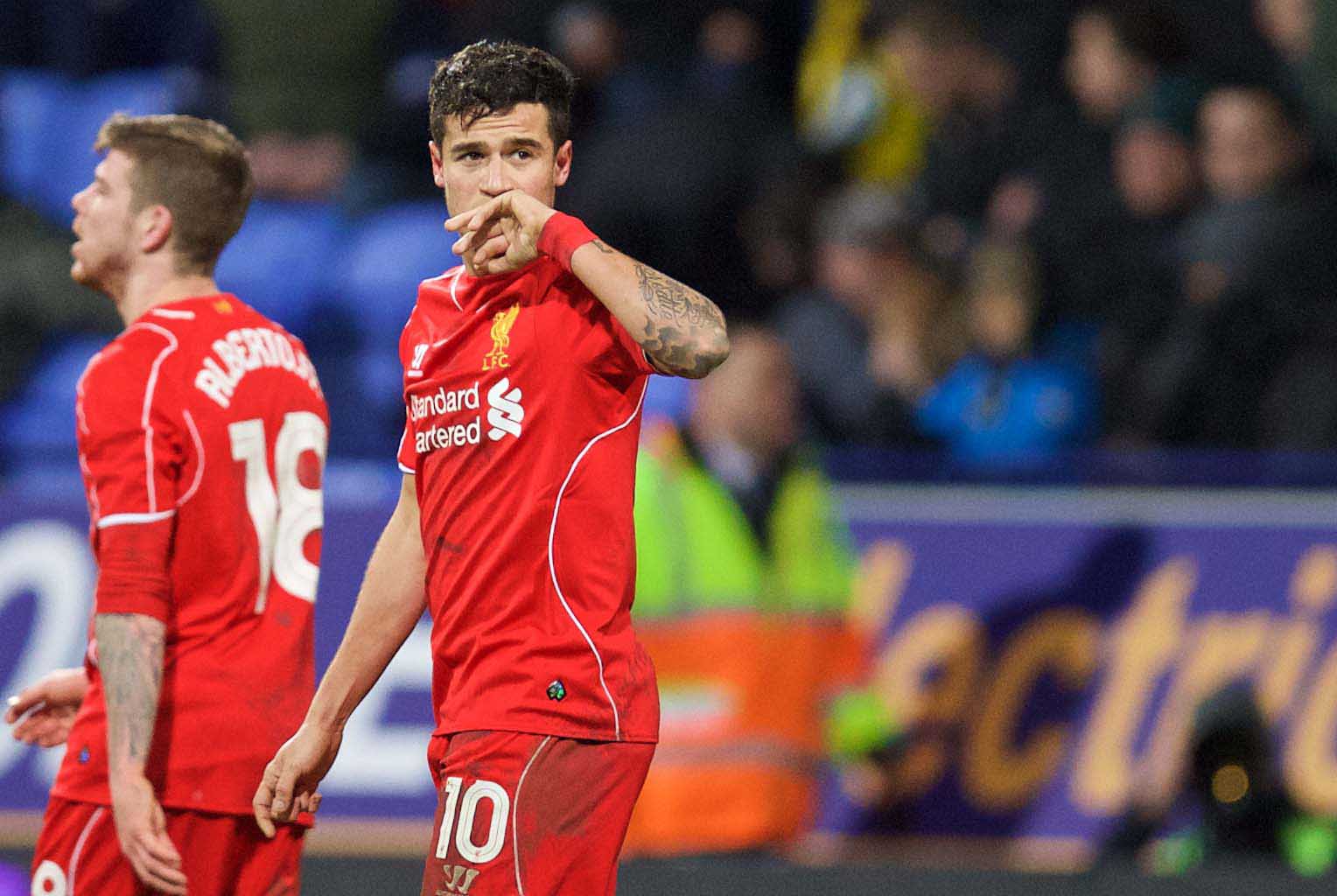 Imagine if we had a keeper who could do that the minute he fielded a ball? Or imagine a keeper who, faced with pressure from attackers on receiving a back pass, relished that pressure, and found the instep of a team mate out wide and in behind his cover, setting us on the attack once more instead of slicing it into touch. Goalkeepers like that do actually exist. We had one in Reina once upon a time. And these goalkeepers can keep goal, too. They can field high balls, and punch to clear, and command their area. They tend to be a little mad, and brash, and overconfident. Maybe the occasional rick will happen — but hey, that happens with the traditional set up anyway doesn't it?
Of course, it only works if you have players who can work with the ball in that way; but we have a squad full of them. We have a squad full of players who are itching to play the kind of imposing game they know they're capable of. They don't want to carry their keeper. They want their keeper to set a foundation for them, and to help them open things up — to get the ball to them quickly in areas where they can hurt the opposing side. They say a great goalkeeper can win your team 10 points a season; but what about a keeper who tips the way you play over the critical edge? How much of an impact would that player make to the group as a whole?
Rodgers said after the Man City game: "We like to press the game really hard and aggressively, and I like a technical game."
To do that fully, week in and week out, we're only missing a couple of critical pieces. We need to clone Sturridge, of course. We'll have three of him. But Lordy Lord above, please deliver us one, if not two, proper footballing goalkeepers.
And then sit back and enjoy what unfolds.
[rpfc_recent_posts_from_category meta="true"]
Pics: David Rawcliffe-Propaganda
Like The Anfield Wrap on Facebook