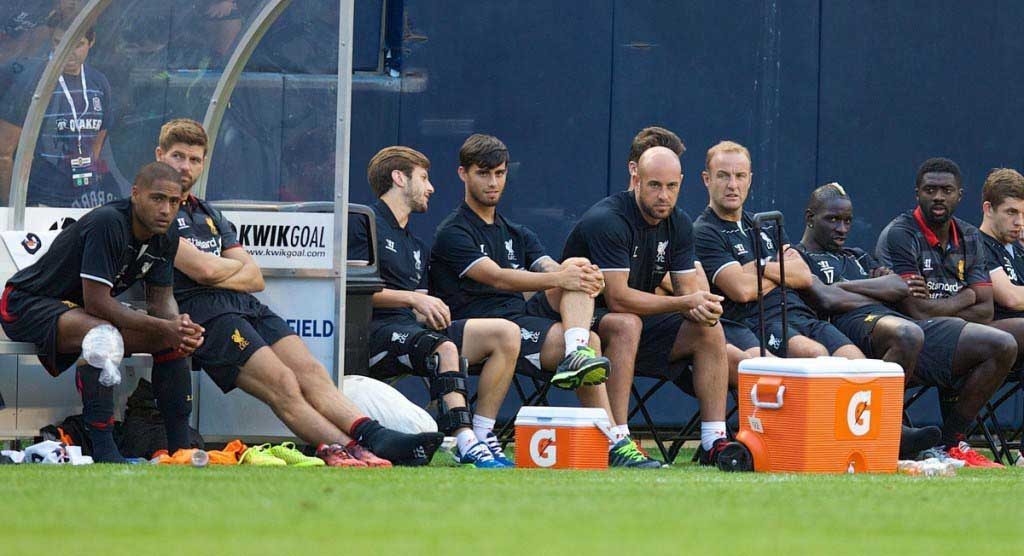 IT WAS A SAD IMAGE that will linger long in the memory. A brooding scowl lay upon the face of a man who sat motionless in a resigned slump behind his manager. Watching the football. Not playing it. Predictably, it went viral immediately on social media. It will probably be the final defining memory of a Liverpool career that really deserves to have ended in a much more celebratory manner.
Alas, there will be no big send off. No final game in front of the Kopites whose goal he defended so diligently. Pepe Reina's exit was a forgone conclusion and, in reality, the only real possibility on the table this summer, but it doesn't make the manner of this any more palatable.
Yes, the Spaniard effectively signed his own death warrant when he issued that letter last year but it takes a man with far less sentimentality than I possess to not feel a little bit saddened by the eventual departure and the surrounding circumstances of arguably the best Liverpool goalkeeper since Ray Clemence. To leave after essentially trailing his team mates around the U.S.A and watching them from the stands just doesn't sit well.
Those who will coldly proclaim that Reina's best years are way behind him and that he showed a lack of respect to Brendan Rodgers have obvious merit to their arguments. That said, it should never be forgotten that while others were fleeing the good ship Hicks/Gillett/Hodgson, Reina stayed aboard and did his best to steer Liverpool through choppy waters. While the iconic Benitez spine of Reina, Carragher, Alonso, Mascherano, Gerrard and Torres was being torn apart, our goalkeeper remained alongside the local boys. A fat contract will no doubt have helped persuade him to stay true to the cause but it's not like he couldn't have made a pretty penny elsewhere during that period. After all, he was undoubtedly one of the best and most sought after keepers in Europe between 2006 and 2010.
Reina's Liverpool career deserved more than a solitary F.A Cup, one League Cup and a European Super Cup. He was a genuinely world class performer during his first few years on Merseyside. The mistakes that slowly but surely became more frequent in his game and the year on loan in Italy have apparently eroded those memories in the minds of some. They shouldn't.
The penalty saves in the second Chelsea semi final and the unbelievable stop in the dying moments of the 2006 Cup final against West Ham should never be overlooked or downplayed. Nor should the fact that Reina provided genuine stability between the sticks for Liverpool for the first time in decades. He redefined what we thought of goalkeepers and how they use their feet. He was a dominant force who would gladly risk lamping his own team mates (ask John Arne Riise) if it meant keeping a clean sheet. He felt Liverpool. He laughed with us – as demonstrated by his celebration so beautifully in his reaction to David N'Gog's clinching goal vs Man United in 2009. He cried with us, too. No one was left more visibly distraught by individual errors than Pepe. He set high standards and when he failed to meet them he wasn't happy. Lamentably, we saw more scowling than smiling in his later days.
Sadly, after the departure of Rafael Benitez, Reina's game suffered. His one season under Brendan Rodgers began poorly and, despite some improvement in the second half of that campaign, his new manager brought Simon Mignolet in to challenge/replace the Spaniard depending on whose account you believe.
Support for Reina unsurprisingly remains strong among certain sections of the Liverpool fanbase. Some will argue until they're blue in the face that when he does eventually depart for good this summer – Bayern Munich have reportedly had a bid accepted for his services today (August 5th) – Liverpool will be ridding themselves of the best keeper on their books.
And yet, while those fans will continue to argue the case that Reina was Liverpool's true number one to the last, plenty of others will view his seemingly imminent transfer as a logical and justified move. Ridding the club of huge wages and an ageing player who hasn't impressed in the Premier League for a long time while also receiving a fee of any kind will be seen as good business. The debate will likely rage on well into next season and possibly beyond.
Whichever side of the Mignolet/Reina argument you come down on, memories like Cardiff '06 and Chelsea in '07 should never be forgotten. Neither should the commitment and years of consistency and stability that Pepe Reina gave to this football club.
Personally, I shall try my hardest to erase that picture of Reina's glum face that was sent around the world in seconds and instead remember the good times he contributed heavily to during his years at Liverpool. Fortunately, there are many to choose from.