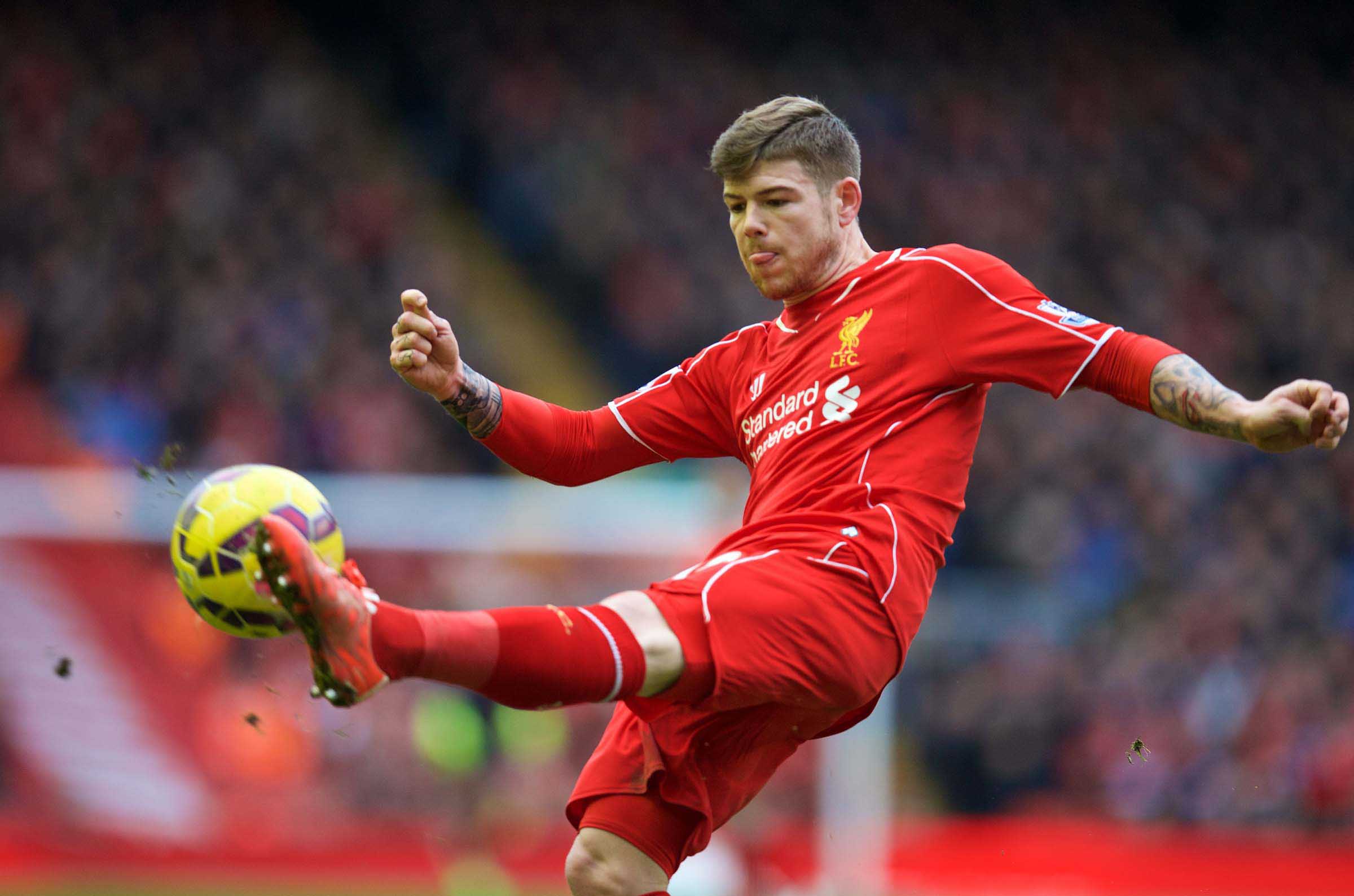 THE  last article I wrote for this illustrious website was a critique of Joe Allen and my concerns that he wasn't pulling what little weight he has. Since then he's been simply immense, which I like to think is entirely down to me and my motivational words (but has anyone thanked me? Have they eck!)
Allen was missing from the Blackburn game, and you could see it had quite an effect. Emre Can will become an absolute gem in that position, I'm certain of that, but the job Joe has been doing in there of late needed to be done, and it wasn't'. He was missed.
However, there was another glaring hole in the side on Sunday, an Alberto Moreno-shaped one.
Raheem Sterling is a phenomenon, but a left wing back he isn't, and though defensively he provided one or two eye-catching sliding tackles, more often than not he was either out of position or simply ran past by the Rovers right side, leaving *gulp* Dejan Lovren to fend them off.
Albi, as I like to call him (in no way affiliated with the racist dragon from Flight of the Conchords), has his detractors among the Liverpool fanbase, but I just wonder if Sunday was a signal as to why Brendan Rodgers has shown so much faith in him this season.
The Reds have had a bit of a problem filling the left-back position in recent decades, and last summer was supposed to be when the club would finally put that to bed by investing big in one of the many promising young left backs emerging in the game. For near enough every transfer guru/Twitter blert, there were three clear options, Luke Shaw, Ricardo Rodriguez and Moreno.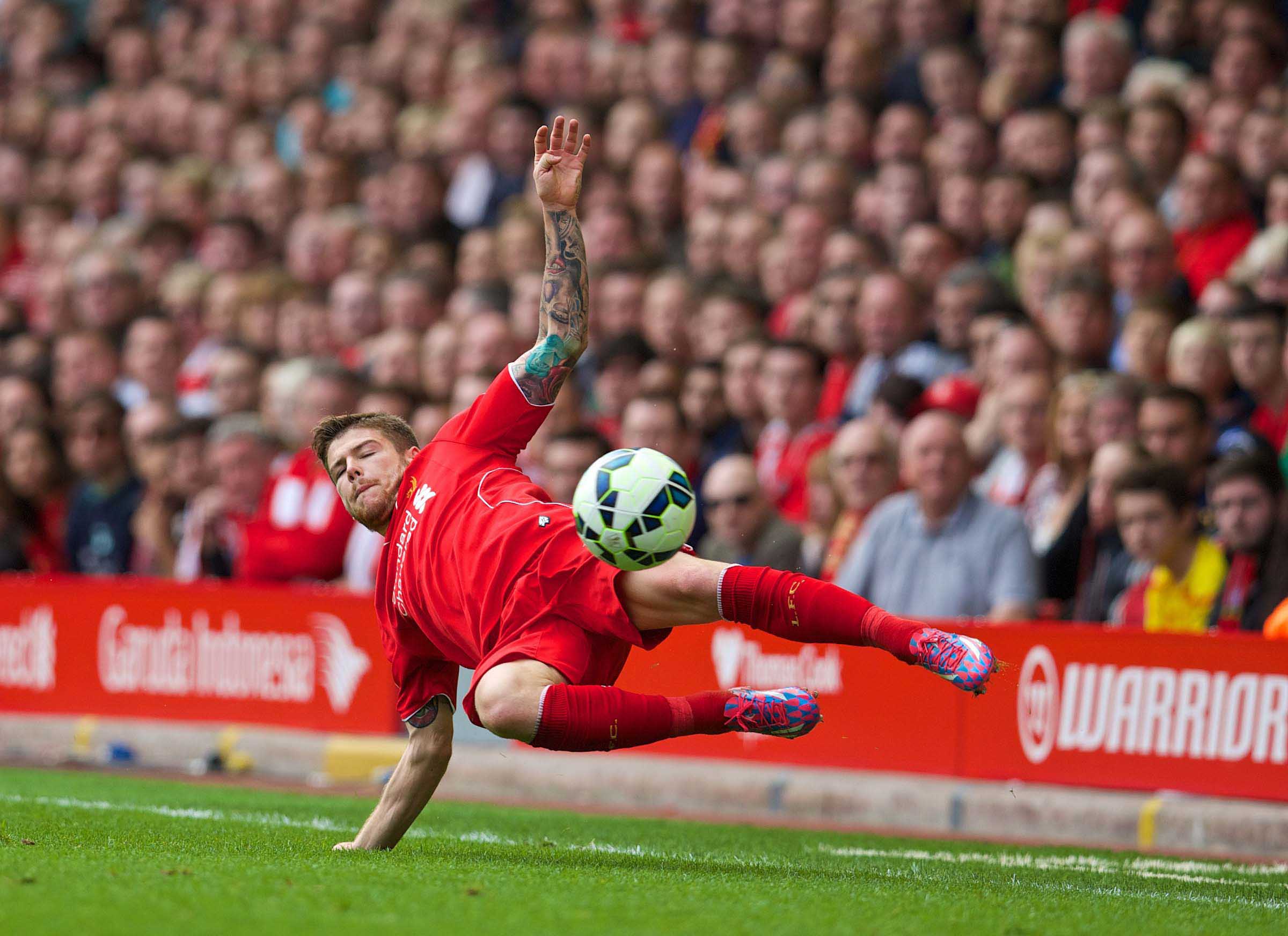 Shaw was quickly snapped up by Manchester United for the princely sum of £30m, so that was quickly off the table (as are, if rumours are to be believed, most of Shaw's meals), and so we were left with what appeared to be a straight choice between the Swiss and the Spaniard.
I'll be honest, I wanted Rodriguez. That doesn't make me a football hipster, I mean yes I love the Bundesliga, and yes I have a scruffy beard, and yes I have a Max Meyer screensaver, but I was adamant that Rodriguez was the way to go. Scored goals, provided assists and owned every winger I'd seen him come up against, including referee shirt-botherer Angel Di Maria at the World Cup.
He was the sensible choice, so of course Liverpool went for Moreno, who was clearly bonkers. However, Moreno appeared to be a good kind of bonkers, like that fella who shouts at pigeons, but also feeds them.
Moreno had shown at Sevilla that he was a marauding left back willing to bomb forward at every opportunity, but was also capable of getting back to cut out danger when needed. He was a young star of the side that lifted the Europa League last season.
I was happy enough with him being the choice, and was even happier when I heard that a player who had been linked with £18-20m moves to Atletico and Real Madrid came to Anfield for the sum of £12m, almost a third of what Shaw cost.
He was in from the start, making his debut in the second game of the season at Manchester City. However, despite a promising start, disaster struck as a hesitant clearance led to Stevan Jovetic giving the hosts a barely deserved lead.
That moment aside, it was a very promising debut for Moreno, and he followed it up with a blockbuster performance and goal at Tottenham. In that moment, we all thought we had a left back to end all others, or at least a reincarnation of John Arne Riise.
https://www.youtube.com/watch?v=ZjKDj0joiGM
However, his defensive capability came under the microscope again after a perceived mistake against Newcastle allowed Ayoze Perez to score the only goal, though, as I mentioned in a TAW article back then, I wasn't convinced he could have done anything else under the circumstances.
At the age of 22, and having made a few errors in his early days, it was vital that Rodgers showed faith in the little left back, and that's exactly what he did. Moreno has featured in 22 Premier League games, all but one of the European games, and before Sunday had played in every game since the home FA Cup tie with Bolton.
Despite his all-action style, his pace, his two well-worked goals and his impish little face, there appear to be many who still doubt that Moreno has what it takes to be the answer to Liverpool's left back problem.
There's no denying that his style has downsides. He is always looking to burst forward, especially when there is a possibility of a switch from the right, but of course if the ball doesn't reach him it means he gets caught out of position. The goal conceded to Ludogorets at Anfield back in September was a prime example of that, with Moreno practically on the edge of the opposition box as Sterling was dispossessed. He was barely back in our half when the Bulgarians found the net.
The biggest issue about that, aside from the fact we conceded, was that we were 1-0 up and the game was practically over. It was a concern that Moreno appeared to lack the game intelligence to know when it was appropriate to be Alberto Moreno.
However, it's harder and harder to recall those lapses in Moreno's game of late, with his switch from left back to left wing back appearing to help rather than hinder him. Knowing that Mamadou Sakho is there to clean up any mess his — let's call it optimism — may cause appears to be a great comfort to him. The relationship with Lovren may take more time.
For all the uncertainty his runs can sometimes cause, for all his shots that smack someone in the Annie Road in a restricted view seat in the chops, and for all his passes to Coutinho that don't quite reach him, it's all worth it for me because he plays the game with exactly the right amount of enthusiasm. You can tell he loves being on that pitch, a smile always there on his face, and it's from this that his style appears to have been born. He plays like an optimist, like someone who always thinks it's going to work, and we haven't had enough players like that in recent years.
It might not come off, but Moreno's head just doesn't drop. Just look at the goal against Swansea from December, just look at what he does. This is a left back, recently given a bit more licence to get forward after a change in formation, and he decides to dribble forward, lay the ball off, and run straight at the goal. His reward was scoring a goal in the six-yard box. I can't tell you the number 0f times I've bemoaned Liverpool's strikers not being in the six-yard box this season, and here was a left back stood there sure he was going to score the opening goal — and he did.
I was starting to take him to my heart, and then he sealed the deal with his 'dancing' at Crystal Palace. In the training ground video where the celebration plans were put in place, you could tell that Moreno and Daniel Sturridge don't converse often, what with the language barrier, and it was all a little awkward really, but that didn't dissuade little Albi. He decided it was going to be a laugh, and in spite of the fact he was clearly rubbish at it, there he was annoying Gary Lineker and many others by wriggling his arms along with Sturridge after the Englishman had scored at Selhurst Park. What a lad.
I know what you're saying by this point. "This is all well and good Dave, but what are his stats like?" Well as a bearded Ricardo Rodriguez enthusiast, I'm obviously going to tell you.
So far he has two goals and one assist, with the latter being somewhat of a concern given his position and forward thinking, though he didn't register a single assist at Sevilla last season. His pass success rate is around 82%, about average for a full back, though noticeably it was more like 92% in his five Champions League appearances.
Defensively he averages 2.3 tackles and one interception per game in the Premier League, though it was almost half as many tackles and twice as many interceptions in Europe, and one particularly impressive stat is that he only gets dribbled past on average once every two games.
On the attack is fascinating as he only averages 0.7 shots per game (I thought it was more like 40) but interestingly produces 1.3 key passes per game in the league. Compare that with Luke Shaw who has averaged 0.7 per game. (stats from WhoScored.com).
As I said, we've already seen an improvement in Moreno from earlier in the season. He is more disciplined in his runs, his communication with his centre backs has improved greatly, although he is still determined to score a 35-yard screamer at some point (he nearly managed it against Besiktas).
What excites me about Moreno is that improving the flaws he has are very teachable. There are some things in football you can't learn, but he already has those in his locker. The natural talent is there, while the things he needs to improve on can all be coached, but what I love the most is that infectious enthusiasm. He would have fitted right in with last year's Tricky Reds.
When he burst onto the scene in Seville, and after his move to Liverpool, many said he had the potential to be one of the best left backs of his generation. I still see no reason to doubt them.
He's already come a long way since the cottage cheese cottage in the marmalade forest between the make-believe trees… sorry, watch Flight of the Conchords.
[rpfc_recent_posts_from_category meta="true"]
Pics: David Rawcliffe-Propaganda
Like The Anfield Wrap on Facebook