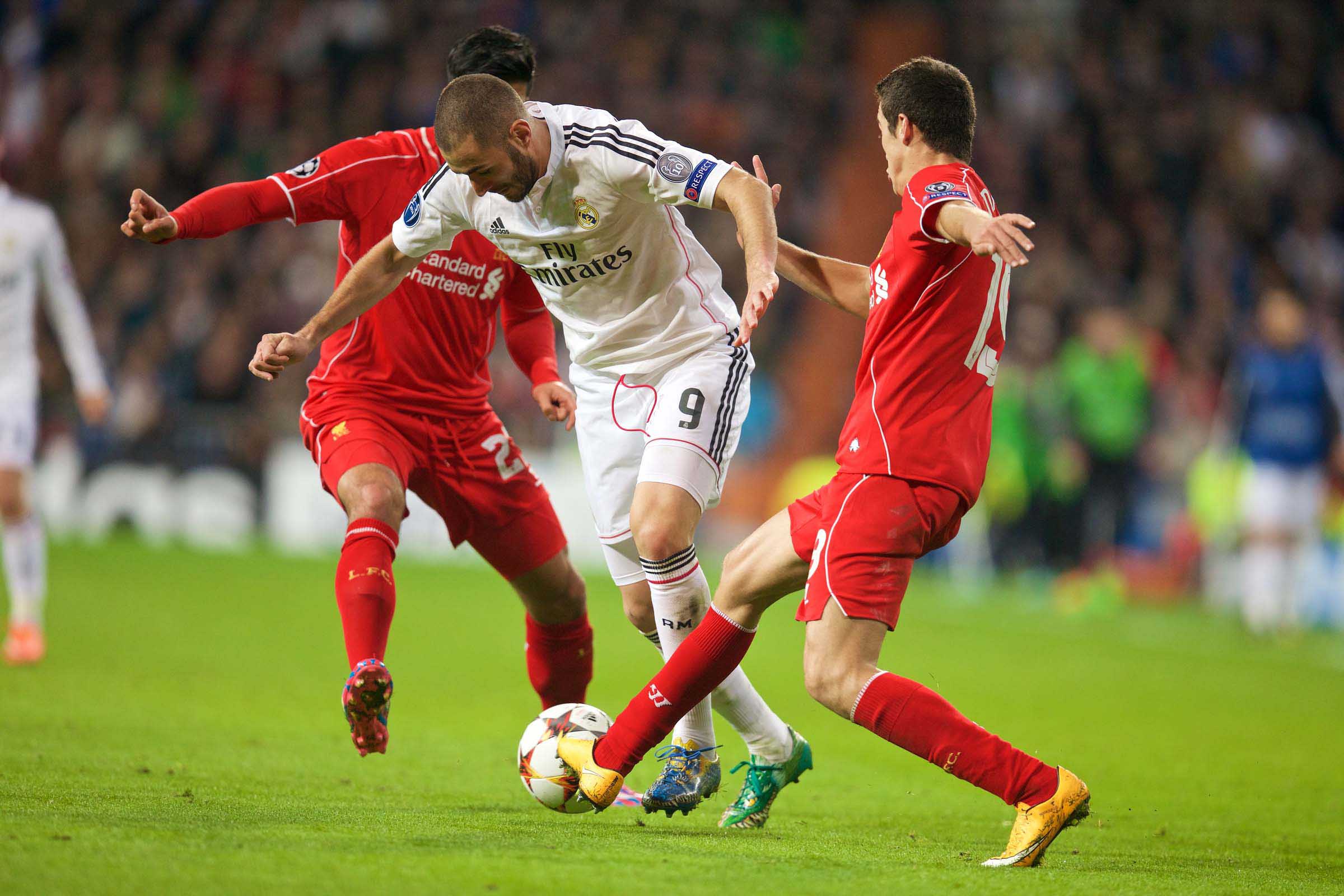 I WAS an angry Red.
On Saturday I could barely keep myself from choking on my own rage (ala Moe Szyslak) at the ineptitude of the 'performance' against Newcastle. I didn't think I could get any angrier… and then I saw the starting line-up Brendan Rodgers had picked to take on Real Madrid, Champions of Europe, in the Bernabeu. I was furious.
I was furious, not at the manager, not at the selection or any of the players in it. I was furious with the reaction from the media, from the general Twitterati, and most of all, with my fellow Liverpool FC fans.
"Rodgers has given up already! He's picking the ressies. We're gonna get smashed!"
"My God, what's Toure playin for? We're gonna lose by double figures here!"
"Rodgers is disrespecting the club, the fans and the captain with that selection #RodgersOut"
Everyone from the most respected journalist to the lowliest United fan was saying the same thing. Brendan Rodgers selection indicated that he had given up before the game had even begun. No he hadn't, and neither had the players. The only ones who had done that were the fans.
Don't get me wrong, I saw the line-up and initially thought myself "Oh balls. This might be a bit heavy.", but then I had already been thinking that our 'first choice' team, the one Rodgers was apparently supposed to pick, the one that got outplayed emphatically only two weeks ago at home by the same team, and then got fairly and squarely beaten by *expletive deleted* Newcastle only three days before, that they would be doing rather well to keep Real to three in the Bernabeu.
The problem is that Liverpool are currently playing quite badly on a regular basis, and as is to be expected, the knives are starting to come out and aimed at the manager, the same one who took us to an outrageously improbable second place in the Premier League five months ago. Once questions start circling about the manager, everything he does is scrutinised.
I understand that the default position is that when you've fought for so long to get back into the Champions League, and you're playing Real Madrid in the Bernabeu, by definition you play your strongest team. I understand that it was a surprise that Gerrard, Sterling and Henderson were on the bench (especially Henderson. Bit rich being taken all the way to Madrid, doing the pre-match presser, telling everyone how well we're going to play, and then not playing), but not one person seemed to be willing to step back, take a deep breath, and try and understand why Rodgers had made the choices he did, so I did it.
Right, this so-called 'reserve team' was:
Simon Mignolet – Our first choice keeper
Javi Manquillo – Our best performing right back so far this season
Martin Skrtel – First choice
Kolo Toure – Raised some eyebrows but has never played as badly for Liverpool as Lovren currently is
Alberto Moreno – First choice
Lucas – The only defensive midfielder at the club. We were playing Real Madrid in the Bernabeu. Should also have played at Anfield
Joe Allen – First choice
Emre Can – A fairly expensive summer signing full of promise who has done well in his cameos
Adam Lallana – Our most expensive summer signing at £25m
Lazar Markovic – Our second most expensive summer signing at £20m
Fabio Borini – The only mobile striker we have who isn't injured. Can you imagine how isolated Lambert or Balotelli would have been?
Of course as a result of picking this team it meant that our bench had Henderson, Gerrard, Coutinho, Sterling and Balotelli on it. Not bad options to bring on if you're still in the game after an hour.
While I understand the argument that you play your strongest team in the biggest games, who's to say what our strongest team is at the moment? Is it the one that got battered by Real at home? Is it the one that couldn't break down Aston Villa or Hull at Anfield? Is it the one that got deservedly beaten by Newcastle on Saturday? Or is it the one that went toe-to-toe with the European Champions in their own back yard, matched them for 93 minutes and came away disappointed they couldn't grab a draw?
All I heard all summer was how Liverpool needed to invest and buy in numbers. They needed a bigger squad to compete in all competitions. Turns out if you actually use that squad for anything other than the early rounds of the League Cup then you're a moron who is disrespecting the club.
One thing I will say is that I wouldn't have picked the team Rodgers did, or not exactly anyway. I'd have started Gerrard and Sterling in place of Allen and Markovic, but the Gerrard selection would have been largely sentimental. Yes he's still a good player, very good at times, and he is of course a club legend, but why can't the manager drop/rest him? Just because it's Real Madrid and Gerrard really really wants to play? I disagree with Rodgers' decision but would never be so arrogant as to question his right to make it. He is the manager of Liverpool FC and Gerrard is ONE of his players. Rodgers thought Lucas would be better suited, and on the evidence of how the game panned out, I'd suggest he was right. If Gerrard feels hard done by then he can pull up his socks and make damn well sure we beat Ludogorets and Basel so he can have another chance at facing a big team this season.
As for the game itself (Neil Atkinson has already reviewed it rather well so I'll keep this brief), Liverpool lost. They lost and they failed to score again. It took until the 55th minute for them to have a shot. Madrid had taken 14 shots by that time, and you know what? Liverpool played really fucking well *expletive not deleted*… all things considered.
There was a clear gameplan to keep the shape, frustrate the hosts and limit them to half chances, and they did that with relative ease for almost the entire game. The unmatched quality of the opposition meant that something like Marcelo's break down the left and perfect ball to Benzema was inevitable at some point, but that aside Liverpool contained Real Madrid almost completely, limiting them to long range shots and half-chances. You know, Liverpool who are shite at defending against the likes of Villa and Middlesbrough, and with their 'reserve' team no less. Liverpool were immense at defending in Madrid. Just drink that sentence in.
There was little in the way of dangerous attacking, but the stats didn't tell the whole story. Liverpool spent quite a lot of time in the Madrid half, but were much less inclined to shoot from ludicrous range (apart from Moreno, once) and came up against Sergio Ramos and Rafa Varane. For those of you not familiar with Spanish football, they're both rather good.
Mignolet made his saves, including a couple of crackers from Cristiano Ronaldo, who by the way failed to score for the first time in 12 games, but that must have just been because he decided to have an off night right?
The defence was solid, barring the odd hiccup. Manquillo played better than Johnson has all season, though was culpable for letting Marcelo in for the goal. Skrtel made a couple of possession errors but made up for them with tackles and about 50 headed clearances. He finally decided to stop grappling at corners and just attack the ball, and wouldn't you know, it worked a treat. Has Rodgers finally figured out the way to defend set pieces is to head them away? Toure was very good, especially for an older player with very few recent appearances. The recent form of Dejan Lovren meant that the risk in playing the Ivorian was minimal, and when he went on a run down the left, taking on and beating men, I was up singing the Kolo, Kolo, Kolo song. And then there was Moreno…
I'm starting to love Albi Moreno. The impish little left back has had his critics, especially following the goal he was apparently entirely responsible for at Newcastle. For those who still think that, try and watch Jamie Carragher's piece on it from Monday Night Football. He explained perfectly why that criticism was incredibly harsh and ill-informed. The £12m lad was electric in the Bernabeu, constantly showing for the ball, getting forward, getting back, breaking through the middle, standing up front, winning back possession from impossible angles and having shots. He has had a couple of issues defensively, but when he's on it and progresses further, this lad is going to be the business.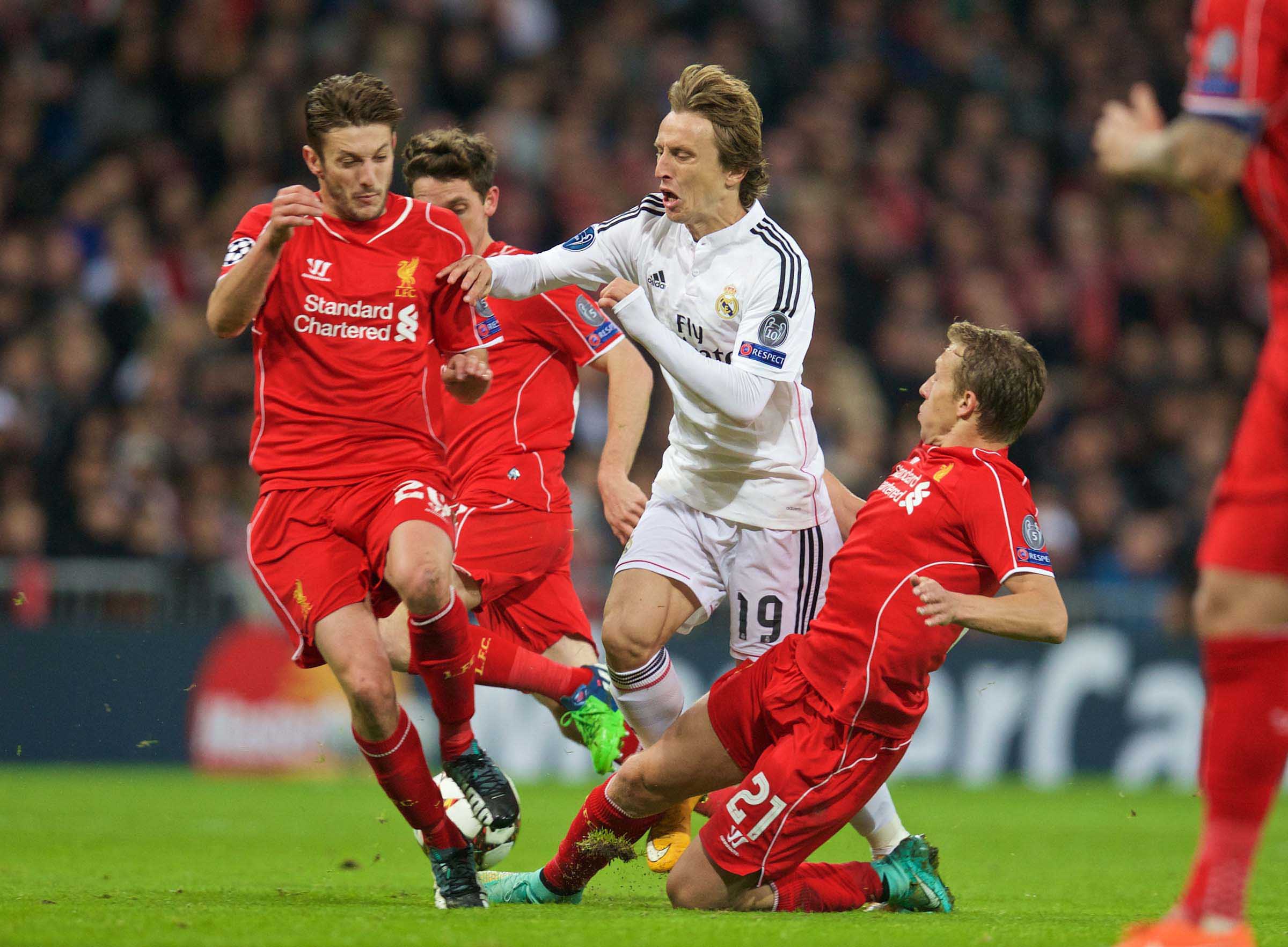 Lucas did what Lucas does. He defended. He stood in the midfield and he defended. Remember when we used to do that? Me neither.
Allen was, in my honest opinion, rather poor. He gave the ball away with all the regularity of a Momo Sissoko, and although he sometimes won it back too, it wasn't really enough to justify why he was on the pitch instead of Gerrard, Henderson or Coutinho. The fact he played the full 90 either shows Rodgers' incredible and slightly misplaced faith in him, or that he's not going to be playing on Saturday. Emre Can was good, at times very good, at times sloppy too, but you can absolutely see there is a player in there. He needs games, ideally away from home one would think.
Lallana played well, showed some nice touches, turns and flicks and played some good set pieces in, but was sometimes a tad too isolated (and kept getting blamed for Allen and Borini's errors by the presumably partially blind Clive Tyldesley). Markovic again didn't really take his chance to shine, but had little moments including a terrific run to carry the ball 60 yards up the pitch and win a free kick. His defensive work was also good. Borini showed the movement and running that has been lacking so much this season, but didn't have anything like the skill or technique to make use of it. All he really did was show again what an odd decision it was not to sign a higher calibre striker of that mould in the summer. Worked very hard though and that has to be admired, especially by a Dirk Kuyt enthusiast such as myself.
Sorry, that wasn't as brief as I'd planned.
Liverpool played well, a hell of a lot better than people gave them a chance of doing beforehand. Sure, a loss is a loss and of course who can forget that "WE ARE LIVERPOOL", but at the end of the day, at the end of the game and at the end of the anger, if you watched that match and came out of it more upset than when you went into it, then quite frankly you should really start looking at why you bother to follow football at all.
The default position is anger, and it's not just at Liverpool, it's at every football club. The Newcastle and West Ham fans who were spitting acid not that long ago are now singing songs of joy. We are currently losing games and until Tuesday night, were playing bad football. I get as angry as anyone, in fact I would venture to guess that I am rather high on the angry-o-meter after bad results/performances (knuckle skin has been broken more than once this season), but I am proud of the lads for their performance in Madrid, and I'm proud of our manager for having the balls to make the selection he did.
There is only one way you succeed at a club like Liverpool. You whack your giant balls on the table and say to the world "Whadya think of them then?", and that is exactly what Rodgers did, and in spite of the result, it worked.
And finally, don't anyone dare suggest to me that any other selection could have gotten a result in Madrid, or I'll get angry (resists temptation to type 'you wouldn't like me when I'm angry).
Bring on Chelsea!
@whichdave
Pics: David Rawcliffe-Propaganda