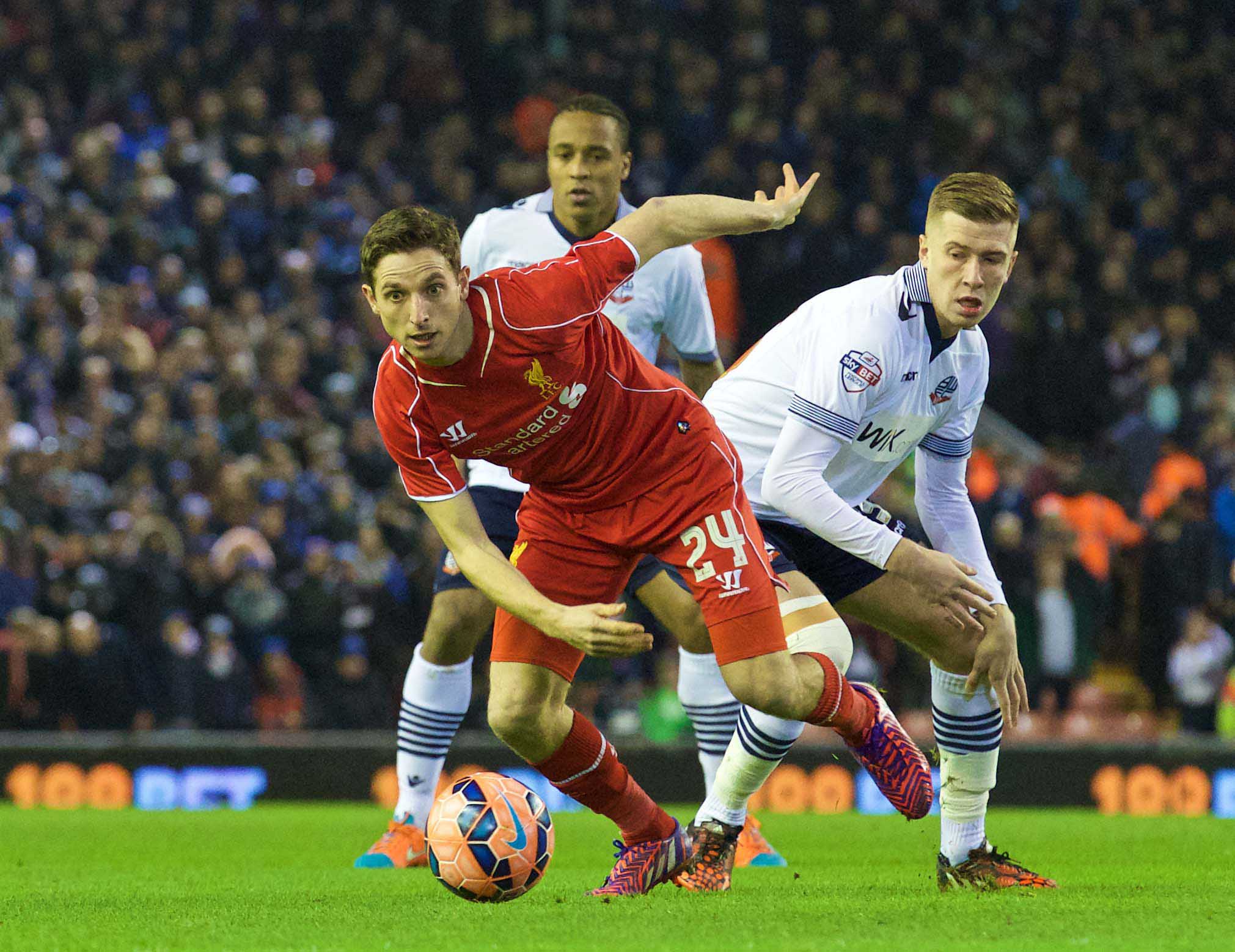 BY now I'm sure you've read Neil Atkinson's terrific piece on midfield maestro and genuine Welshman Joe Allen. In it, Neil mentions that Allen divides opinion, and in the interest of backing that up, here's the other side.
If you are a dedicated follower of Allen (bet you've got The Kinks stuck in your head now), then please don't take this as a dislike of little Joe. There has been suggestion that there's somewhat of an agenda against him from some sections of fans, but I'm not sure 'agenda' is the right word. For one, there is no-one in football less offensive than Joe Allen.
I appreciate that I probably couldn't have picked a worse time to air my concerns about the former Swansea player. He's coming off some good to arguably great performances against Crystal Palace, Besiktas and Southampton. However, my gripes with Joe are not based solely on recent times. I don't think the real Joe Allen has appeared at Liverpool since the first few months of his Anfield career.
I remember the Joe Allen of Swansea's first Premier League season. I remember him being linked with us about halfway through that season, well before Brendan Rodgers had swapped Wales for Merseyside. I remember being at White Hart Lane (I forget why though) when Tottenham beat Swansea 3-1 and being very impressed with who Allen was and what he did.
He was part of a surprisingly effective (albeit small) midfield at the Liberty Stadium under Rodgers, along with Leon Britton and Mark Gower, then later Gylfi Sigurdsson, who looked massive by comparison.
It made absolute sense for Rodgers to bring him to Liverpool. The Northern Irishman needed to implement his style fairly quickly, and the best way to do that was to work with what he could trust, to bring someone in who knew exactly what was required straight away and could influence others from the middle of the pitch.
In his first couple of months at Anfield, Joe Allen was brilliant. He was exactly what we hoped he would be. His passing was crisp, regular and always made sense. He would move the play between defence and attack in a way that a Liverpool midfield hadn't done for ages. He would win the ball back off fellas thrice his size. "Excuse me Yaya, let's just see that ball for a sec. Ta."
I really liked Joe Allen. I think we all did. Then he got injured.
When he came back, he wasn't quite the same. His passing wasn't as crisp, or regular, and didn't always make sense. He quite often stopped play as passes out from defence would go straight back to them, and he would try to win the ball back off fellas of greater size, but mostly seemed to just bounce off them.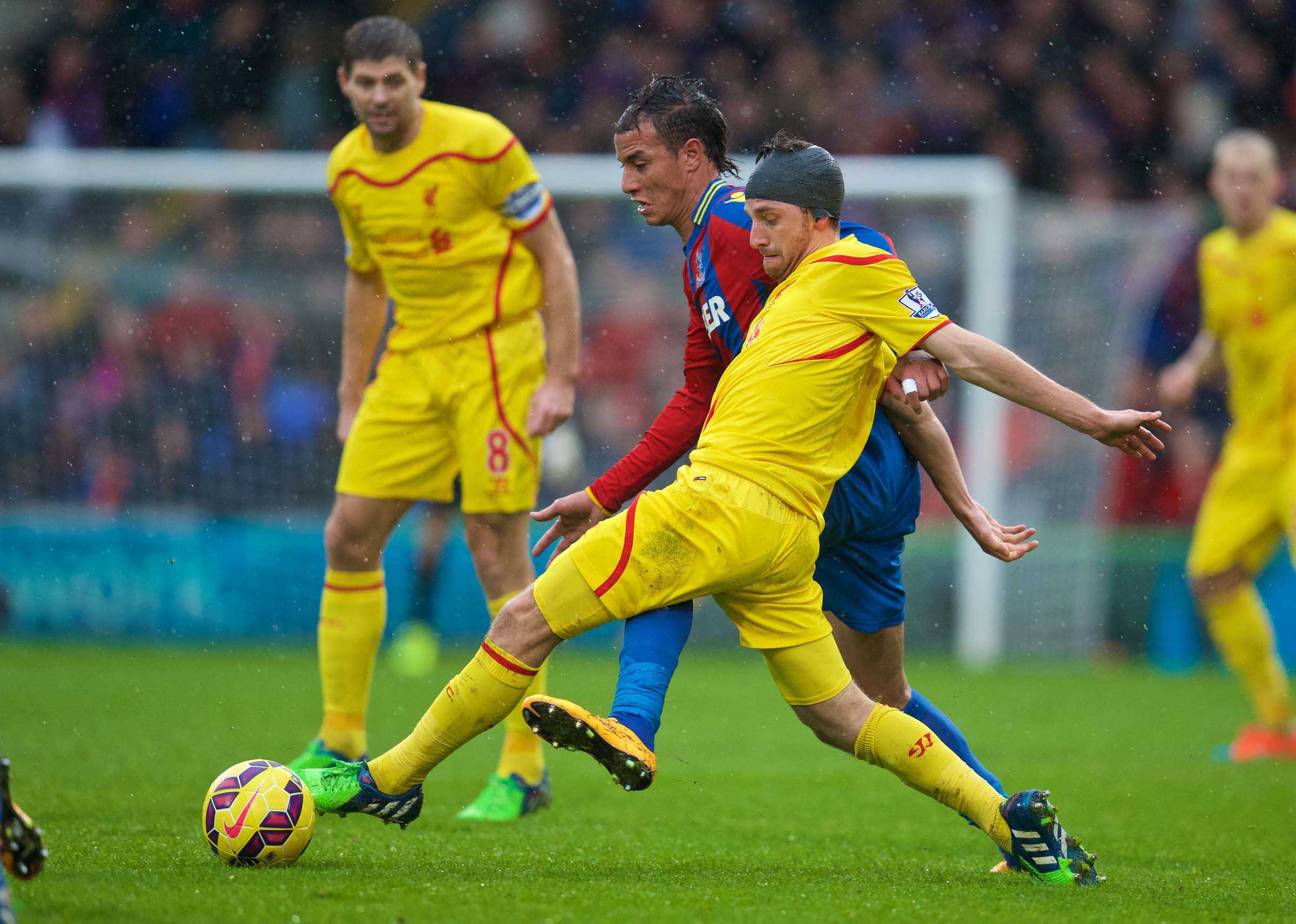 I guess my main issue is that, for me, Allen has never really reached the heights of his Swansea days at Liverpool, or even the bar he set himself in his early Reds performances. I miss him.
One thing that may have hindered him has been his tag of the 'Welsh Xavi', bestowed on him by Rodgers on the day he was signed. It was intended as a bit of tongue-in-cheek praise, but has ended up following him throughout his time at the club, with many using it in a derogatory manner, akin to those who still to this day call Bruno Cheyrou 'the next Zidane'.
I know it's not necessarily fair to blame Allen for this, but it sums up my feelings of him that — on the rare occasions he has scored for Liverpool — the Reds have never won, and in fact all three goals have come on very disappointing nights. Against Zenit at Anfield when we were knocked out of the Europa League, at Oldham when we were knocked out of the FA Cup, and at Selhurst Park in the 0-6* last season (*source: Neil Atkinson). When Allen scores, I end up very unhappy. Perhaps this is all just based on association.
I didn't have much of a problem with Allen until this season. But then there was the Basel game, and then at home to Bolton a month later. This was a turning point for me. This was when I decided that me and Joe Allen had fallen out.
Don't get me wrong, plenty of players were poor in both of those games, and I am not laying both results solely at the door of the Welshman, but these were games that you felt could have been landmark moments for Allen, chances for him to make that role in the middle of midfield his own. He, along with others of course, was very much below par on both occasions. Misplaced passes (lots of them), shying away from tackles, a refusal to shoot and a general lack of urgency. Allen was beginning to get on my nerves.
Many people of course allude to his goal and assist numbers, or lack thereof, as the chief reason why Allen should not be in the side. It's not really a strong argument as goals aren't Allen's game, but should they be?
In his one season in the Premier League at Swansea, under Rodgers remember, he scored four goals. He still hasn't scored that many for Liverpool. It may well be then that he has been instructed not to bother with that side of things. He can clearly score goals, he's done it a little bit before, but he never really comes anywhere near for the Reds. Since he arrived he has consistently averaged under one shot per game. It's just not his thing.
However, the assists record is a bit more of a head scratcher. For a midfield player who specialises in passing, it is remarkable that he has not registered a single assist for Liverpool. Again, he managed two in his top flight year at Swansea, but not a single one since his move.
That raises the question that many ask themselves about Joe Allen. What is he for?
One problem that perhaps doesn't do Allen any favours is that in his time at Liverpool he has largely played alongside Jordan Henderson. The vice-captain has become a vital part of the starting XI in the last year, but of course it wasn't always this way. Henderson has never really been a specialist at anything either, but he won us over with his effort, his enthusiasm and his sheer determination to prove himself. It got to the point where Liverpool missed him badly in the title run-in last season, with some suggesting that his suspension may have cost us glory.
Neither Henderson nor Allen were goalscorers, assist machines or ball winners, they were just generic midfielders. Henderson has stepped up since then, but Allen seems a bit stuck.
Then there is Lucas. Allen seems to essentially be our back-up Lucas these days. Of course the problem is that he isn't Lucas. He's a diluted version of the Brazilian (or di-Lucas-ed if you're a fan of laboured puns).
He can break up play, but Lucas is much better at it, and you notice when that's not there. Allen did it well against Southampton, but his foul (and it was a foul, Brendan) that should have conceded a penalty was an example that he's not at that same level. Of course you could argue that Lucas may have done exactly the same thing had he been there, but it was an act of panic. Lucas doesn't panic.
I would be far from devastated if Allen were to remain a Liverpool player. Like I said, I like the guy, and I know there's a very talented player in there. He used to be one, and his recent form may suggest that he's starting to find that level again. Maybe regular games is the answer. My concern is that if Liverpool are to progress as a squad, I just feel they need to upgrade on what Allen brings to the table.
I look at Juventus. An astonishing power in Italy in recent years, and they look like they're starting to impose themselves in the Champions League. Their regular midfield is Andrea Pirlo, Claudio Marchisio, Arturo Vidal and Paul Pogba. They dominate near enough every game they're in, and win games often where you feel they could have managed it without a defence and attack.
In that four, every single player has a clear role, and is a specialist in one crucial part of play. Lucas has a specific skill he's great at, Henderson has another skill that he's great at, Gerrard the same, but Allen is just a bit of a 'jack of all trades', which would be more forgiveable if he did contribute at least a little bit on the goal front. The big problems is that what Allen is best at, he's not been great at for a while.
People call him a water carrier, and that's a fairly accurate description. A water carrier can be absolutely vital. I don't agree with the idea that every great team needs one, but if you have a good one they can be just as important as your star striker. However, in the last couple of years it seems that Allen's had a bit of a hole in his bucket (dear Liza).
Joe, if you happen to be reading this, please prove me wrong. Go out there and show me, and everyone, that Joe Allen is a boss, a maestro and indeed, the Welsh Xavi. Actually balls to that, the Welsh Joe Allen… who is brilliant at footy. The last week has been a good start to that.
I have some eggs. I have a face. Your move Joe.
That said, if anyone on the Kop can get a Kinks/Joe Allen chant going at City on Sunday then I will happily change my mind and keep him for the next decade.
[rpfc_recent_posts_from_category meta="true"]
Pics: David Rawcliffe-Propaganda
Like The Anfield Wrap on Facebook