The Anfield Wrap's match preview before Leeds United v Liverpool in the 2022-2023 Premier League at Elland Road…
ON a recent episode of Ban This Filth, I campaigned for Leeds to be relegated from the Premier League. 
Fellow guests Neil Docking and Dan Austin gave impassioned pleas for other candidates, but I felt mine was the strongest case. Obviously, Everton had been removed from the list of runners in the interests of debate. You can't have a show with three lads just nodding in earnest agreement for an hour.
Leeds United currently sit two points above Everton in 16th place, having just been spanked 5-1 at home by Crystal Palace. They've got Leicester City and Bournemouth coming up soon and then their run-in looks grizzly to say the least, with Manchester City, Newcastle United and Tottenham Hotspur to come, though that last one comes with all sorts of caveats. Consistency isn't really their thing.
Nor is it ours for that matter. I've no idea what to expect from The Reds anymore. Awful at City, Chelsea and for half an hour against Arsenal and then strangely alright when they got sick of being a bit shit. 'Alright' should be good enough to take the points at Elland Road, but I would have said the same at Anfield last October when we lost to a late Crysencio Summerville goal.
That was the angriest at The Reds I've been for a while. To lose to them in such a haphazard fashion was worse than the performance at the City Ground the week before and that's saying something. Such a stupid goal to concede in injury time. Five Reds watching as they ran between us to give them — them of all people — an easy win.
Yes, them of all people. Leeds and I have never got on. I'm too young to remember the rivalry from the late Bill Shankly period when they were the darling thugs of the league, but I've always held a dislike for them nevertheless. Last year's trip to Elland Road cemented that view.
I wrote last week that Liverpool should be using the passion of that Arsenal second half to build some level of momentum till the end of the season and use it as a therapeutic exercise to start anew in August.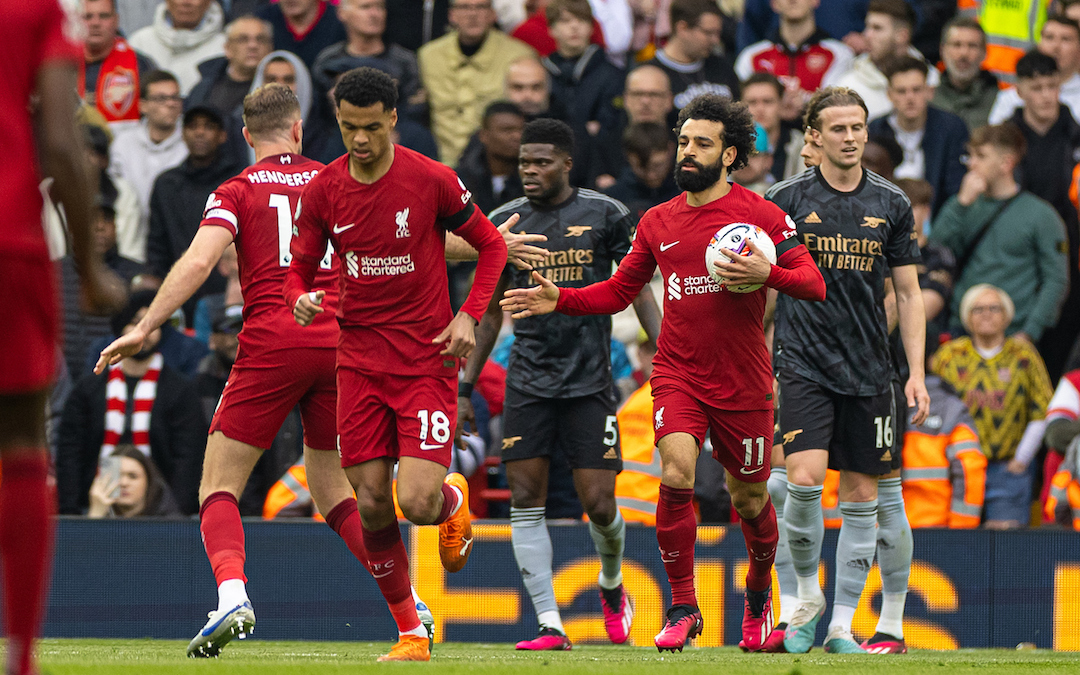 I was reminded more than once that a 7-0 win against Manchester United might have been a good start too and we haven't won since. In fact, we scored more goals in that second half than we have in the next five games.
So, in other words, God knows what will happen tonight. An 8-0 win or abandoned due to sheer boredom. Anything can happen.
Alisson Becker and Ibrahima Konate missed a few sessions apparently but should start. Whether he takes a risk on Luis Diaz remains to be seen but he gets on, I reckon.
Leeds will be up for it. They need the points and it's us and they seem to hate everyone so that'll crank up the atmosphere. We need the first goal, though I think that's the case with all of our games these days. Too often we've gone out in a placid frame of mind and lost concentration early on. Maybe we could draft in Granit Xhaka to do the team talk.
I'll take the dirtiest, sweatiest 1-0 win here. Maybe deflected off the linesman. That would be nice.
Into these, Reds. These of all people.
Predicted 11: Alisson; Alexander-Arnold, Konate, van Dijk, Robertson; Fabinho, Henderson, Thiago; Nunez, Gakpo, Salah… Sub: Constantine Hatzidakis
---
"Having Luis Diaz come on from the bench will send that away end wild."

"At the beginning of the season there were different times where it was him looking to drag us by the scruff of the neck. He constantly looked like the biggest threat for Liverpool."

🎥 The Team Talk pic.twitter.com/GCEAM18o8C

— The Anfield Wrap (@TheAnfieldWrap) April 17, 2023
Recent Posts: