Liverpool fans may feel that there isn't much left to play for, but The Reds' draw with Arsenal can still provide momentum to end the season…
RIGHT, let's get to the main business.
If you were at Anfield on Sunday, there was a definite strand, a question, which ran through the proceedings. So many made very bad calls, so it's time to address it…
What was your coat game? Did you go too strong or too flimsy?
I reckon I got it right. Just. I put Big Winter away and plucked out Thick-ish Jacket from its neighbouring peg.
My brother-in-law took both a Reasonably Warm Jacket and Oversized Hoodie in the car but still chose unwisely when we parked up. The lad behind me in the Upper Annie was equally disappointed and proceeded to mutter 'fucking freezing' every five minutes.
Another to my left wore shorts but tried to style it out by rolling his shoulders and pulling his collar away from his neck a la Mr McKay from 'Porridge' (always teenage relevant, me) in faux macho calmness. I swear his legs were blue by the time Roberto Firmino scored.
April is the cruellest month.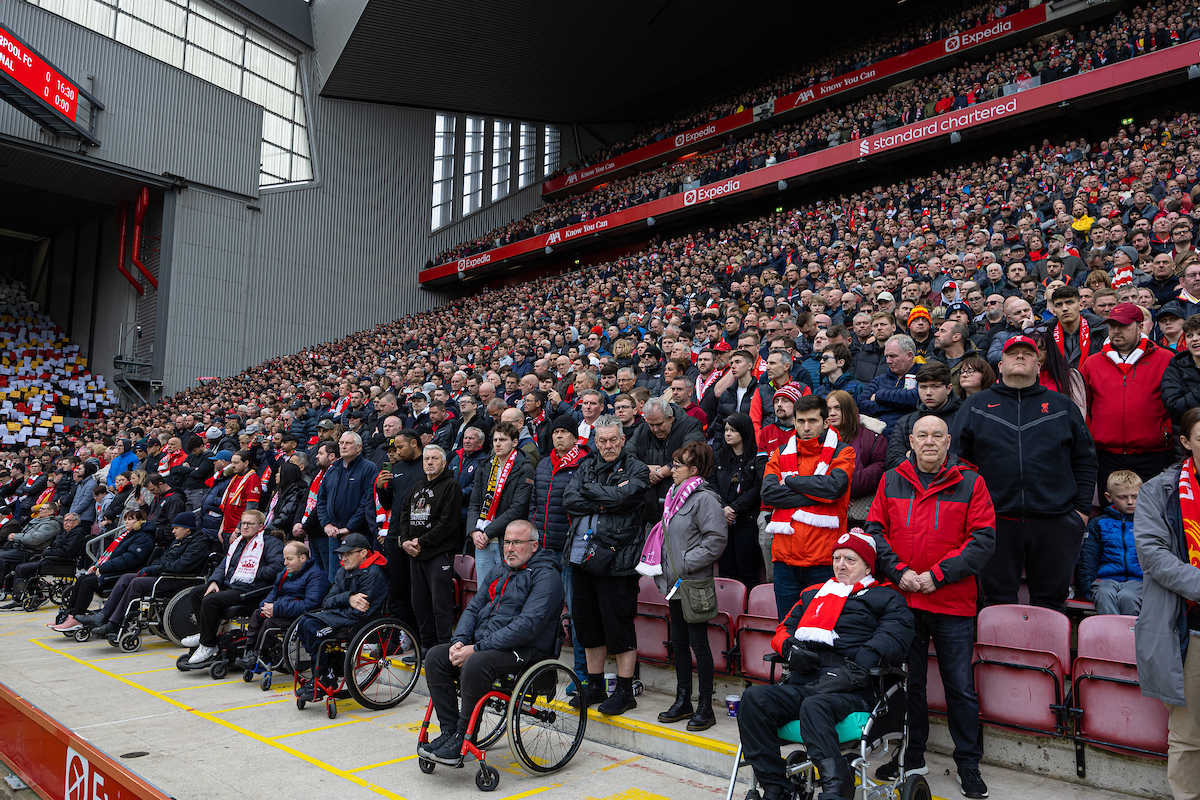 The game itself was Liverpool 2022-23 in a microcosm. Panicky, unsure of itself, lethargic, capable, gutsy and, to be honest, a bit unlucky.
The first half hour, though. That saw an exercise in passing, threat, strategy and punishment. Sadly, that wasn't us. That was Arsenal.
I've always found them to be a weird club. They're capable of so much more than they deliver, but seldom seem to believe in themselves when it matters. That's usually evident on the pitch and most seasons we see a tight game at their place and an easy three points at Anfield.
This wasn't the case on Sunday. They played with us rather than against us for that first half hour. The 2-0 scoreline — the second goal being abject from our point of view — flattered us then.
And yet there was still some muscle memory lying deep somewhere.
Too often this season, we've gone behind and felt sorry for ourselves. A far cry from the title-winning season where injury time winners seemed the norm. Manchester City was an apology of a performance, Chelsea a nothing, but Sunday showed that Liverpool play better when they're annoyed. We've not been annoyed enough for a while.
I wonder just how much of this is due to the lack of atmosphere. I know, it's sacrilege to criticise Anfield and I may be being unfair as I'm usually tucked away at the Annie Road end of the Main Stand — which is an ideal place to catch up on a nap, but there's usually hardly any noise five minutes after kick-off.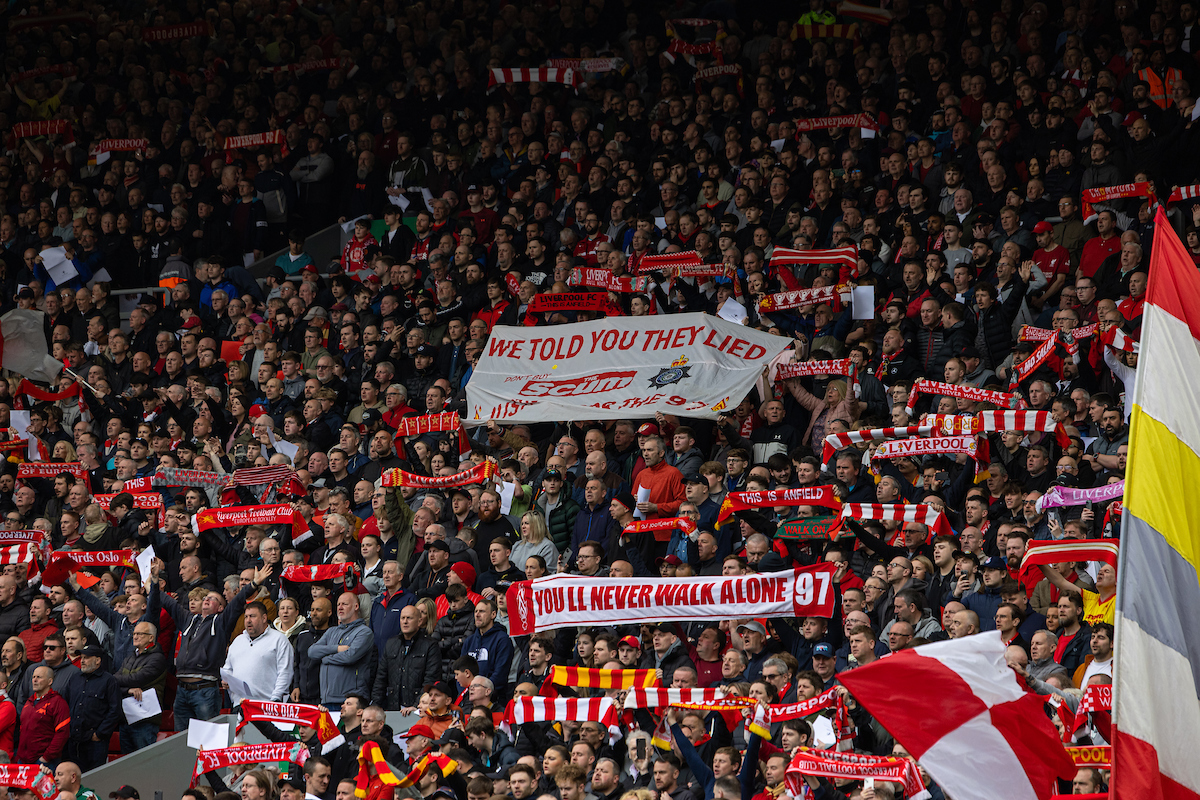 This time it took Anfield favourite Granit Xhaka to light the flame. Then we were in business. After that we looked like a side sick of its own lethargy and wanted to right a few wrongs. It's been a while and it's been too long.
The point probably doesn't do either of us any good, but it was certainly one that will live in the memory. Sometimes we're too invested to realise that the contest we're watching might just be a classic. Maybe that's too strong a word, but I felt entertained rather than just relieved or pissed off, which is my usual post-match feeling.
Of course, the main story of the game took place at half time when the linesman tolchocked Andy Robertson on the chin. Come Monday afternoon, the battle lines were drawn. The evidence of our own eyes versus media compliant pundits and rival fans.
Take your choice. He either never officiates again or it's about time someone put these pampered millionaires in their place. It's atrocious that there's even a defence in place. Roy Keane, that stalwart champion of 'Respect the Ref' or whatever it's called these days, called Robbo a 'big baby'.
Strange. I don't recall Robbo storming off into the wilderness while captaining his country because someone gave him a cheese butty instead of a bowl of pasta. Talking to me about 'getting on with the game' there.
But hypocrisy will always come into play. People will always defend anything to protect their shirt and I'll be accused of being no different. I'll say this, though. If that elbow had landed on England's captain instead of Scotland's, would there be so many column inches to defending the official who had 'just had enough like any other human being'?
Yeah, I know. Conspiracies and all that. Never our fault.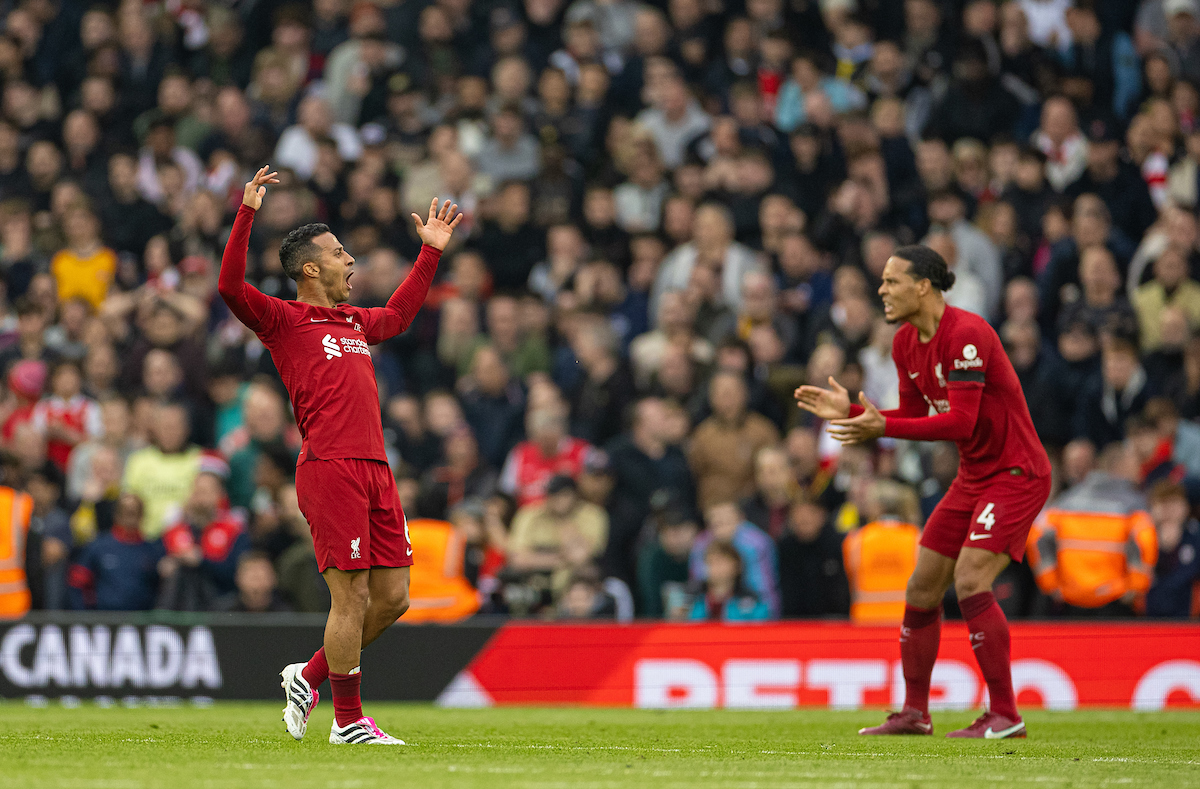 But all that's a distraction. They'll convict or justify accordingly, though there's a risk in making it alright for officials to have a dig at players. Anthony Taylor might go all Joe Pesci next time he comes to Anfield.
What matters now is Liverpool and the rest of the season. There are a new set of questions now. Is Trent Alexander-Arnold a midfielder now? How good was Ibrahima Konate? That tackle was incredible. Is he both a centre back and a right back now, or are we going to see more of a three at the back?
I thought Curtis Jones did well, though he still needs to move the ball on quicker. I liked Jordan Henderson's drive which might be a by-product of Trent's new position. I also liked Arsenal's support. True, loud and not one reference to a disaster or poverty. Other clubs, please take note. You can be like that too.
Leeds next, then. A week is a long time in football and if this season is anything to go by, we may not use the momentum of that second-half performance as we should, but here's hoping. There's still muscle memory in there, deep in the muscles and when our blood is up we're still something to behold.
Let's take this forward to Elland Road. This team will need changing so let's end it on a high. Let's do it for the lad who got us out of the shit in the 87th minute. He deserves that.
Don't forget to bring a coat.
---
"Play angry like that all the time please, Reds. You should be angry."

"When they do find themselves in that phase, Liverpool are absolutely irresistible. They are practically impossible to face…"

🎥 The Anfield Wrap pic.twitter.com/uA6O7kPrQB

— The Anfield Wrap (@TheAnfieldWrap) April 10, 2023
Recent Posts: