Diogo Jota has return to full training and his timely return could come at a crucial time for Liverpool to turn their season around…
POOR performances, tactical tweaks and immense frustrations. It has been a season of things.
There are circumstances associated with this season that any team would struggle with, but Liverpool have too often been their own worst enemy; they have too often harmed themselves. Not long ago they were beating teams for fun, but now they've let themselves become the easiest side in the league to play against. Just how did we get here?
Part of the responsibility lies with the players, who are feeling the effects of last season. Part of it lies with the owners, whose refusal to invest in an ageing squad is taking its natural toll. Part of it is down to the manager himself. Injuries to key players have undoubtedly forced Jürgen Klopp's hand, but any interim solutions or tactical tweaks have so far failed to bear fruit.
That's been particularly pertinent in the case of Diogo Jota, with The Reds missing attributes typically synonymous with the Portuguese international.
Since arriving in the summer of 2020, Jota has established himself as one of the club's best forwards due to his unique and widespread skillset. He can pick a pass, he knows when to make a run and is ruthless in the air despite his relative height.
He is every bit a Liverpool forward; a clever footballer with great awareness whose work in and out of possession make him an integral part of the system. Therefore, it's of little wonder that Liverpool have struggled since he sustained a calf problem in the 1-0 win over Manchester City back in October.
A core factor in our quadruple run last year was the ability to peg the opposition back, pressing high up the pitch and forcing mistakes. Jota was right at the heart of that, scoring 21 times — 14 of which were the first goal in a game — and bridging that gap is an issue Klopp is so far yet to solve.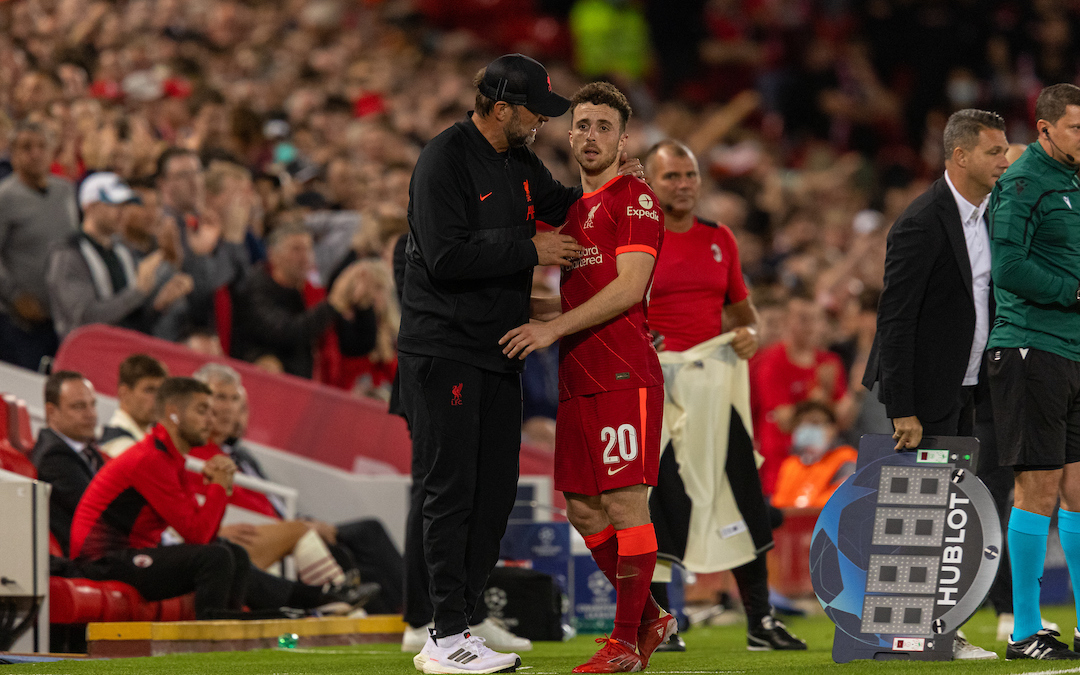 A constant nuisance to play against, Liverpool are an entirely different prospect with him than without. In this season of things, his absence is arguably the biggest one.
He can run at defenders, dragging the opposition out of position and disrupting the backline, and it is the increased sense of unpredictability he provides that benefits all his fellow forwards.
Mo Salah in particular has suffered this season, bereft of space and often double teamed, but having been involved in full training this week ahead of the Merseyside Derby, Jota's impending return should help alleviate those issues, giving the opposition another headache to contend with.
For all the talk of midfield reinforcements and defensive numbers, the energy and intensity — or lack thereof — has been just as glaring. Where pressing once defined the nature of this side, it is now an increasing rarity, but the hope will be that Jota's return provides a renewed sense of purpose to the side.
He will need time to get back to his best, of course, but he is a player who has so often come up trumps for Liverpool when they've needed it most. It isn't the easiest of times but in Jota, there is a sense that the clouds may soon lift or, at the very least, the rain may fall a little lighter. That there is hope Virgil van Dijk and Luis Diaz will soon follow suit is even better.
None of them should be rushed, but all of a sudden the squad is starting to look a little healthier ahead of a critical month. Cautious optimism or blind faith? I'll let you decide.
For now, all eyes on Monday. It's the big one.
---
🗣 Liverpool Hit New Lows In The New Year: The Overview | #NewPodcast | #LFC

Assessing the state of play as The Reds hit new lows. @RobGutmann hosts @Knox_Harrington, @DamianKav and @DavidSegar_…

1️⃣ Download our app
2️⃣ Get FREE tokens
3️⃣ Listen

📱👉https://t.co/eNpQIJSgGi👈 pic.twitter.com/XRANKFHsNq

— The Anfield Wrap (@TheAnfieldWrap) February 9, 2023
Recent Posts: