The key performer for Liverpool in recent years has been Fabinho, and his position could be key to solving The Reds' current midfield issues…
IT has been over 18 months since my last TAW article.
After several years of contributing to this illustrious website, I decided to take a step back. The ups and downs of the 2020-21 season had taken its toll and despite a pretty good end to that campaign, I simply didn't have it in me to go again in 2021-22.
I love the lads and lasses of TAW, but my column had run its course, my writing had become tired, predictable and easy to pick apart. It was time for fresh blood.
So, Liverpool's midfield then.
It may seem like shooting fish in a barrel to discuss the already much-maligned lads in the middle of the pitch, but like Alisson Becker being closed down by Goncalo Guedes, I wanted to see if I could find an angle that hasn't yet been discovered.
Watching Liverpool this season has been a bit like a family wedding, you want to just relax and enjoy it, but you have a constant feeling of dread that at any moment someone you love will do something absolutely mad and ruin everything.
A brainfart of doom never feels more than a few minutes away and the Wolves draw on Saturday was at times like a microcosm of the entire season. Mad moments, sublime play undone by more mad moments, and ultimately a feeling of disappointment and flabbergastery at the sheer lack of control from The Reds.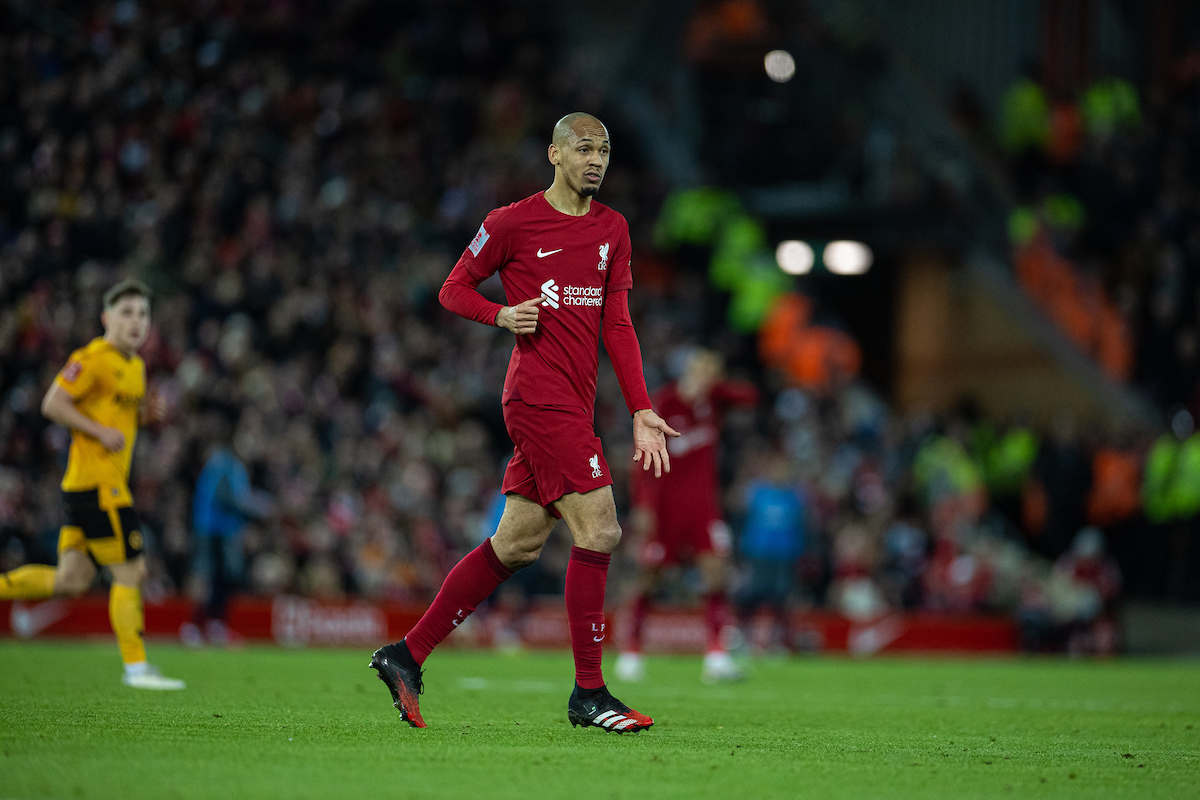 I very much buy into the idea that the problems are too plentiful and detailed to be boiled down into any one thing some goon like me could cover, but there is one thing I would particularly like to touch upon.
More or less everyone agrees that Fabinho's form has dropped off a cliff this season, which is ironic considering he has been referred to by Pep Lijnders as the team's "Lighthouse".
His arrival in 2018 coincided with the turning point from Liverpool being league also-rans to a relentless winning machine capable of smashing 90 points repeatedly.
However, we have seen before what being without an in-form Fabinho in the defensive midfield role does to this team.
Back to 2020-21, injuries meant he had to be moved to centre-back and Liverpool struggled badly. Not because he was poor there, but because the team no longer had him in midfield. Then he got injured himself.
When he was back in his familiar role last season, where he played 48 times, Jürgen Klopp's men got 92 points in the Premier League and almost won the quadruple.
Whether down to tiredness or lack of confidence, Fabinho has not been the same player this season, leaving the team looking like a coastline without a lighthouse.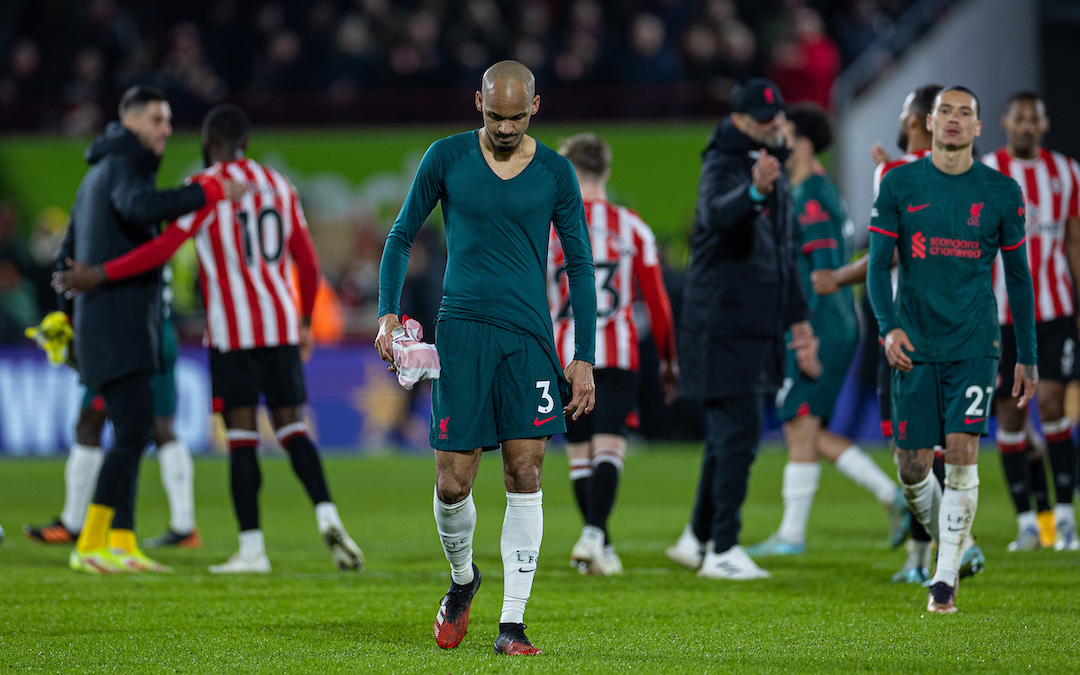 I have found it curious that the club hasn't ever seemingly moved to bring in another player who even comes close to doing what Fabinho does, though arguably that may have been what they wanted from missed target Aurelien Tchouameni, albeit in a more versatile manner.
Jordan Henderson has filled in at times but even when he has performed better in that role than he did against Leicester City, he has always played it very differently to Fabinho, and isn't getting any younger.
At the other end of the scale, Stefan Bajcetic is an exciting young prospect, but by God is he a young prospect. Of all the roles I would want to entrust to someone who only turned 18 in late October, a number six is very much not one of them. His time will come, but that should still be a way off in an ideal world.
There have been plenty of calls since Saturday for a Gini Wijnaldum-type to be brought in, with the notion that the Dutchman was never truly replaced.
I still believe Thiago Alcantara was seen as his replacement by Klopp, though obviously a very different type of player, which was probably the point. The manager wanted to evolve his midfield and when you consider last year's success, it initially worked pretty well.
It wasn't just the near quadruple achieved. Liverpool's stats in several areas were higher than they had ever been under Klopp, including interceptions, big chance creation and big chance conversion, while tackle and duel success was up there with the Champions League and title-winning campaigns.
Wijnaldum was a key cog in a very successful Liverpool team, using his skill, his determination and his backside to keep things ticking in midfield. There is probably an argument to be made that Fabinho has been impacted by having a very stylistically different player alongside him.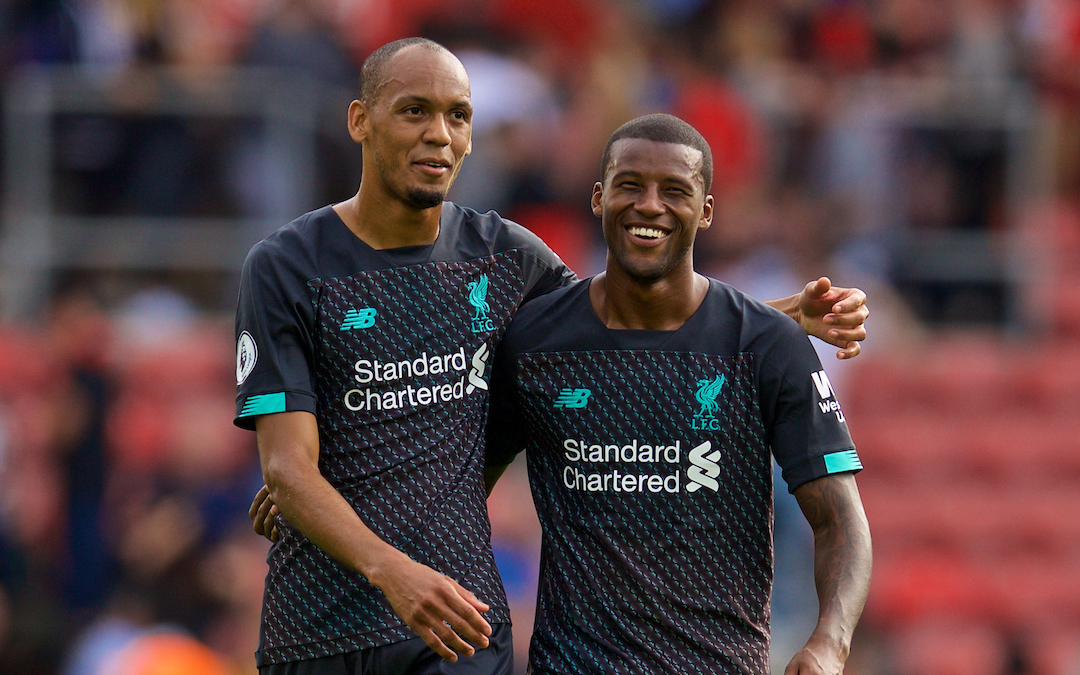 It's more likely though that he is simply knackered from doing such a demanding role for so long at such intensity, and so any signing made in January ideally needs to replace what an in-form Fabinho gives the team, if nothing else than to give the guy a break.
The familiar names like Jude Bellingham, Moises Caicedo, Enzo Fernandez and Matheus Nunes are all great and for the long-term, one or two of them will do very nicely for a midfield overhaul.
If money is tight and availability scarce in January though, the club's scouting team must get creative and not be afraid of the shorter-term option. The loan signing of Arthur Melo showed what a lack of preparation can do.
To play the role of Julian Ward from Wish.com for a minute, an example of someone the club could potentially look at in a situation like this is FC Koln's Ellyes Skhiri.
The Tunisian, on the face of it, ticks plenty of boxes. He is a defensive midfielder, loves a tackle, has experience in a top league, has over 50 caps at international level, and perhaps most importantly of all, his name is like 'Shaqiri', and I know we all miss the little grinning power cube immensely.
He is also out of contract in June and his club appear to be resigned to losing him, with some reports suggesting they'd take a fee of under £10m this month.
Also, according to FBRef.com, the player he is apparently most similar to is a certain Mr Caicedo.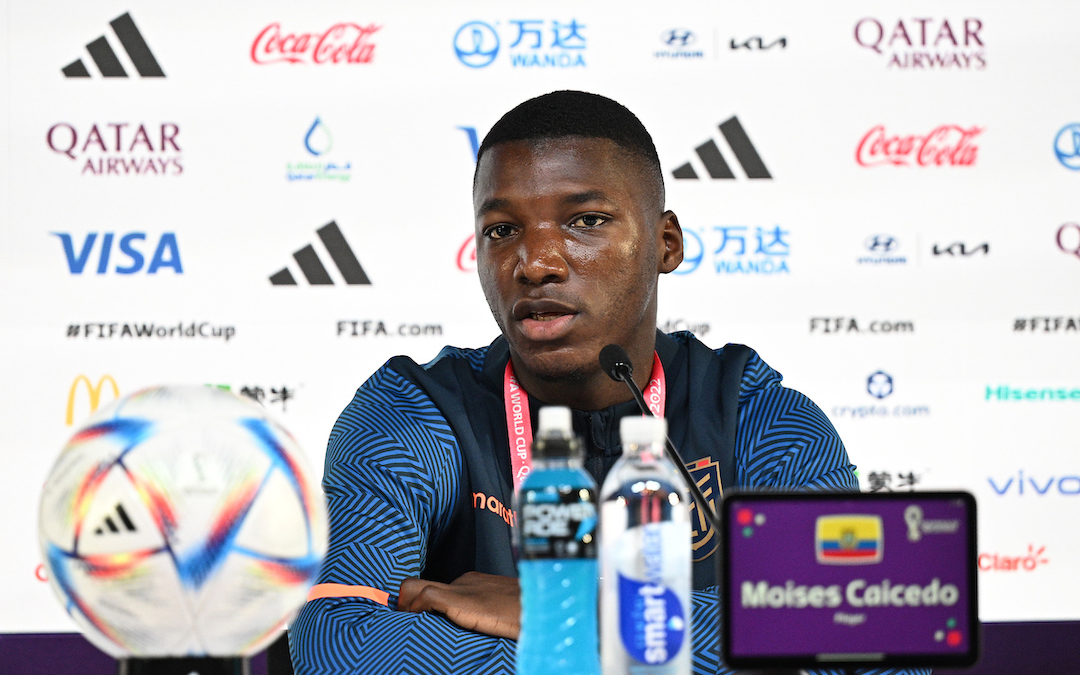 Skhiri is 27, so not quite an ideal age, but that's where we come back to Bajcetic. Give it a year or two and by the time the young Spaniard is ready to take on more responsibility for a club aiming to win everything, either Fabinho will have moved on, or Skhiri can be another Takumi Minamino who can potentially be moved on for some money.
That, or Liverpool will need three DMs to get through a season of 95 games once FIFA and UEFA have introduced even more competitions.
There is also a review of him on the Bundesliga website that says he runs… A lot. Apparently in 2020-21 he covered more ground than anyone else by over 8km, while only Joshua Kimmich has run more so far this season.
I'm no expert, but I do believe a lot of what Liverpool are suffering from in midfield can be helped by someone who can not only win his tackles but is also capable of Forrest Gumping it about for 90 minutes.
Now that is not me saying we should definitely go and get the fella, there will be several other important factors I've missed as just some idiot with too much free time who did some relatively half-arsed research, but it is at times like this where Liverpool's transfer nerds must use their whole arse.
Indeed, much like Wijnaldum did.
---
Recent Posts: