Despite Liverpool suffering a drastic downturn in form and fortunes this season, Alisson Becker is still The Reds' leading man in goal…
I'D be lying if I said football wasn't hard work at the minute.
As if January wasn't bleak enough, watching The Reds lose their identity and intensity has made it tough to get remotely up for the game.
There's the obvious fallout from coming so close to the quadruple last season only to miss out by the skin of our teeth. Thiago Alcantara spoke recently about not only the physical toll it took, but the emotional drain felt in the dressing room.
Footballers are still human beings and the inevitable disappointment is hard to switch off overnight. Maybe as fans we underestimated the impact of that and there is a sense this season we're seeing the fall out from it.
There are other factors too, of course. Injuries never help. Then there is the stylistic change since the departure of Sadio Mane and arrival of Darwin Nunez with the front three still trying to figure each other out, while the shape has been unrecognisable at the best of times.
Jordan Henderson and Fabinho underpinned so much of the good from last season, but have looked like they're running in treacle this time out. Virgil van Dijk among others has made a number of unforced errors and Mohamed Salah just isn't firing. Any one of those things would impact any side, but collectively have resulted in what can only be described as a slog of a season.
It goes without saying there are headaches ahead for the manager and problems that must be solved if we're to have any chance of a top-four finish. If we don't, there could be serious implications for our summer business.
One area Klopp needn't worry about, though, is his goalkeeper.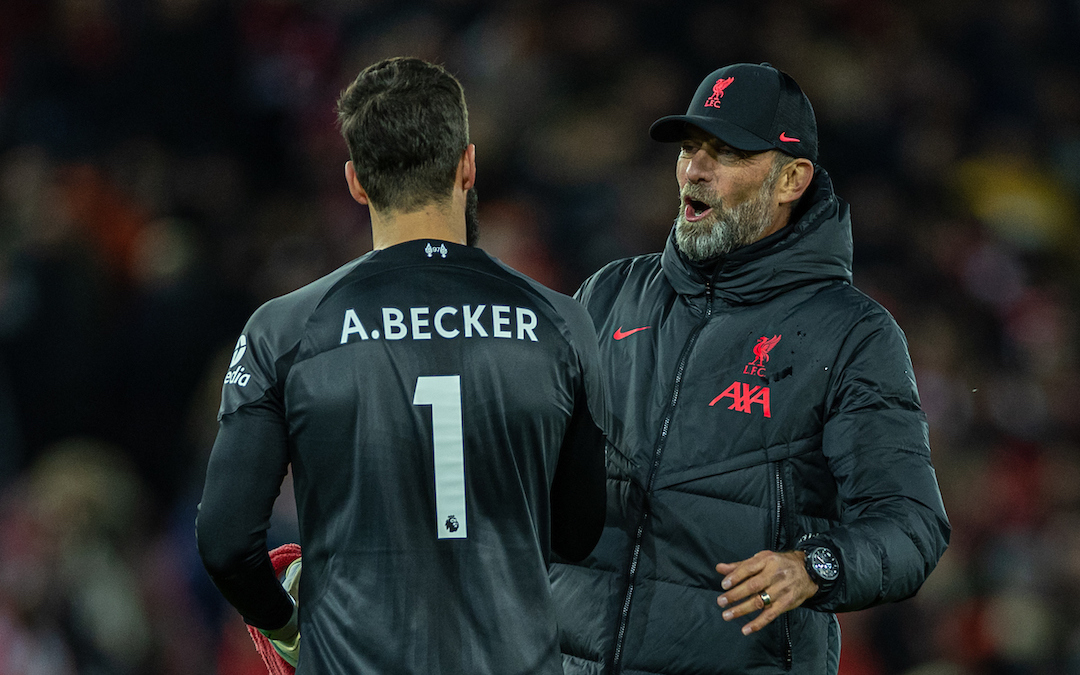 Liverpool have been their own worst enemy from a defensive standpoint this season, reflected by the collective acceptance that they will concede first, but in spite of that Alisson Becker has continued to impress.
He has been Liverpool's player of the season to date by some distance, bailing out his teammates time and time again despite the array of issues ahead of him. Just where would Liverpool be without him?
A few years back whenever the opposition was presented with a one-v-one there was a sense of inevitability about the outcome.
Simon Mignolet was a decent shot stopper but rarely radiated confidence or command of his six-yard box, Adam Bogdan lives only in the memory for the bizarre nature of the transfer more than anything he did on the football pitch, and unfortunately for Loris Karius, Kyiv will always be his lasting legacy.
Pepe Reina is the obvious exception winning the Golden Glove three years in a row, but in recent history Liverpool's goalkeeping department has been the subject of more questions than answers.
In Alisson, The Reds now possess a goalkeeper who rebalances the scale in their favour. Just how many times has he saved what would've previously been a nailed on goal already this season?
There's also no denying his ability in possession, instigating counter attacks and executing passes most players wouldn't see. He leads from the back, he keeps us in games, he even wins us the odd one, too. He is the safest pair of hands.
Even in a season of such frustrations, Alisson Becker has shone bright. He is up there with one of Jürgen Klopp's most important signings and arguably Liverpool's best ever keeper.
---
Recent Posts: