After such an up and down start to the season, Liverpool rediscovered how to win ugly against West Ham and they'll need it going forward…
AND just like that it feels like Liverpool's season finally has lift off.
Last night's task was to make sure Sunday's win against Manchester City wasn't another false dawn in a campaign so far dictated by stutters. Jurgen Klopp said that every game from here on in is a final and The Reds duly delivered. Not only that, but they did so by rediscovering a long lost trait.
Where Sunday's 1-0 was founded on the return of 'intensity is our identity', this was a 1-0 fuelled by determination and graft. There are things to be good at, but winning ugly might just be the best.
It is an art — maybe not one that's particularly easy on the eye — but an art nonetheless and one Liverpool have been pretty good at down the years. Games like yesterday are the kinds of wins we picked up consistently last year. They are the kind of wins that won us the title in 2019-20.
At points this season we've struggled with just that, consistently conceding first or letting leads slip. The defence has been opened, the midfield bypassed, the attack jittery at best and yet having come away with back to back 1-0's, it feels as though fortunes may finally be turning.
There are nights that call for champagne football, but sometimes you don't need it to be. A little touch of class can do the trick and in this instance, Darwin Nunez was the man to provide it.
He was sublime; his movement, speed and a dazzling header to open his account at Anfield. There are those that believe he isn't up to the task of being Liverpool's leading man, but yesterday was the biggest indication yet that Klopp's found a gem.
That Kostas Tsimikas was also involved was the icing on the cake, while young Fabio Carvalho impressed as he continues to contribute to the cause. All were key first half, before a collective lull in the second.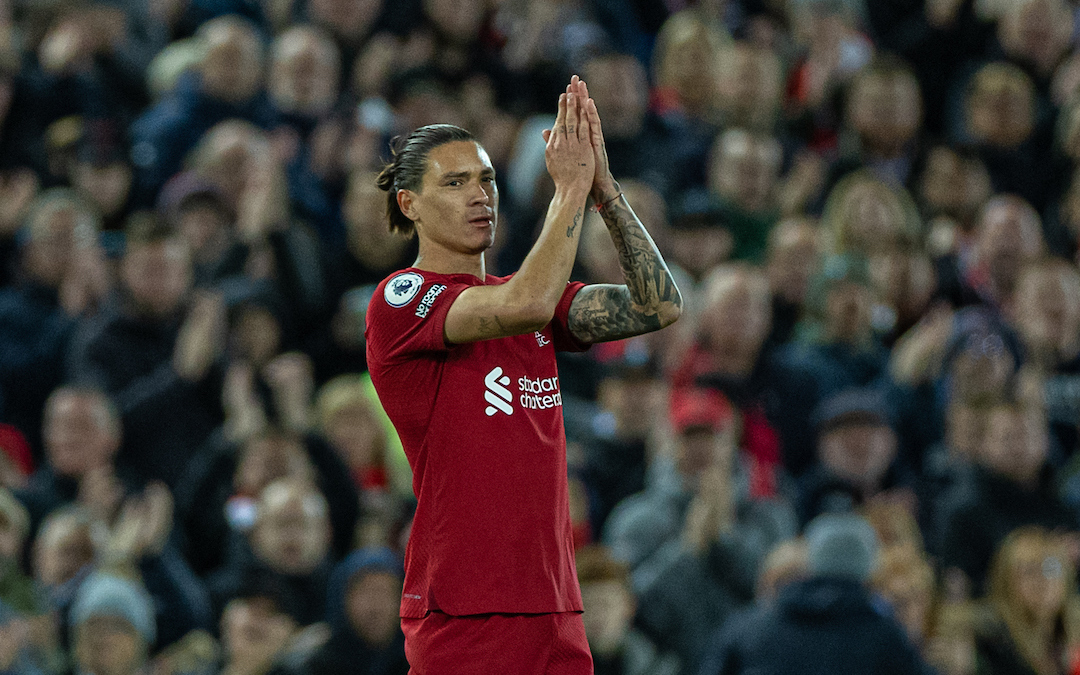 In the end, the game comes down to sheer graft and Liverpool do their fair share of grafting. A few nervous looks at the clock to check it's still ticking, some heroics from James Milner and another splash of quality from Alisson Becker too. The best goalkeeper in the league by a country mile, thank God he plays in red.
It wasn't all pretty nor was it without challenges, but it was another night where we emerge on the right side of the result nonetheless. Another three points on the board and a sense that momentum may finally be building.
This was a game Liverpool could conceivably have lost earlier in the season, but instead they dug in, knuckled down and ground out a result. A lead established, ultimately resiliently defended. The very best teams always find a way.
This season it's felt as though Liverpool can't play badly and get three points. At full time, Klopp said that this was the type of win that our season has been missing, but last night was step one in stemming the tide. There will be more ugly performances and points to win this season, and our ability to come out the other side might just be key to our success.
For now, it's a case of another step in the right direction for The Reds. Another step on a road of many, but one where the trajectory is trending upwards again. There are still creases to iron out in the performance, but every question doesn't need an answer right away. Points on the board is the ultimate aim and Liverpool are achieving that.
Beat Nottingham Forest at the weekend and it's nine points from nine and suddenly everything looks a whole lot brighter. A 9-0 or 1-0, either will do just fine for me.
Liverpool have lift off. This season has life.
---
"I think Virgil sets the tone in the first half. In the last two games he has been at his best. When he's so composed he makes the team and the stadium just relax."

🎥 Post Match Pint

1️⃣ Download our app
2️⃣ Enjoy FREE tokens
3️⃣ Watch

📱👉https://t.co/yTcwWTIbIT👈📱 pic.twitter.com/3xLXCmmeV2

— The Anfield Wrap (@TheAnfieldWrap) October 20, 2022
Recent Posts: