Liverpool looked much more organised after a formation change against Rangers, and Jurgen Klopp should stick with that shape going forward…
THE Brighton game was a watershed moment.
That so little had changed in terms of performance, despite the three weeks since Liverpool's last Premier League game, was as disappointing as it was damning. It was a game and a performance we've already seen a handful of times in 2022-23; a repetitive loop none of us asked for, and one we'd happily forget existed.
But problems lead to inquisitions and inquisitions lead to change.
For six years, Liverpool have been wedded to the 4-3-3. Aside from the sporadic and short-lived switch, it's been the manager's go-to system. But are we now about to see that change?
That there is some debate about just how you'd describe Liverpool's formation on Tuesday night should tell you how fluid these things are. How often do we see Joel Matip rampaging forward? Roberto Firmino dropping in between the midfield lines? Or Trent Alexander-Arnold staying high as the furthest player forward?
None of those things are conventional, and yet each of them have helped define Liverpool's success. In that sense, positions and formations are rarely fixed, unless you are Sam Allardyce or Stoke City in the 2017-18 campaign with every man and his dog behind the ball.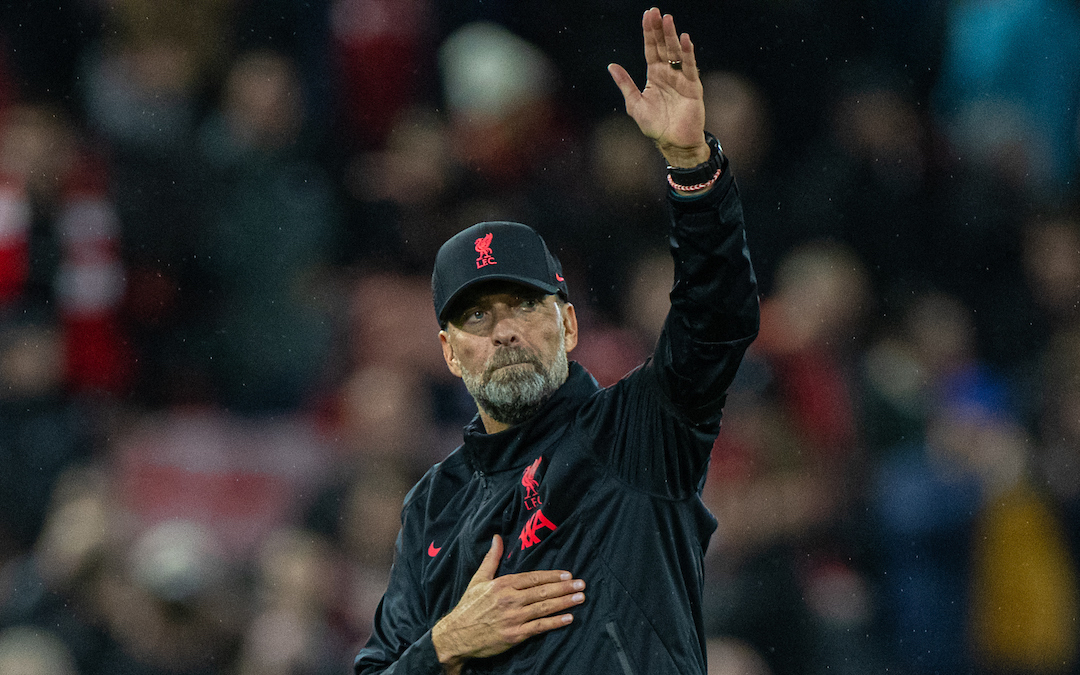 Liverpool's formation against Rangers was what I'd call a loose rendition of a 4-2-3-1 in that it switched between a 4-4-2 out of possession and a clear 4-2-4 in possession, similar to the one used against Man City in 2020-21.
A change of tact from Klopp, the new system was key in turning fortunes round with a 2-0 win, delivering more structure and coherence across the side. That Klopp stuck with it throughout would suggest it could be the new way forward for The Reds.
Granted, Rangers aren't exactly a scalp to boast about. They are goalless and pointless so far in the Champions League and their tenure in the competition is set to be remarkably short lived. But that the performance carried with it an intensity we have scarcely seen this season should offer encouragement.
For the first time in what feels like forever, Liverpool didn't concede first. Always a helpful box to tick in a football match, I find.
The system gave the defence more protection than they've received to date, with Fabinho, albeit often left exclusively to cover the space, looking leggy on more than one occasion this season. Rangers rarely posed much of a threat on the night, but in having five players inside our own half The Reds suddenly looked a much harder team to break down than the one we've seen in recent weeks.
A double-pivot of Thiago Alcantara and Jordan Henderson rarely ceded control. For anyone that still doubts the captain's continued value to the side, I implore you to watch the game back. He is a totally different player when dictating from deep, able to assess the space ahead of him rather than reacting to events around him and his covering for Trent ensured any gaps were quickly plugged.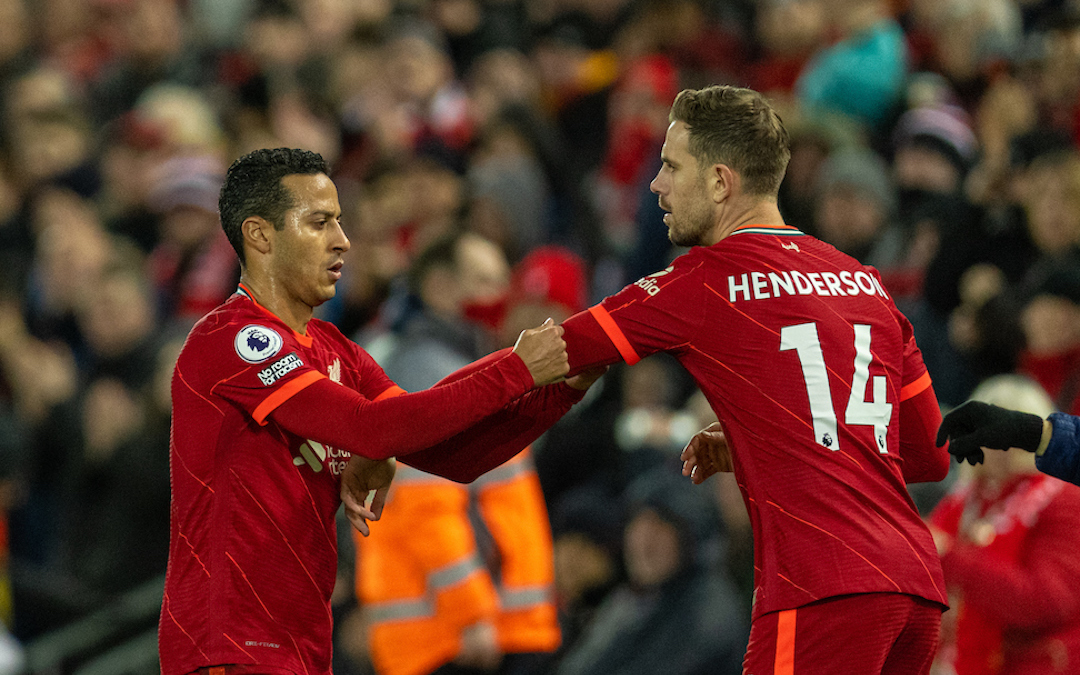 As for the attack, a front four of Diogo Jota, Luis Diaz, Darwin Nunez and Mo Salah all interchanged well, showed fluidity between roles and created 19 chances versus the nine against Brighton. Having Nunez as a focal point to the attack helped, and his combination play and movement will have pleased Klopp. That Mohamed Salah was suddenly much, much closer to goal is as important as anything, though.
Adopting the same system in league games will bring with it more challenges with Arsenal and Manchester City the true tests, but the early signs of this 4-2-3-1/4-2-4/4-4-2 setup are encouraging and there remains plenty of further tweaks the manager can make. Firmino can drop into the number 10 role, Jota and Salah are more than capable of playing through the middle and you'd expect Fabinho to slot in away from home.
As for Tuesday night, it was unequivocally a step in the right direction for The Reds. A small step but one the players and manager all needed, and one us supporters were desperately asking for.
More structure, more creativity and perhaps most importantly, the return of our intensity. Same again come Sunday, please.
No more false starts or promises of corners turned, Reds. A win at the Emirates against the league's most in-form team would do nicely.
---
🗣Liverpool 2 Rangers 0: The Review | #NewPodcast | #LFC@dan_morgan3 hosts @Knox_Harrington and @Sean_Rogers for a look at the stats and tactics.

1️⃣ Download our app
2️⃣ Enjoy FREE tokens
3️⃣ Listen

📱👉https://t.co/yTcwWTZN7t👈📱 pic.twitter.com/VJqu28aQTE

— The Anfield Wrap (@TheAnfieldWrap) October 6, 2022
Recent Posts: