With Liverpool's backup forwards stepping up, plus returnees and reinforcements onboard, The Reds are set up to attack the month ahead…
BETWEEN the months of August and May much of our life is both literally and emotionally dependent on football.
Results can make or break weekends, plans change depending on when The Reds are playing, and injury concerns become our concerns.
Seeing players happy has the ability to instantly put a smile on my face, and the opposite is also true. I felt simultaneously heartbroken for Mo Salah on Sunday after Egypt lost the AFCON final on penalties and delighted for Sadio Mane as he celebrated with his teammates. God knows what it must have felt like for Venus and Serena Williams' parents for all those years.
It's no surprise that Salah returned to Merseyside the following day keen to move on to the next. He has, however, played four matches in 12 days that all went to extra time. He should be exhausted and in need of a month off, but we all know there's no chance he'll be in the country and happy to sit on the sidelines.
"I spoke to him and pretty much the first thing Mo told me was: 'I'm ready'. Haha!" said Jurgen Klopp in an interview with the club today. Mane is still quite rightly enjoying his celebrations, so won't be back quite in time for Leicester.
All of a sudden, though, missing one of our key players upfront doesn't seem like the end of the world. The momentum has shifted in recent weeks, and with a bucketload of trepidation we can talk about the sheer depth of the squad, particularly upfront.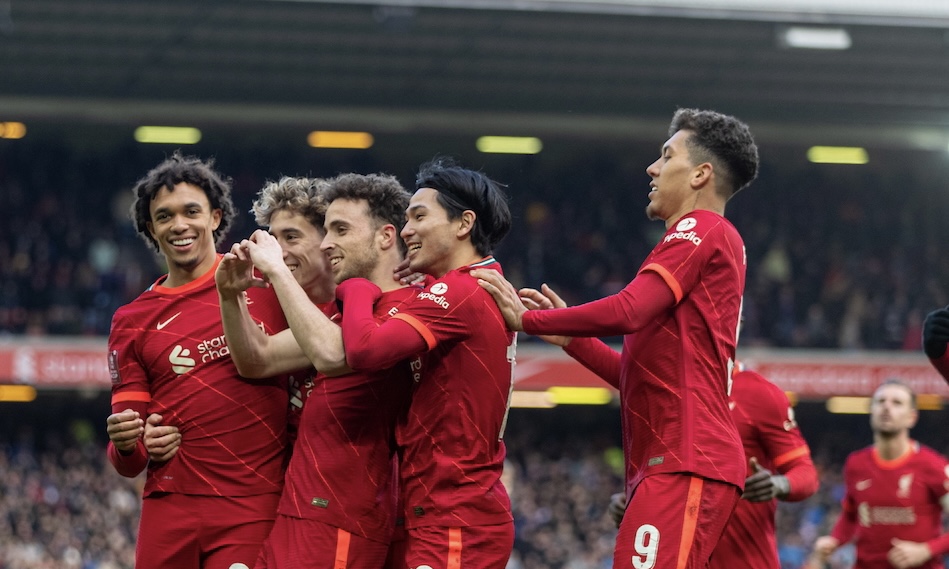 Diogo Jota has relished the opportunity to be the star man in recent weeks. Many were unsure how he would fare without Salah and Mane alongside him, and how he and Roberto Firmino would operate in the team together. A few teething problems early on were quickly resolved, and Jota showed throughout January that he is more than capable of leading the frontline.
He demonstrated that once again on Sunday in the fourth round of the FA Cup against Cardiff. His movement is so measured and precise, yet he still manages to be absolutely everywhere at the same time. I'd hate to be a defender playing against him.
Time and time again he shows qualities that seem inconsistent with his build and what we'd expect from him. His strength in particular consistently surprises me. He never gets bullied off the ball, and always works to win the ball back in dangerous areas.
And what about the scoring from headers? He just loves it. The ball from Trent Alexander-Arnold was exceptional, but to get up in the air surrounded by defenders and find the left corner takes a serious amount of skill.
With all eyes on him, it's clear to see the impact he has made. But it's definitely not an isolated case, rather it builds on how well he has played since he signed in the summer of 2020. He's scored 10 in 18 Premier League starts this season, and 15 in all competitions, and is showing absolutely no sign of slowing down.
The momentum on his side is a microcosm of the whole team at the moment. The signing of Luis Diaz was undoubtedly the main factor in lifting the spirits of the fan base, but the feeling of optimism stretches beyond that. With the two star players returning from AFCON, it starts to become difficult to know who the preferred three upfront will be.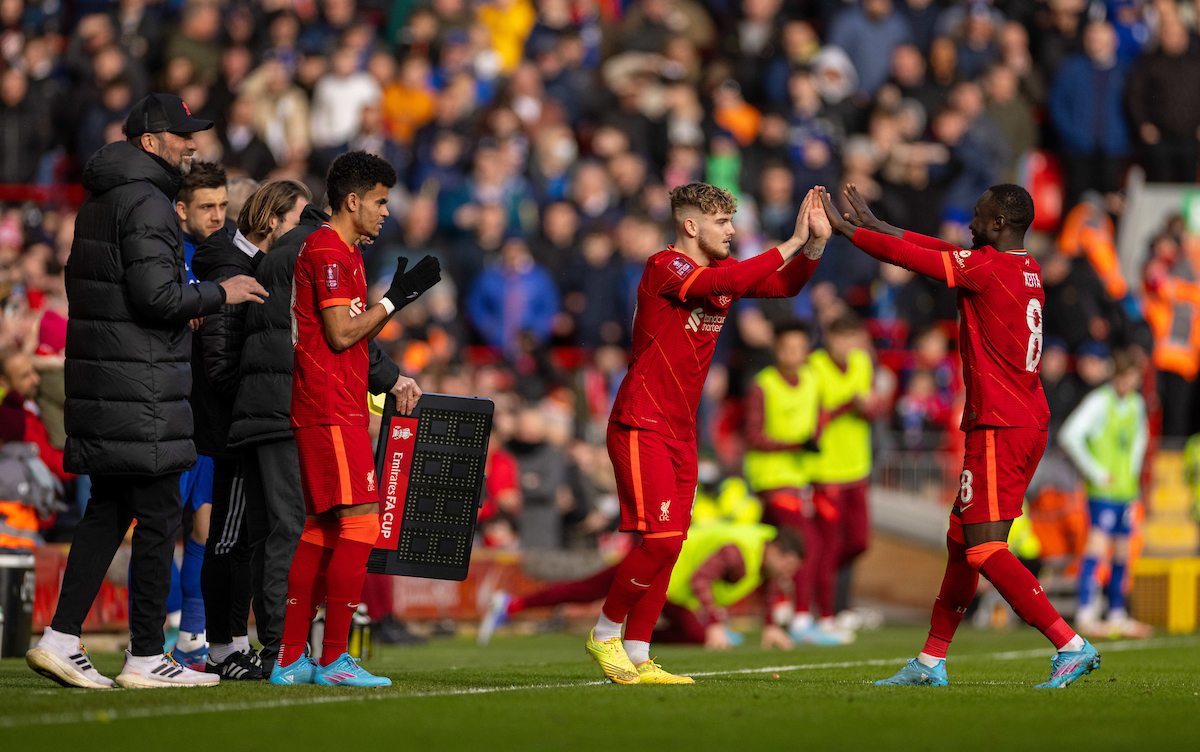 Jota has made himself difficult to drop for the foreseeable, Salah is expected to slot straight back into the team, and there is likely to be a chance for Diaz to make his mark while Mane has a break — and it's mad that I haven't even included Firmino yet.
Then there are players who have made a case for regular game time throughout January, like Alex Oxlade-Chamberlain, and players returning from injury like Harvey Elliott. With a 32-minute cameo on Sunday he showed that should always be in contention, and his positional versatility and ability to play in midfield will work in his favour. Takumi Minamino also added to his goal tally at the weekend.
It's a fine balance to strike between maintaining rhythm, giving players who need it a rest, and getting our best 11 out on the pitch. There will be some tough calls for the manager, but with five games in the next two weeks, they should all get their chance in February.
Having to think about squad depth. What a nice problem to have. There is likely to be a shake-up and a clear out over summer, but for now we can make the most of having world class players in abundance.
We'll need all of them as we attack on four fronts.
---
"With Salah, you get the impression that, if there was a game going on in the car park today, he would want to play in it! That's the type of player he is."

🎙 Listen to TAW's FREE podcast 👉 https://t.co/W9J7USigSt
🎥 Watch 👉 https://t.co/0K8IsHcCkR pic.twitter.com/HqUQ7fMrJ5

— The Anfield Wrap (@TheAnfieldWrap) February 8, 2022
Recent Posts: