While Harvey Elliott saw his dreams come true in his cameo against Cardiff, Liverpool will also benefit massively from the youngster's return…
THERE'S a risk in championing young players and it seems to worsen if you get your views out too early.
A recent example. I've been watching Todd Cantwell for a while now and, though he was 22 when his Norwich City side turned up to Anfield for the opening fixture of the 2019-20 season which is hardly young these days, he struck me as a player who may soon outgrow his club. Obviously, I couldn't lose at that point.
We battered the Canaries that night and I still got to mention the number 14 on the other side while tapping my nose in a show of experience sagacity. 'Going to be a player,' I said to the collective rolling of eyes around me.
I had a point, though. Last March he had an England call up for the Under-21s, obviously being 23 at the time, and there was talk of Leeds and a few continental clubs coming in for him. It looked like this old man can spot a player when he sees one and point to the chaff as and when it appears.
I'd already dismissed Billy Gilmour of Chelsea (doesn't get involved enough) at this point and had called out Federico Macheda and Danny Cadamateri years before as just players whose one game success over us would be the only thing they'd do in their careers. I had got it right with Cantwell and would let the world know about it at every opportunity.
He isn't going to Leeds or abroad. 
Last week he signed for Bournemouth of the Championship on loan till the end of the season. He might be back but his Twitter farewell to Carrow Road didn't sound too confident. 'May we meet again.'
It's official I'm a @afcbournemouth man, want to wish @NorwichCityFC all the best for the rest of season. May we meet again 💛💚 pic.twitter.com/HeipcyEXHb

— Todd Cantwell (@ToddCantwell_10) January 31, 2022
That's other clubs though and it's different when it comes to our lads. You champion your own lads from the second they stroll onto the turf. If they're clearly nervous or downright overawed then you double down on that support if you're in the ground to make them feel at ease. 
I'll never forget Daniel Ayala's debut in the first home game of the 2009-10 season against Stoke. Three days earlier Jamie Carragher and Martin Skrtel had banged heads at White Hart Lane so the youngster came in for his first start.
You'd have thought he was Franz Beckenbauer. Even the squarest, safest ball was greeted with rapturous applause from The Kop and at the end of every passage of play Carra would sprint over to him to put an arm around him or demonstrate where he should have been from the stance of feedback and experience, rather than a Bootle bollocking.
I think he spent more time with Carra that night than James Beattie, the man he was supposed to be marking. He played through the nerves well and though there was no danger of him replacing Skrtel when he'd had his forehead stitched back together, he left the pitch with a round of applause. 
He only played five games for us and no one got carried away, but I'll always like him for that game.
But Harvey Elliott?
You can't put too much pressure on him. Anyone with half a footballing brain can see that he's a nuisance to play against and that, if he keeps up with his level of progression, he could go on to have a hell of a career here, but you don't want him to plateau and stagnate.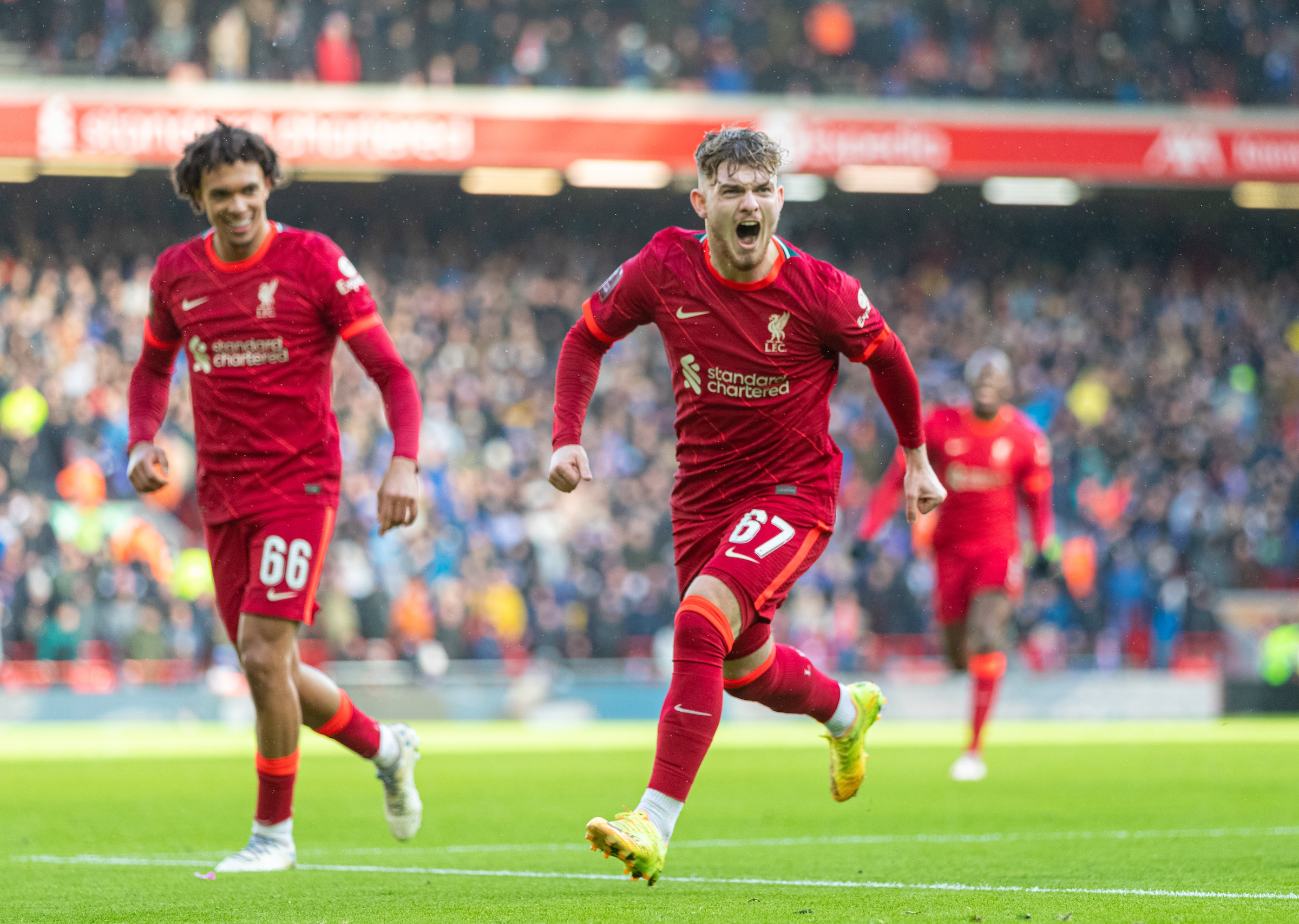 But talk about confidence. I've always thought a player's first goal for the club underlines how they'll play. Sadio Mane's howitzer at Arsenal, Mo Salah sprint to get on the end Roberto's looped cross at Vicarage Road etc. If Harvey's first goal is anything to go by…
No tap in, no subtle finish, nothing clinical. Just a thrash against a keeper who had all but given up before he pulled his foot back. A statement as much as a goal. He's ready for the next level now.
He deserved nothing less after his horrific injury against Leeds and it's fitting that the first thing he did was thank the backroom staff and physios, particularly Joe Lewis who he said "took me in the early hours of the morning and didn't finish until late at night."
A lesser man would have just celebrated his goal and waited until the senior players brought his ego back to earth, but Harvey knew who that goal was for. That shows real maturity for a kid of his age.
But we can't get too carried away. Or at least I can't. Or shouldn't. 
Not everyone is Trent Alexander-Arnold and we have to bear with him when things become more difficult as they surely must. I wrote the same about Luis Diaz last week. Only those with the darkest souls wouldn't have enjoyed the sight of Harvey and Luis standing on the touchline yesterday waiting to come on.
We're in a lovely position where the squad is full of players who can come in and do a job when the stellar players are out or away. There are others with their own stories too.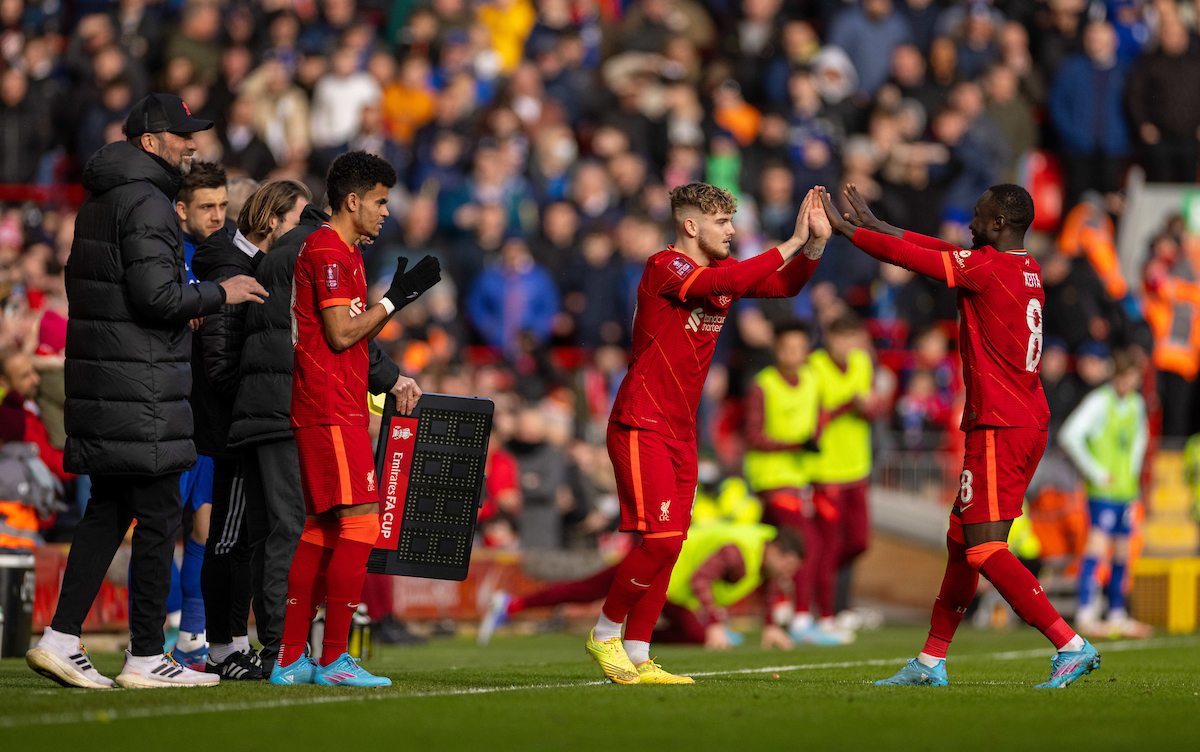 Let's talk about Taki.
A bench player certainly, but yesterday's was his seventh goal of the season — the same as Bruno Fernandes and in 12 fewer games. I'm a big Taki fan, mostly because my brother-in-law grumpily mutters 'your mate's coming on' when he's standing dwarfed by Jurgen Klopp on the touchline. He can't see his talent at all which makes me like him more. I'm planning a mosaic.
For a lad who has already been loaned out and being favourite to not last the month at the club it speaks volumes that he wants to be here and score whenever he can. His desire to get to Luis's ball for his goal (sorry Diogo) was wonderful to see. We love players who throw themselves at chances for Liverpool.
He's older than the new breed at 27, but is probably still in the same tranche as Harvey when it comes to first team chances — just bubbling under. Probably the first or second sub to come on.
This is a lovely time. The Reds are still in all four competitions, a final on the horizon and a full and buoyant squad for once. Drink it in, Reds. Drink it in. This is why we do this in the first place. These days.
And keep an eye on Ivan Toney at Brentford. He's going to be a player one day.
That's him doomed.
---
"It's about those moments when you see Elliott score at the Kop end, at his boyhood club with his dad in the stands made up, that's what football is all about."

🎥 The Final Word

1️⃣ Download our app
2️⃣ Enjoy FREE tokens
3️⃣ Access this video

📱👉https://t.co/yTcwWTZN7t👈📱 pic.twitter.com/hiMpgSTf5Z

— The Anfield Wrap (@TheAnfieldWrap) February 7, 2022
Recent Posts: